Journal
21st Dec 2018 - Happy Christmas
Just four more 'sleeps' to Christmas Day!!!!!!!!!!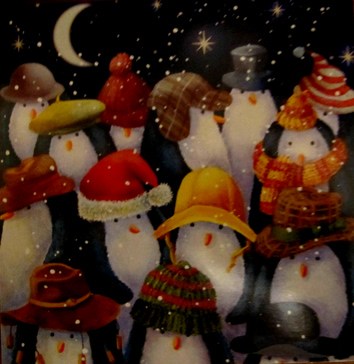 The English Apple Man favours Turkey & Christmas pudding!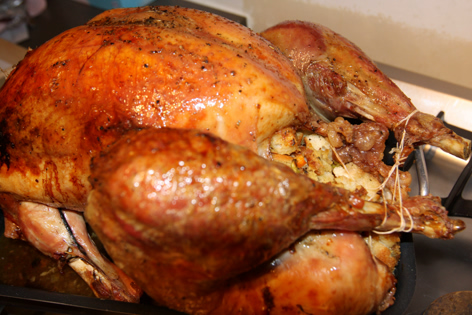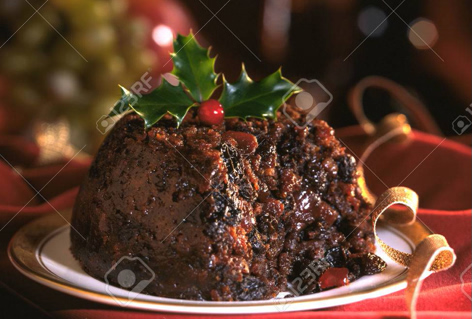 Whatever your taste at Christmas, The English Apple Man always looks forward to Turkey, Boiled Potatoes, Sprouts, Creamed Parsnip, Peas (petis pois), Buttered Carrots, Sage & Onion Stuffing and Sausage Meat, Pigs in Blankets, and 'lashings of my wife's wonderful gravy' - as a starter, we have a tradition of Smoked Salmon with delicate triangles of Brown Bread & Butter - Dessert has always centred on Christmas Pudding; these days M&S or Waitrose, but in days gone by my (late) Mother-in-Law's homemade Christmas Pudding, of which I have never tasted better! The Pudding accompanied by my wife's sauce (not Brandy) made with Sherry which I much prefer to Brandy and with a pouring of Double Cream.
Below: Apple Brandy and raspberry Ghost Gin distilled in Kent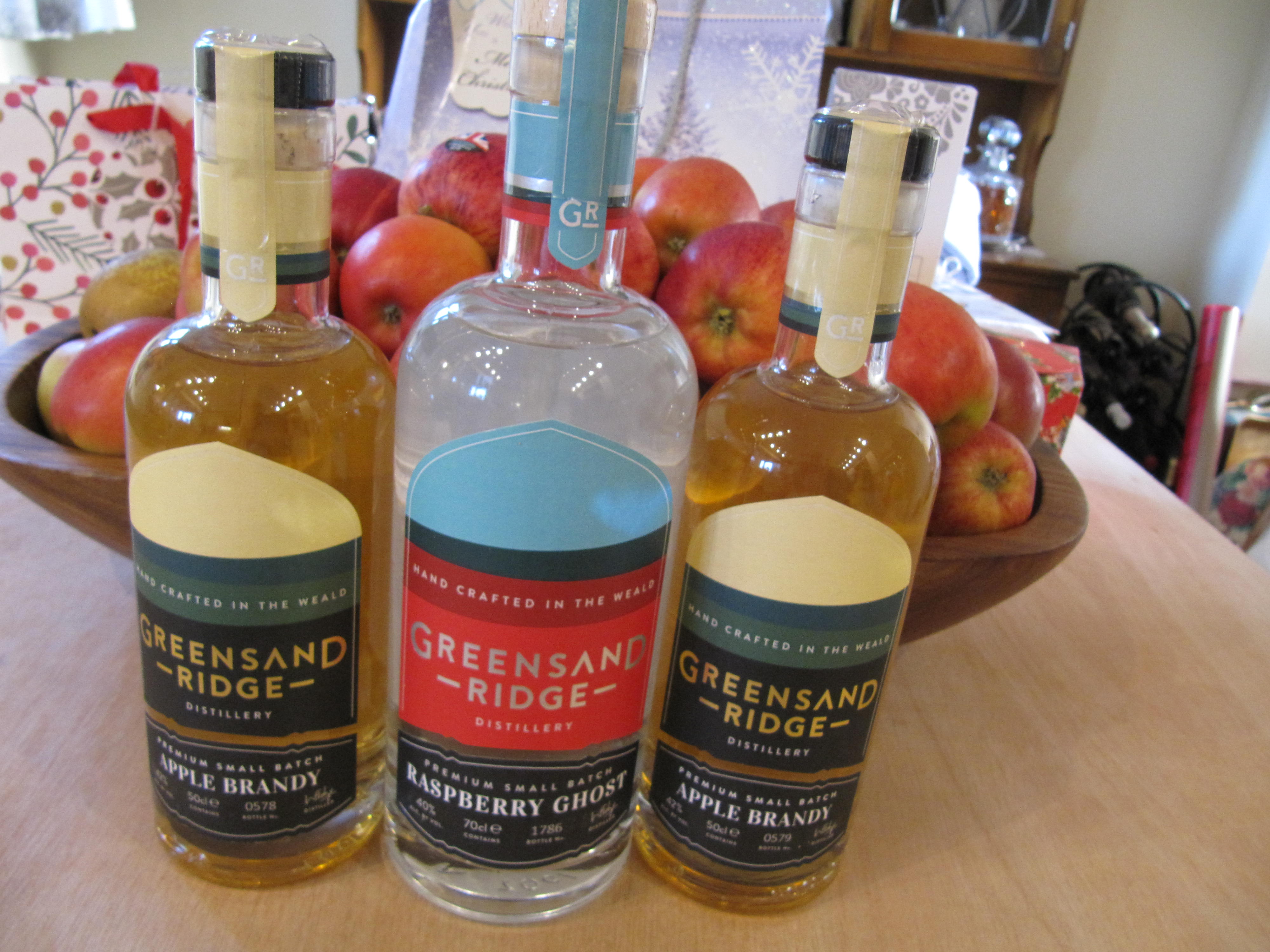 We are partial to a Glass of Chablis with lunch, 'not admittedly a UK wine' but we will now be able to enjoy a glass of Apple Brandy produced by my friend Will Edge at his Greensand Ridge Distillery at Shipbourne in West Kent and made with local apples.
If we fancy a Gin & Tonic, Will's Raspberry 'Ghost' Gin made with Raspberries grown by Giles Cannon on his farm at Plaxtol is an ideal refreshment. Click on Greensand Ridge Distillery to explore the world of gin distilling.
Below: Of course, there are always apple & pears on hand; great with Cheese and Biscuits!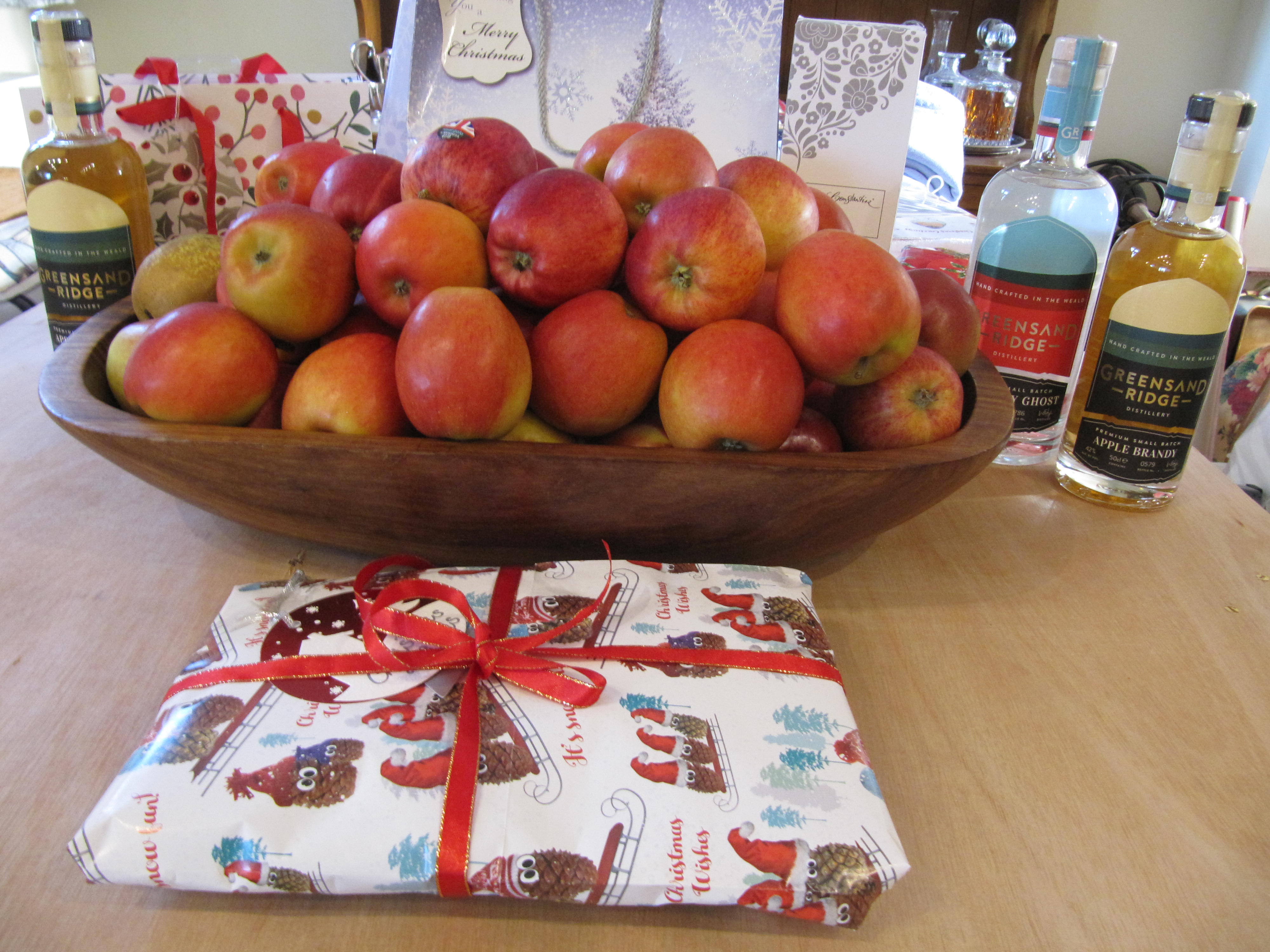 Farm team successfully plants nearly a quarter of a million new trees!!!!
The production team at Kent's largest top fruit grower - AC Goatham & Son have been busy planting trees this year, in fact lots of them; 220,000 so far at their orchards in Medway, Swale and East Kent.
The team, led by Production Manager Peter Bukowski have finished planting by hand varieties such as British Royal Gala, Cameo, Conference Pears and a new variety of apple.
The new orchards will be finished off in the New Year with pollinator trees. These are planted at regular intervals along each row and they help to encourage bees and beneficial pollinating insects into the orchards, which in turn help to pollinate the blossom in the Spring.
Clive Goatham, Senior Partner at AC Goatham & Son comments: "I'm very proud of the fantastic work by our production team, it is an amazing achievement and has been brilliantly managed. Given the poor weather conditions recently, I think this is the greatest result by this time of the year that our team has ever managed."
"My sincere thanks to all those guys involved, no doubting the fact they have worked extremely hard."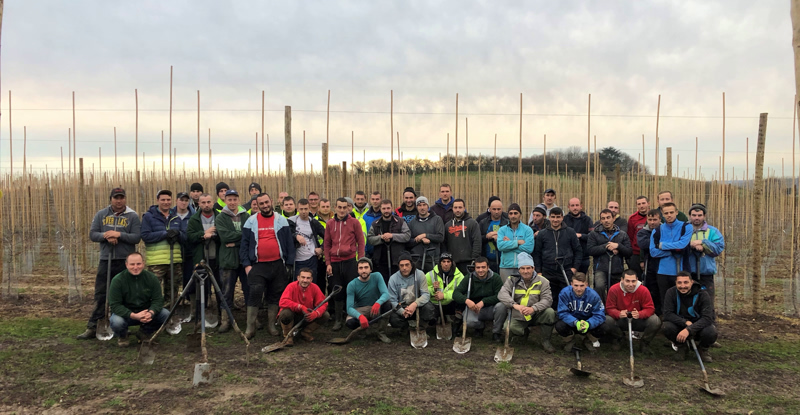 The new orchards will be finished off in the New Year with pollinator trees. These are planted at regular intervals along each row and they help to encourage bees and beneficial pollinating insects into the orchards, which in turn help to pollinate the blossom in the Spring.
New orchards are planted in the winter months once harvesting has finished and whilst the trees are dormant. Bad weather frequently hampers this type of operation, especially one on this scale. AC Goatham & Son has now planted in excess of 1.5 million new fruit trees over the last several years, helping to increase the production of British home-grown apples and pears and displacing the need for imported fruit.
AC Goatham & Son has 28 farms across Medway and Kent and annually grows around 250m apples and 50m pears supplying supermarkets across the UK.
- A C Goatham & Son began trading in 1947 as agricultural contractors and fresh produce merchants. In 1980, it established a farming operation growing apples and pears. It is now run by father and son Clive and Ross Goatham along with their business operations team and in 2017, it celebrated its 70th anniversary.
- The GVA contribution to the Kent economy by AC Goatham & Son is estimated to be over £13.75m per year.
- In 2017, AC Goatham & Son was also named The Kent Invicta Chamber of Commerce large business of the year and the Farmers Weekly Specialist Crop Producer of the year.
- In 2018 AC Goatham & Son were the joint winners of the Taste of Kent Awards Kent Countryside Award.
The John Lewis Partnership has announced a three-year trial with the start-up agri-tech business Small Robot Company, which will see the use of 'autonomous farmbots' Waitrose & Partners' Leckford Estate in Hampshire.
During the trial, the Small Robot Company's three small robots; Tom, Dick and Harry, will test their state-of-the-art learning and farming technology on a one-hectare field of wheat. Initially a prototype Tom robot, which is fitted with cameras and weighs just ten kilograms, will gather topographical data, eventually creating a plant-by-plant view of the field.
The Small Robot Company can then further develop its machine learning systems, while building also new prototype robots.
The data gathered by the Tom robot will be used to develop an AI system called Wilma, which will eventually guide the three robots, allowing them to farm autonomously. As well as increasing precision, efficiency and productivity, the small robots are expected to deliver considerable environmental benefits, such as reduction in compaction and soil damage.
Andrew Hoad, Partner & Head of the Leckford Estate, commented, "The Waitrose & Partners farm has a long history in producing a wide variety of high quality crops. We work hard to farm in harmony with the environment and our vision for sustainable farming is aligned to what the Small Robot Company is trying to achieve."
Sam Watson Jones, co-founder of Small Robot Company and a fourth generation Shropshire farmer, added, "Together, we will be working to re-imagine food production. We're on the cusp of a fourth agricultural revolution, taking farming into the digital age, with British ideas and British technology at the helm."
For more detailed information: click on THE SMALL ROBOT COMPANY
While The English Apple Man loves apples, I also appreciates the beauty of the Rose - the Apple is descended from Rosaceae, the rose family!
Press Release: David C.H. Austin
David Austin Junior
"It is with a heavy heart that I write to inform you of the passing of my Father, David C. H. Austin, during the early hours of Tuesday 18th December, 2018. He died peacefully at his home in Shropshire surrounded by his family, aged 92.
For over 75 years my Father's dedication to roses brought fragrance and beauty to gardens all over the world. A perfectionist at heart, he bred more than 200 English Roses during his extraordinary career, unwavering in his pursuit of an ever more beautiful rose. He loved nothing more than seeing people enjoy his roses, whether that person be a colleague, customer, gardener or friend.
Whilst we all share in this sad loss, David Austin Senior's memory will be honoured in the plants that we love. If you would like to read more about his remarkable life, please visit David C. H. Austin OBE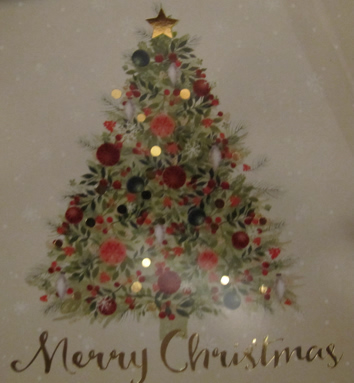 The English Apple Man wishes all my readers A Very Happy Christmas
Until next week, take care
The English Apple Man