Journal
4th Jan 2019 - The English Apple Man looks forward to a New Year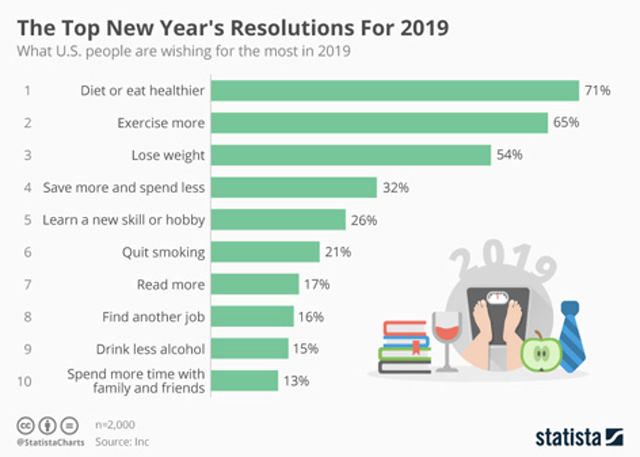 As we settle into 2019, what will our New Year's Resolutions be and will we manage to observe any across 2019?

The debacle of Brexit will no doubt continue to dominate the media!
IF- we leave the EU without a deal, what are the prospects for our fruit-growers?
How does The English Apple Man enjoy his leisure time between Christmas & New Year?
Reading, writing, exploring the internet!!!!!!!
Statista is an interesting website, with analysis of numerous subjects; the data regarding plastic waste is surprising.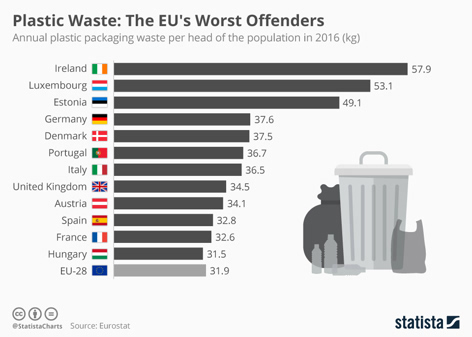 According to Eurostat, 31 kg of plastic waste is produced per person across the EU each year, adding up to 15.8 million tonnes in total. Even though Ireland made a statement by being the first EU country to impose a plastic bag fee in 2002, it is remains Europe's worst offender when it comes to annual plastic packaging waste produced per head of the population.
In 2016, an average Irish citizen produced 58 kg of plastic packaging waste, ahead of second-placed Luxembourg's 53 kg. Even in Italy where cities like Naples have gained a poor reputation for waste management and pollution, the amount produced is less at 36.5 kg.
Click on STATISTA
As an avid reader; I cannot enjoy a day without my newspaper; and monthly magazines featuring fruit and farming are part of my literary consumption.
Two of my regular magazines are The Fruit Grower and South East Farmer, both of which I thoroughly recommend to readers unfamiliar with the titles!
The Fruit Grower is published monthly (usually arriving in the post circa 10 days into the new month). The magazine reports on fruit related matters, viticulture and edible and ornamental horticulture.
The Fruit Grower is one of several publications from A.C.T. Publishing
"For over 30 years A.C.T. Publishing have been providing a range of market leading horticultural magazines, The Fruit Grower, The Vegetable Farmer and The Commercial Greenhouse Grower. Our focus is to bring the latest news, reviews and new products to all top and soft fruit growers, vegetable farmers, ornamental and salad growers and to those in the vine industry".
To visit the website: click on THE FRUIT GROWER
South East Farmer is more agriculturally focused with arable and livestock farming a central feature, but also covers important news from the fruit industry reported by Sarah Calcutt who is well versed as Chair of The National Fruit Show and Operations Director of EAP (English Apples and Pears).
Sarah says: "Labour is the biggest issue facing horticulture in all of the Brexit negotiations (not taking away from the importance of CRD, import/export and the cheap food challenge), but if we can't grow it/pick it we're stuffed, frankly".
I love the monthly column by Richard Wood who entertains with a down to earth view of every day news.
Richard says: "The level of my political correctness is legendary, but I do believe this recent trend of criticising people who say anything that could be upsetting to anyone to be bordering on the realms of wimpishness.
"Is the whole country becoming so wet that an individual is unable to take mere words on the chin that might vaguely upset them?
Below: left; Sarah Calcutt and right; Richard Wood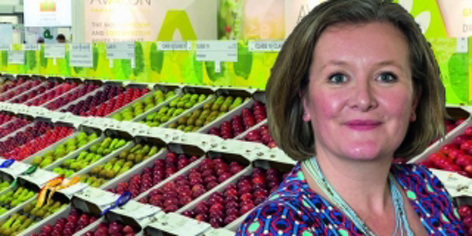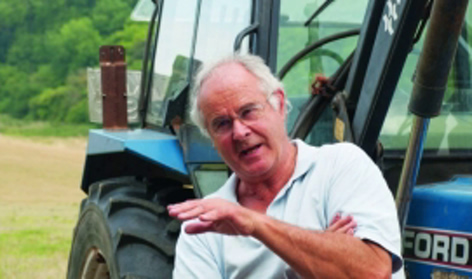 Published since 1982, South East Farmer is the region's favourite farming magazine. 45,000 farmers, growers and allied traders read the magazine each month in the counties of Kent, Sussex, Essex, Surrey, Hampshire, Berkshire, Buckinghamshire and Oxfordshire.
In January 2018 South East Farmer launched a new magazine: VINEYARD MAGAZINE Vineyard Magazine is the only monthly publication dedicated to growing grapes and making wine in Great Britain
Click on: SOUTH EAST FARMER for more information.
A new book which records Devon's fruit-growing history and heritage apple varieties - many of which are under threat - has been produced with the help of the Devon branch of the Campaign to Protect Rural England.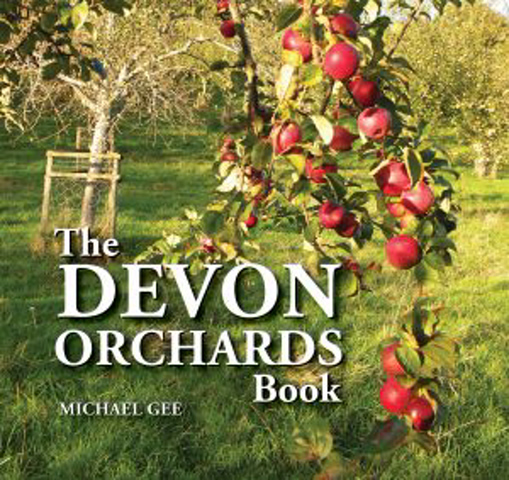 The new book which records Devon's fruit-growing history and heritage apple varieties - many of which are under threat - has been produced with the help of the Devon branch of the Campaign to Protect Rural England.
CPRE Devon sponsored The Devon Orchards Book, written by orchard expert Michael Gee, to preserve important knowledge of rural life and traditions for future generations. Michael Gee is the founder of Orchards Live, a charity which protects and promotes Devon's orchards and traditional apple varieties. He is also the author of Mazzards: The Revival of the Curious North Devon Cherry.
The Devon Orchards Book, published by Halsgrove, is an ideal Christmas gift. It costs £14.99 and can be bought via CPRE Devon's website then click on SHOP.
The English Apple Man will be ordering a copy!
The EAM also 'tweets' and today one of the tweets from the Oxford Farming Conference Michael Gove told delegates @oxfordfarming we're facing an 'agricultural revolution' - speaking glowingly about the future of scientific innovation, including robotics, big data and gene editing.
In response: a tweet - The fool really does believe in magic!!!!
That is all for this week..
Take care
The English Apple Man