Journal
11th Jan 2019 - The English Apple Man takes a look at news from New Zealand
With Brexit dominating our news, our fruit growers continue to worry about where the harvest workers will come from for 2019 and beyond.
What is the position in other countries growing apples & pears?
While Brexit has been blamed for the difficulty in obtaining harvest workers and it is certainly of considerable influence, accessing enough harvest workers is not confined to the UK. New Zealand and USA to name just two major apple growing regions are facing the same challenge.
This week I received an email from Martin Williams who used to grow apples at Ockford farm in Northiam in East Sussex. Martin had been sent a link from his daughter who lives in New Zealand which highlights the potential shortage of harvest workers available for the 2019 apple crop.
Most of the apple & pear production is centred in Hawkes Bay and Nelson (Tasman)
Click on Main 'Apple & Pear' production areas in New Zealand
Headline: 7th January 2019 - New Zealand's apple growers fear a bumper crop coupled with a shortage of workers could mean some of the summer harvest is lost.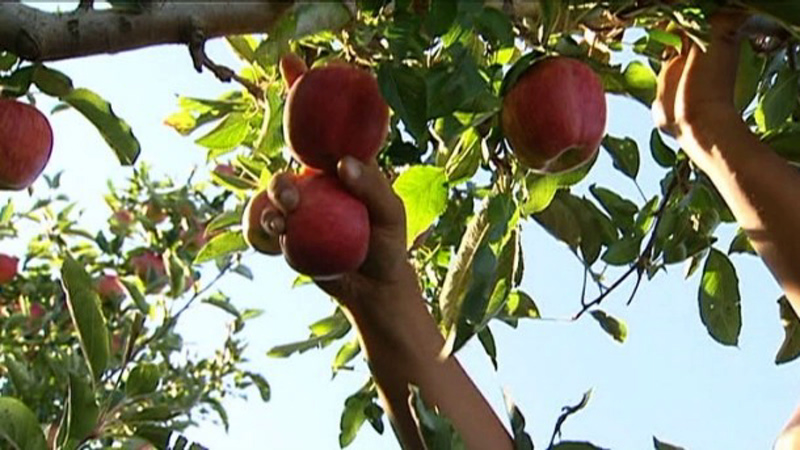 "Singing can be heard across Hawke's Bay's orchards as the picking season gets into full swing. But there are concerns from growers that the chorus might fall flat!
Paul Paynter from Yummy Fruit Group doesn't believe they'll be able to pick all of their valuable apple crop this year due to falling labour numbers.
"I don't think we are going to cope. We are forecasting to be really short of labour this year," he told 1 NEWS.
The group - New Zealand Apples and Pears, which represents the pip fruit industry, wants the government to step in and allow tourists to pick fruit without a working visa.
Group spokesperson Gary Jones said this could happen if the government declares a seasonal labour shortage in the country's primary apple growing regions of Hawke's Bay and Nelson.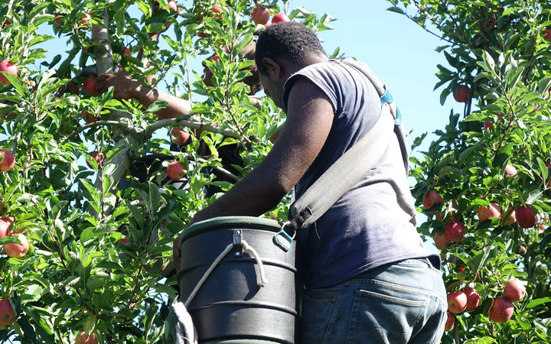 This would allow overseas visitors in the country on tourist visas to work in the horticulture industry without obtaining the usual work permits.
"We have a larger crop that will require a lot more workers and we're not seeing any more working holiday people turning up.
"The other challenge we've got is very, very low unemployment. So it's shaping up as being a bigger, earlier labour shortage than last year."
The apple picking season gets into full swing in mid-February, and Mr Jones said it looked unlikely there would be enough labour to pick the year's crop.
"We're expecting another 30,000 tonnes more apples, nationally. That's getting up over 600,000 tonnes of fruit.
"That increase in Hawke's Bay alone, for example, is around 500 more workers, just to pick the increase."
Mr Jones said he'd like to see a permanent regime put in place so growers don't have to plead with the government each time more workers were needed.
"Consumers will just switch to other products produced in other countries and it'll be lost completely from New Zealand.
"We don't have to do that. And the solution is right at our fingertips but we can't seem to grab that solution to create ongoing growth and prosperity for our regions."
Looking back to 26th March 2017 the prospects seemed to be more positive!
In the decade since the Recognised Seasonal Employer (RSE) scheme was introduced, the number of seasonal workers coming to New Zealand from the Pacific has doubled, and it is set to continue growing.
The programme to allow growers to recruit labourers from offshore for a fixed period of time - to pack, maintain, harvest and pick crops - launched 10 years ago in April. Initially the number of visiting workers was capped at 5000 but this season that number has grown to 10,500.
However, as demand increases so do fears about how temporary workers from overseas are being treated.
In Marlborough - home to roughly two-thirds of the wine grapes grown in New Zealand, where 75 percent of work on the vines is done by labourers brought in under the RSE - the majority of workers come from Vanuatu.
On 7th June 2017 "We couldn't have done it without you" - New Zealand fruit grower John Van Vliet was full of praise for his Solomon Islands workers at a community gathering held to farewell them at the end of another successful season.
Mr Van Vliet, known as JR to his workers, grows and exports apples and pears to Europe and Asia from a 135 hectare property near Greytown, an hour north of Wellington.
He said their contribution in helping fill 14,000 bins and pack 250,000 cartons of apples and pears for export this season was crucial to the success of his business this year.
John Van Vliet said the industry could no longer survive without the Pacific labourers who are brought in each season under the Recognised Seasonal Employer (RSE) scheme.
"The workers that come here for that period really want to work and they want to send money home to their family.
JR comments: "For a lot of New Zealanders it is easy to get the dole and there is a large degree of drug usage in our industry and probably every industry at the moment and that is the reason why we do need to have RSEs."
Andrew Little is one of the duty ministers during the holiday season.
He pointed to a recently-announced government proposal to make it easier for businesses to get migrant workers if there was a shortage, which was currently up for public consultation.
"They can be assured that we totally get the challenge they've got which is that the fruit are on the trees. It's a bumper season and a bumper crop and they've got to get those crops harvested.
"That's why we've changed the rules so that they're more regionally focused as opposed to nationally focused and it's easier for employers in that situation to get migrant help."
Mr Little said the new rules were designed to take into account the unique needs of regions and would make it easier to get seasonal migrant labour.
He said he was not sure that making a declaration of a seasonal labour shortage would help.
The Ministry of Social Development said in a statement it was actively promoting seasonal work opportunities and supporting job seekers to fill vacancies.
On 1st March 2018 - "Apple growers in Hawke's Bay are preparing to work around the clock to cope with what's being described as an extreme shortage of seasonal workers.
Orchardists said they have less have than half the workers they need, and despite a recruitment campaign, are failing to attract the usual hordes of backpackers they rely on.
Below: Bostock human resource manager Vikki Garrett and orchard manager Chris Treneman.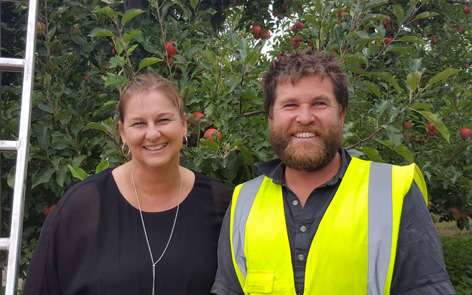 Hastings-based Bostock is the largest producer of organic apples in the country.
Bostock human resources manager Vikki Garrett said usually they'd hire about a 100 or so backpackers, but had only managed to recruit 10.
"We are about 65 to 70 percent down in labour this year to help get our fruit off the trees. Usually we get a huge influx of backpackers alone but this year there's nobody around and we don't know where they are."
Alan Pollard from Apple and Pear NZ says it's not just about the money lost.
"The other one is the potential loss of reputation. The market expects our fruit on time and at a high quality. And if we can't deliver then it affects our reputation internationally," he said.
But Regional Development Minister Shane Jones is "unimpressed" with horticulture investors.
"This is not exclusively a government problem. If you are going to put your money at risk and you haven't given a lot of thought or come up with a plan for human capital then you can't howly bag to the government every time financial capital outstrips human capital," he said.
Mr Jones told 1 NEWS the industry needs to innovate and look at better working conditions. But growers on the ground say they are doing all they can.
"We are working towards automation and greater labour efficiency in the field. But it takes tens of years to change orchard configuration to work with robots that aren't quite here yet." Paul Paynter from Yummy Fruit Group said.
Below: left; current tree shape and right; robotic picking will need a 2 dimensional narrow tree format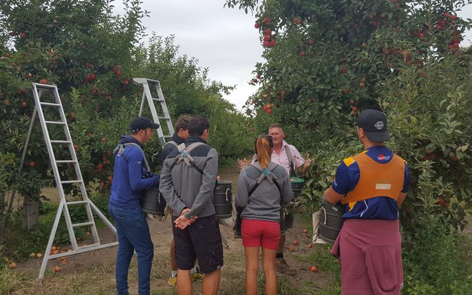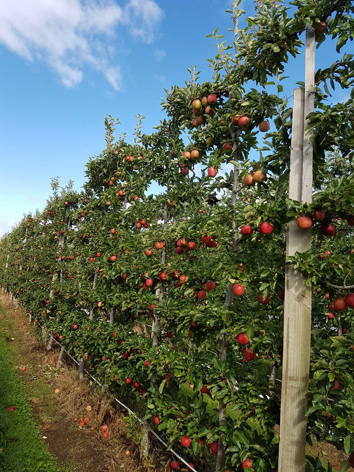 Alan Pollard says the Government needs to take a longer-term view on the labour issue.
"At the moment our businesses have to negotiate every year for the labour they need, and yet they are planning their investments over a three to five year period. So we would like to see a more strategic long term view taken," he said.
The industry will be meeting with the Social Development Ministry to try find any more workers they can in the little time that's left.
The government's new immigration plan will create a high turnover of staff in the horticulture industry and dramatically cut the number of people applying for jobs, according to a Bay of Plenty kiwifruit company.
The government has announced a string of proposed changes to control and tighten immigration numbers.
The move would include a salary threshold for high-skilled migrants, while low-skilled migrants would be made to leave the country after three years and go through a stand-down period before being eligible for another work visa.
Ian Wilson's company, Arian Enterprises, employs 150 people on working visas and harvests, prunes and manages kiwifruit orchards.
He said it would struggle to find staff under the new rules.
"It takes about one-and-a-half to two years to be skilled in pruning and working in the kiwifruit industry. We get them to a good skill level, and then they'll have to go away."
Mr Wilson said he had been forced to look overseas because New Zealanders thought of the jobs as only seasonal.
"If there were Kiwis that would like to come and work for me, I'd have them any day.
"I have advertised, I've got advertising running most of the time, I've got advertising running at the moment - and I've had no New Zealanders apply for those jobs."
Other fruit growers, who did not want to be named, complained about the same thing.
Changes 'strike the right balance'
Immigration Minister Michael Woodhouse said people would just need to "work harder" to employ New Zealanders.
"These changes are designed to strike the right balance between reinforcing the temporary nature of Essential Skills work visas and encouraging employers to take on more Kiwis and invest in the training to upskill them."
Opposition parties doubted the new rules would make much of an impact, labelling it an election year bribe.
New Zealand First leader Winston Peters said the rules were "a con".
"If you read them carefully, it's really bureaucratic gobbledy-gook in a shambolic immigration service led by a government that has no clear plan on this matter.
"Immigration numbers must be reduced to near 10,000 net per year."
Most of those working in Marlborough are out in the fields doing jobs such as pruning, leaf thinning or hand picking and they are paid on a 'piece rate' or per job on each plant.
Are workers being taken advantage of?
Ms Walker says she suspects some contractors have been sliding the piece rate down to make sure that no matter how fast workers moved up and down the row, their pay stayed on, or close to, minimum wage.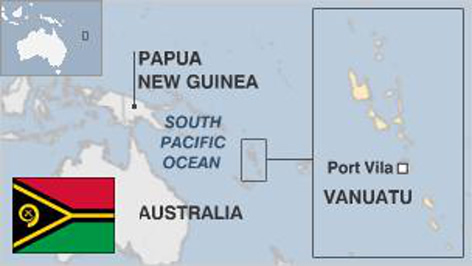 Many workers come from Vanuatu: Vanuatu - a string of more than 80 islands once known as the New Hebrides - achieved independence from France and Britain in 1980. Most of the islands are inhabited; some have active volcanoes.
Henry* is one of the Vanuatu workers who felt he had been short-changed. Self-effacing and quietly spoken, he regards the opportunity to earn cash by doing seasonal work in New Zealand as a privilege.
He was able to build a modest house back home and wants to extend it so that the girls and boys in his family would have separate rooms, but despite working as hard as he had done in previous years, his weekly pay this season is down.
"My expectation is for $3000 to $4000 (one NZ dollar = £0.53) this season to take back to Vanuatu to do other things for my kids," he said, but the actual pay packet has fallen far short of that.
Henry describes his fellow workers as shy, and says it is hard for them to complain.The process for any complaints is for workers to go to their employers first, and then officials at Immigration NZ or the Labour Inspectorate.
Click on Mr Apple for a list of apples grown by Mr Apple for export.
What about Australia?
Australia 6th June 2018 The World Bank wants to see more women involved in the Australian seasonal worker programme.
A new Bank report, called the 'Social Impacts of Seasonal Migration; Lessons from Australia's Seasonal Worker Programme,' has laid out how to solve some of the social impacts of a scheme that has delivered financial benefits to many people in island countries and provided a valuable resource for Australian horticulture.
A small percentage of the seasonal workers since they started about eight years ago have been women, but a special protection economist with the World Bank, Jesse Doyle, told Don Wiseman they want a lift in these numbers to ensure women get the same opportunities as men.
In the UK our Government has reintroduced SAWS (Seasonal Agricultural Workers Scheme) in New Zealand their scheme is called the Recognised Seasonal Employer (RSE) scheme and in Australia the Seasonal Worker Programme
English Apple Man's Comment: The problem is not going to go away yet, as Robotic picking is still someway away. However picking rigs are getting more sophisticated as seen in this YouTube video from USA.
Click on: Building a vacuum harvesting machine
The one thing I 'particularly' noticed about this video was the poor picking skills of the workers, who appeared to 'brut' most of the apples due to poor technique. e.g.removing the bud wood behind the stalk with the apple and then having to remove it as a second operation!!!!
That is all for this week..
Take care
The English Apple Man