Journal
22nd Feb 2019 - Haygrove Evolution - John Breach and U40's Conference
This week's Journal features Haygrove Evolution a wine & cider business: John Breach honoured by The Worshipful Company of Fruiterers and news of the Under 40's return from their visit to Chile.
Haygrove Evolution is; as the name suggests, an evolving business: Haygrove Evolution was established in 2015.
Combining operations from Vine & Wine, Once Upon A Tree and integrating with local business Haygrove Ltd, Haygrove Evolution is producing Wine & Cider under the Sixteen Ridges and Once Upon A Tree Brands and offering contract processing for other growers.
While Haygrove Evolution was established in 2015, the story starts when the business originated in 2001 as 'Vine and Wine Ltd' offering vineyard consultancy and vine supply. This was followed by the conception of 'Once Upon a Tree' the cider and perry brand in 2007.
Simon Day gained a BSc (Hons) Biochemistry at The University of Sussex and entered the wine industry in 1995. In 2001 Simon created Vine & Wine Ltd. In 2007 Simon added 'Once upon a Tree Ltd.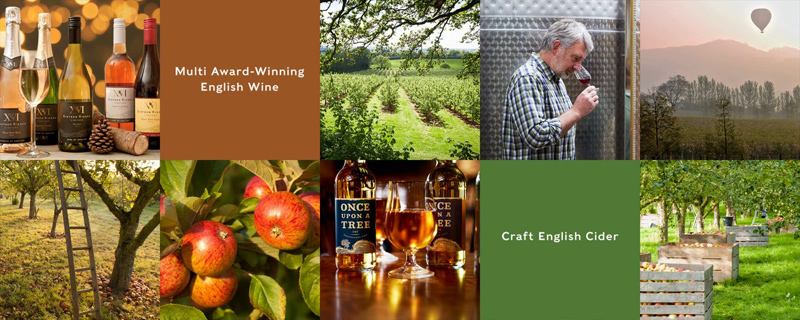 Below: Simon Day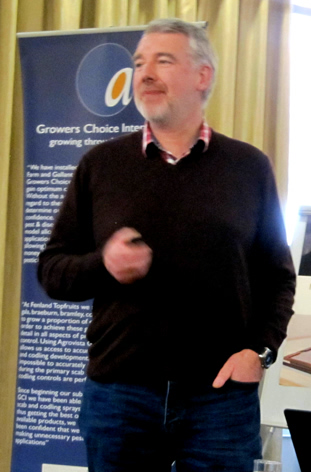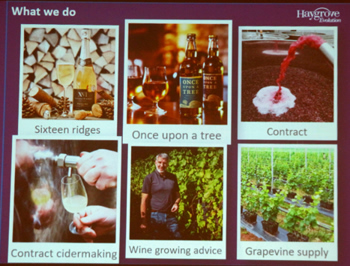 Simon recounts - 'a story in every bottle'
"From the humble beginnings of our story in 2007, when Once Upon a Tree was born in the cold outbuildings at Dragon Orchard; we have evolved to multi award-winning craft drinks producer, BBC Radio 4 Food & Farming "Drinks Producer of the Year", Overall Champion Trophy at the International Cider & Perry Competition, and winner of the Bath & West Champion Perry Trophy.
"We remain humble and true to our heritage and passion, which is to create the best quality cider from the highest quality fruit; whilst continuing to preserve the tradition of cider making in the area.
Founder and wine maker Simon's appetite and knowledge to apply wine making principles to cider production has led to a profusion of creative and innovative products, from multi award winning Blenheim Superb ice cider, to grape skin co-ferments.
Below: the current range of Ciders available from the 'Once upon a Tree range and right; the growth of cider sales from the company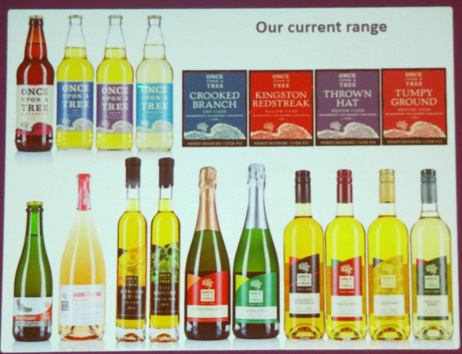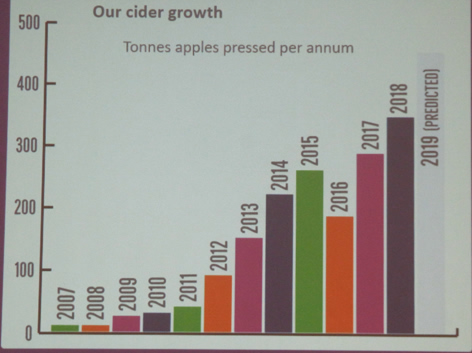 Below: the secret of success lies in producing 'Craft Ciders' demonstrated in the graph on the right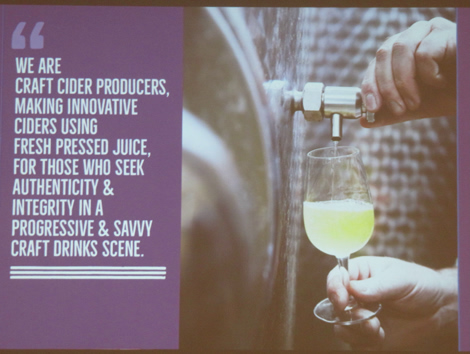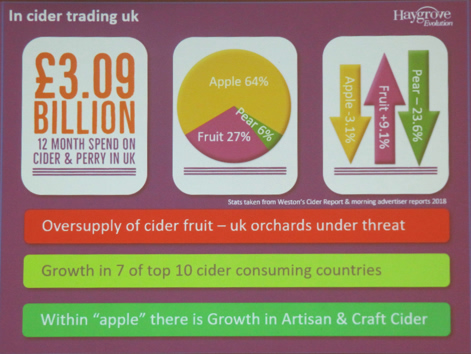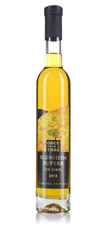 Craft cider - defined by the 5 point test: 1) Made with skill - 2) Interesting - 3) Authentic - 4) Recommendable - 5) High value perception!
In 2013 the business expanded to produce a new range of premium still and sparkling wines under the brand Sixteen Ridges. Haygrove Evolution was born. We are part of the dynamic and fast growing Haygrove group. A family business which has become a world leader in fruit growing and crop protection systems across 40 countries.
From traditional farming to creative innovation
"All of our wines are produced at our winery in the historic town of Ledbury. At first sight we operate a well organised farm and winery, but lift the lid off of the winery, and discover our strive to challenge convention; an approach which is at the core of our entrepreneurial owner Angus Davison and our award winning winemaker Simon".
From single varietal trials of vines grown under tunnels, to small batch co-fermentation, or apple ice cider production, we are constantly challenging ourselves to entice our customers to try something new.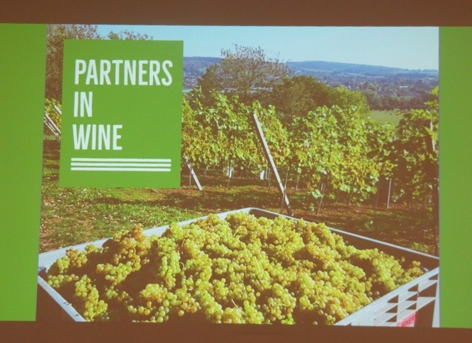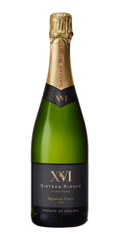 Sixteen Ridges vineyard was planted in 2007 on an ancient ridge and furrow field (hence Sixteen Ridges). South facing and a natural amphitheatre shape, it enjoys a perfect aspect with excellent shelter. Here our multi award winning Pinot Noir, used in our sparkling and much sought after red wines, thrive.
Redbank vineyard was planted in 2012 by the passionate, knowledgeable and pioneering hand of growers Cilla and Tim. It is located on the south-facing slopes of the Wall Hills; where in the 13th century St Thomas Cantilupe, the last English Saint, is recorded to have demanded the re-planting of vines. A testament to this spot's history and heritage as an exceptional site for vines.
Today: "We are artisan producers of wine and cider for our own brands and under contract for local growers".
Haygrove Evolution offer an extended range of vine and wine services including vine consultancy and management, vine supply and propagation.
In partnership with a German Nursery, Haygrove Evolution has developed vines on different strength rootstocks to match the soil type within a vineyard. In addition, the production of vines on their own roots adds another dimension to vineyard establishment.
Below: Simon Day with his German Nursery partner and right; Key stages of Vine production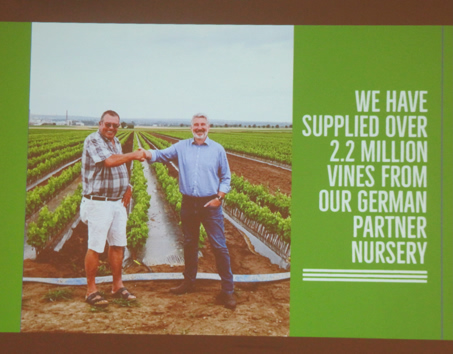 Below: In 2014 grapevine trials began, resulting in innovative techniques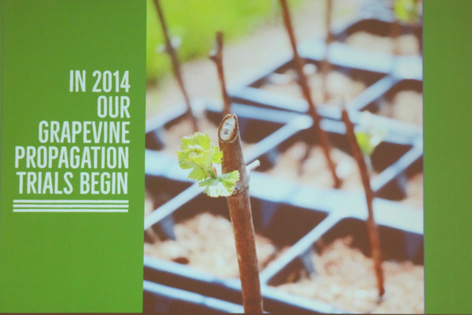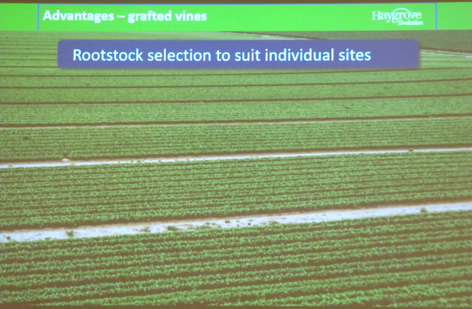 Below: matching rootstocks to the soil or growing vines on their own roots are part and parcel of Simon's techniques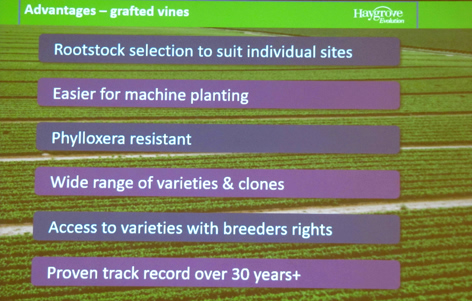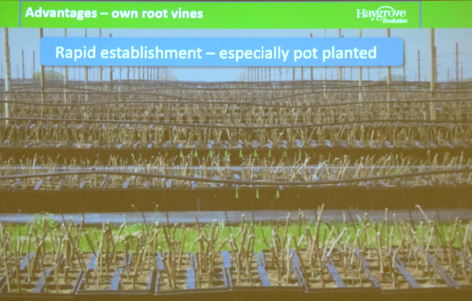 Below: While Chardony and Pinot Noir dominate the grape varieties grown by Haygrove, there is a wide variety of options for specialist needs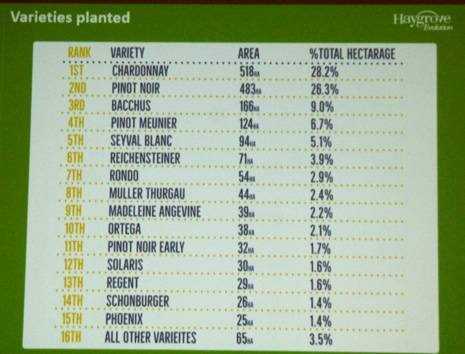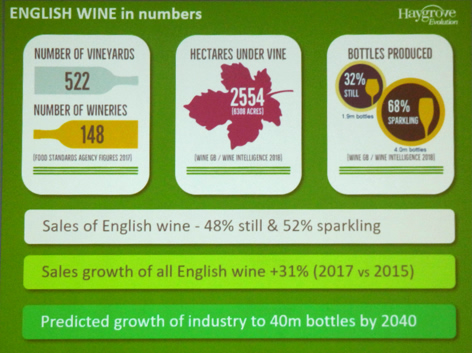 Below: Various small producers are 'growing with us' - Simon Day reflects Angus Davison's entrepreneurial character, - always prepared to challenge convention.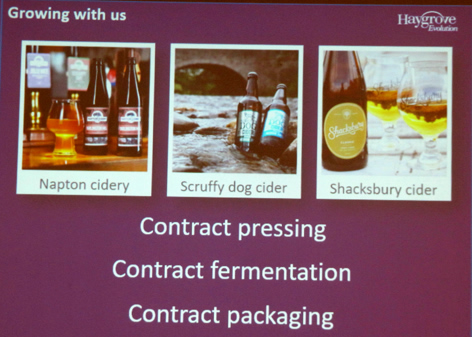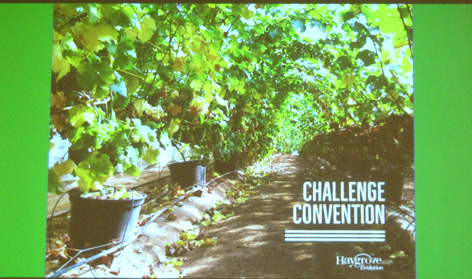 The English Apple Man is delighted to learn that the The Worshipful Company of Fruiterers Lewis Award; founded in 1968 and given triennially to an individual with distinguished achievements in the marketing of fresh fruit, has been awarded to John Breach.
THE WORSHIPFUL COMPANY OF FRUITERERS LEWIS AWARD - presented to JOHN BREACH
Below: John Breach receiving the Worshipful Company of Fruiterers Matthew Mack Award from Fruiterers Master Roux on 13 February 2019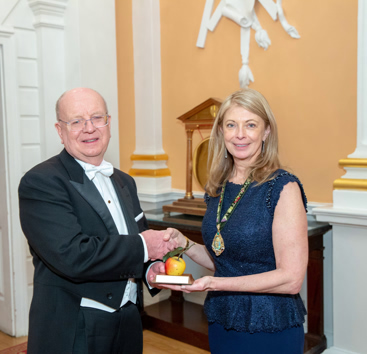 1. In recognition of the tireless lobbying he has done on behalf of the UK fruit industry, John Breach was presented with the Lewis Award by Mrs Cheryl Roux, Master of the Worshipful Company of Fruiterers, at their banquet on 13 February 2019.
2. John Breach was born into a Kent farming family and later joined the celebrated East Malling Research Station Plantation Assistant scheme.
3. John enjoyed his work experience on a nursery in Villers-Cotterets in France and so impressed the owner, Charles Andre, that he appointed John to be their UK agent. The 50 years of association between these businesses was celebrated last year.
4. The wider interests of the British tree fruit industry have always been close to John's heart.
5. He has been a committee member of the National Fruit Show for over 46 years and started the British Independent Fruit Growers' Association.
6. John played a crucial role in initiating the Cox and Bramley Campaigns to promote these two varieties.
7. He lobbied relentlessly on issues over the relationship between multiple retailers and their fresh produce supply base and was instrumental in the establishment of the Groceries Code Adjudicator.
8. Upper Warden, David Simmons, concluded his citation noting that "John Breach has made a difference and he is therefore a most worthy winner of the Lewis Award.
UNDER 40's IN CHILE
Committee: left to right; Hamish, Jim, Marzena, Emily, Tom & Matt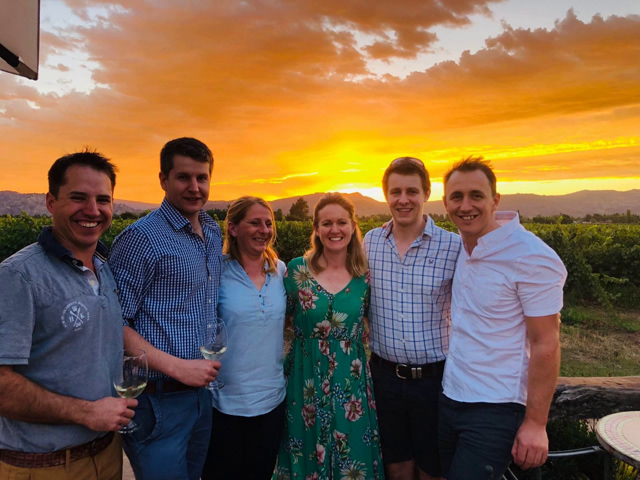 Regular readers will be aware of The English Apple Man's association with the Under 40's - having accompanied them on the previous U40 Conferences to The Loire in 2011, Poland in 2013, Benelux in 2015 and South Africa in 2017.
Now 'feeling my age' and well past my 70th birthday, let alone 40th; The 2019 U40 Conference to Chile has been followed keenly by The EAM on twitter!
Organised by U40's Chair Emily Cliff supported by her committee and many generous sponsors, the U40's Conference group numbering 52 left Heathrow for Santiago on Sunday 11th February returning on Monday 18th February.
Emily Cliff - Chairman
Tom Christensen - Vice Chairman
Matt Greep - Treasurer
Jim Burston - Sponsorship Secretary
Hamish Light - Secretary
Marzena Lipska - Itinerary Planner
Click on SPONSORS
Below: Under 40's Delegates in Chile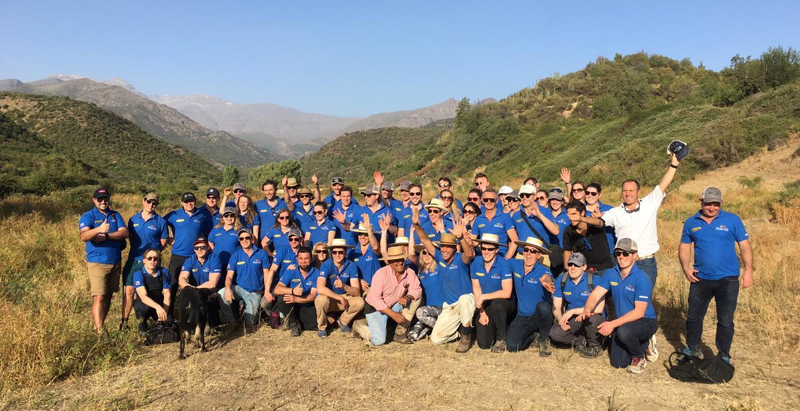 Below: Under 40's visiting orchards in Chile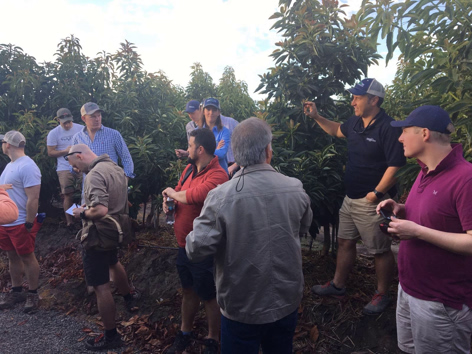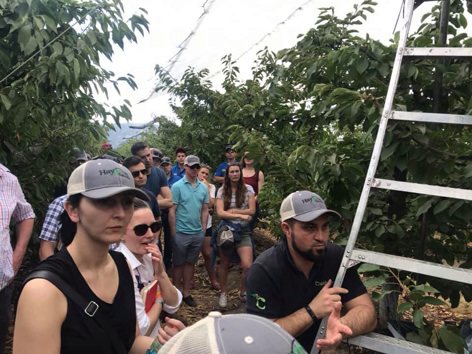 Below: Under 40's in an orchard and Sunset in Chile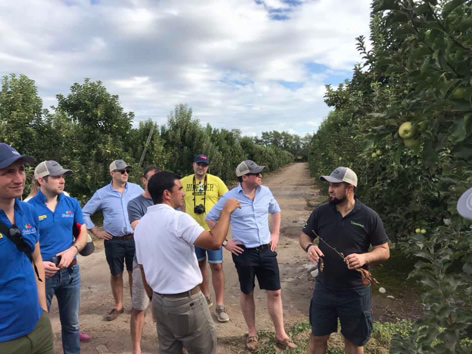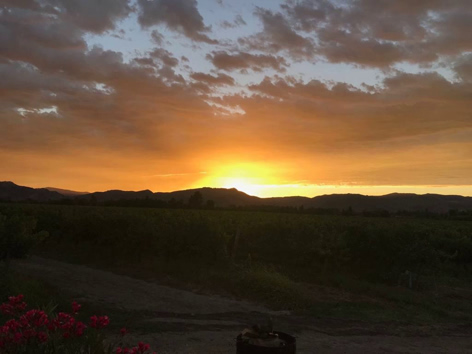 See Uner 40's on Facebook by clicking on U40s FACEBOOK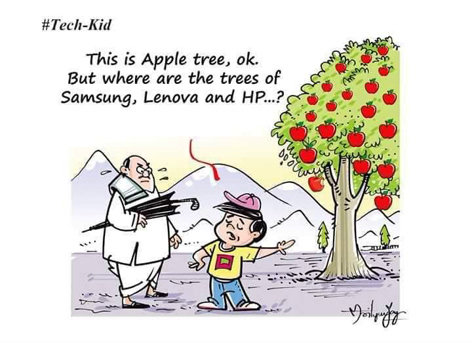 That is all for this week
Take care
The English Apple Man