Journal
12th Apr 2019 - Looking for home grown apples and pears?
As we approach mid-April, The English Apple Man takes a look at what home grown apples and pears are still available to consumers.
The development of new varieties and sophisticated storage systems has allowed home grown apples and pears to extend their presence on retail shelves further into the early summer months.
This has been facilitated without compromising visual and in particular eating quality.
Turn the clock back half a century to 1969 and few home grown dessert apples were kept in store much beyond Christmas.
That changed with improvements in storage capabilities as C/A (Controlled Atmosphere) stores became more efficient and in the last few years the UK top fruit sector has adopted Dynamic Controlled Atmosphere (DCA) stores enabling apples to be kept into early summer (maybe beyond) without losing eating quality.,
This week The English Apple Man visited M&S, MORRISONS, ASDA, TESCO & SAINSBURYS in Hasting East Sussex and WAITROSE at Hawkhurst in West Kent.
On Wednesday a vist to M&S found 'Perfect Pick' - British Jazz and Gala apples & 'Perfectly Ripe' Conference pears. In addition; British Envy, Cox and very attractive loose Royal Gala. The small ROCKITT snack packs @ £2.50 offer something different.
Clearly we are getting towards the end of the 'British Dessert Apple Season and TODAY (Friday 12th) it was disappointing to find predominately German (Braeburn) and Italian (Gala) in ASDA while MORRISONS display was rather untidy, with bits and pieces of British apples on display. In adjacent boxes on display; Italian and British Gala - "customers seeking British Gala will need to read the label on the pack to be sure of picking up home grown apples.
The Cameo apples bought by the EAM were crisp and juicy with flavour. In fact ALL the apples purchased today in Morrisons, Tesco, Waitrose and Sainsburys were of very good visual quality and had very good texture; firm, crisp and juicy. Taste varied but the new season COX from New Zealand was (to my taste) no better than the British apples (stored for 6 months). Such is the sophistication of modern storage and the expertise of the operators, we are now able to enjoy home grown apples for a much longer season.
Below: left; Morrisons - British Cameo apples `grown by Newmafruit - right; Tesco - New Zealand Cox (new season)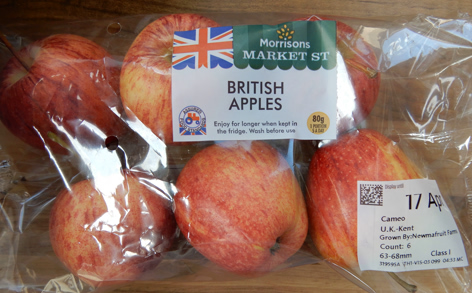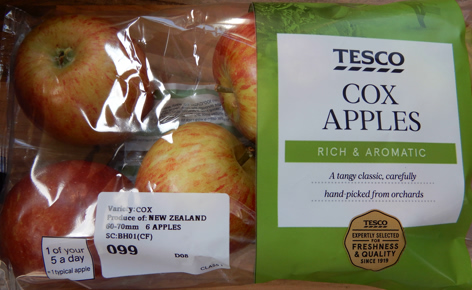 In Tesco, The EAM was very impressed with the 'pristine display' and the availability of British apples of very good quality; temptation got the better of me and a punnet of superb 'Malling Centenary' Strawberries grown by Harry Hall found it's way into my basket, along with Braeburn, Gala, Golden Crunch and Junami apples.
Below: left; Tesco British strawberries from Harry Hall - we enjoyed them for supper!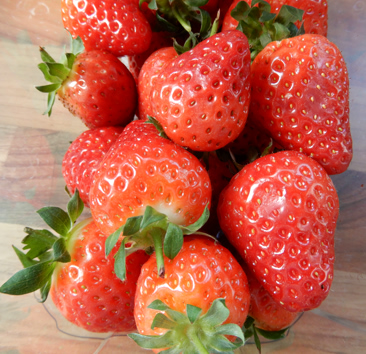 Below: left; Tesco - Braeburn apples from Adrian Scripps and right; Rosedean 'Sweet Gala' apples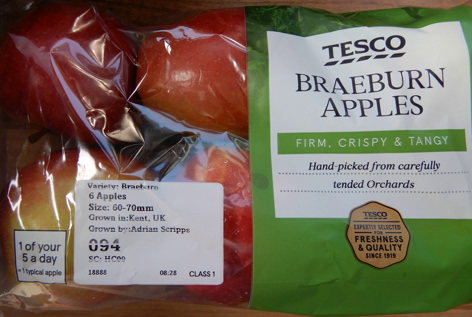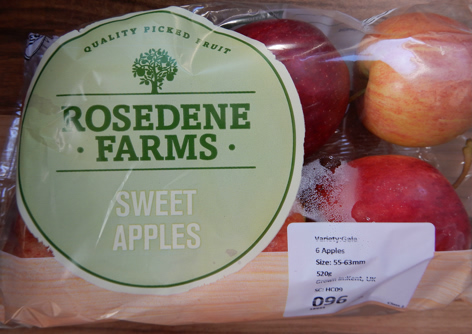 Below: left; Tesco - Golden Crunch from John Portass and right; Tesco 'Finest' - Junami from Herefordshire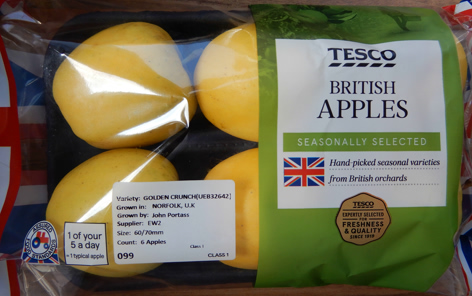 In Waitrose the EAM found Royal Gala, Cox, Braeburn, Envy, (all @ £2 x 4 pack) Jazz apples and Conference pears and Bramley cooking apples (@ £1.85 kg).
Below: left; Waitrose - Envy grown by Paul Mansfield and Daliclass from Peter Chandler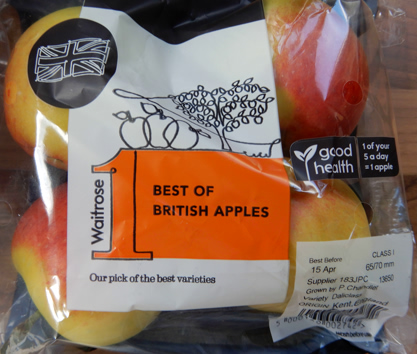 Below: left; Waitrose - 'Essential Cox' - Below: right; Sainsburys - 'Ripe & Ready' Conference Pears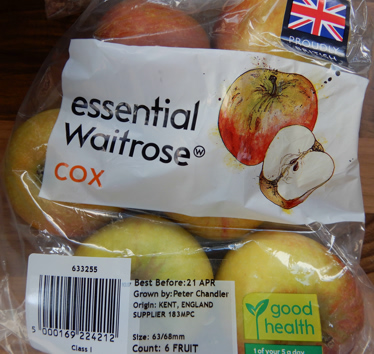 Below: AC Goatham & Sons launched a small volume of their new variety 'Flanders Pink' ( a cross between Kanzi x Greenstar) into Sainsburys stores. As trees grow and produce more of what appears to be an attractive new apple with crisp juicy texture, it could be a winner in the race for an alternative variety

Summarising retail visits this week; The EAM was very encouraged by plenty of British apple in Tesco, Sainsburys, M&S and Waitrose. Disappointed with Morrisons and ASDA even more so!!
The Rural Focus Press Group consists of circa 25 members; attendance varies depending on availability of group members. Pat Crawford sets the agenda, invites a member of the press and Chairs the Focus Group meetings.
From time to time, The English Apple Man publishes an article written by Pat Crawford. Pat has a consummate knowledge of all aspects of the Kent countryside (and well beyond). Her comments are always worth reading and in this week's Journal is another article highlighting the effect of climate change.
CLIMATE CHANGE IS HAPPENING.
Pat Crawford provides the RURAL FOCUS PRESS GROUP COMMENT AND ADVICE COLUMN
"Our landscape is precious. It directly relates to interaction between what is natural and our influence on the environment. Our islands are small yet the character of the landscape is vastly diverse - one of the things that makes Britain unique. Here in the south-east the farming industry has massive influence on the landscape - ''the countryside' - 'the scenery'. Arable crops, orchards, soft fruit, beef cattle, dairy cows, goats, pigs, sheep, hops, salad crops, vegetables, asparagus - and more - mingle to produce a kaleidoscope that changes with the seasons.
Farming benefits each and every one of us in a multiplicity of ways. The diversity results in open grassland, woodland, hedgerows, ponds, ditches and other features that provide habitats for wildlife. Many farmers produce bio-fuels and/or are responsible for a range of other initiatives that help to reduce our dependency on fossil fuels. We Brits are a nation of animal-lovers and it is important to us to know that the livestock management standards maintained in this country are the best in the world.
As consumers we have power - mighty power - to make or break when it comes to the source of our food and we can force even the big supermarkets to listen to us. That has always been important but never more so than now when climate change is already threatening food production in some parts of the world. We have little idea how this will eventually affect out food imports - meanwhile we are still battling decisions concerning Brexit.
Farm shops, farmers' markets and specialist small shops make invaluable contributions to the food economy but supermarkets continue to play a vastly important role. 'Buying British' will be encouraged if we can identify the country of origin of all food products easily. Some labelling is clear and even identifies the farmer or grower by name - however, a great deal of it is obscure and dishearteningly difficult to find. As consumers we have huge strength to change things for the better!
Very sad news
Sadly we lost a giant of the English top fruit industry this week when Dr. Martin Luton lost his battle with a terminal illness.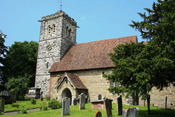 A memorial service for Martin will be held at The Church of Ss Peter & Paul at Leybourne on Wednesday 17th April at 11.30am.
That is all for this week
Take care
The English Apple Man