Journal
26th Apr 2019 - Blooming marvellous Blossom and a Presidents Award
As blossom burst forth over Easter, with blooms opening in front of the eyes, bees and other pollinating insects were working hard on every tree.
On Wednesday, The Marden Fruit Show Society held their AGM at the very new Marden Hockey Club.
A very special event took place after the AGM when MFS President the Right Hon. Michael Jack presented a stalwart of our top fruit industry Roger Worraker with The Presidents Award.
Roger Worraker's story is the latest subject of The English Apple Man's People Profiles which went live on line on Wednesday 24th April. Click on Roger Worraker - People Profile for a link to Roger's story.
The Marden Fruit Show Society organises The National Fruit Show annually in October.
The Marden Fruit Show AGM had a different format to past years, with a new venue and an 8am breakfast before the formal AGM business at 9am. We all agreed this to be agreeable and it will I think become the norm for future years. As the Hockey Club is adjacent to Bardsley Farms 'Blue House Farm' members were able to walk from the Club to the orchards for a blossom walk immediately after the AGM.
Below: 'Replete' after breakfast, members turn their attention to the MFS AGM.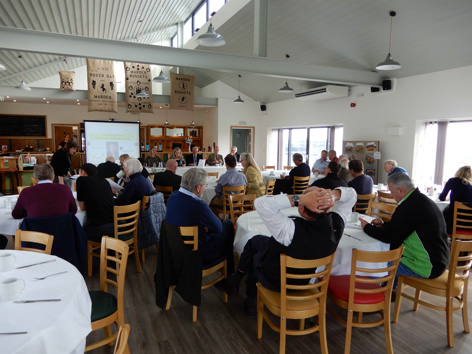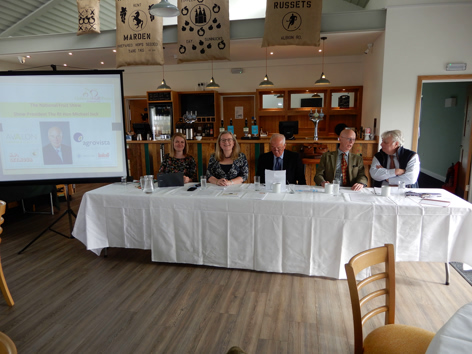 Presiding over the AGM - MFS President, The Right Honourable Michael Jack. Also on the top table our Chair Sarah Calcutt, Vice Chairman Andrew Tinsley, Honorary Treasurer Hugh Summerfield and Marden Fruit Society Secretary Catherine Joules.
Below: left; The President addresses the membership and right; Chair Sarah Calcutt delivers her report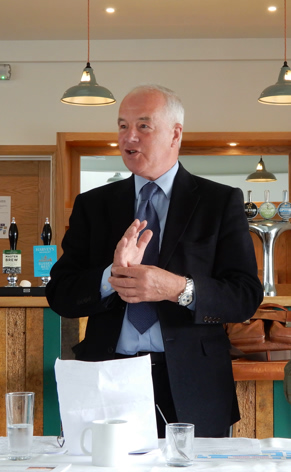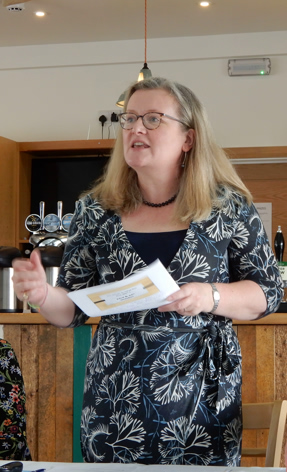 Michael and Sarah have been in office now for ten years - 'how time flies' - and the National Fruit Show has taken a mega step forward during their tenure, becoming a much more professional event, very much due to their leadership!
Below: Sam Smith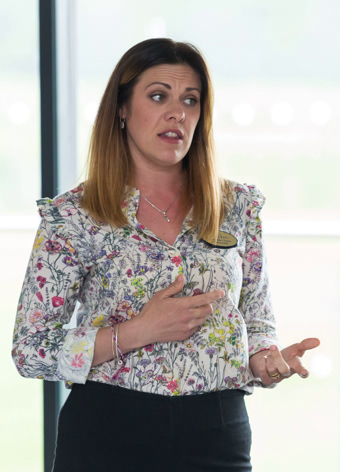 Following the formal business of the AGM - Sam Smith who administers the very successful education programme, updated the members on the expansion of the programme made possible by two generous donors complementing funds set aside by the Society for the education programme.
The numbers of children benefitting from Sam's school workshops has risen dramatically from an initial 450 children in year one to well over 4,000 so far and with further expansion Sam forecasts circa 10,000 this year.
Below: Extract from The National Fruit Show website
The National Fruit Show, financially supported by fruit grower AC Goatham and fruit marketeers APL Ltd , is pleased to be able to offer free workshops to Key stage 2 children in Kent and London.
Using colourful characters and hands-on activities, these workshops combine fun with learning and can be tailored to suit what is being taught in the classroom whether the focus is on science (the life cycle of the apple tree), geography (where does our food come from?) or healthy eating (why is fruit good for you?).
Children have the opportunity to taste British fruit when it is in season and out of season try snacks such as apple crisps and fruit leathers. The children can also try their hand at juicing their own apple juice and if the school has a garden there is the option to plant an apple tree with advice on how to prune and look after it.
All children receive a comic, colouring sheet and "I tried an apple today" sticker together with our "Parent Pack" leaflet to take home to show family and friends.
This great opportunity is completely free to schools. All costs are met by the National Fruit Show and key sponsors AC Goatham and APL Ltd.
For an opportunity for your school to participate: click on National Fruit Show Education
Long Term Storage Awards
The Long Term Storage Competition highlights the ability of store operators and the quality of the stores and equipment. This year Arron Rook of Figgis farms received awards for 1st place in Gala, Jazz and Cox categories and 'store operator of the year'
Below: Marden Fruit Show Long Term Storage Entries on display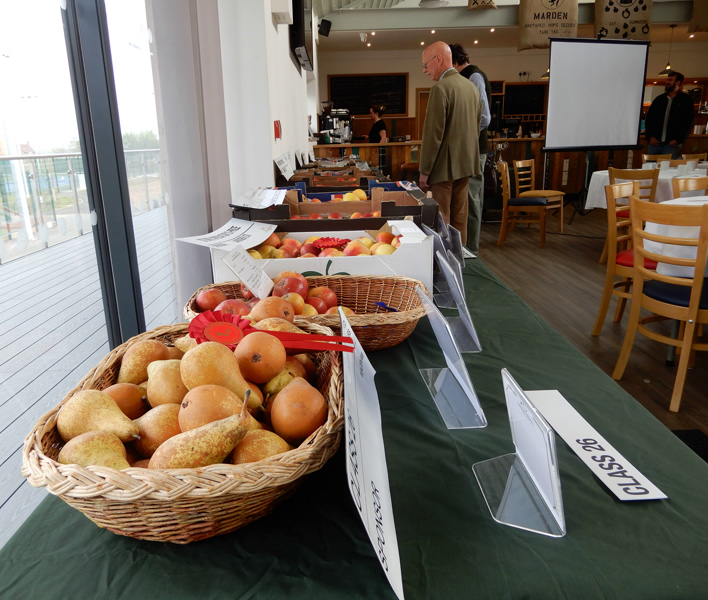 The LTS judges are led by Worldwide Fruit's Storage expert Caroline Ashdown.
Below: left; Caroline Ashdown announces the results of the Marden Fruit Show Long Term Storage Clases and right; Michael Jack presents Arron Rook of Figgis Farms with one of the his awards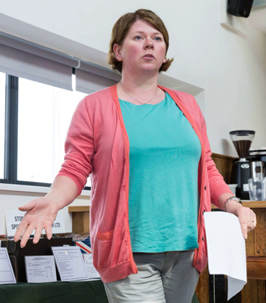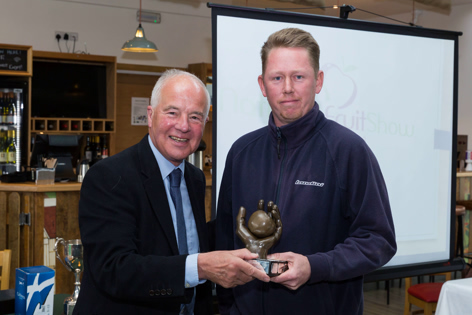 Below: left; Figgis farms won best entry for Gala with a score of 99.5% and centre; FF also won first prize with their Jazz and right; Figgis farms won the Cox class as well - Arron Rook also won the Store Operator Award to cap a very successful performance in the Long Term Storage Competition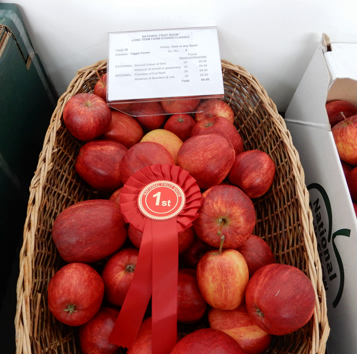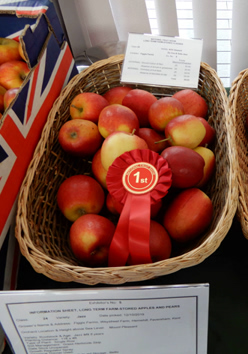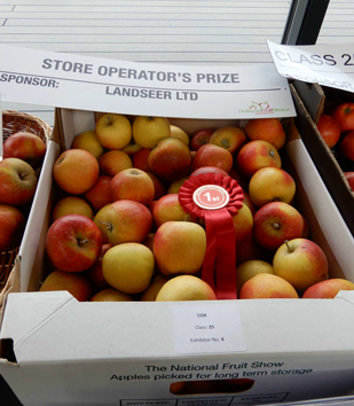 Below: left; Michael Jack presents Stephen Farrelly (representing Simon Bray) with the LTS class award for Bramley and right Simon Bray's Bramley winning entry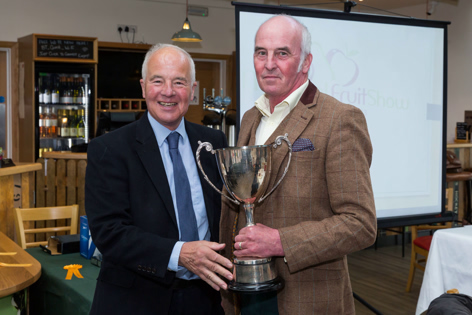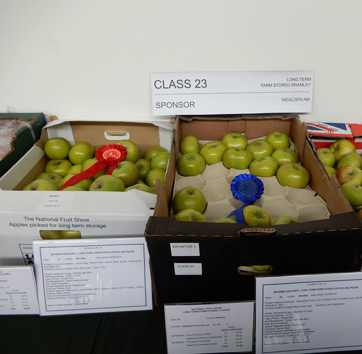 Below: left; Michael Jack presents Newmafuit Store Manager with the Award for Conference Pears and right; Newmafruit's winning Conference pear entry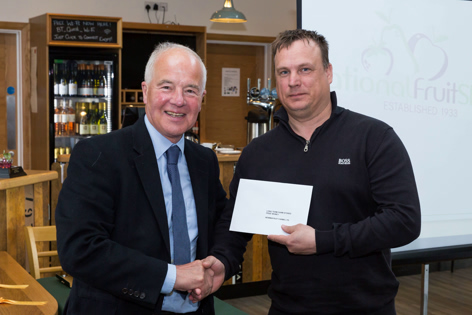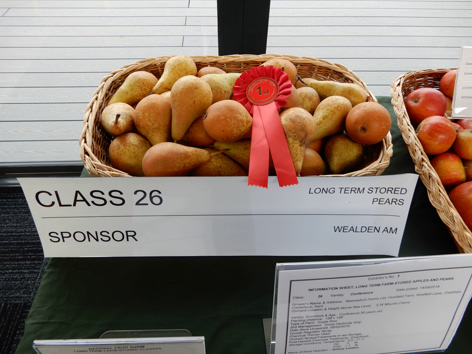 At the end of the mornings business and prizegiving, one very special award recognised a stalwart of the English Top Fruit industry: Michael Jack presented The President's Award to Roger Worraker recognising his long service to the industry.
Below: Michael Jack, Roger Worraker and Sarah Calcutt pose with Roger's President's Award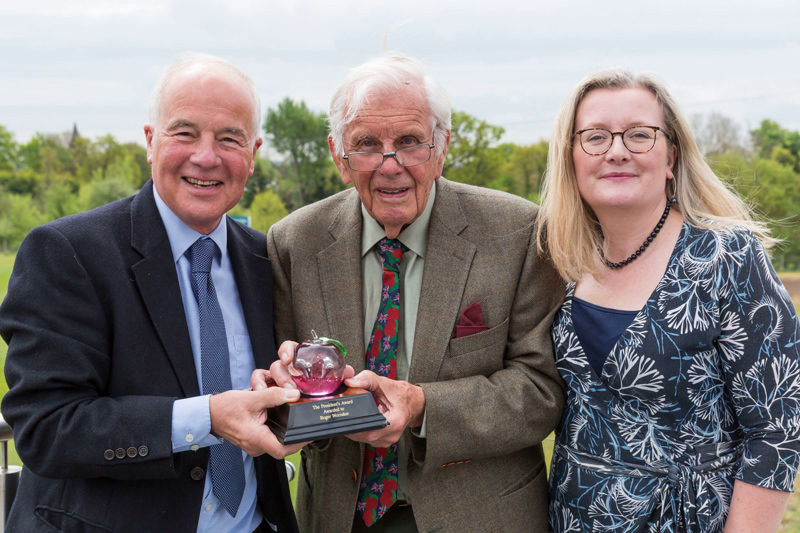 Following the 'indoor activities' MFS Members gathered for a blossom walk around Blue House farm orchards with Bardsley Farms owner Nigel Bardsley as our guide.
Below: left; Nigel Bardsley and right; Nigel and a group walking through beautiful Braeburn blossom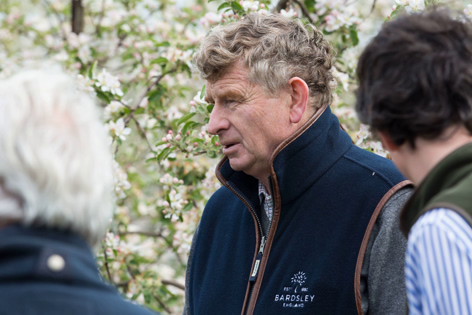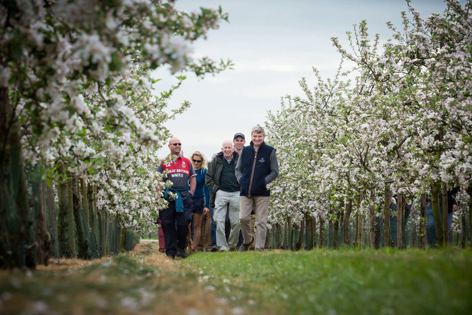 Below: Enjoying the Blossom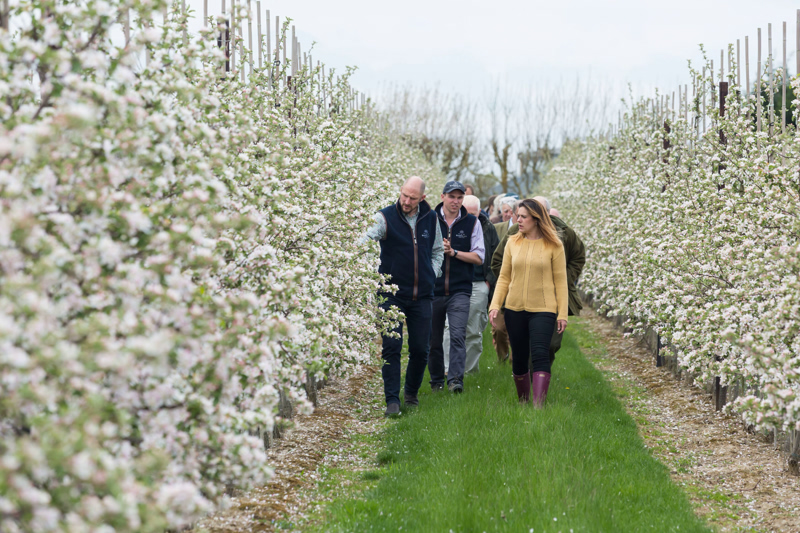 Below: left; Pruning late to remove surplus branches and a new Gala orchard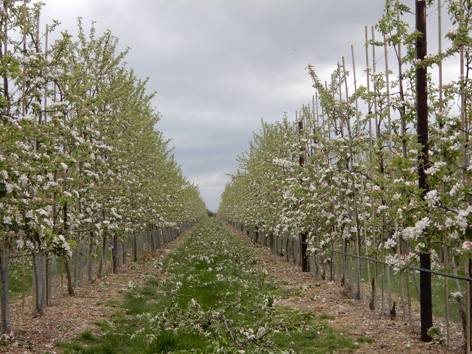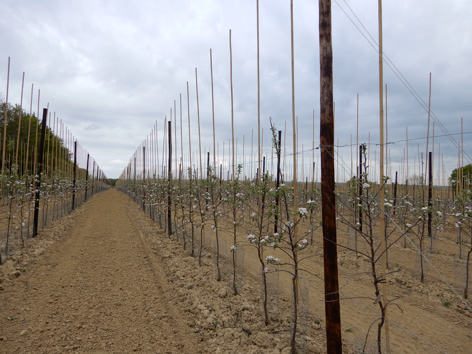 Below: Absolutely Beautiful Braeburn Blossom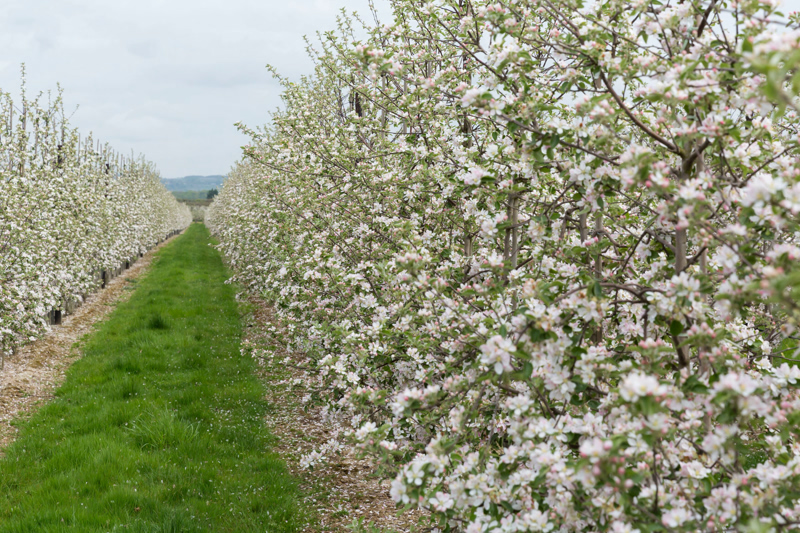 The warm weather approaching and over the Easter Weekend, accelerated the apple blossom opening and during this week, we can generally say by today (Friday 26th April) we are now (just) past the full bloom stage.
With the different varieties, of course not all varieties reach full bloom at the same stage, and regional influences add to the full bloom timescale.
Next Tuesday 30th April, The English Apple Man will be attending the East Kent Fruit Society (Blossom?) walk at Simon Mount's New Barn Farm at East Stourmouth.
The English Apple Man thanks Martin Apps for his contribution to this weeks photos. Martin took a number of the pictures used in this week's Journal. For more information; Click on: COUNTRYWIDE PHOTOGRAPHIC
Take care
The English Apple Man