Journal
3rd May 2019 - Walking orchards in East Kent
Following last week's walk around Bardsley Farms Blue House Farm at Marden where the apple blossom was at its peak, The English Apple Man joined fellow members of East Kent Fruit Society for a blossom walk at Simon Mount's New Barn Farm at East Stourmouth near Canterbury in East Kent
Predicting when to organise a Blossom Walk back in the midst of winter is a speculative business, and getting the date right is pretty much a question of luck. We were lucky as one week on from the copious blossom at Bardsley Farms, Gala and Braeburn at New Barn Farm still had a great show of blossom.
After trying to guess when full blossom will occur, we move onto speculating what the fruit set will be like.
Any blossom out over the Easter period must have 'entertained' many pollinators. Certainly my garden apple trees were visited by bees, bumble bees, hoverflies and other small insects.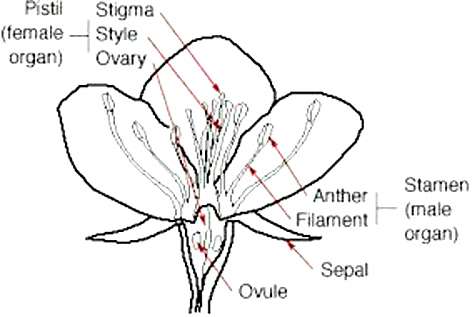 Apple blossoms have five petals and numerous stamens, but the ovary consists of five carpels, each of which contain two ovules.
Next comes fertilisation, which can happen very quickly (hours) when temperatures are high, but days when the temperature is cold.
For adequate pollination to occur, most of these ovules need to be fertilised. Failure to fertilise at least one ovule per carpel will result in misshapen fruit or smaller fruit and, in some cases, the tree will shed these developing fruits completely.
To achieve pollination and fertilization pollen must be passed from the pollen sacks to the style and grow down the pollen tube as quickly as possible. In warm weather this can happen in a matter of hours; in cold conditions it can take days. If the pollen does not reach the ovary in time (approx 4 days) it is too late! The process is known as the Effective Pollination Period (EPP). The EPP varies by variety and Cox our national apple has a shorter EPP; no wonder it is difficult to achieve consistent heavy crops.
Are Honey Bees in decline? - How important are Solitary Bees?
On Tuesday 30th April The English Apple Man joined fellow members of East Kent Fruit Society (EKFS) at Simon Mount's New Barn Farm in East Stourmouth for a Blossom Walk.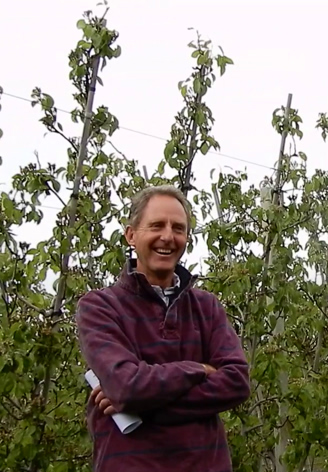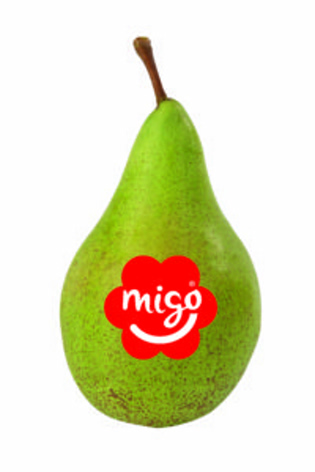 Simon Mount has created a farm with modern orchards and sophisticated storage systems.
Since starting out with 12ha in 1992 Simon has increased the farmed area to 26ha.
There are 9.0 ha of pears which includes 3ha V system Conference and a 3.5 ha orchard of Migo; and 18 ha of Gala, Braeburn, Ruben and Cabaret apples.
There is 750 tonnes C/A cold storage of which 480 tonnes is DCA.
The Migo® pear is a cross between the Conference and the Doyenne d'hiver pear.
The name Migo® is a combination of 'mi' on the 'go'. A pear to go is what the consumer needs.
Migo® is recognisable from its bright green colour and firm bite. Its long shelf life and constant quality mean you can take the Migo® pear with you anywhere.
After a welcome and introduction by Simon, EKFS members moved on to the original V System Conference pears planted in 2012. Simon said it was a bit of a trial area (0.9 hectare) and inspired by his visits to Holland & Belgium where Conference Pears have been grown on the V System for many (circa 25) years. This commercial trial proved very successful with 'break even' achieved in under 4 years. This inspired Simon to plant more Conference Pears on the V System.
Asked about yields, Simon said he was initially getting in the 'low 20 tonnes' per hectare, (20-23) but the quality was outstanding and delivered 95% Class 1 at the end of grader, this in conjunction with good prices enabled the early financial 'break even'
Below: the now seven year old original block of V System Conference Pears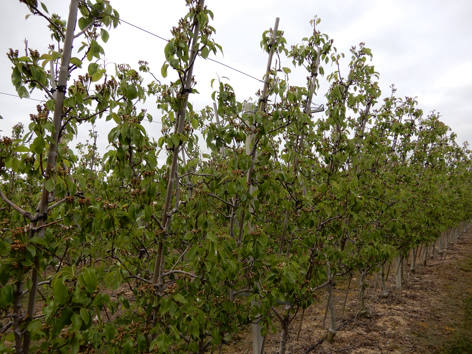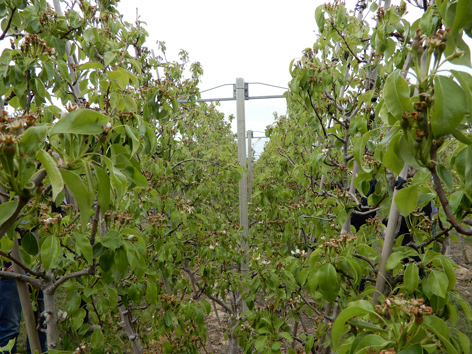 Answering more questions on projected yields, Simon said he hopes to achieve 60 tonnes per hectare when the trees are all fully grown and furnished with cropping wood. He emphasised the importance of not rushing the tree to reach the top of the wire but to build the tree slowly ensuring fruiting wood at every level as an essential strategy for achieving high yields. Simon hopes for 50 tonnes per hectare this year.
At the moment the set looks good, but until the fruitlets turn over it will not be possible to evaluate the yield. They could 'run off' if the tree is not capable of carrying a large fruit set. Simon explained the need to 'feed the tree' with carefully targeted applications of nitrogen and irrigation. Pears are 'hungry beasts' and will not deliver peak performance if they are kept short of sustenance.
Below: left; an encouraging fruit set and right; a closer look at the young pears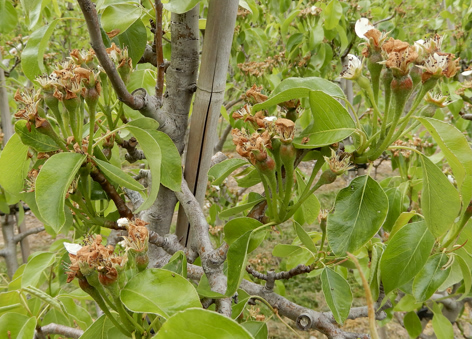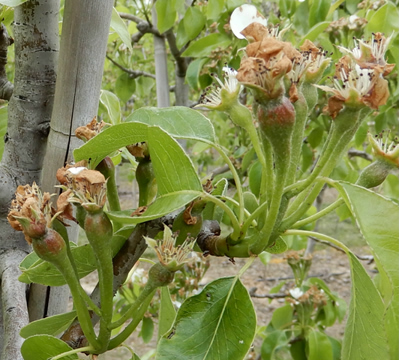 Gala is a relatively new variety at New Barn Farm and this block has hail protection.
Below: Gala at New Barn Farm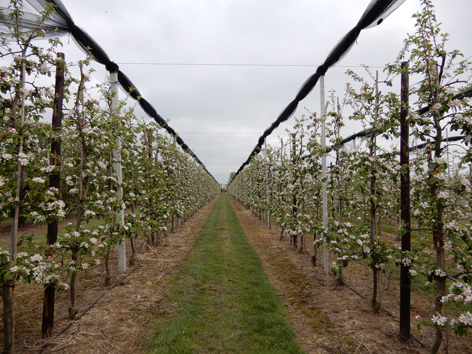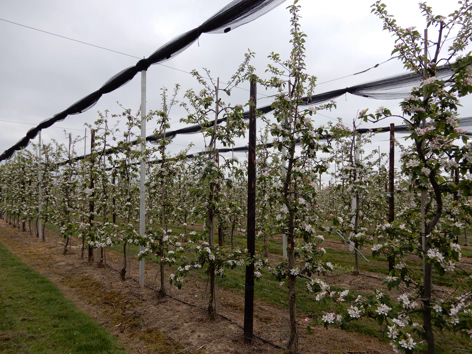 Below: Braeburn - machine pruned to the left and hand pruned to the right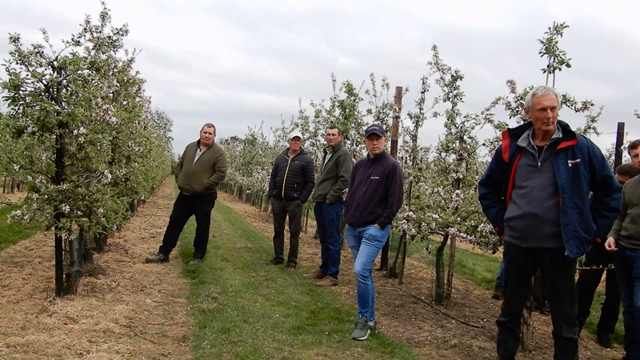 Next up the Braeburn: Hillwell and Royal Braeburn planted in 2005' Simon has pruned the first nine rows by hand, but the remainder have been machine pruned for the last 9 years.
The soil is 'reclaimed soil' and the trees did not grow well in the early years, but once they were cut back into a narrower more compact profile the trees have become stronger and cropped equally to the hand pruned trees.
Simon said he picked 50 tonne per hectare from this Braeburn orchard, but that was in one pick: had he gone back through with a second pick he is confident of achieving 60 tonne per hectare.
Below: Braeburn at New Barn Farm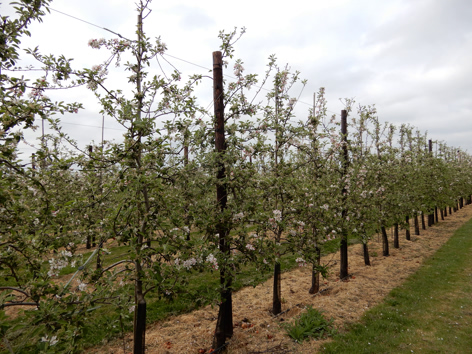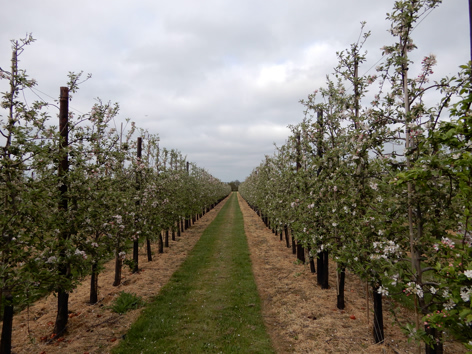 CABARET
CABARET is a cross between Saturn X Braeburn raised by John Breach and his son Peter.
Avalon Produce Ltd (APL) developed the variety and the first CABARET went on sale in Tesco in December 2016.
The variety is a very good sized apple, easy to grow, with a dark red colour, and a slightly thicker skin than most.
Below: left; Cabaret rows and right; Cabaret trees in profile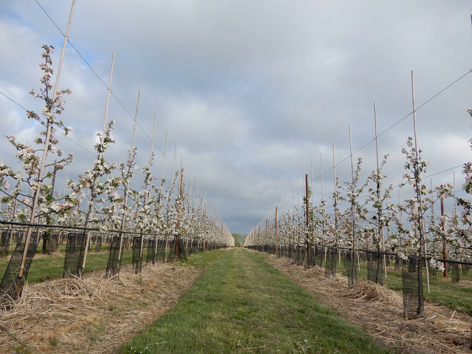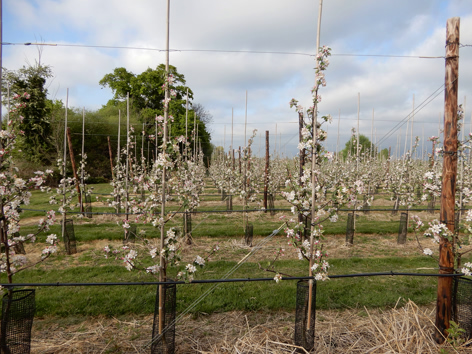 Migo®
Migo is a new pear already showing great promise on the continent, and this orchard is the first commercial trial site in UK planted in 2016. The variety is a Conference type, but with a cleaner (russet free) skin which is thinner than Conference. It delivers a very good eat straight of the tree. Simon has planted the Migo on a site where he previously had Rubens, which he grubbed due to it's propensity to suffer from Canker and the reduction of Rubens grown on the Continent making it a less important variety.
Simon planted the Migo in 2017 and has trained the Migo trees with two leaders due to the utilisation of the post and wire structure used for the Rubens. He anticipates (possibly) planting Migo on the V System in the future.
Below: left; Migo rows and right; Migo trees trained with two main upright branches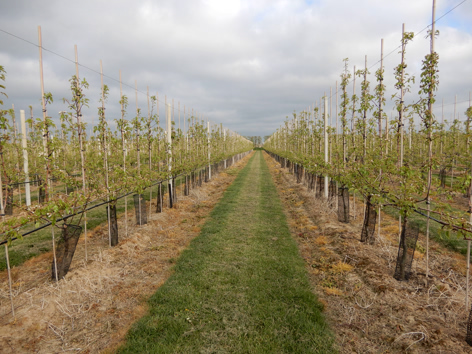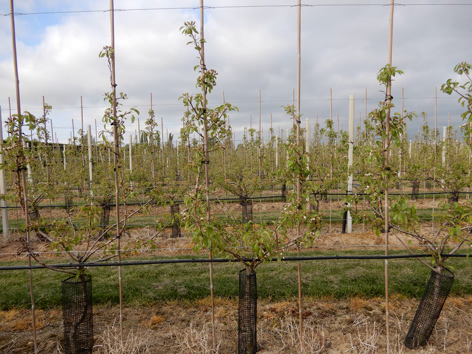 Below: left; Migo fruitlets on the trees this week and right; a Promotional picture of Migo in a tray format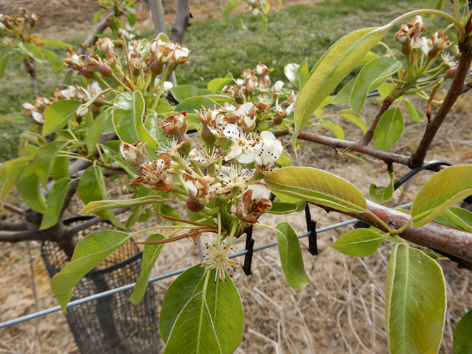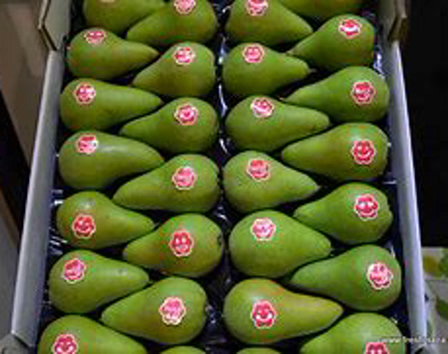 Simon anticipates circa 200 bins of Migo this year, which will deliver valuable consumer feedback when they go on sale in UK Supermarkets this Autumn.
Below: a Mason Bee inspects a bee hotel - a nice place to stay!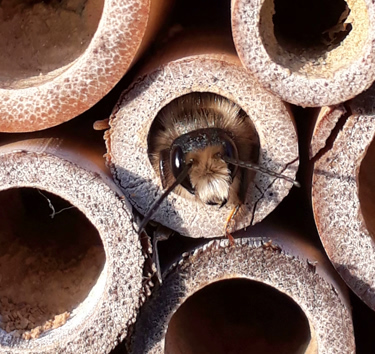 It is customary for EKFS to invite scientists from NIAB/EMR to our Society farm walks and Michelle Fountain - Deputy Head of Pest and Pathogen Ecology, Fruit Pest Entomologist, Fruit Pollination Ecologist gave the members an update on work she and her colleagues are doing on 'solitary bee' behaviour. Solitary bees come in a multitude of shapes and sizes and have a diversity of interest in flowering species. Michelle explained the survey NIAB/EMR are carrying out which is targeting what solitary bees are found in our orchard and where they like to make their nests!
An ideal location for solitary bees is near the end of a tree row, but NOT in the grass alleyway. Windbreaks are also good locations for solitary bees with a mix of wild flowers present.
Solitary bees make holes on the soil, which when open look like 'mini volcanoes' - from the research Michelle identifies Solitary Bees like soil with some clay to help bind their nests together - sandy soils are not favoured. Identifying solitary bees and their nests is not possible in cold weather (it was cold on our visit) as they cover the entry hole when they are 'indoors' (just like us!) to keep warm!
Below: Michelle Fountain addressing EKFS members at New Barn Farm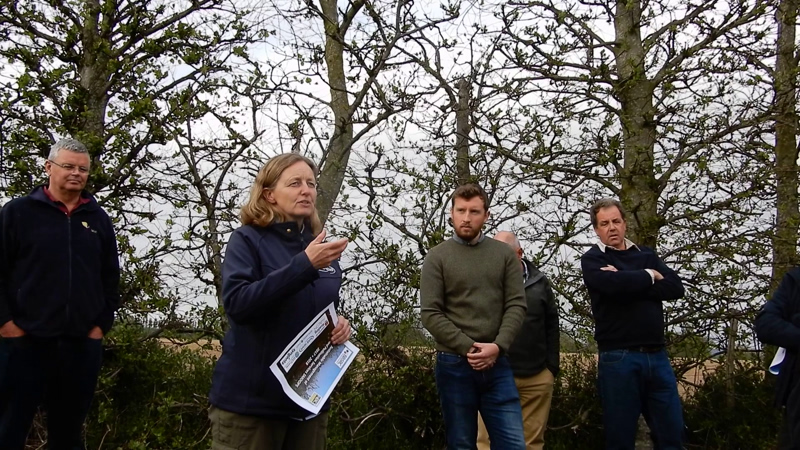 Below: left a perfect specimen of a solitary bee hole (volcano) and right; an Andrenid one of the most important bees for apple pollination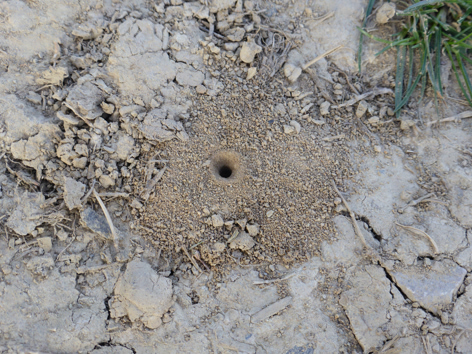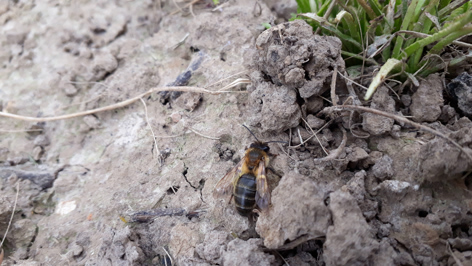 The visit to New Barn Farm underlined what we already new: Simon Mount is an excellent grower, his attention to detail evident in the stunning uniformity of the trees in every orchard by every variety.
That is all for this week!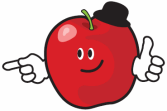 Take care
The English Apple Man