Journal
10th May 2019 - Living land and BIFGA Spring Farm Walk
The English Apple Man has been busy with visits to Living Land at The Kent Event Centre and BIFGA's Annual Spring Farm Walk.
LIVING LAND
Thursday 02 May, 2019 - below an extract from the Living Land website
"The Living Land is a FREE, one day event offered to Kent school children in years 3 and 4 aimed at educating young children in the areas of farming, agriculture, countryside and healthy eating within the beautiful landscape of the Kent Showground, home to the Kent County Show.
The Living Land is a well-established event, now in its 16th year and is hugely popular. The timetable of activities includes the opportunity to see and touch farm animals, taste local produce, see dancing sheep at the "Sheep Show", Birds of Prey and many other displays and demonstrations.
Below: The English Apple Man 'embraces the spirit' of Living Land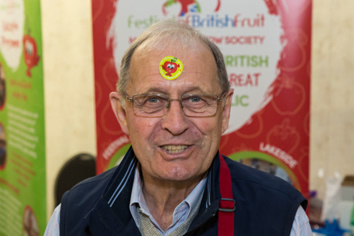 Most of the activities are interactive, with a wealth of organisations on hand to share their knowledge with the children and can easily be linked to the school curriculum.
The educational experience is invaluable and taking pupils away from the normal classroom environment, enhances the ability to learn.
The event is free to schools, although we are unable to cover the cost of your coach and travel expenses.
This is a very popular event and places are limited to 2800 children".
Each year, Marden Fruit Show Society organisers of The National Fruit Show bring fruit for tasting to Living Land.
Catherine Joules from the Marden Fruit Show Society said: "We are here today giving slices of apples, apple crisps, pear crisps and fruit bars to the children. We've had an absolutely brilliant day, a lot of the children have said that they've never tried an apple before so it's been great for us to introduce apples to them. We've had a couple of different varieties, allowing them to see the difference between them we've really enjoyed it and so have the kids."
Below: Schoolchildren at Living Land tasting apples, fruit crisps and fruit bars supplied by members of The Marden Fruit Show Society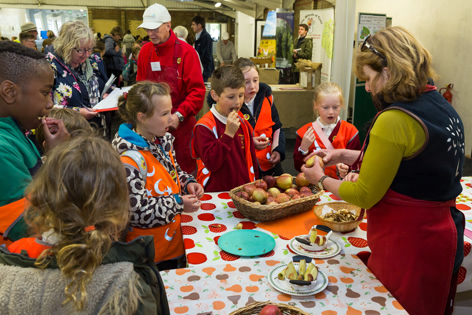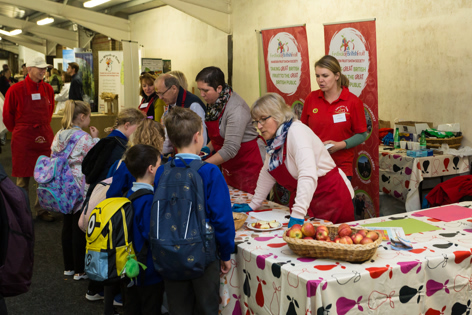 Below: left; an assortment of NIM's Crisps and right; Perry Court Farm - Fruit Bars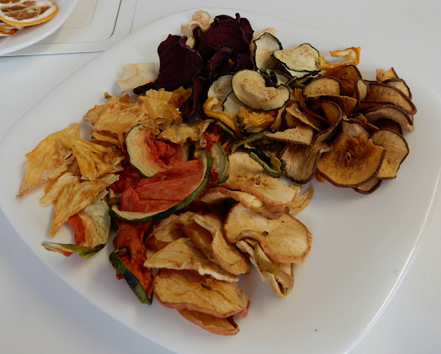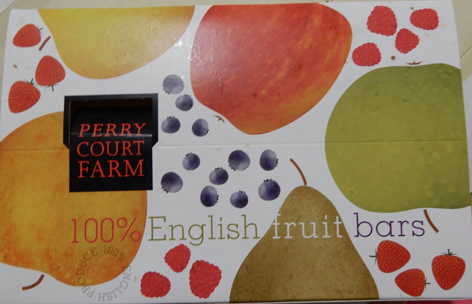 The English Apple Man Comments
Naturally Apples are central to our tasting table; this year we brought Gala, Breaburn and Cameo (all grown locally) - Apple and Pear crisps from Nim's and Fruit bars from Perry Court Farm added to the tasting delights available to the 2,600 children who attended Living Land (we recorded in excess of 1.500 who attended and sampled our tasty fruit products). The emergence of fruit crisps made by Nim's Crisps (based in nearby Sittingbourne) and Fruit bars made at Perry Court farm near Wye in Kent,
Below: members of Marden Fruit Show Society with The Lord Mayor of Maidstone - David Naghi at Living Land on 2nd May 2019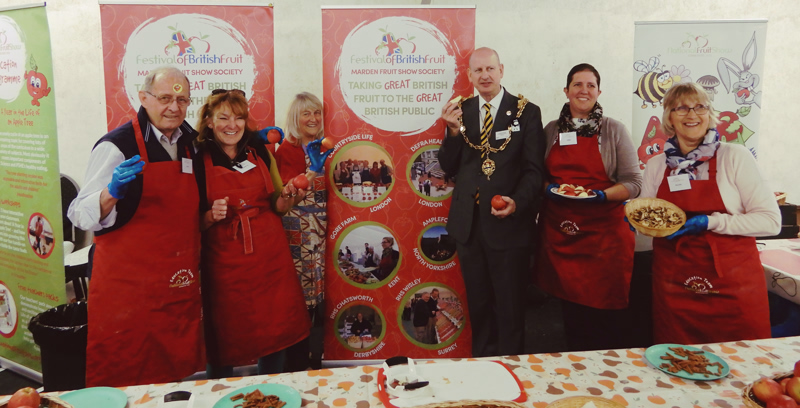 In addition to enabling thousands of children to taste English apples, MFS Members identify schools which may like to take advantage of The National Fruit Show Education Programme. This great opportunity is completely free to schools. All costs are met by the National Fruit Show and key sponsors AC Goatham and APL Ltd.
See NFS Education programme by clicking on National Fruit Show Education
Click on LIVING LAND website for more information.
---------------------------------------------------------------------------------------------------------------------------------
Below: John Breach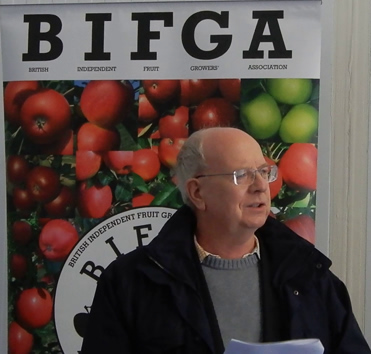 BIFGA Spring Farm Walk - Howt Green Farm
This year's Spring Farm Walk was held at AC Goatham & Son's Howt Green Farm at Bobbing near Sittingbourne in Kent.
When AC Goatham bought Howt Green in 2008 the cropping area was 53 hectares; after aquiring neighbouring land the farmed area is now 142 hectares. Having removed the existing Cox, much of the Bramley and all of the Plums, ACG have planted Flanders Pink, Gala, some Bramley, Braeburn apples, Cherries and V System pears. Retaining some Bramley, a block of 4 row Conference Pears and the existing cherries.
Three phases of new high quality apple stores, starting in 2009, with a further block in 2013 and the third in 2018 have created a storage capacity now of 30,000 bins.
The refrigeration at Howt Green was installed by Orchard Cooling and the Controlled atmosphere equipment installed by SCS.
Following his welcome and introduction, BIFGA Chairman John Breach highlighted the importance of the sponsors support, before each sponsor gave a brief overview of their companies services.
Below: left; Orchard Cooling's Paul Kennett and right; Jake Taylor of SCS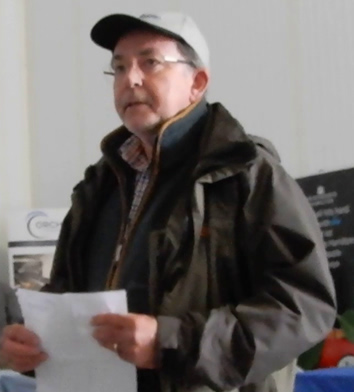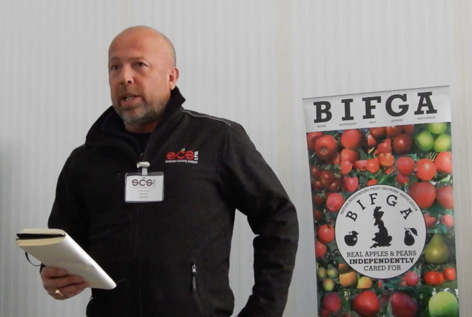 Below: Jonny McIrvine of Weatherbys Hamilton LLP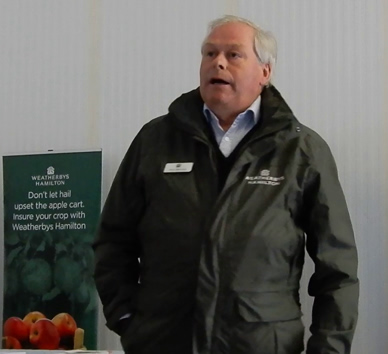 ORCHARD COOLING LTD., Rumwood Green Farm, Sutton Rd, Langley, Maidstone, Kent ME17 3ND Tel: 01622 861989 Email: info@orchardcooling.co.uk Website: www.orchardcooling.co.uk;
STORAGE CONTROL SYSTEMS LTD, Bridge House, Hop Pocket Lane, Paddock Wood, Kent TN12 6DQ Tel: 01892 831702 Email: jake@storagecontrol.com Website: www.storagecontrol.ltd
WEATHERBYS HAMILTON LLP, Hall Farm Stables, Stetchworth, Newmarket, Suffolk CB8 0TY Tel:01638563444 Email: jmcirvine@weatherbyshamilton.co.uk Website:www.weatherbyshamilton.co.uk
Weatherbys Hamilton offer a Hail Insurance scheme which has become very popular with British apple growers.
From the Introductions and Sponsors briefing, BIFGA members followed AC Goatham Technical Director - Nigel Stewart and Director of Farming - Piotr Bukowski on a tour of the orchards.
Below: Carol Ford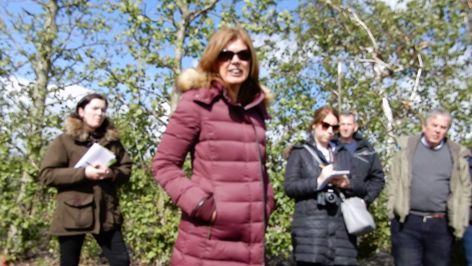 As we toured the farm, Nigel Stewart and AC Goatham Commercial Director - Carol Ford revealed the background to a very new and exciting variety - 'Flanders Pink' a Kanzi x Greenstar cross bred in Europe and found by ACG two years ago, has been thoroughly researched and assessed with independent tasting panels.
Carol identified the strength of the ACG business which as she described: "owns each stage of the process" - growing, storage, packing and direct sale (communication) with the customer. This enables a full understanding of the strengths and (if there is any ) weaknesses of a new variety.
Nigel Stewart told the BIFGA members the Flanders Pink planted at 3.5 x 1 metre 9,500 trees + 3.5 hectares with an expected crop this year of 16.7 tonnes per hectare.
Below: Nigel Stewart with BIFGA members in the Howt Green orchards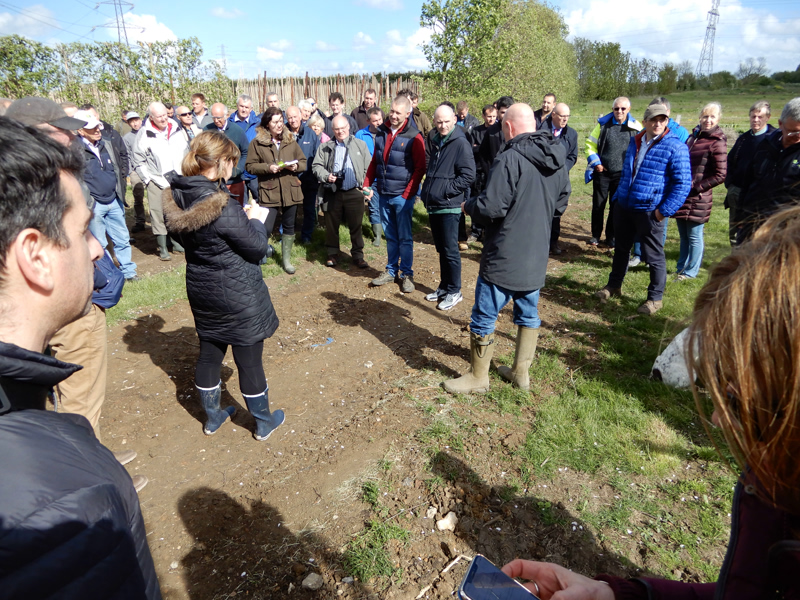 Below: Nigel Stewart and right; a Gala orchard at Howt Green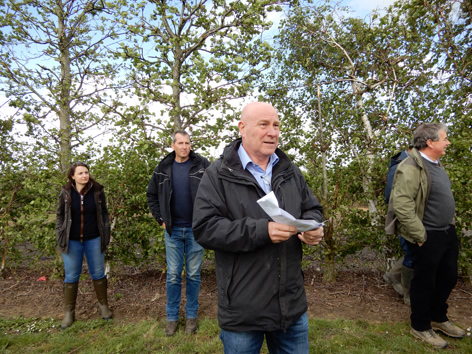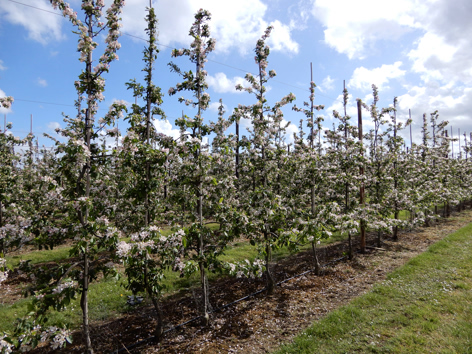 Below: left; Piotr Bukowski and right; V System Conference pears at Howt Green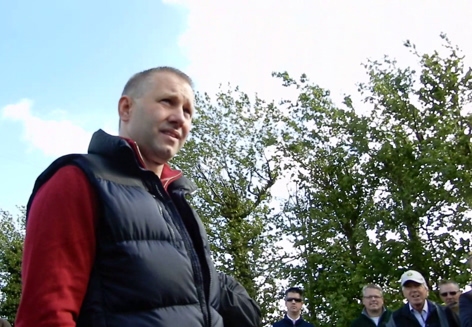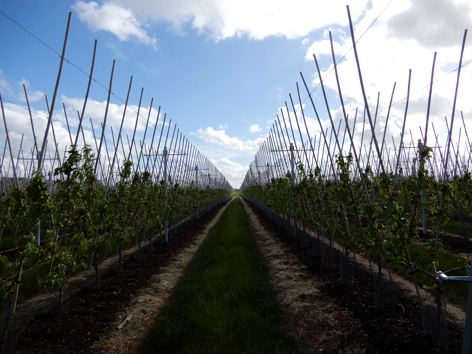 After the very warm sunny weather around Easter, the prospects for a good crop were promising; but some very cold nights and not so warm days since have raised a few questions! Looking at Braeburn on Wednesday the set looks very heavy and the same applied to the Conference pears on the older 4 row system at Howt Green; however we can never be sure until the young pear fruitlets 'turn over'
Below: left; the Braeburn set looks very good and right; a heavy set on the older Conference pears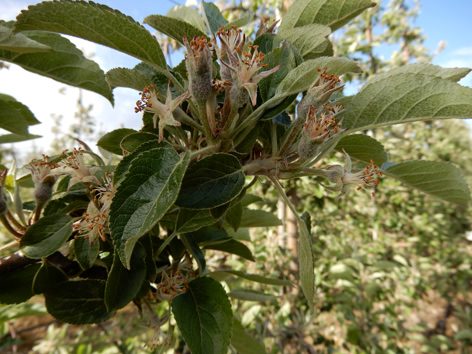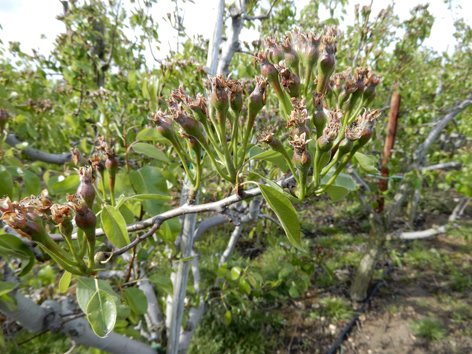 As we toured the orchards, an older Bramley orchard which still yields 50+ tonnes per hectare, but will be grubbed next winter, which indicates the management strategy AC Goatham operates in targeting high quality product while reducing production costs.
With Gala and Braeburn dominating the UK volume market, ACG like many other apple growers (Globally) seek a home grown 'Branded Pink Apple' capable of competing with the 'number one' - globally branded Pink Lady!
Below: left; An old Bramley orchard targeted for grubbing next winter and right; Flanders Pink a new variety exclusive to AC Goatham in the UK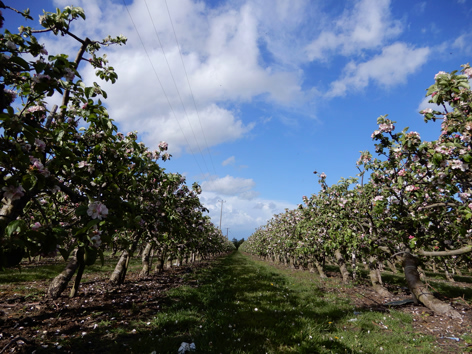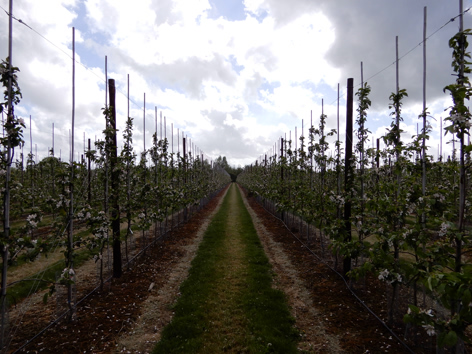 Below: Flanders Pink on sale in Sainsburys

In conclusion
As always a very well organised BIFGA event: thanks go to BIFGA Secretary Judi Perry once again for a very enjoyable evening and to the AC Goatham team for accommodating circa 100 BIFGA members at Howt Green Farm.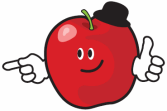 We finished the evening with a superb 'finger buffet' selection consumed while we chatted with our friends in this wonderful fruit industry family.
That is all until next week
Take care
The English Apple Man