Journal
24th May 2019 - Home Grown Royal Gala season extended into August
Royal Gala is our number one variety; 27% of all apples sold in British Supermarkets are Gala, either grown in GB or imported, we now grow in excess of 60,000 tonnes of home grown Gala.

What if we could extend our season into the summer months previously supplied by imported Gala?
British Royal Gala is about to be available during June, July and August!
Fruity first for British apple growers and retailers - Extending the season for great British apples
Below: AC Goatham & Son - Royal Gala pack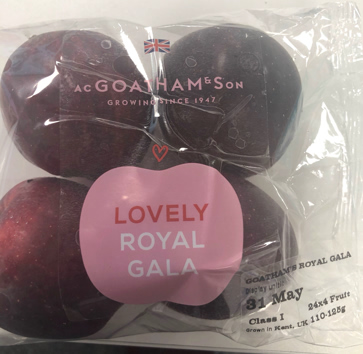 AC Goatham & Son the UK's largest apple and pear grower is inviting retailers to stock its new Goatham's branded pack of British grown Royal Gala apples, which will be available for the first time ever during June, July and August this year.
This means that UK shoppers can for the first time ever buy the nation's favourite variety of British grown apple in the summer months, thanks to the latest cold storage technology and a family farm business which has invested in planting over 1.8million new fruit trees in recent years.
In an industry first, luscious red British Royal Gala apples are now available to consumers for approaching 12 months of the year, competing directly with Southern Hemisphere imported lighter coloured Gala from South Africa, South America and New Zealand.
Carol Ford Commercial Director at AC Goatham & Son comments: "We are throwing this offer open to any UK retailers, wholesalers and cash and carry businesses who would like to stock British grown Royal Gala in June, July and August this year, filling the gap which is normally made up from the Southern Hemisphere. This will significantly reduce food miles, be a great talking point and way of engaging with customers but importantly give them the opportunity to buy and eat quality British grown apples which taste as good as the day they were picked," (Based on data from customer service desks)
It has been a long-held ambition for the team at Goatham's to extend the British grown season, enabling the UK public to enjoy British Royal Gala apples this summer when supplies would have normally run out. Over the last seven years we have worked in partnership with Sainsbury's to reach this 12-month ambition with our British Royal Gala and we are delighted to be achieving it this year."
Sainsbury's will also be selling our British Royal Gala apples this summer for a couple of months longer than any previous year.
Carol Ford continues: "Utilising the most modern fruit varieties, orchard management, fruit growing methods and cold storage technology our team here at Goatham's grow great quality apples and pears, ensuring that as a nation we are growing more, selling longer and eating better."
"This season we've saved the best fruit till last, because due to our partnership with Sainsbury's we know that it will store the best, ensuring that we deliver our delicious British apples all-year-round, and not just any apple, but the nation's favourite Royal Gala. Realising this ambition has taken time, care and meticulous attention to detail but it has been well worth the wait."
The news that a British grower can now compete directly with imported Gala from half way around the world during the British summer months is a massive step to ensuring that the UK can sustainably produce and store its own fresh fruit in the future.
Carol Ford concludes: "We strongly believe it is important for the UK to be able to grow as much of its own food as possible. History has taught us that this is important. The British apple industry took quite a bashing in the 1990's when new varieties from other parts of the world flooded the UK market. The decade began with around 1,400 British growers and ended with just 500.
"We have worked hard to fight back and compete with the rest of the world and now the nation will be able to enjoy eating their favourite British apple variety for longer and we are very proud to have grown them. This is a real celebration for our team."
Look out for more goodness to come and for sales enquiries contact grabagoathams@acgoatham.com
A C Goatham & Son began trading in 1947 as agricultural contractors and fresh produce merchants. In 1980, it established a farming operation growing apples and pears.
It is now run by father and son Clive and Ross Goatham along with their business operations team and in 2017, it celebrated its 70th anniversary.
AC Goatham & Son grows over 300m apples and 50m pears each year on its 28 farms across Kent.
Dynamic Controlled Atmosphere cold storage technology means apples 'sleep' in giant fridges after they are harvested and until they are needed.
Below: 'Simply Scenic' - Just one of AC Goatham & Son - Royal Gala Orchards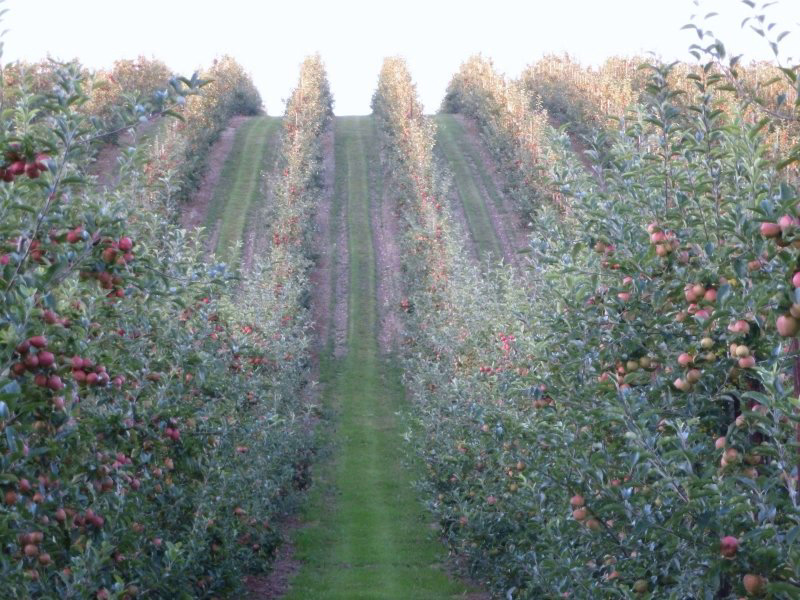 For more on the AC Goatham & Son Story - Click on: AC Goatham & Son

That is all for this week; next week The English Apple Man visits a Community Orchard in Tunbridge Wells
Take care
The English Apple Man