Journal
31st May 2019 - The English Apple Man vists a Community Orchard in Tunbridge Wells
Regular readers of the English Apple Man will be aware of my interest in community orchards; specifically following the Capel Diamond Jubilee Community Orchard from it's planting in 2012 until today.
'Friends of Grosvenor & Hilbert' visited the Capel orchard in the Autumn of 2013 as part of a learning curve before embarking on the 'Grosvenor & Hilbert' community orchard.
Community Orchard - Grosvenor & Hilbert Park in Tunbridge Wells
Following an introduction by Roger Worraker to Liz Edwards in late April this year, The English Apple Man visited the Community Orchard in Tunbridge Wells in Kent.
I had been invited by Liz Edwards who is the passionate custodian of this relatively new venture.
Liz and I met at The Capel Diamond Jubilee Community Orchard back in March when volunteers pruned the trees under the wachful eye of Roger Worraker who with his wife Celia created their community orchard in 2012.
Roger has advized Liz on setting up the orchard as she and her supporting team set about creating their community orchard vision in 'Royal Tunbridge Wells'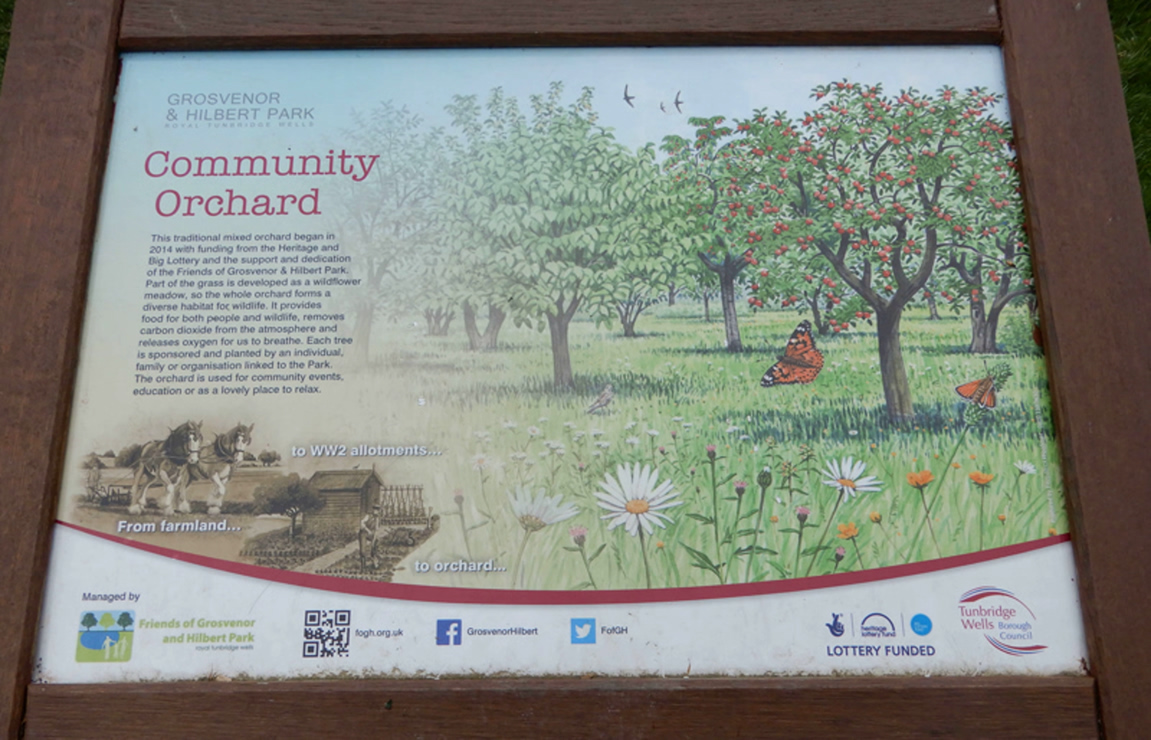 Funds allocated from National Lottery Heritage Fund and TWBC supported the project as part of the restoration work carried out from 2013 - 2016.
Below: Liz Edwards with a 'Newton Wonder' tree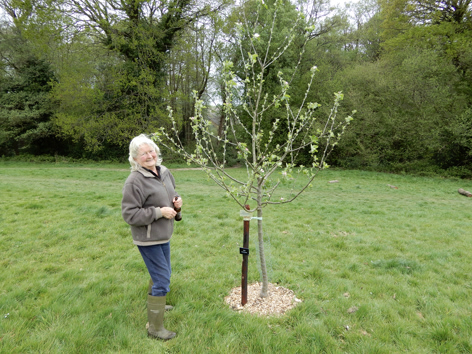 'The site of the orchard catches the south to southwest sun,' and is sheltered by deciduous woodland to the north and east'.
Due to the mix of apples, pears, cherries, mulberry etc a variety of rootstocks were used:Liz tried to use rootstocks which would match up with the apples on MM106 when maturity with the other varieties of fruit is reached - time will tell!
Planted at 5 metres on half standards, when mature the trees should represent a traditional orchard.
The landscape architects who assisted on the regeneration of the 'Grosvenor & Hilbert'Park suggested using mature trees of limited varieties - the trees were very expensive £200 - £300 each and only five varieties suggested, but the 'Friends of Grosvenor and Hilbert Park' managed to persuade them to reduce the number down to 15 semi mature trees which were circa 10-12 years old and with a considerable rootball, concerned they would not survive without a fair bit of LTC (Watering) and with no provisionof water on site, trees were lost.
The nursery was contracted to fulfil a Maintenance Plan (nurture) but the trees sadly received a lack of attention and no irrigation meant trees were lost and 4 had to be replaced (not with semi mature, but new trees) - the remaining trees were supplied by Frank P Matthews on the recommendation of Roger Worraker. Liz lavishes praise upon Nick Dunn head of the FP Matthews family nursery who 'could not have been more helpful'
The 'Semi Mature' trees were planted in 2014 and sensibly Liz and her Colleagues at 'Friends of Grosvenor & Hilbert' decided to spread the planting over 3 phases with circa 25 trees planted each winter.
Phase 1 planting 21 February 2015 - initial planting was around the centre area were the semi-mature trees are and where the tree trunks were sited.
Phase 2 planting 12 December 2015
Phase 3 planting 26 November 2016
There is now a total of 89 trees.
Below: Liz Edwards plan of variety layout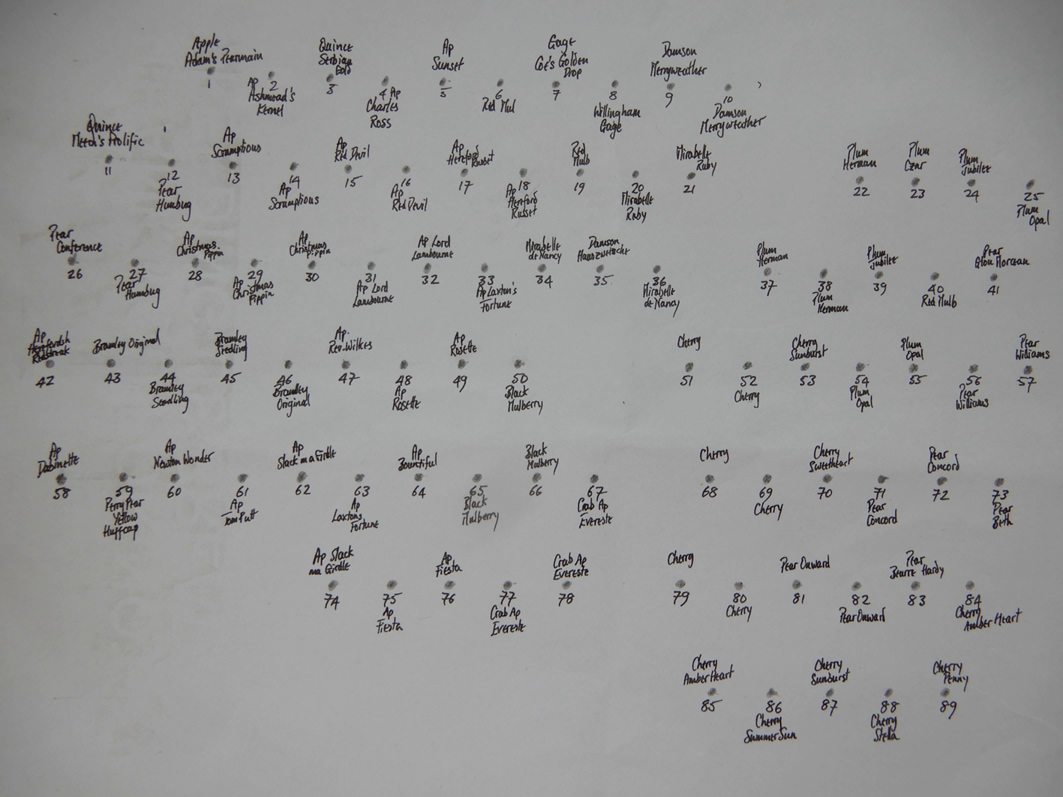 The community orchard has been very well thought out, with a number of important species and a plethora of varieties.
Apples, Pears, Plums, Gages, Cherries, Mirabelle Plums, Damson, Quince, Cider Apple and Crab Apple, Perry Pear
Among the many apple varieties; 'some ancient and some new' - Ashmead's Kernel, Adam's Pearmain, Charles Ross, Reverend Wilkes, Newton Wonder, Sunset, Laxton's Fortune, Lord Lambourne, Tom Putt & Slack ma Girdle, and of course Bramley Seedling (old) and newer varieties; Fiesta, Scrumptious, Red Devil, Herefordshire Russet, Christmas Pippin, Rosette,
Among the pears; Glou Morceau, Williams bon Chretien, Beurre Hardy, Conference (old) Onward, Concorde, Beth, Humbug, (modern) + a Perry Pear- 'Yellow Huffcap'
Plum: Czar, Herman, (old) Opal, Jubilee, (new)
Cherry: Bigarreau Gaucher, Bigarreau Napoleon, (old) Sweetheart, Amber Heart, Summer Sun, Sunburst, Stella, Penny,
Below: left; Community Orchard viewed for the top and right; a view of the orchard centre ground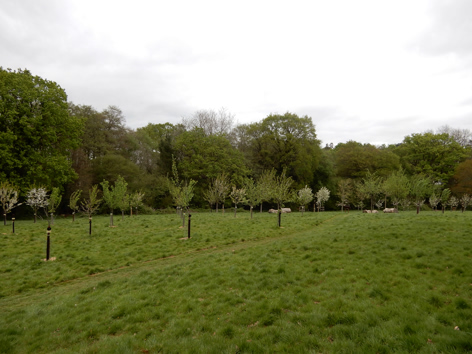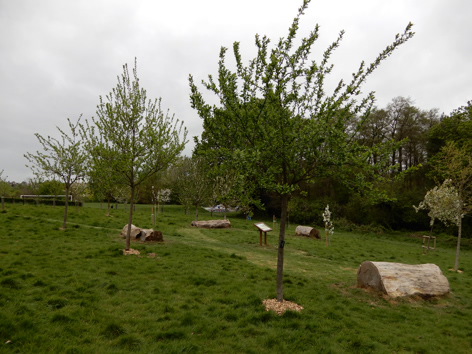 Below: extract from The Friends of Grosvenor & Hilbert Park website - 2016
Saturday 12th December saw the second phase of Community Orchard planting take place, with each tree sponsored by an individual, family or organisation linked to the Park. Amongst those planting the trees was Tunbridge Wells Mayor David Elliott, the Kent High Weald Partnership (who manage Hilbert Local Nature Reserve within the park) and the Parks own Friends Group.
After each tree had been planted, the ancient blessing ceremony of wassail was performed. This involved singing a song to the tree and pouring cider over its roots, encouraging the tree to grow and produce a good crop.
The day also saw dedication plaques being placed on the first phase of planting, each with a dedication from the sponsor, including one from John Scholey, Tunbridge Wells Town Crier. This brought the total of trees planted in the Community Orchard to over 65. This fantastic addition to the Park is really starting to take shape now. The involvement of local sponsors brings a real sense of community involvement and ownership to the orchard.
The final phase of planting will take place in 2016 and will see the orchard fully stocked with a wide variety of fruit trees. For access to 'Friends of Grosvenor & Hilbert' park - click on' FoGH Park
Draught Horses from the 'Working Horse Trust' helped bring the large tree trunks into place during 2015 and 2016 which now provide a place for families to relax, picnic and enjoy the ambience of the community orchard.
Click on The Working Horse Trust for more information.
Two areas of Wildflowers were planted to encourage pollination insects, mammals and birds with over 28 species of wildflowers and several grass types. The adjacent woodland hosts many birds.
Below: left; Roger Worraker visits Grosvenor & Hilbert Community Orchard in 2017 and right; Roger demonstrates pruning techniques to Liz Edwards and Friends of Grosvenor & Hilbert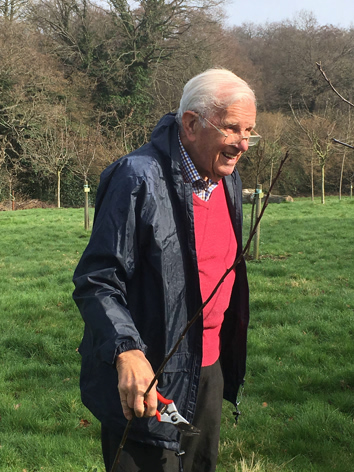 Below: left; the orchard centre view and right; a Lord Lambourne apple tree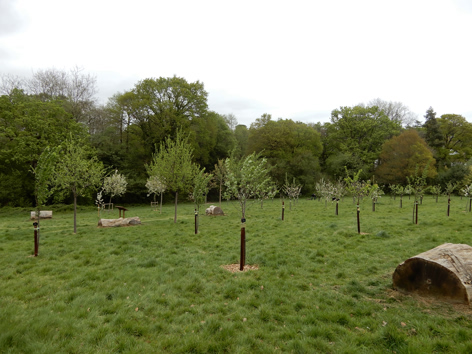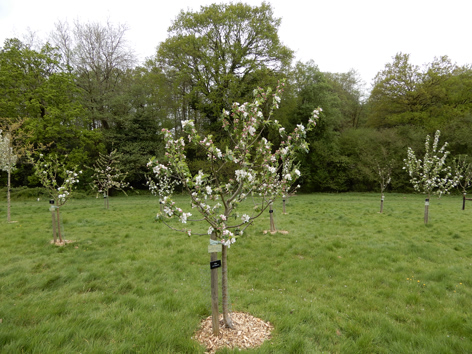 Below: left; Black Mulberry tree and right; Red Mulberry tree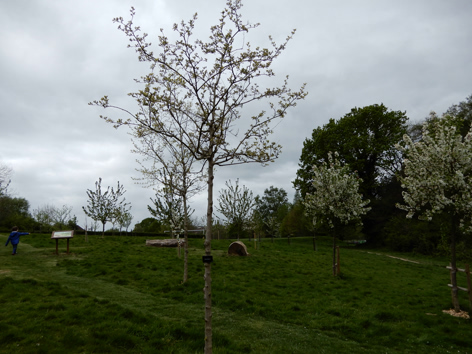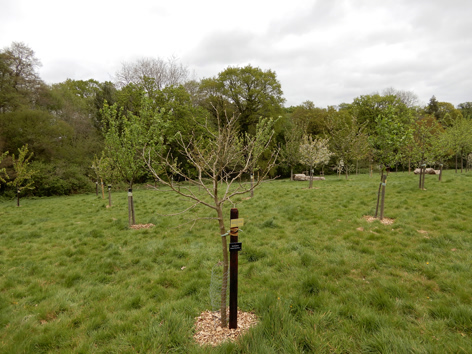 Below: Red Devil apple tree and right; Laxton Fortune apple tree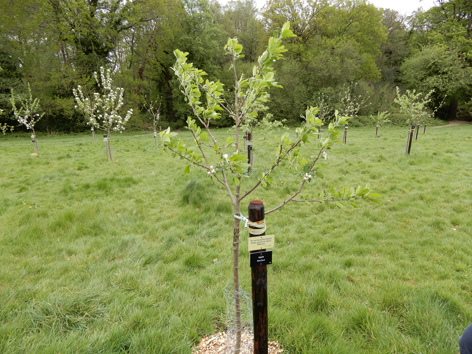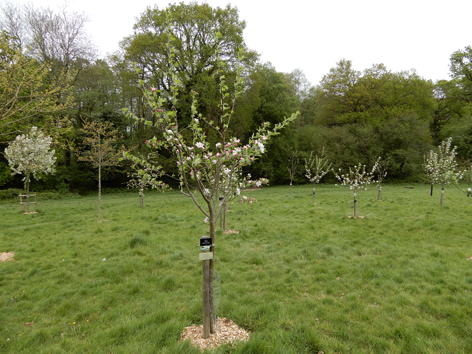 Below: left; Herefordshire Russet apple tree and right; a Slack ma Girdle apple tree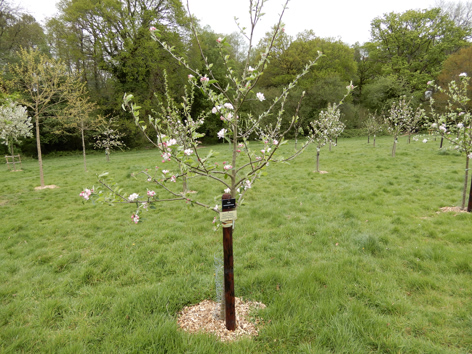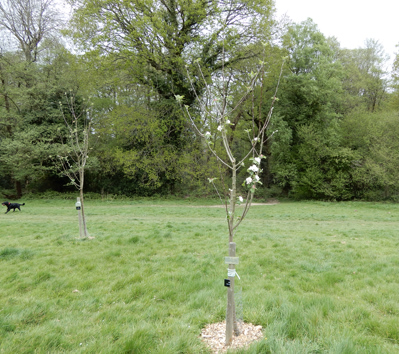 Below: left; A 'Penny' cherry tree and right; a Yellow Huffcap' Perry pear tree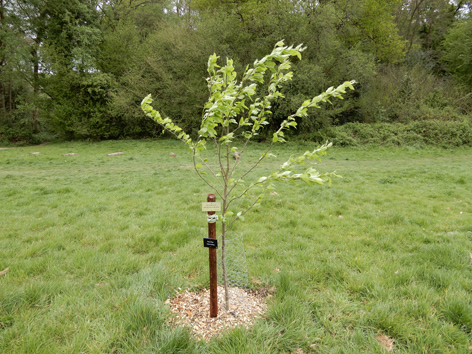 Many may not appreciate the ability of trees to 'cleanse the air of CO2 and release Oxygen into the atmoshere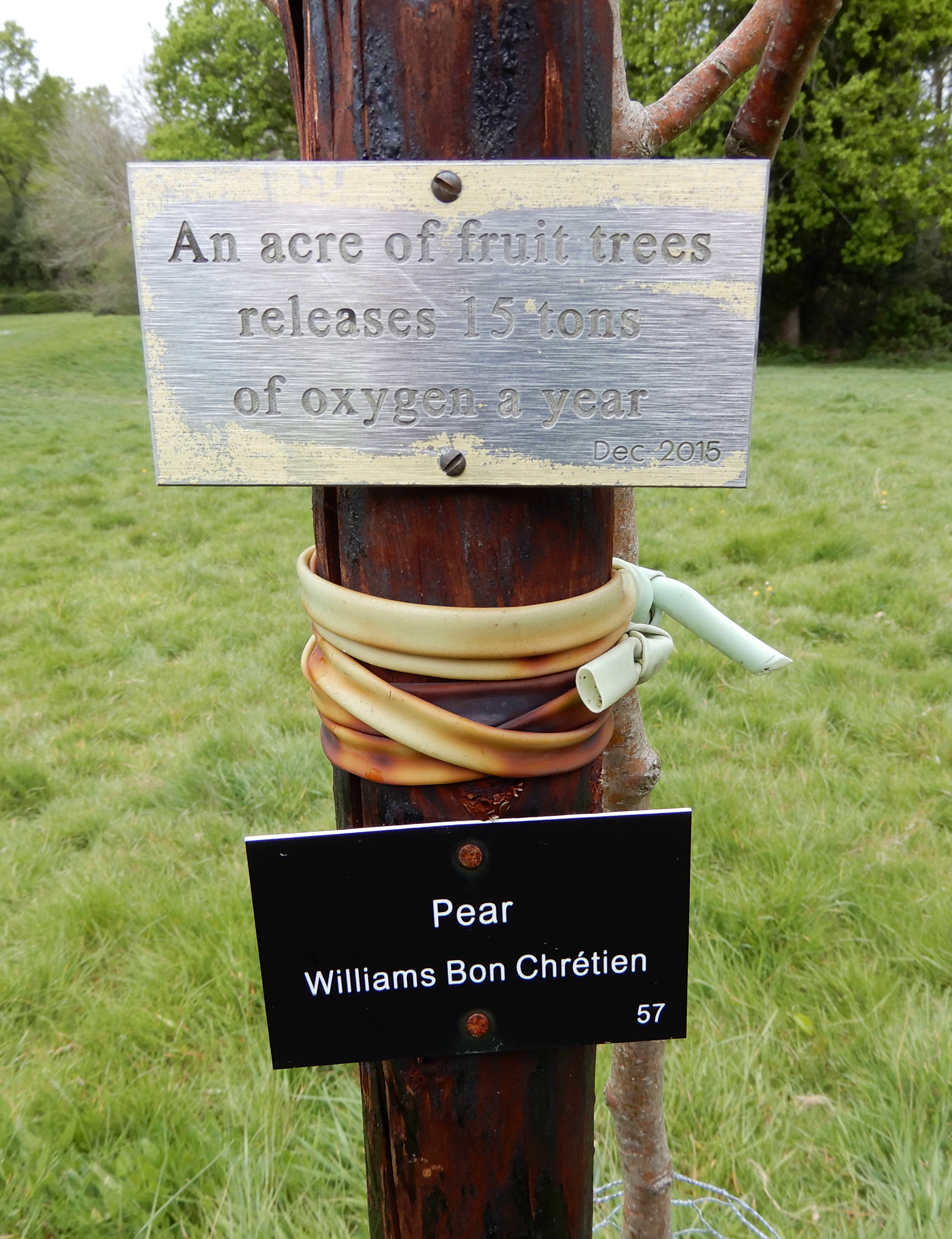 Two areas of Wildflowers were planted to encourage pollination insects, mammals and birds with over 28 species of wildflowers and several grass types. The adjacent woodland hosts many birds.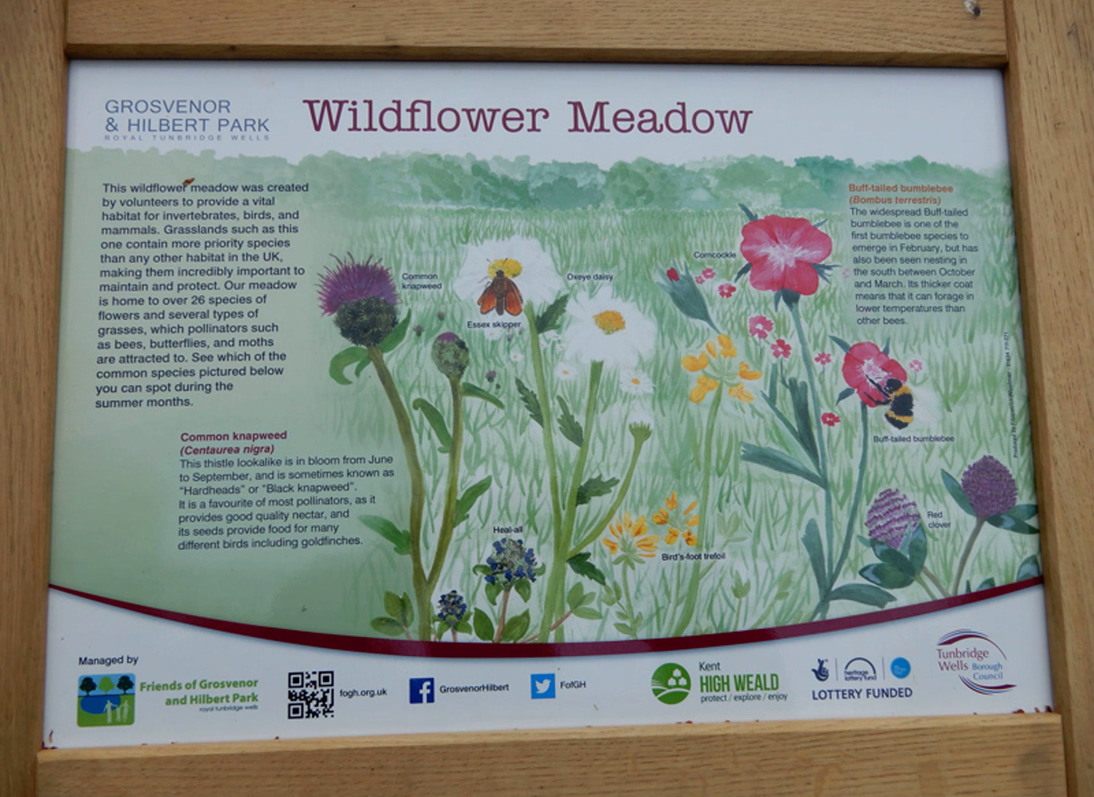 Liz and her fellow 'Friends of Grosvenor & Hilbert' are hoping to deliver an area of beauty and relaxation which will encourage young people to understand where and how the fruit they see in the shops is grown.
Today, we are at my brother & sister-in-law's house and in the meadow there are a number of apple and pear trees. Among them a Discovery, Lord Lambourne, Bramley, Sunset and Conference pear.
The orchard in the meadow + my 12 year old Working Cocker Spaniel - 'Poppy'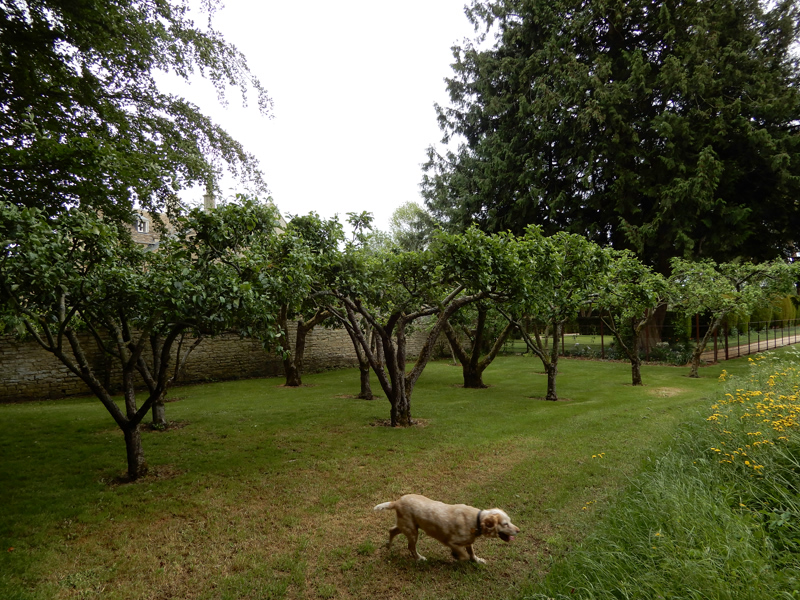 Nearby, a much older tree which I believe to be a 'Court Pendu Plat' as it still has blossom on it and Court Pendu Plat is very late flowering.
See The English Apple Man Journal for 17th May 2019
Below: left; the Court Pendu Plat tree and right; the blossom still evident on the tree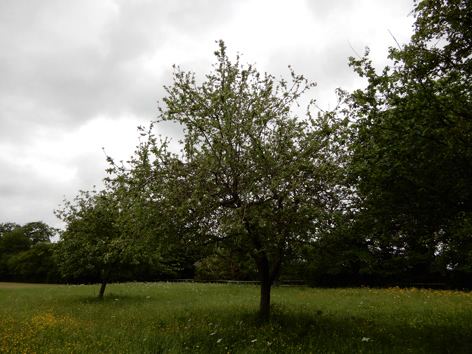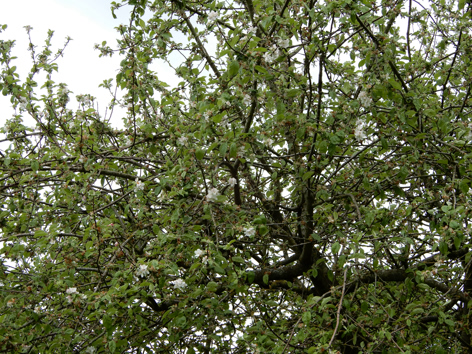 Court Pendu Plat is an extremely old French cultivar of domesticated apple that was first recorded in 1613. The cultivar definitely dates back to earlier than the 17th century, and was probably cultivated by the Romans. It is known for its intense flavour which mellows with storage.
That is all for this week

Take care
The English Apple Man