Journal
14th Jun 2019 - Strawberries, Raspberries and Blackberries!
Soft fruit development has changed dramatically over the years; no longer grown in the soil, modern strawberry, raspberry & blackberry production relies on 'sustainable' coir (Coconut fibre) as a medium in which the plants grow.
Strawberries are either grown in coir growbags or on some cases pots. Raspberries and Blackberries are increasingly grown in pots.
The use of pots & substrate allows flexibility to production processes enabling establishment of blackberries/raspberries in a holding area before placement in tunnels for growing & harvesting. The ability to remove and replace with new pots/plants maximises the production modules (tunnels).
This week the East Kent Fruit Society held their annual Soft Fruit Walk at Clockhouse Farm at Coxheath on the outskirts of Maidstone in Kent.
It always pays to be lucky (my dad always said "better to be lucky than rich" ) and amidst a nationwide deluge of rain this last week, with very heavy rain in the area on Monday, the clouds parted for the duration of Tuesday afternoon allowing circa 60 EKFS members the enjoyment of touring a very progressive fruit farm.
Welcoming EKFS members to the soft frut visit, Chair Caroline Ashdown introduced Clockhouse Farms principal Robert Pascall.
The history of Clockhouse Farm goes back over a century: Clock House Farm was originally set up by Clive Murdoch, Oli Pascall's great grandfather, in 1903. Clive farmed in Coxheath and Linton until his death in 1944 when his son, Robert Murdoch returned from the Second World War and developed an active farming concern in post war Britain with Hubert Allfrey.
Murdoch & Allfrey grew top fruit, hops and cherries for many years before expanding into soft fruit in 1985. The business ceased growing hops in 1984 and cherries in 1993.
In 1987 Robert Murdoch retired and Robert and Camilla Pascall took responsibility for the management and strategic planning of the business.
Robert rapidly expanded the soft fruit production area, taking it from one hectare to one hundred hectares and the top fruit area from twenty to ninety hectares. In addition, Robert also introduced fifteen hectares of stone fruit to compliment the mix of crops.
Through long term vision, sustained investment and a high standard of horticultural excellence, Clock House Farm under Robert Pascall's leadership has become financially robust and a leader in its sector today.
Below: Clockhouse Management Team: left to right; Nick Deppe - Production Director. Mark Chapman - Grower Manager. James Dearing - Farms Director. Ollie Pascall - Farms Production Director. Robert Pascall - Managing Director.
James Dearing - Farms Director gave a brief overview of the crops grown by Clockhouse Farms.
Raspberries - 77 hectares (ha); all Maravilla producing 1,500 tonnes - 60 day Strawberries (main crop) Malling Centenary + Everbearers - Driscolls Amesti, Katrina & Lara = 45 ha and producing circa 2,000 tonnes
Blackberries - 100% Driscolls Victoria; 19 ha producing circa 380 tonnes of fruit and Plums 17 ha - Avalon, Hagenta, Opal, Marjorie, Topfive and Top taste = circa 280 tonnes.
Apples - 61 ha of Braeburn, Bramley, Cox, Daliclass, Gala, & Jazz = 8,000 bins - a mix of cherries = 25 tonnes and 5 hectares of Conference pears.
Managed by a team of 40 permanent staff, peaking at about 600 during harvest time.
Asked about the labour availability, Ollie Pascall said; "we were anxious in the early stage of the season with a shortage of circa 20% but now the required number of workers booked, are turning up!
Robert Pascall emphasised the increasing provision of facilities; continual upgrading of accommodation and services is paramount to attracting sufficient harvest workers. All the strawberries are grown on 'table tops' and with newer varieties and growing techniques producing larger 'easy to pick' fruit, strawberry picking is much less tiring than the old systems of growing in the soil.
First on the tour agenda; Blackberries on a new site erected in 6 weeks and populated with canes planted in pots in a holding area last April (2018) and moved into cold stores in November/December before being moved into the tunnels on 28 May for cropping this year.
Below: left; young Victoria Blackberry canes 'in situ' and right; a middle cane is trained along the row to increase cropping at higher levels.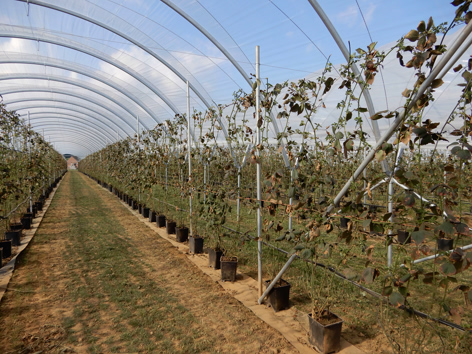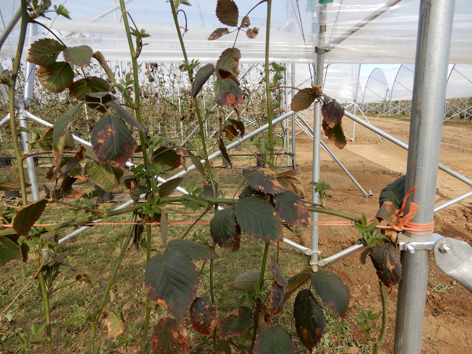 The tunnels are 9 metres wide and will be covered with fine netting to stop the incursion of insects which might damage the fruit. To produce each pot with young plants ready for cropping, costs about £8 and there are 40,000 on this new site alone.
Below: Second year Victoria Blackberries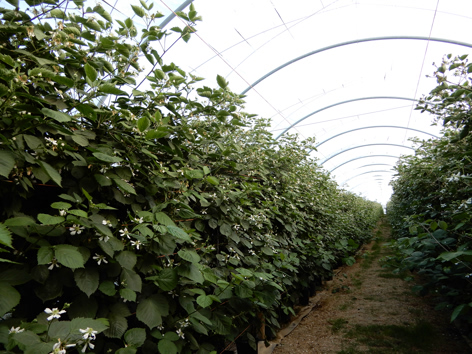 The cycle of Blackberry production starts with tray plants 'bought in' and planted into the pots in April and held in a holding area until November/December before moving into cold stores on site until late May the following year. Then into the tunnels at the end of May - cropping after the second year canes in late summer.
Into the second year; the mature canes produce their heaviest crop starting in mid June.
Clockhouse start the season with Blackberries grown under glass at another site near Ashford. The 2nd year Victoria follow on in mid June with the first year canes next in the production chain, before returning to glasshouse production to end the seasons production in September/October.
After the second year harvest, the pots and canes are removed before the cycle starts again the next year.
The 2 year cycle delivers quality blackberries and by not going into a third year the balance of cropping, quality and cost efficiency is maintained.
Answering a question about what happens at the end of the cycle, Olli Pascall said we re-use the pots and the redundant cane is mashed up into a compost which is the used in the apple orchards.
Back on the Bus and off to the next site where table top strawberry production in 2 identical units on either side of the road. Each has 350,000 plants - one block growing in black bags and one in white bags. All in coir substrate.
One block was previously growing raspberries (under the ownership of a previous grower) and has now been converted to table top strawberries with 5 rows per tunnel - the second block has wider tunnels accommodating 6 rows and fits the format/strategy for future strawberry production at Clockhouse Farm.
The variety: Amesti a Driscolls Everbearer.
Below: left; Amesti information board and right; Amesti Everbearer Strawberry plants after the first pick
Below: left; Amesti in black (coir) growbags and right; in white (coir) growbags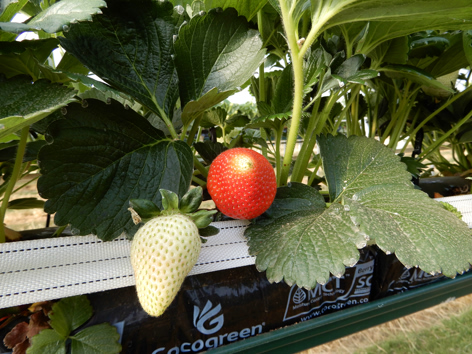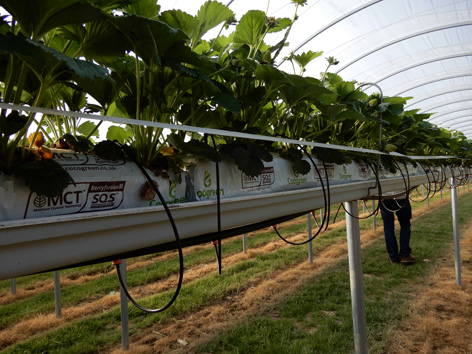 Across the road a block of 'long cane' Maravilla raspberries. Part of a 16 hectare crop growing on this format.
Planted in April this block will start picking around the middle of July to the end of August.
Below: Production Director Nick Deppe explains the benefit of Long Cane Raspberry production and the use of concrete posts supporting the cropping canes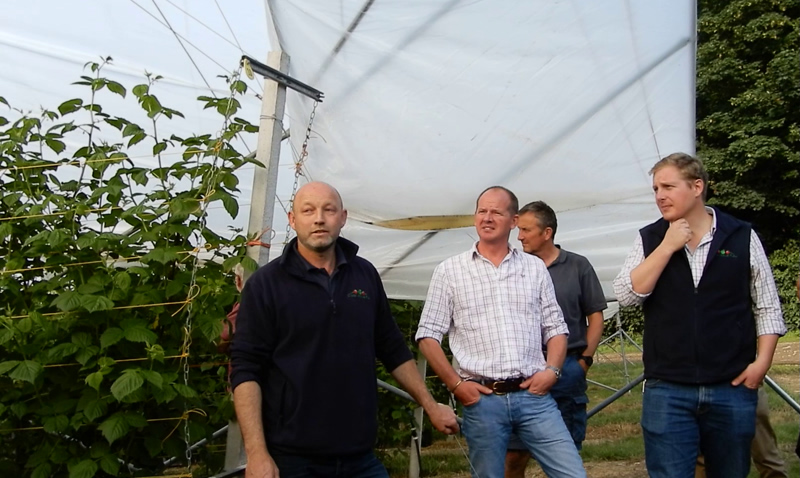 Below: left; Long cane Maravilla raspberries and right; Maravilla raspberries in the second year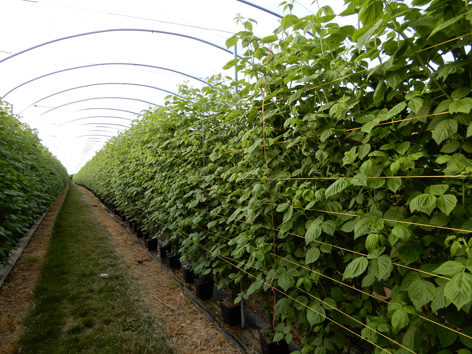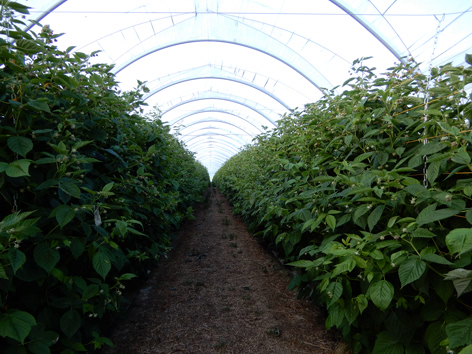 It has become a custom for EKFS to invite scientists from NIAB/EMR to update growers on developments; on Tuesday Adam Whitehouse - Project Leader, Strawberry Breeding at NIAB/EMR informed the attendees about the successes to date: 'Malling Centenary' now established as an important June bearer and some of the new varieties in the 'pipeline'
Below: left; Adam Whitehouse reviews strawberry breeding progress and right; Malling Centenary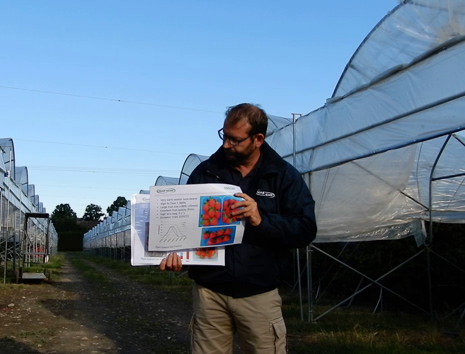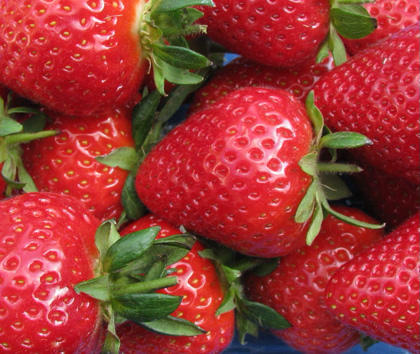 Following the farm tour, EKFS members congregated on a hillside above the village of Yalding for a hog roast and refreshments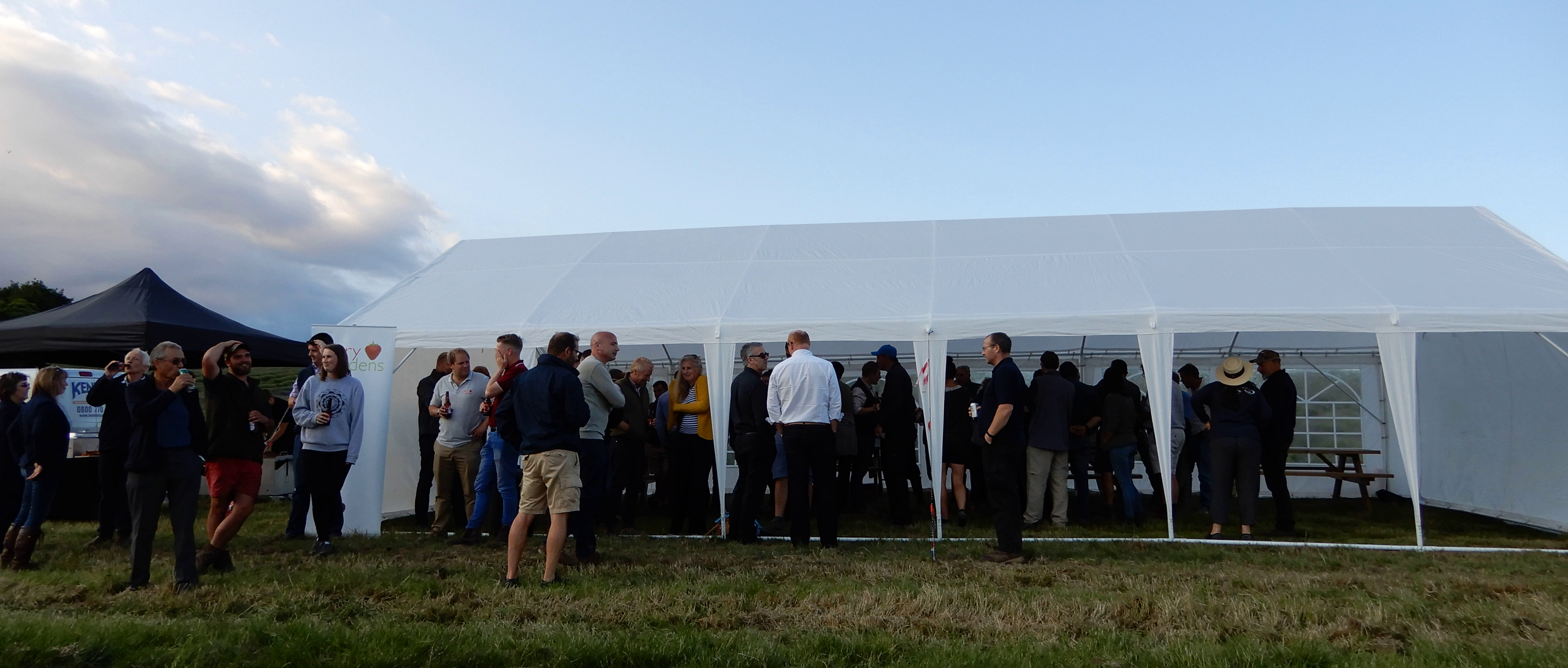 Below: Ollie and Robert Pascall with Berry Gardens CEO Jacqui Green and right; Jacqui Green reviews Berry Gardens expectations for the coming season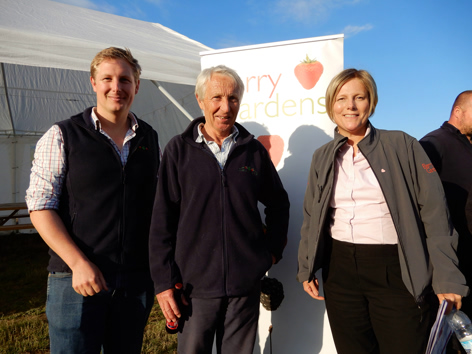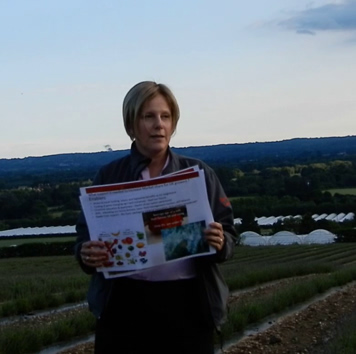 Berry Gardens CEO Jacqui Green highlighted the continuing rise in 'home grown' berry consumption , with Blackberries responding to the Driscolls Victoria offering a whole new 'eating' experience. Jacqui covered many aspects of berry consumption which is now delivering sales value of £1.6 billion.
Among Jacqui's data sheets, one showing home grown share of the produce market, highlights the whole market perspective.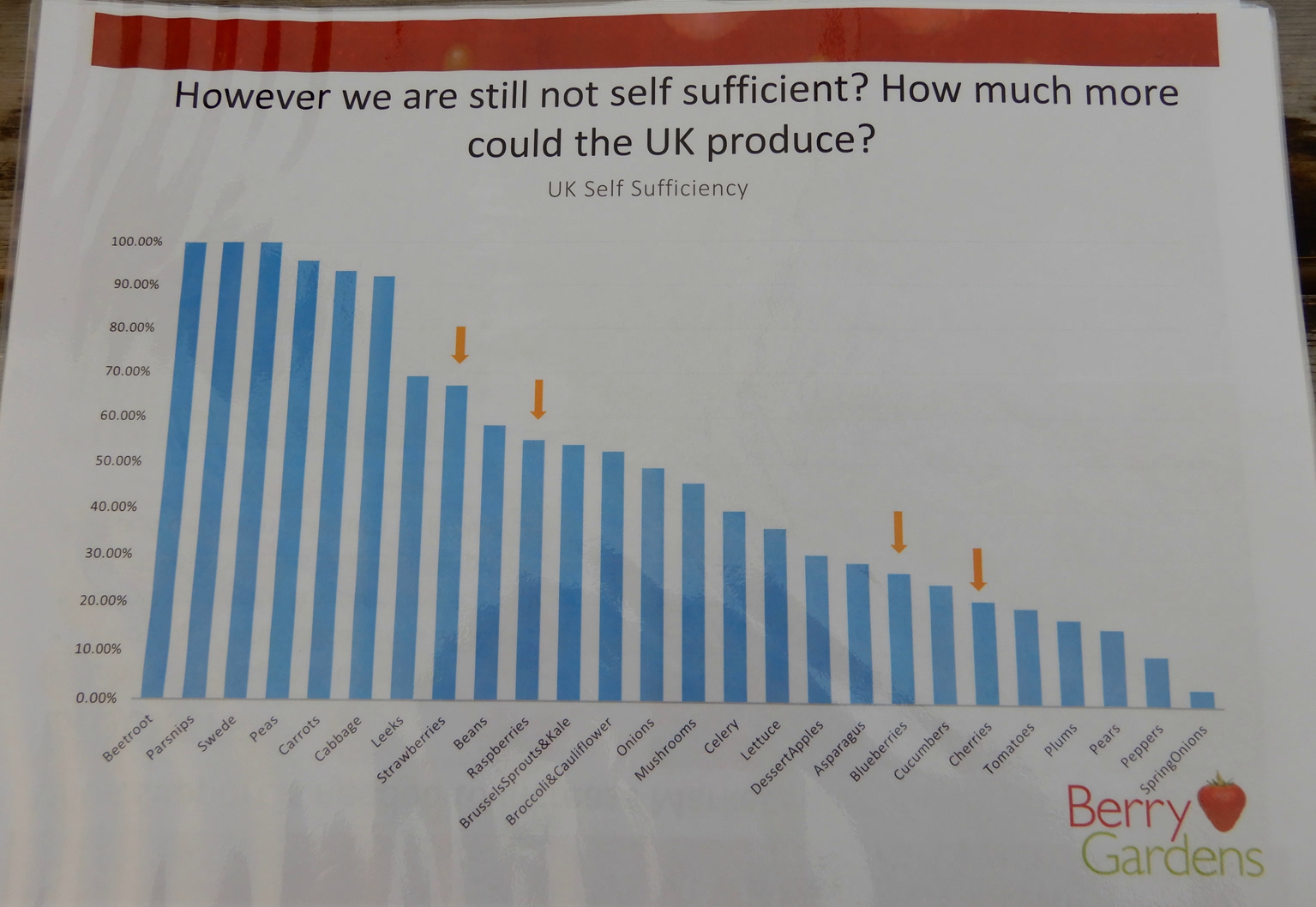 Below: the view from the 'refreshment site' down to Yalding Village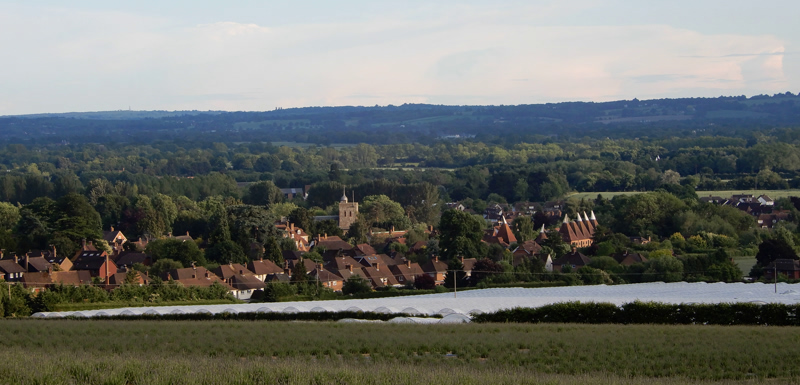 The weather; after the heavy rain on Monday was fine and sunny, but the black clouds in the distance were a timely reminder of what we had been lucky to miss!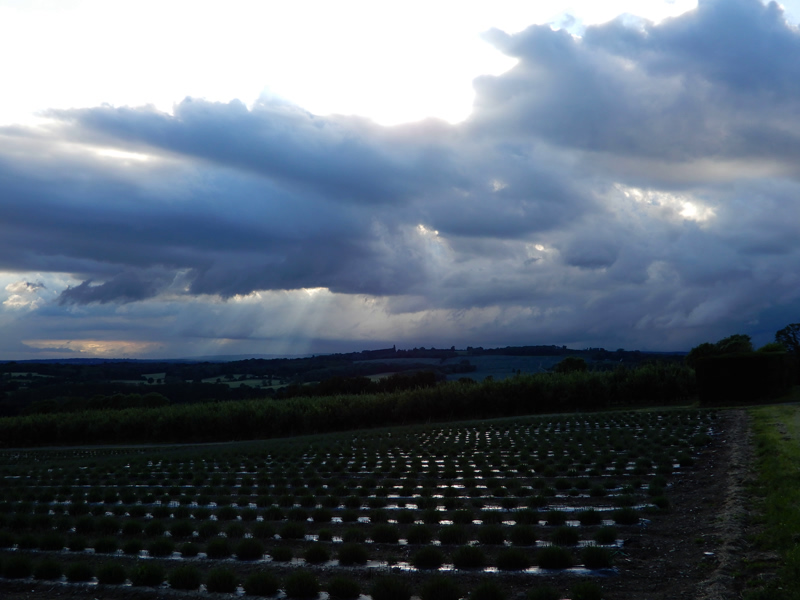 All in all, a very informative and enjoyable evening. The scale of operation at Clockhouse Farm and the attention to detail is stunning.
That is all until next week
Take care
The English Apple Man