Journal
21st Jun 2019 - Biddenden Vineyards celebrate 50 years as a commercial vineyard
Biddenden Vineyard was the first commercial vineyard in Kent in 1969.
Originally home to a 40 acre apple orchard, the Barnes family started to consider diversifying the farm in the late 1960s as apple prices began to decline. After listening to a feature on the BBC's Woman's Hour programme about English vineyards being replanted, Mrs. Barnes was inspired to turn to viticulture.
On Friday 14th June The Barnes family celebrated 50 years as a commercial vineyard with 200 invited guests in attendance. The dodgy weather - prevalent over the last week, abated for a beautiful afternoon, allowing guests to sip Biddenden's finest Sparkling White Wine and nibble on a plethora of 'petis fours',
Below: Tom Barnes, Julian Barnes, Sally Barnes, Sam Barnes and Will Barnes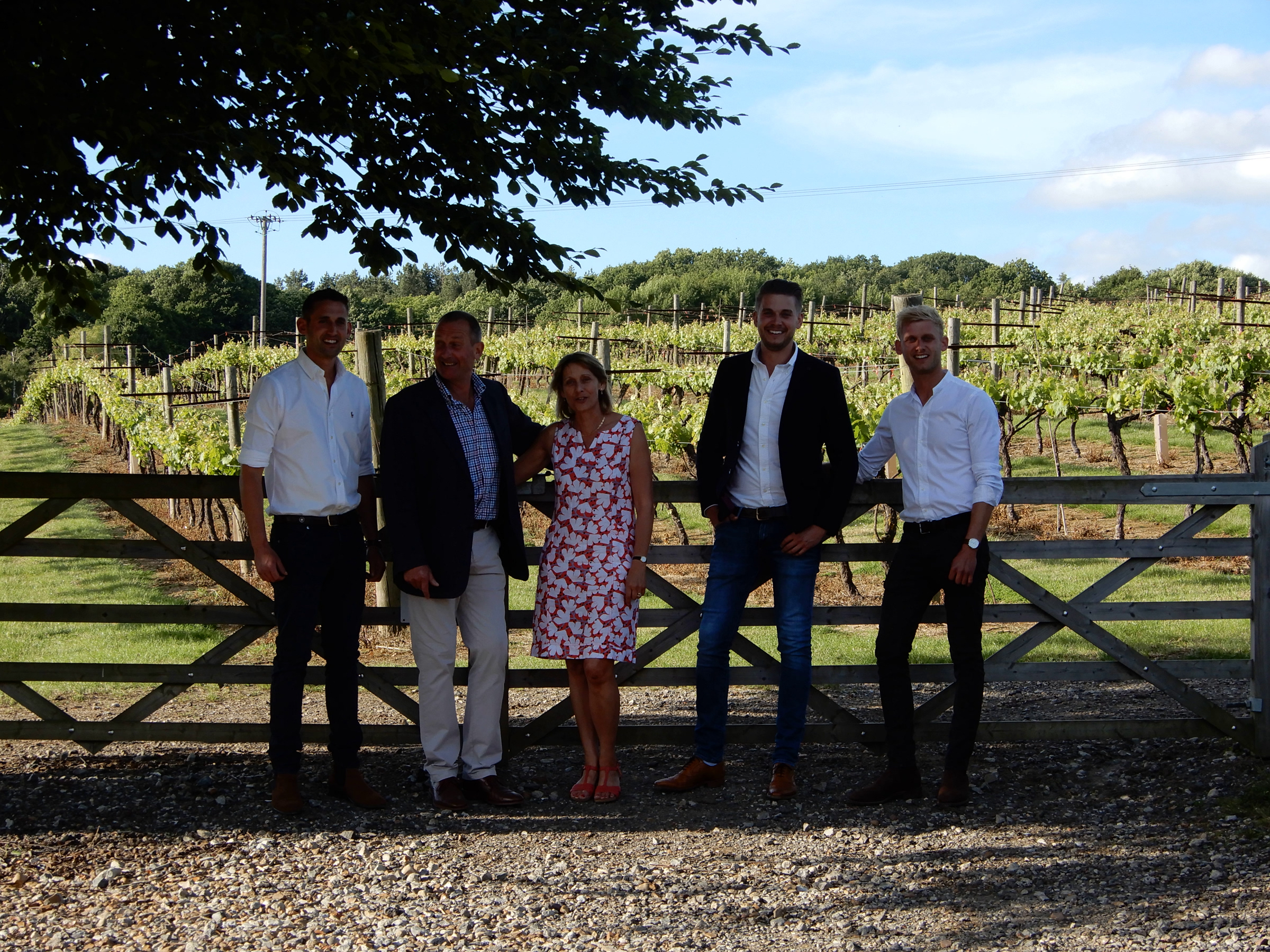 Below: A passage from Biddenden Vineyards website
"In 1969, one third of an acre of vines was planted and Biddenden Vineyards was born. In 2019 our single estate vineyard spans 23 acres of gentle south facing slopes situated in a sheltered valley, just outside the picturesque Wealden village of Biddenden. 11 different grape varieties are grown here to produce our array of award-winning White, Rose, Red and Sparkling English wines"
Awards come frequently to Biddenden Vineyards and Biddenden's Gribble Bridge White 2019 has been awarded a Gold at this year's Sommelier Wine Awards 2019, as well as being chosen for a 'By the glass' award.
The awards, which are the only wine competition aimed solely at the on-trade, are judged by over 150 sommeliers and on-trade buyers who assess each wine's food-friendliness, versatility, typicity, personality as well as value for money. In order to reach a place on the coveted Gold list, a wine must go through two rounds of tasting, as well as being approved by the head judge.
Guests mingled, sipping Gribble Bridge Sparkling White wine, enjoying conversations and memories of 'Biddenden Vineyards' progress over the last 50 years while awaiting Julian's 'anniversary speech'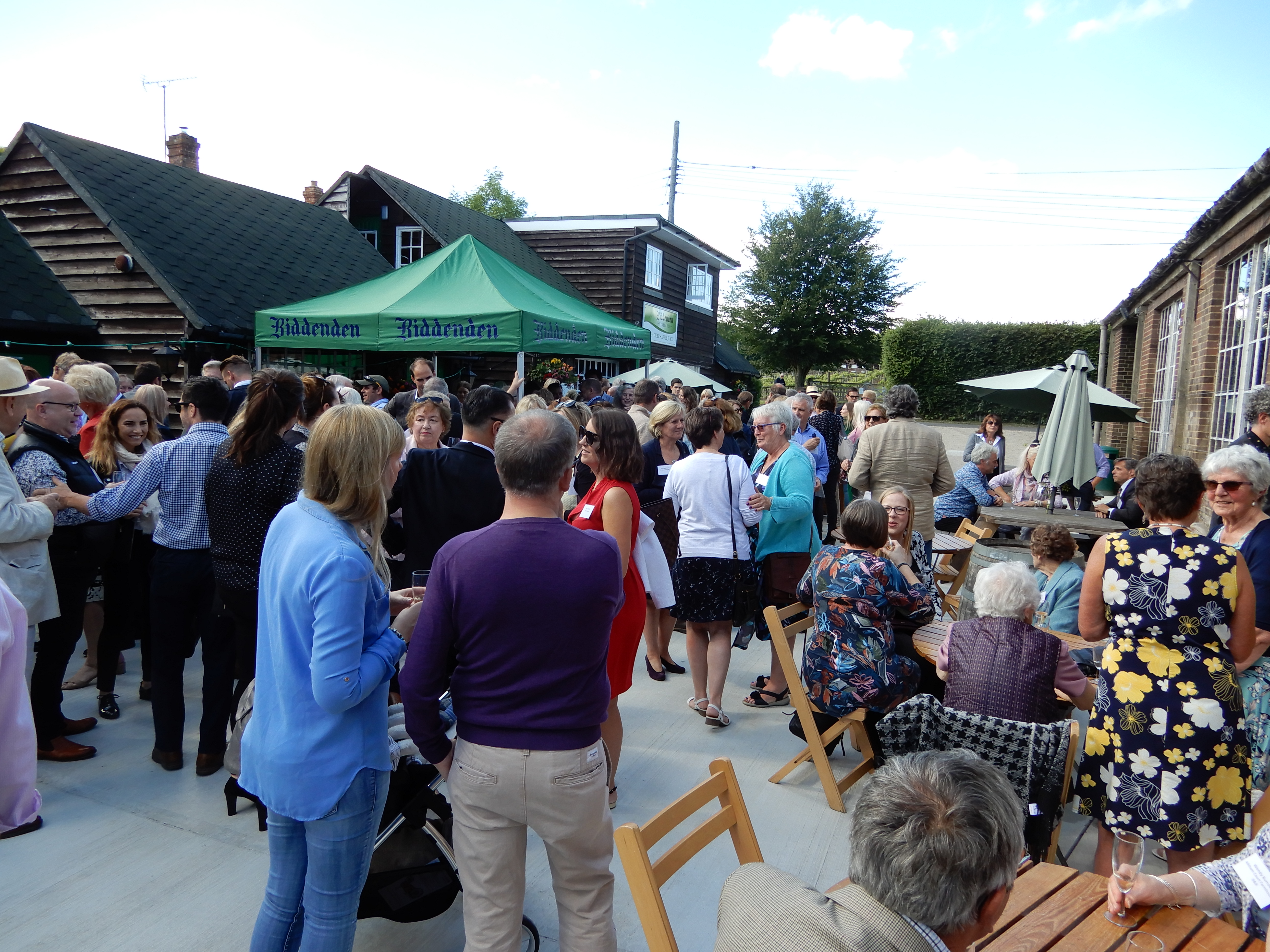 Gribble Bridge Sparkling White 2014.
Made by the traditional method, this wine is a blend of Pinot Noir, Reichensteiner & Scheurebe, made using some of the oldest vines on the estate. "We have recently planted more Reichensteiner in order to increase our production of sparkling wine in years to come".
This English sparkling wine has good structure with a clean finish and attractive bready, baked notes. Intense and supple, it is clean, fresh and has depth.
Available to buy online, from selected stockists throughout the South East as well as direct from the vineyard shop.
From the first Biddenden wine, which was bottled around 1972-3, production has now grown to around 80,000 bottles per year. All vine work on the estate is still carried out by hand, including pruning, canopy management and picking, with harvest running from mid to late September right through to November.
SPEECH!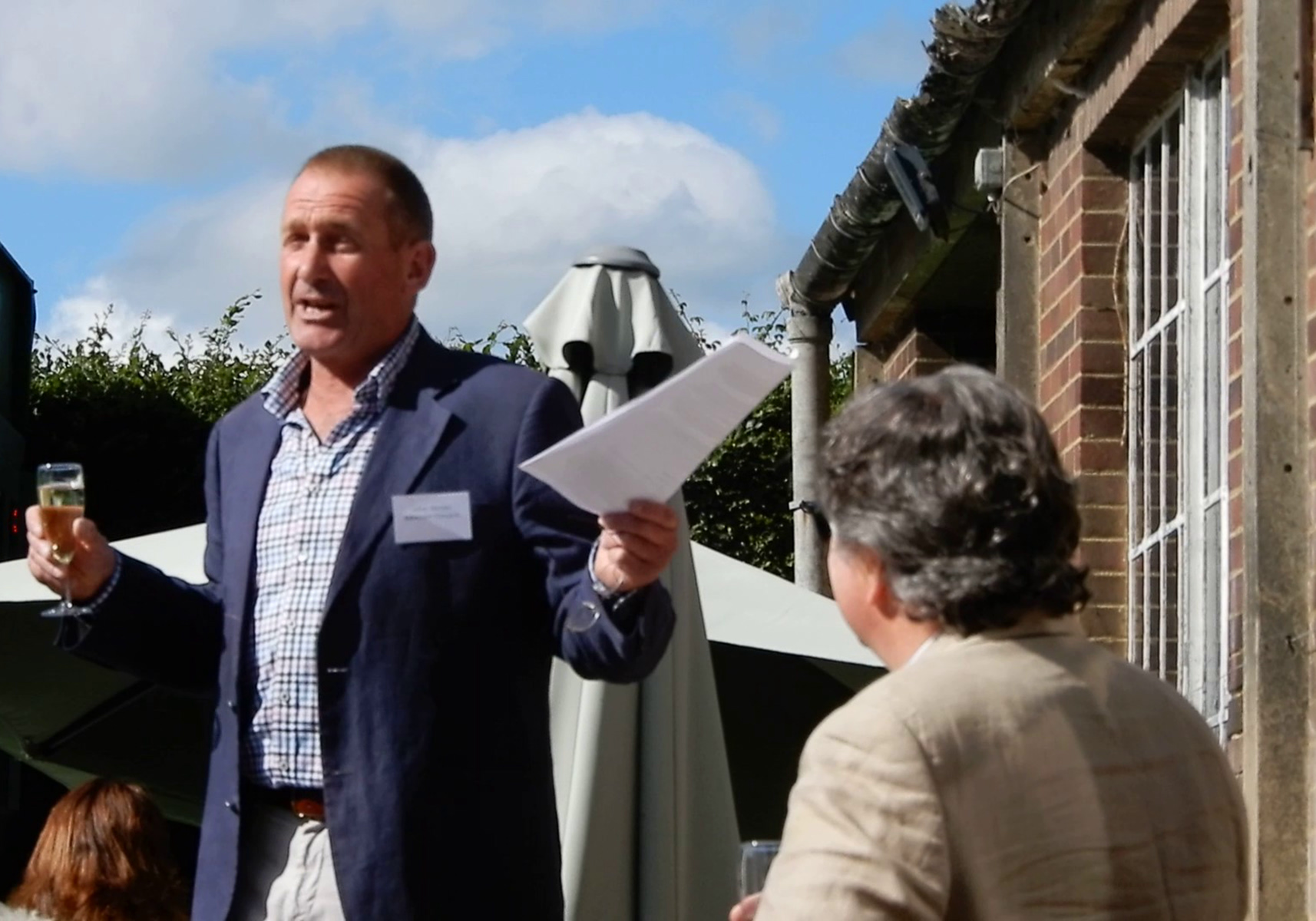 Julian Barnes speech looked back over the 50 years since his father and mother set out to change the farm from a fruit farm into an award winning Vineyard.
As he passed through the years, Julian noted the arrival of his three sons. Tom, Will and Sam; all born at a weekend.
Julian reflected on the loyal support he had from Sally and identified many friends and colleagues who played an important role in the success of Biddenden Vineyards.
As the years passed by first Tom and then Will joined the business. Sam still plays a part, but has started his own business in association with NP Seymour supplying vineyard specific machinery, vines and associated materials.
See Sam Barnes
To say Biddenden Vineyards is a success, would be an understatement - a look at the many awards received by Biddenden Vineyards speaks for itself. See: Biddenden Vineyards Awards
The Barnes family are justifiably proud of their place in the English Wine Story, trailblazers for an industry that is expanding at an exponential rate. In the fifty years since David Barnes started out on an adventure in wine growing, the status of English wine has never been higher.
Click on Biddenden Vineyard for the full history of the Barnes family 'wine adventure'
That is all for this week
Take care
The English Apple Man