Journal
12th Jul 2019 - Cherries!
We are now well into the British Cherry season and can look forward to enjoying the finest cherries we will get to eat at any time during the Year for another month 'or so'
East Kent Fruit Society (EKFS) visit Norton Farm Cherries on Tuesday 9th July,
Below: Oh so tasty 'Home Grown Cherries'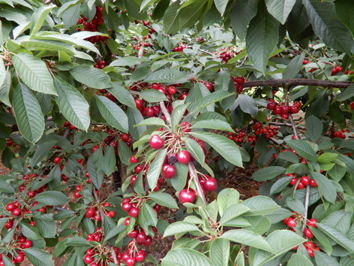 The EKFS stone fruit walk this year was held at F W Mansfield & Son, Norton Farm, Norton by kind permission of Mr Paul Mansfield. Members were able to visit the winning orchard of the 2019 Stone Fruit Competition. This farm took first place in the cherry and plum classes.
F W Mansfield & Son was established 50 years ago when the current owner's father purchased an 8ha smallholding in Kent. The business now covers more than 1,000ha across 20 farms in Kent, growing a range of top fruit, strawberries, plums, cherries and apricots. The cherry production is expected to reach 2,500 tonnes in the next few years. The increased production is a result of an extensive planting programme - more than 102ha of orchards in 10 years.
EKFS Chair Caroline Ashdown introduced Mansfield's Farm Manager Craig Rook who took members through the history of Mansfield's ownership and development of Norton Farm.
Below: left; Caroline Ashdown and right; Craig Rook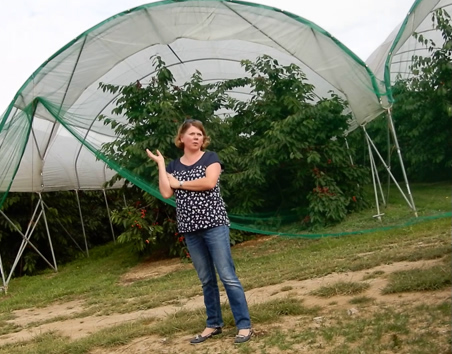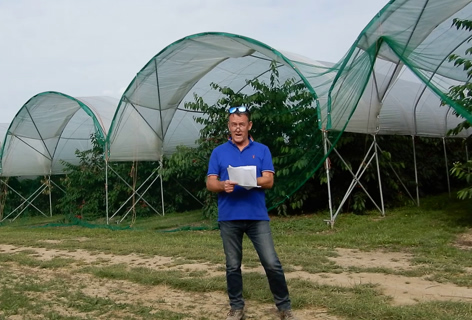 Craig told EKFS members Paul Mansfield bought the farm in 1998 which at the time had 20 acres of arable land and the rest established hop gardens, all of which had to be removed before any planting could be undertaken.
In 1999 - 74,000 trees were planted, unfortunately most were on Colt rootstocks which Craig admitted was a mistake. Over the period since, the orchards have been gradually remodelled with more precocious Gisela 5 rootstocks and more modern varieties.
In 1999 everything was planted as a three row bed - now all cherries are on a two row bed allowing tractor movement on one side of the tunnel.
The original 74,000 trees have now been reduced to 52,000 trees and 47 hectares of cherries at Norton Farm.
Owens Court 20 hectares and 16,000 trees and the third farm is Swanton Farm which is 100 metres higher than Norton which allows 10-14 days later on flowering and 5 - 7days later on picking which spreads the crop on the three farms aver circa 6 weeks.
Swanton is 33 hectares and 33,000 trees. The total hectares across the three farms is 101 hectares and 102,000 trees.
Below: Lapins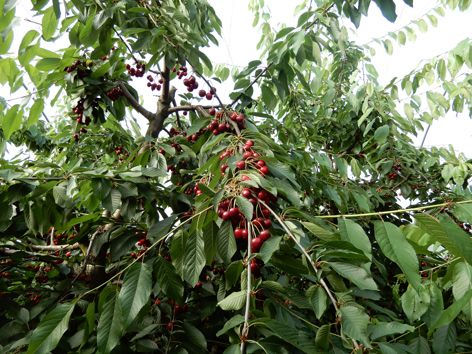 Craig said 40,000 trees have been planted in the last 6 years. At Norton we still have 10,000 of the original trees all Lapins which are doing ok but will be replaced in the next few years
We also have 3 different types of covers on the tunnels - this one is (behind Craig in the picture above) called crystal mesh from Haygrove and standard polythene which will bring the crop forward by 3-4 days + ADR which delays the crop by 5-7 days while the crystal mesh 1-2 days delay.
Craig said company policy is to cover after bloom; we have tried doing it earlier but 'probably' due to the length of our rows we suffered from poor pollination, probably because the honey bees in the longer tunnels found it claustrophobic.
Estimating the crop: Craig said we count the number of branches per tree - 100 cherries per kilo - 30 tonne per hectare? If anyone can tell the difference 1000, 2000 and 3000 cherries per tree (they can come and work for us) - looking at the tree to my left Regina is 5 years old and we are probably looking at 30 kg per tree or 30 tonnes per hectare. While the Penny in the next row was planted in 2008.
Some of our younger trees will be only cropping at 10 tonnes per hectare, but the build up of tonnages will come from the younger trees reaching full cropping.
On the 'original Lapins' trees Craig describes pruning; "we prune in the Autumn, in the Spring and sometimes (if there is a lot of leaf - in August) if the leaves start to yellow and drop off in August we will not prune then. With 100,000 trees to prune each year it is a time absorbing occupation.
With every farm and field you will get variation in the soil which will influence the tree growth, vigour and fruit size and cropping.
Below: Picking trolleys and step ladders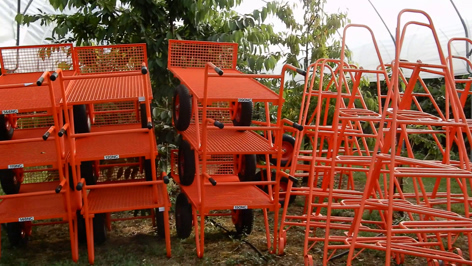 Picking: "We pick everything with Steps and lightweight ladder and transport the trays on these trolleys. PIckers love them.
As we walk round with Craig he points out some of the Corina and Kordia may look a little lighter as we have picked over some of these varieties.
Stopping for a moment; Craig said the 5 hectare block we are standing in should deliver 150 tonnes of Cherries. Last year due to the 'Beast from the East' this block picked only 7 tonnes!!!
Paul Mansfield emphasised the temperature in early March last year dropped to -18.5 degrees C when some varieties were at the bud swell stage and very vulnerable to excessive low temperatures. In particular the Sweetheart and Lapins were worst hit and the buds did not open at all!
Below: EKFS group in tunnel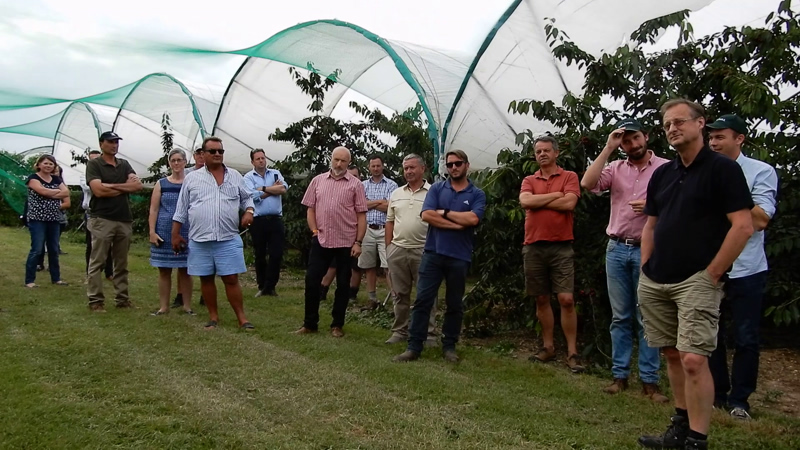 Craig continued: "In 2018 we should have picked 1,500 tonnes in total but picked 600 tonnes, the year before - 2017 we picked 1,200 tonnes. This season we anticipate 1.750 tonnes. With 40,000 trees still under 6 years old, we should peak at 2,500 tonnes when all trees are fully productive.
Pollination: Craig said "I have learnt a lot about pollination in the last 10 years; "pollination is KEY!
"We were having problems with pollination in Penny. We took advice and we introduced Regina on Gisella 3 at one Regina to 4 Penney and it changed!
The success of this strategy and observations of where a mix of varieties came close together, the improved pollination resulted in vastly increased yield.
Craig said "I will never plant in blocks of a single variety again; I will match rows with a variety with another as pollinator in rows 'one & one'
Below: Staccato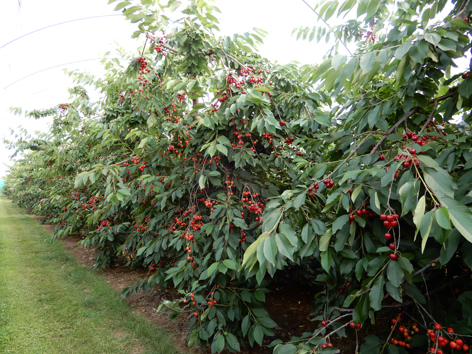 Looking at Staccato a later variety, Craig said I'm still learning how to prune this variety; it looks a bit leggy and will benefit with other varieties if tying down of laterals is carried out: Sweetheart a strong growing variety definitely benefits from tying down. If you are lucky Kordia, Karina and Regina due to their growing habit will not need tying down.
Below: Tying down Sweetheart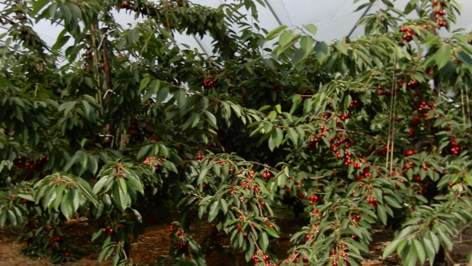 The Staccato look as if they will produce 20 tonnes per hectare this year and will start picking from mid July. On th later Swanton site, Staccato should carry on into early August.
The first two weeks of harvest are fairly light picks but this week "we are expecting to pick around 125 tonnes and next week circa 350 tonnes.
We pick into 5 kg trays and pride ourselves with getting the cherries into the rapid chiller/cold store within an hour of picking. We will have '60 tonne days' and at the pack-house a hydrocooler and 12 lane cherry grader which can sort into different categories as per customer requirement.
Asked about labour: Craig said "we think we are ok. We have lots of returnees and with their experience we ensure new harvest workers are well trained - training is very important. At peak when all three farms are being picked, we have 500 people working in the picking operation.
Asker about the overlap with Mansfields sizeable Strawberry business and Apple production of 60,000 bins (x 300kg) Craig said they now run these enterprises as separate entities for labour as it is easy to get in a muddle otherwise. He currently has 160 people apple thinning, an important task at this time of the year.
We will thin Lapins and Sweetheart at the green fruit stage; literally ripping of underside bunches.

An innovative and vey important procedure to combat Red Spider Mite involves placing sachets of Andersoni Predator Mites for Spider Mite control. Placed in trees in early May at 200 per hectare (1 in 4 trees)
Below: Craig in tunnel with group members and right; a sachet (centre) placed in cherries for Red Spider control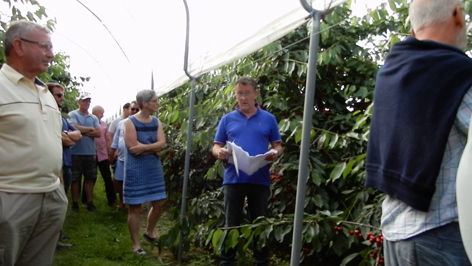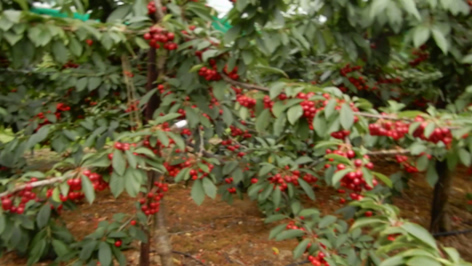 Craig said: All the trees are Irrigated/Fertigated
From the Cherries EKFS members moved onto the Victoria plums which won the EKFS 'Best Plum Orchard' competition.
Below: Award winning Plum orchard with Victoria Plums in the foreground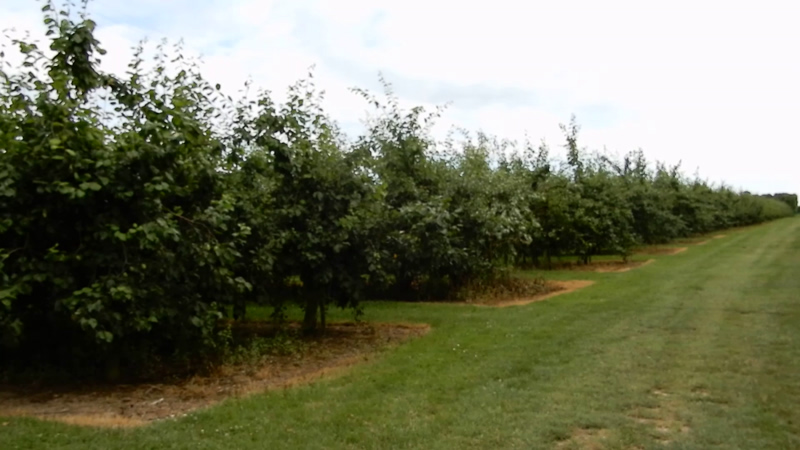 The evening was a stunning example of what can be achieved with intelligent investment, good management and determination to succeed. We ended the event with an excellent barbecue and refreshments sponsored by J R Breach
---------------------------------------------------------------------------------------------------------------------------------
Goatham's Great Kent Cycle Ride 2019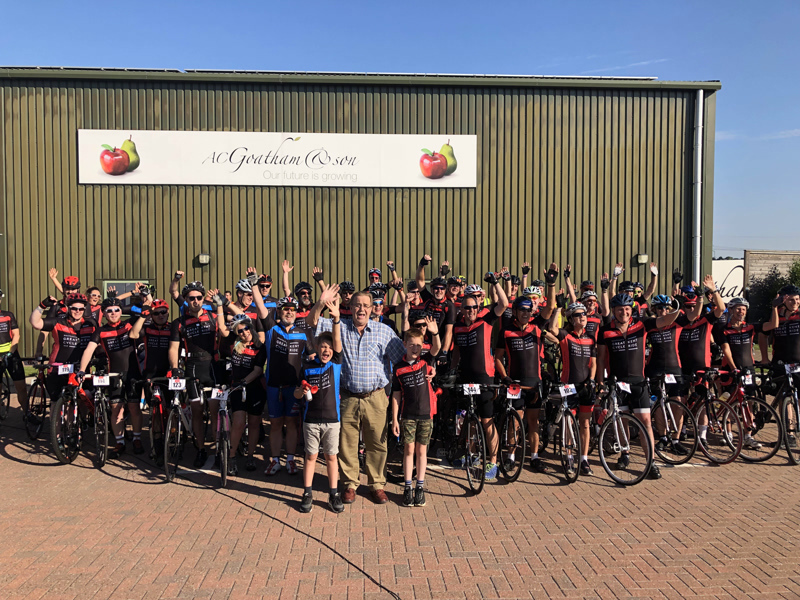 The Goatham's Great Kent Cycle Ride 2019 started and finished in Medway this weekend as riders covered over 200 miles of the county's roads from Friday 5th to Sunday 7th July. The ride raises money for the Kent Sports Trust to help people across Kent access sporting and recreation activities and a donation will also be made to Help for Heroes.
The riders set off from the headquarters of AC Goatham & Son at Flanders Farm, Hoo at 8am on Friday 5th July, and they began their journey, travelling east along the coast via Margate before reaching Dover. Day two saw the riders cycle across the beautiful Weald of Kent to Tunbridge Wells. On the final day, the riders cycled from Tunbridge Wells to Medway, arriving in Hoo at 5pm.
Chief Executive Officer of Kent Sports Trust, Steve Wolfe, comments: "This was a fantastic opportunity for riders of all ages and abilities to get out on their bike, to see the Kent countryside and to be a part of a real team event. Whether new to cycling or an experienced rider looking for a supported three-day ride, there was something for everyone this weekend whilst also raising funds to continue the work of the Kent Sports Trust, which is providing access to sports and recreation activities for people across Kent."
Carol Ford at AC Goatham & Son comments: "We were once again delighted to support this major fund-raising event and the work of Kent Sports Trust to enable people to access and live a healthier lifestyle. Having personally taken part in all three rides, I can honestly say it is a great deal of fun, combining the pleasure of cycling across the beautiful Kent Countryside with the company of a fantastic group of people, who encourage each other on."
More details about the work of Kent Sports Trust can be found at Kent Sports Trust
That it for this week
Take care
The English Apple Man