Journal
26th Jul 2019 - Viti-Culture show
On the 11th July, The English Apple Man ventured an hour's drive to Plumpton College near Lewes in East Sussex where the very first Viti-Culture Event took place.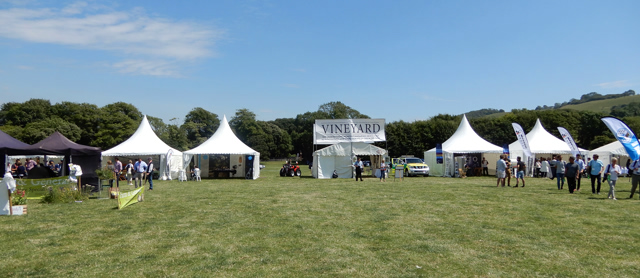 Viti-Culture is the result of not just a vision, hard work and good planning but also teamwork. Organisers Grape-Vine Events, together with media partner Vineyard Magazine have created a formidable team that has put together a show with all the answers. The only question is why no-one thought of it before! To our knowledge there is no other event in the UK that focuses purely on viticulture while providing a show-case event where growers can access advice, supplies, services and have networking together in one place!
The show has a similar layout to Fruit Focus the annual fruit show held in mid July each year with machinery and suppliers of viticulture technology, advice, wine tasting and seminars available to visitors.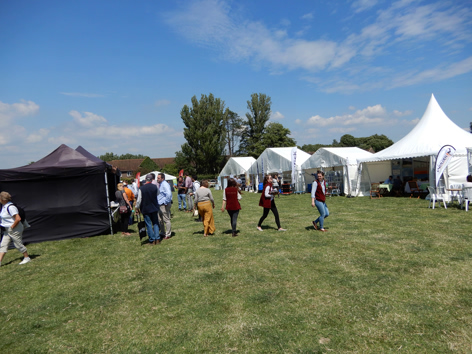 Machinery is always an attraction - bright, shiny, new 'boys toys' with increasing technology features and tools which can deal with 'otherwise' laborious tasks.
Talking to Richard Smith of Haynes about the tractor and sprayer on show, Richard told me the KUHN Ventis 1000 3 row sprayer, unlike many with drop down legs, has a set up of 'fingers and cannons' which they believe to be just as efficient as the drop down leg format. The New Holland T4 100N tractor has front and rear PTO's and linkage with 'all the bells and whistles' for around £45,000 each. Also on display a JCB 483 pivot loader 'hydrostatic' for moving fruit around and loading; with front linkage for other tools. Haynes also displayed a 1.5 metre KUHN power harrow, a robust tool described by Richard as 'pretty much bomb proof'
Below: On the Haynes stand a New Holland T4 100N tractor and right; a KUHN Ventis 1000 vineyard sprayer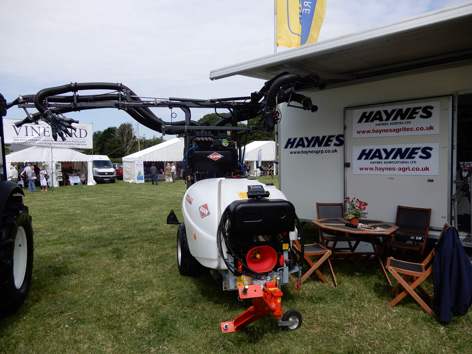 Below: left; JCB Pivot loader and right; KUHN power harrow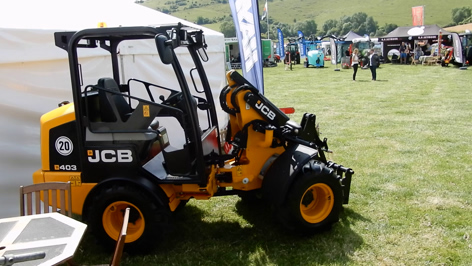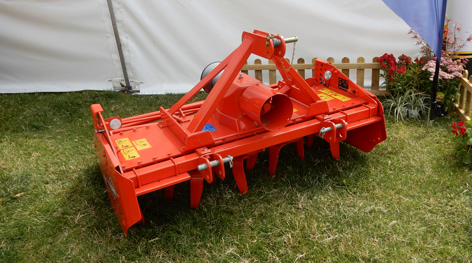 Moving onto the NP Seymour Stand, Claire Seymour explained the abilities of various tractors and equipment on display. The Carraro 85 HP vineyard tractor 4 wheel drive, air conditioned and a 'quite economical range of tractors and on the front a BMV vertical trimmer with 4 knives and one top section which can either be used vertical or horizontal. A popular model for trimming vines (which would be operating from circa mid-July in vineyards. Claire said there is also a 'defoliator' which would be use later (before harvest- to strip of leaves and leave the bunches of grapes exposed for picking improving sunlight and air movement reducing risk of disease.
Below: left; Carraro 85hp vineyard tractor and right' Fendt tractor with front end finger weeder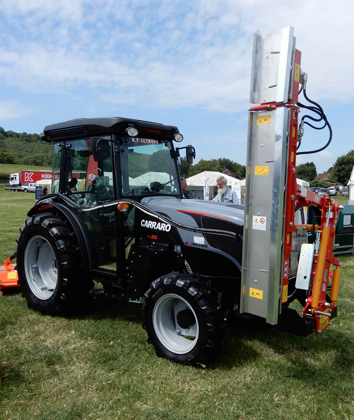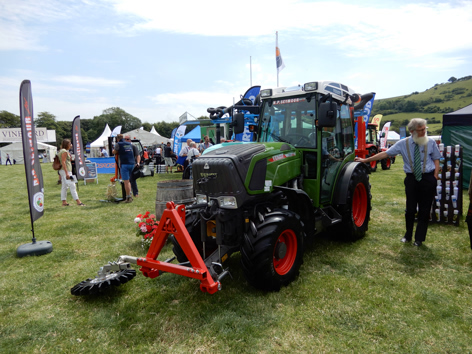 bBelow: left; Berthoud three row sprayer and right; Berthoud nozzles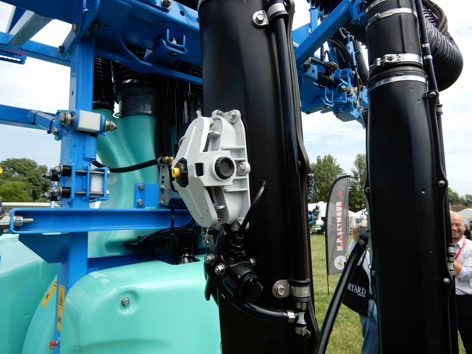 The cultivator; a Clemens 'one pass' cultivator with 'hoes' that can come out at the sides and hoe close to the tree or vine, Claire said you can fix other weeding attachments to the tool bar.. Cost circa £10,000. See cultivator working by clicking on Clemens Cultivator
The Revolution R20 Frostgaurd is designed to protect an area of about one hectare; the unit slowly swivels through 360 degrees blowing hot air and combatting frost. Larger tractor drawn frost busters are used for larger areas, although they need to recycle every 10 minutes to ensure efficacy. This Revolution R20 is ideal for a small vineyard or for protecting a small but vulnerable 'frost pocket' - there is also a version with 'auto start up' governed by a temperature sensor. The cost; around £8,000.
Below: left; Clemens Cultivator and right; Revolution R20 Frostgaurd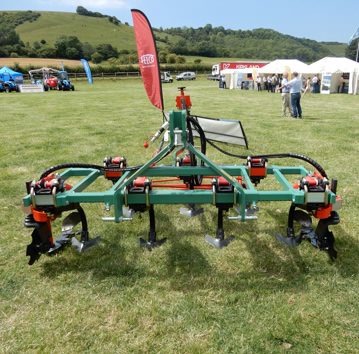 Deutz-Fahr and Pellenc
For more than 100 years DEUTZ-FAHR has been based upon the merits of trusted, innovative German tractor technology and accordingly established the worldwide successful brand.
Pellenc UK (Etesia Ltd) is a French group with an international scale which produced a consolidated turnover of 108 million Euros in 2008. It is specialised in the design and manufacture of vine growing, winery, olive growing and orchard growing equipment. Pellenc employs more than 700 people worldwide.
Pellenc products are exclusively distributed in the UK by Etesia UK specializing in 'zero emission' battery powered tools.
Below: Deutz - Fahr Vineyard Tractors and right; Etasia vineyard pruning equipment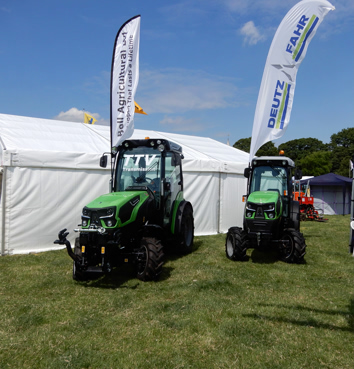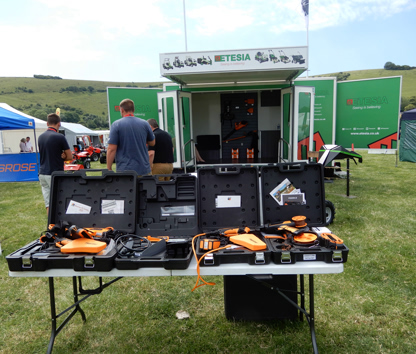 Glosrose
Glosrose, mechanical handling experts, not being restricted to any one manufacturer, are able to offer a full range of New and Used equipment manufactured by all of the major marques.
Glosrose are based at Old Mill Farm, Hollingbourne Maidstone Kent ME17 1XD
Below: Left Glosrose MT 420 H fork truck and right; Glosrose personnel pose for The English Apple Man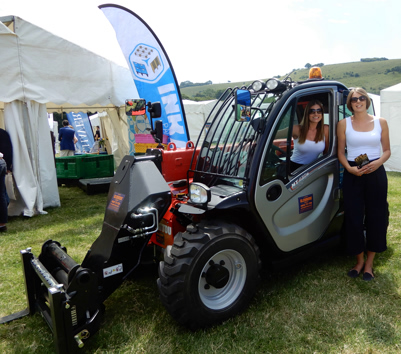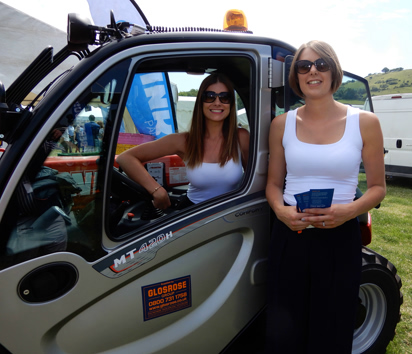 For more information; click on Glosrose
Corks and other stoppers
Rankin Brothers & Sons is a leading manufacturer and supplier of bottle closures to the drinks industry.
At Viti-Culture The English Apple Man sat with Jim Rankin and learnt about this amazing business, with a history going back as far as 1774.
"Since 1774, the Rankin family has been supporting the beers, wines, spirits & foods packaging industries with best in class closures that help seal, protect and add value to brands.
"We are a family business that have been going to the ends of the earth to support our customers with premium products and a high-quality service for six generations. While our business has evolved significantly over time, and we continue to invest heavily in research and innovation, this core mission has remained the same.
The passion and determination first instilled in us by our founder William Rankin has trickled down through the generations to make Rankin Brothers & Sons is a truly dynamic cork supplier.

"Our story started in 1891, when William Rankin Jr. ventured to Portugal to locate the best cork growing area in the world. There, he planted the seed that would grow into the family business we have here today.
Six generations later we've changed a bit, but our core mission remains the same: to provide world-leading drinks industry solutions, made to the highest and most ethical standards.
At Rankin Brothers & Sons we are aware of our responsibilities in supporting the local economy, sustaining unique skills and livelihoods and to preserving the environment.
From forestry management through to our supply of cork closures, our business activities demonstrate an understanding of the interdependence between industry and a truly unique ecosystem. Our membership of the European Cork Confederation ensures that we not only stay abreast of best practice issues but that we are a champion of change.
Since the 1800's the Rankin family have managed over 4,500 acres of forestry in Portugal. FSC accreditation is underway and this will underscore our commitment to sustainable practices developed over 200 years. The FSC has established a globally recognised system of interdependent forest certification and product labelling that helps consumers identify timber and wood products from responsibly managed woodlands.
Below: Rankins Brothers & Sons Stand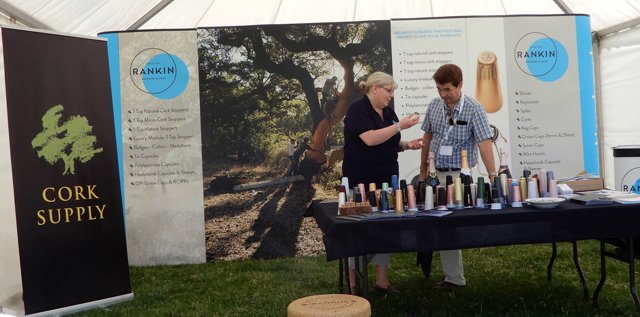 The Big Machinery Debate
Over in the Vineyard Magazine Marquee The English Apple Man sat in on a very interesting Seminar Chaired By Doug Jackson Group Secretary of NFU branches at Tenterden, Ashford and Dover. The panel consisted of David Sayell co-founder of Vitifrut Equipment - Sam Barnes, SJ Barnes Ltd. & NP Seymour - Cameron Roucher, viticulturist and vineyard manager Rathfinny Wine Estate - Luke Wolfe, vineyard operations manager Chapel Down Plc.
Below: l-r: David Sayell, Sam Barnes, Chairman Doug Jackson, Cameron Roucher, Luke Wolfe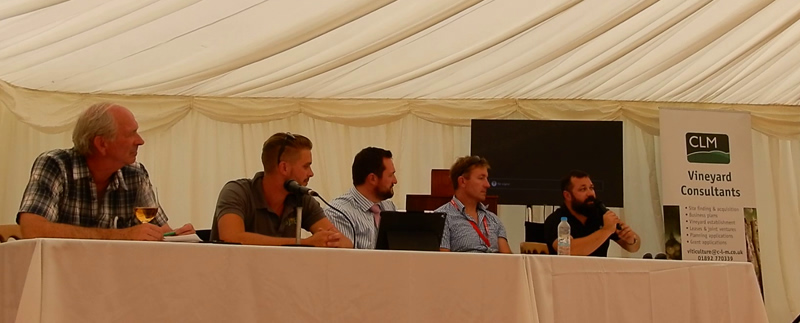 Doug Jackson introduced the panel members, noting each had a commitment to utilising new technology to reduce labour costs and importantly increasing sustainability.
The first question: how does machinery make viticulture more viable?
Cameron took the question and replied, "in every way possible, regardless of your size, machinery can reduce costs and make operations more efficient and make repetitive tasks more agreeable!
Luke Wolfe added, it's important to get tasks done quickly and 'at the right time' - Sam Barnes agreed and said "if you can pre-empt problems and get on top rather than chasing a problem, being proactive rather than reactive is important"
Doug asked: what is your position on labour shortages going forward and what equipment is going to be 'key' to the British wine sector in addressing this issue?
Luke Wolfe answered with the comment; "I am worried about the future of labour, not necessarily the number, but more about the quality of labour; we are competing with all other horticultural sectors for labour. Machine harvesting must be a way of overcoming that issue. Cameron said: "with my own personal hat on, yes go for it! Sam Barnes said it is a 'wine makers choice' some do not want to go down the machine pick route.
Asked a question: "So how does a machine harvester work? - Sam replied; "it is much like a blackcurrant harvester with a belt catching fruit displaced by shaking the vine. The grapes are not in bunches, although there are machines now able to pick in bunches.
Sam reiterated; the decision is not down to us - it is a much bigger question for the wine makers, the appellation's etc.
Luke added; I think machine harvesting has a really poor reputation and I'm not sure why, technology has really pushed these machines on and 'machine harvesting' works, the quality of the grapes is not compromised, if you look at the quality of the fruit coming off, it is not damaged and it is quick and efficient!
Sam summarised: "the machine picks 10 times faster with 10 times less people" - the problem will be can our wineries keep up as all our production has been based on hand picking!
From The Great Machinery Debate, The English Apple Man popped into the Vineyard Magazine Marquee where Matthew Dukes - Vineyard Magazine' Monthly Columnist 'held court' with six British wines for tasting by those lucky enough to get a 'seat & taste' while Matthew described each one with the eloquence and experience of a man who has assessed wines across the Globe!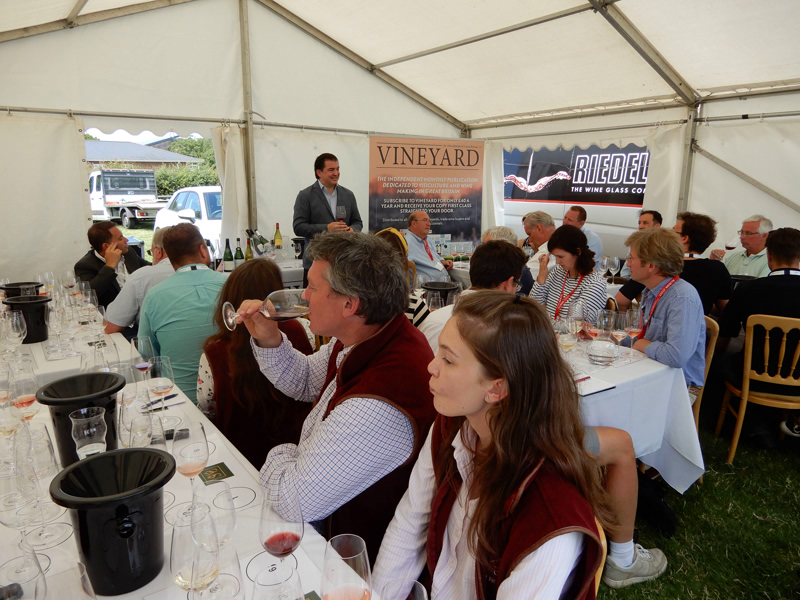 In the Vineyard Magazine marquee, 50 British wines were available for visitors to taste; chosen by Matthew Jukes - Vineyard Magazine's monthly columnist.


Below: The event was a great success and the English Apple Man captured Matthew Jukes with Vineyard Magazine's Director Jamie McGrorty and Editor Victoria Rose.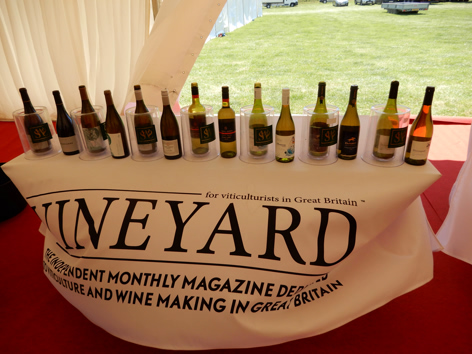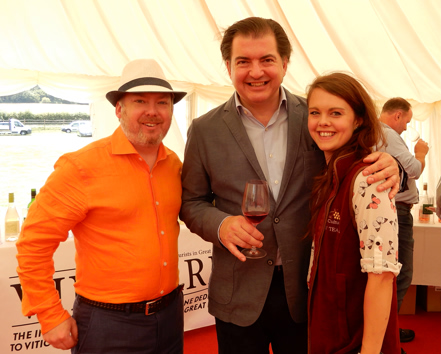 The two subjects dominating the news this week; record temperatures and our new Prime Minister!
The charts below show what we know to be true about the weather this week, but the chart on the right is interesting as Boris champions The Great British Nation to regain it's place among the innovators of global influence.
Statistica circulates data on a daily basis; some of no interest to us Britons, but the chart below shows The United Kingdom as one of the leading 'innovators' well above West Germany! The English Apple Man is not trying to say 'Brexit is Best' but it is refreshing to hear a Prime Minister championing our virtues rather than the depressing criticism of our ability to survive in a global economy.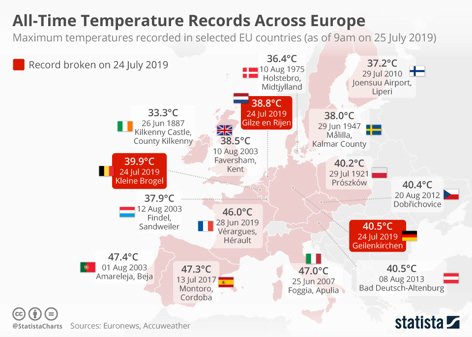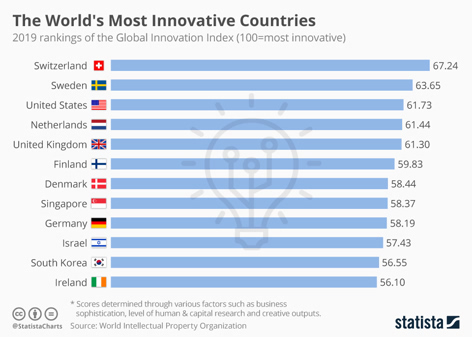 That is all for this week, next week will be early August and the new apple season is just around the corner

Take care
The English Apple Man