Journal
2nd Aug 2019 - We are on the threshold of a new British Apple season
While the last of 2018 home grown apples are still available (Royal Gala) the 2019 season is very close!
The Discovery on my 'family apple tree' are nearly ready to eat, so I expect early sites to be in advance of mine.
Picking for the wholesale market on an early site in Kent started yesterday and will no doubt be followed by others next week.
The latest news: The first Discovery are being harvested for wholesale market and will be in UK Supermarkets in another 10 days.
Back to my garden apples: I have one 'family tree' with Discovery, Red Devil and James Grieve. Sunburn and Scab show up on a number of apples
Below: left; Sunburn on Discovery and right; more Sunburn on Red Devil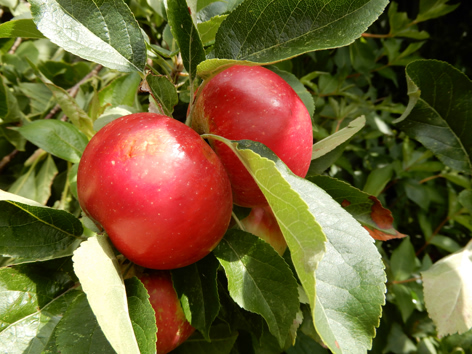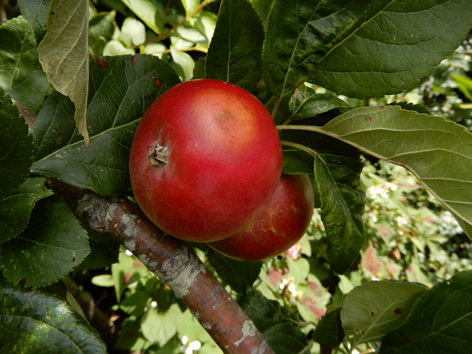 Below: left; severe deep Sunburn on Red Devil and bad Scab on Red Devil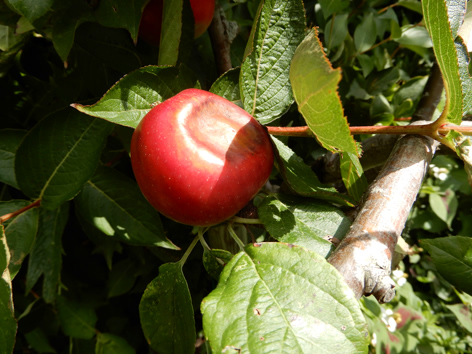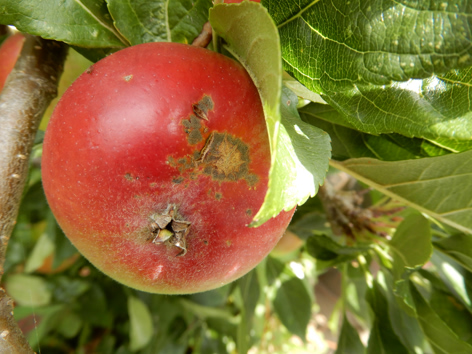 Below: Sun scorch can have a devastating effect on Bramley with any fruit exposed to direct sunlight on the green fruit
Talking to an Agronomist today; Sunburn is particularly prevelant on Bramley after the 'scorching weather' last week.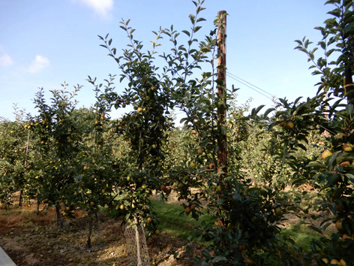 The British dessert apple crop is reported as better than first thought, with Gala and Braeburn carrying good crops.
We will have a better picture over the next couple of weeks with a number of 'orchard walks' planned!
The search for a new apple with attributes beyond the current favourites is ongoing globally: one which looks extremely promising and capable of extending our British grown apple season until the start of a new season, delivering a 12 month supply of 'home grown' British Dessert Apples is Magic Star®
Magic Star® (2018 vintage) is on sale in limited quantity in Belgium and a small volume of British grown Magic Star® in a selection of Tesco stores in the UK.
Below: Magic Star®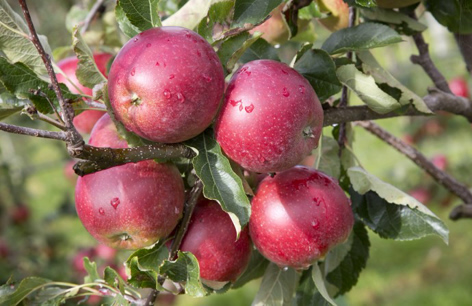 "Magic Star® is a conventional variety that is a cross between Elise and a scab resistant selection. The harvest time is around that of Braeburn. This scab resistant variety produces firm and appealing fruits that not only have a crunchy bite and a sweet taste, but also have a remarkably long shelf life".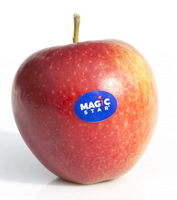 More about Magic Star® next week as The English Apple Man is off to Belgium with a group of growers on Tuesday to taste the first of the 2019 crop.
The global apple market's biggest producers are China and USA, but Poland is the largest producer in Europe and third in World Production.
The English Apple Man tries to keep abreast of global top fruit (apples & pears) keeping up with developments in the USA and New Zealand and Europe.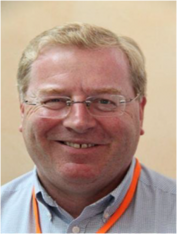 John Giles-Divisional Director, Promar International; is a friend who sent me this extensive report on his recent visit to Poland & Turkey.
LOTS OF GOOD FRUIT, AMBITIOUS EXPORT PLANS & WELL INFORMED MANAGEMENT - POLAND AND TURKEY HAVE MUCH IN COMMON
"Having just returned from recent trips to Poland and Turkey to look at the opportunities in the horticultural sector, I found myself thinking about what both these producing and exporting countries had in common with each other.
Every country (60 and counting now) I have been lucky to visit is, of course different, but on reflection, I found more in common between these two than I had first expected.
Poland is now the dominant apple producer in the EU at almost 4.5 million tonnes per annum out of a total of 12 million tonnes. In the past, it has been noted mainly for the production of apple juice and fresh exports to Russia and other East European markets. Poland is now firmly established as one of the top 10 apple exporters in the world. The 4.5 million tonnes are almost a third of the total EU production and Poland's nearest rival, Italy, produces just 2.2 million tonnes.
The overall direction of trade, however, has changed considerably in the last few years with the imposition of the trade embargo imposed by Russia. This has seen Polish exporters look for new markets in regions of the world, such as the Middle East, India and even in SE Asia. It has been harder work to gain a toe hold in the main EU markets of the UK, Germany, France, the Netherlands and Scandinavia, but the aspiration is still strong to do so.
This change in trade flows has been accompanied by significant investment in the physical infrastructure of the country and in the fruit production and distribution sector too. It was noticeable how much of this investment has been under pinned by funding from the European Commission. You were left with the very strong impression that Poland has fully embraced the benefits of EU membership in a way I am not sure we really ever have in this country.
Poland, despite the advantage of relatively low land and labour costs, does not have it all its own way though. Russia has become a rising power in apple production along with the likes of the Ukraine, and of course, China. All of these countries are now providing stiff competition to Poland, especially in the ongoing battle for emerging markets.
Turkey is also a large scale apple producer at around 3 million tonnes. As well as a relatively large domestic market of some 80 million consumers, exports have traditionally been made to the likes of Germany, Russia and the Middle East. This includes countries such as Iraq - now the 6th largest apple import market in the world and a place where many international fruit exporters would be wary of doing business in. For Turkey, however, it seems a natural thing to do, even if trade is often conducted on both sides of the border by a series of agents.
Turkey, of course, is also a significant producer of citrus at around 4 million tonnes, as well as stone fruits at c. 590,000 tonnes and another 600,000 tonnes of cherries. Turkey also has a strong fruit processing sector and is particularly strong in product categories such as juices and concentrates, as well as in dried products. Turkey has had particular success in the last 10 years in the dried fruit market and has established a strong position in the UK (the largest import market in the world).
The country is full of reports of increased plantings over the next few years and this leads to a familiar question - and maybe an answer too: where will this additional fruit be sold? And the answer being - some more to the EU for sure, but a lot more in the future to Asia. India and SE Asian markets. Markets such as Indonesia, the Philippines, Vietnam, Thailand and then the likes of HK and Singapore are all very much on the Turkish radar.
What then did I find these countries have in common? In summary, this can be given as:
"the leading players are highly professional, have well laid out orchards and packhouses to international standards.
They have often travelled the world, seen what others have - and are willing to learn from them in terms of production and post harvest infrastructure
- they are both looking for new, emerging markets in a combination of the Middle East and Asia, but see supplying more mature markets in Western Europe as probably more difficult (but not impossible) As a result, there is a clear recognition of where they can compete in the future and maybe where they will find it more challenging
- mindset - the managers and owners of these businesses are invariably well informed, ambitious and well travelled and are characterised by a very much "can do" attitude in terms of export development
- recognising the need to "import" technical and commercial skills from abroad and adopt new forms of technology across the supply chain in the race to secure new markets and customers. These businesses are in a hurry
- a ready willingness to ask themselves the "hard questions" about where their businesses are heading and then think about the actions they need to take in order to achieve mid to long term goals
- a quiet inner self confidence about their ability to produce good quality fruit and compete against the best - and pride in what they are doing and how they are going about it
- a positive view of the world per se, and a fascination to understand more about the decisions we have made in this country about our future membership of the EU
In both countries, there is, of course, still a good deal of work to do in order to achieve the success they desire, but from what I have seen over the last few months, you wouldn't bet against them achieving this in the future.
Orchards will need to be re planted, new varieties will need to be developed, investments in post harvest technology planned and implemented and new marketing and customer development skills learnt. Winning new export markets is hard work and takes time.
Coming back from both trips, I returned home invigorated and feeling I had been privileged to spend time with these businesses, and in many ways, the opportunity to have enhanced my own personal knowledge too, about what is happening on the other side of Europe.
John works for Promar International, a leading agri food market research and consulting business, is a liveryman with the Worshipful Company of Fruiterers and is the current Chair of the City Food Lecture.
John Giles Promar International
John can be contacted on: John Giles
---------------------------------------------------------------------------------------------------------------------------------
Reunion
Last Saturday The English Apple Man joined ex colleagues at a reunion for former employees of Home Grown Fruit (HGF) organised by our former Sales Director Mike Green 'aided and abetted' by his delightful daughter Georgina and Mike's wife Rosy. We had a sumptuous meal (cold meats and salad) with amazing local strawberries and cherries for dessert, followed by a superb selection of cheeses (for those who were not already full up) - the charming ladies who prepared the meal deserve a medal for the stunning meal they provided.
Around 40 of us attended; some I had worked with (I joined in April 1994) and some were from before my time with the company, but all great company. 'All in All' a great bunch of people who had enjoyed the 'family atmosphere' and great friendships 'forged' in those far off halcyon days. HGF which had begun in 1961 and became the number one English Apple Co-operative with 60% of all English grown apples and pears marketed by HGF during the 1990's.
The reunion was held at St. Lawrence & Highland Court Cricket Club at Bridge near Canterbury in the beautiful old thatched clubhouse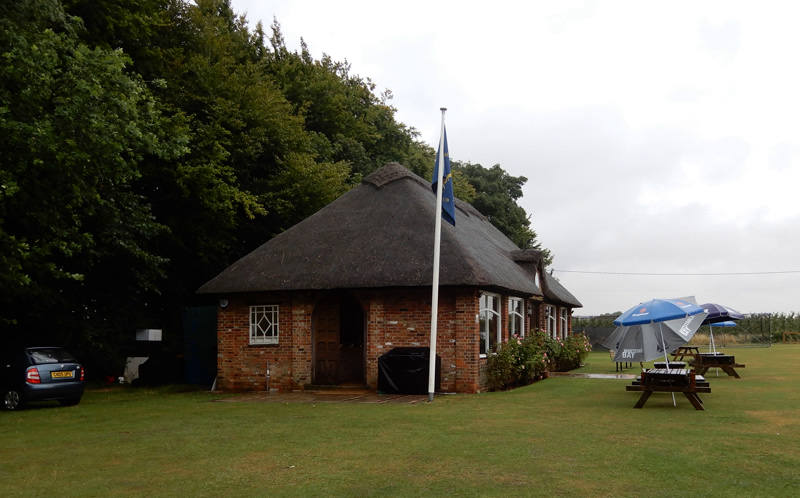 The cricket club is in the grounds of the former The Higham Park estate, which can be traced back to 1320 when it was ceded to the 'De Hegham' family by Edward II.
Since those early days it has been home to many important and colourful characters, including in the 1920's Count Louis Vorrow Zborowski who conceived and built the first aero-engine powered racing cars on the estate, later immortalised by Fleming's fantasy film 'Chitty-Chitty-Bang-Bang.
Louis Zborowski in the driving seat of Chitty Bang Bang 1 at Brooklands

Higham Park has also been frequented by the rich and famous including Mozart, Jane Austen, General Charles de Gaulle and royalty.
Below: The beautiful Higham Park Palladian style Mansion, with a four column neoclassical facade finished in Portland Stone - sadly no longer in the pristine condition of 'days gone by'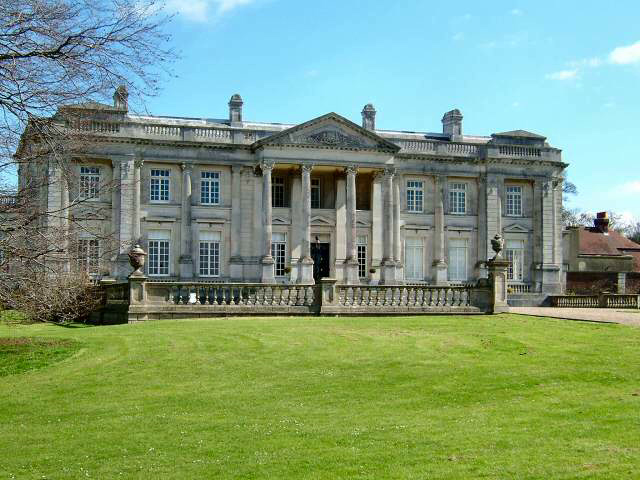 Below: HGF reunion group photo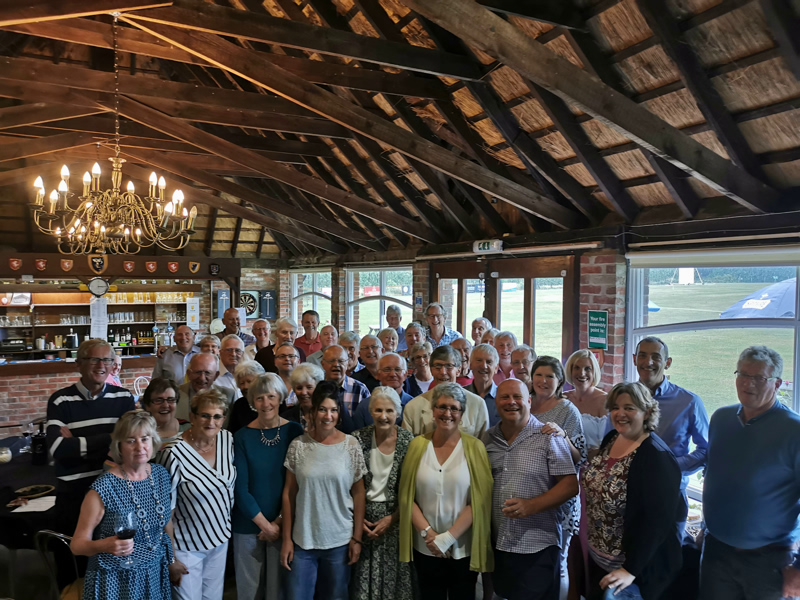 Below: Malcolm Schofield (CEO) and Mike Green - Sales Director when HGF became ENFRU in 1994 and right; reunion attendees about to enjoy lunch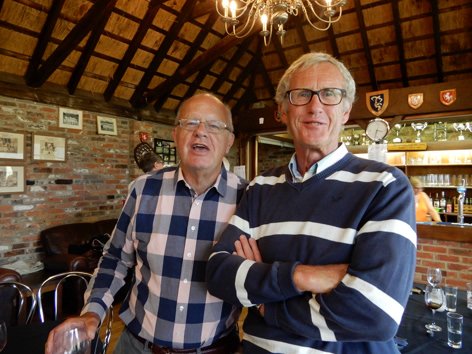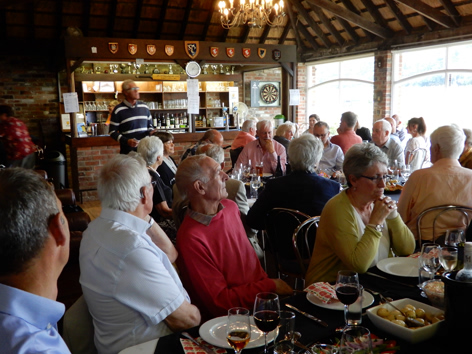 I think this expression by a former HGF employee encapsulates the special place that HGF was in the days before Supermarkets took control of our destinies!!!!!!!!
"So pleased Tom Browne expressed the conclusion that I am sure many of us have come to - That HGF was a unique place to work, with decent people and a great ethos. I left on Saturday feeling proud to have been a small part of it as a rather bumptious 22 year old. What I learnt there has served me well working in the produce world. I was extremely fortunate working with David Thorburn (a former CEO), and given open access to the whole industry and beyond. So thank you all!
And "I and all who attended, thank Mike Green for organising a truly memorable afternoon"
That is all for this week

Take care
The English Apple Man