Journal
9th Aug 2019 - It's a kinda Magic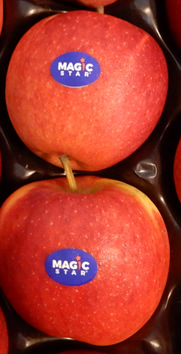 This week The English Apple Man joined a small group of growers on a two day visit to Belgium and Holland to look at the variety Magic Star®
The appeal of Magic Star is it's ability to store well and deliver great flavour and texture even after one year in store. For British apple growers the possibility of supplying Magic Star after the traditional Gala and Braeburn extending the 'home grown' season beyond the traditional April/May through June & July until the new season starts again in August/September.
To date several Avalon growers have planted Magic Star and plans are in place to add more over the next few years. The oldest are now in the 4th leaf and modest volumes have ben marketed in Tesco stores. Expect a rapid increase in volume over the next few years.
After an early start, we departed Folkstone on the 8.40am 'shuttle' arriving at our first visit in Belgium by late morning.
The English Apple Man responded to an invitation from Nigel Jenner - Chief Technical Officer for Avalon Produce Ltd to join some Avalon growers as they visited two growers in Belgium on Tuesday followed by a vist to Wageningen University & Research Centre in Holland where field trials research into suitable rootstocks, tree management and thinning are underway.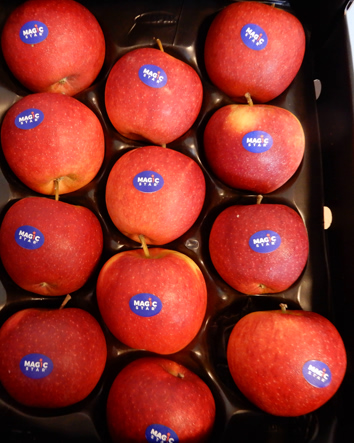 Magic Star® is a cross between Elise and a scab resistant selection. The variety identity is : SQ159 but is being marketed as a brand variety Magic Star®
Magic Star® was exclusively developed for Colruyt by Dutch fruit agriculturalists Fresh Forward. The new variety is grown in Belgium by their permanent partners Neven Fruits Waremme, Wolfcarius Markegem, and Gebroeders Bangels Gingelom.
Our first stop was at Wolfcarius Fruit, Markegem in Belgium hosted by Stephan Wolfcarius and his wife.
We were joined by Jan van Ingen & Saskia Elsen who accompanied our group throughout our visit. Jan is General Manager of TreeQuattro bv. Saskia is Apple Product Developer for Fresh Forward.
Fresh Forward is one of Northern Europe's premier experts in the field of fruit breeding, with a particular passion for strawberries and apples.
By cooperating with both Wageningen University & Research and Fragaria Holland, a joint venture of leading plant propagators, Fresh Forward has access to both fundamental, as well as practical knowledge of plant breeding, which benefits growers, wholesalers, retailers and consumers alike. This results in a broad range of high quality strawberry varieties tailored to specific needs, such as Sonata, Allegro, Rumba and Calinda.
In addition, Fresh Forward is also the exclusive partner of Wageningen Plant Research for the marketing and license administration of the WUR apple breeding programme. The following varieties Natyra, Magic Star and Wellant belong to the range of high quality apple varieties.
Fresh Forward, furthermore, administers licenses for other fruit varieties besides strawberries and apples.
Wolfcarius like many Belgian top fruit growers has grown and prospered from Conference pears, but 'at this moment in time' the plan is a reduction in pears and large investment in Magic Star.
Below: left; Wolfcarius site amd right; Stephan Wolcarius with Avalon growers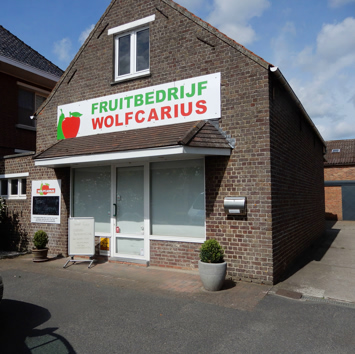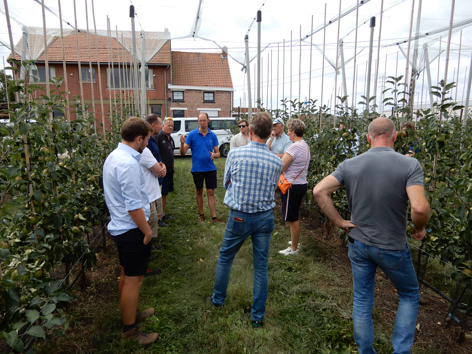 Below: left; Conference Pears at Wolfcarius and right; Magic Star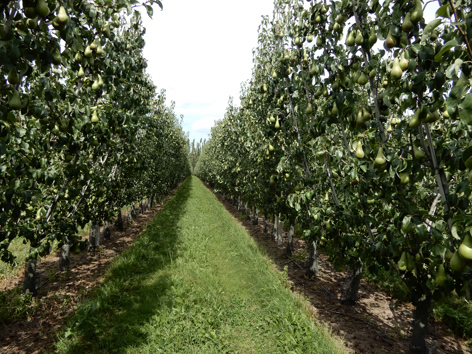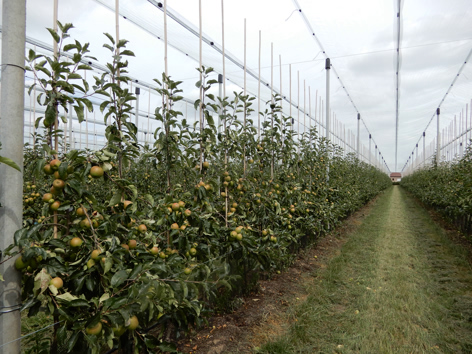 At the end of fascinating visit to Wolfcarius, The English Apple Man took a group photo of Avalon growers with Stefan and his wife and Jan and Saskia.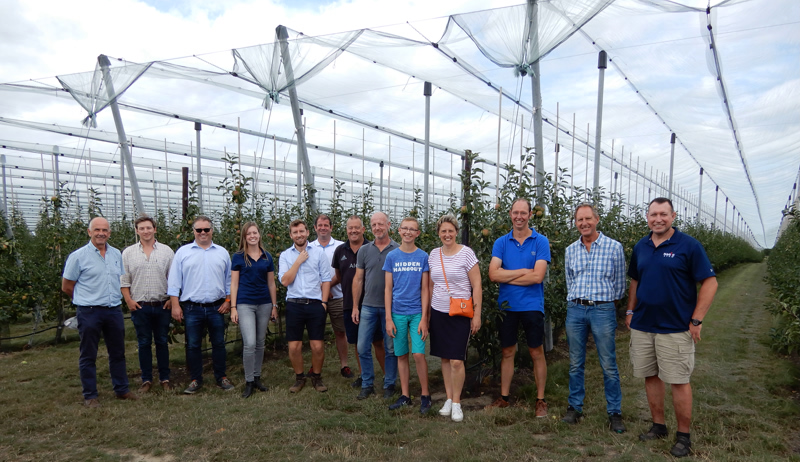 After a beer and a welcome ham & cheese baguette we set of for Neven Fruits at Waremme.
Below: left; Steve Neven and right; Fresh Forward & Zouk bvba. development sign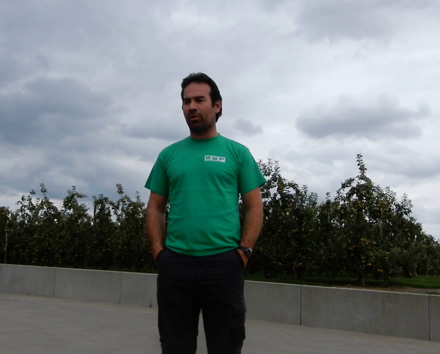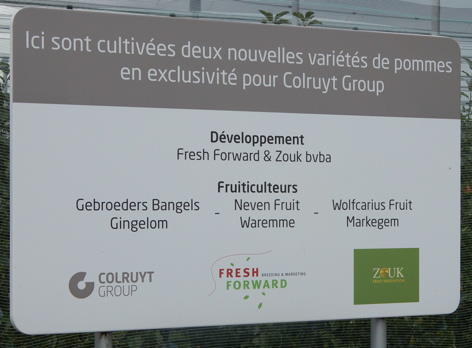 At Neven we saw a 22 hectare block of Magic Star under hail protection. The hail protection structure costs circa EU 30,000 and the Magic Star planted below another EU 30,000.
Below: The 'staggering' scale of Magic Star under protective hail nets is difficult to portray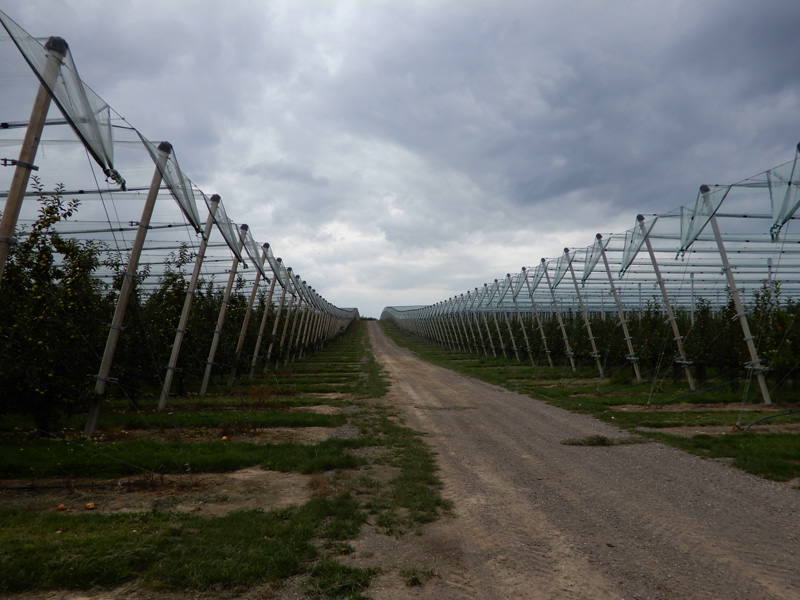 Below: left; Looking up one of the Magic Star rows and right; looking across the protected Magic Star gives an impression of the scale of operation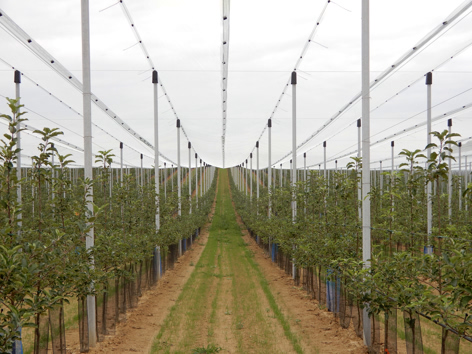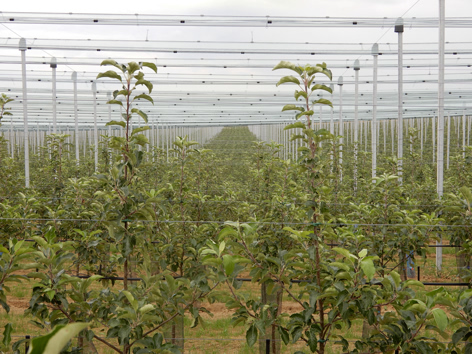 Below: left; These Jonagold apples are carrying a very heavy crop and right; Sun scorch is a big problem this year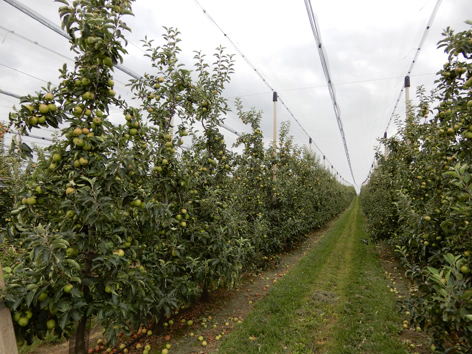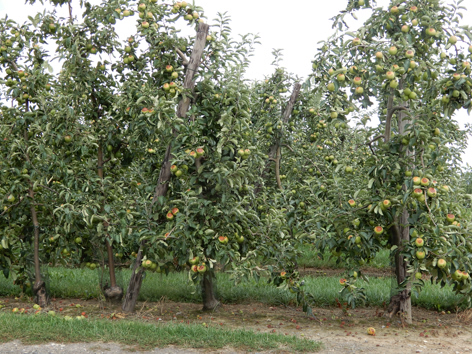 During our visit to Wageningen we saw severe sun scorch as a result of temperatures exceeding 41 degrees centigrade. While inspecting irrigation lines, this little frog posed for the camera!
Below: left; severe sun scorch as a result of temperatures reaching 41 degrees Centigrade in the recent heatwave - and right; a small frog quite happy near the irrigation lines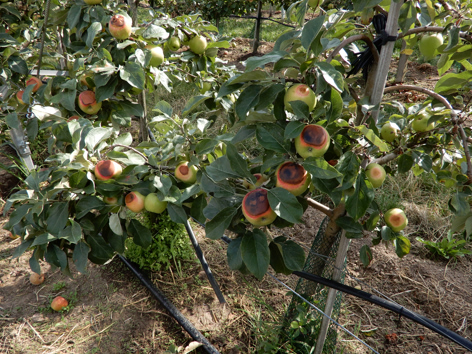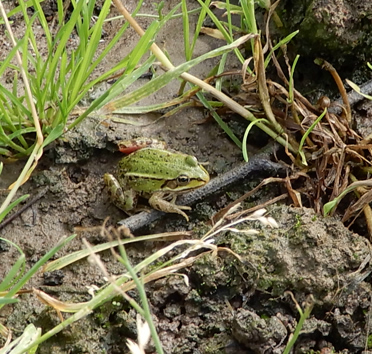 Below: this experimental block of apples under a permanent structure has sliding panels which can open/close in 3 minutes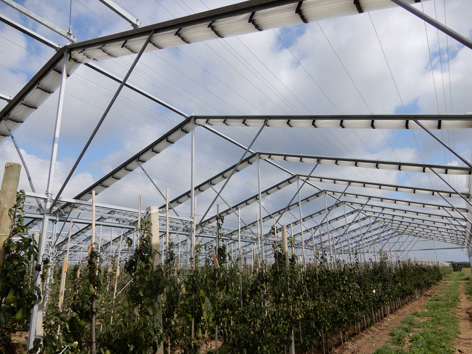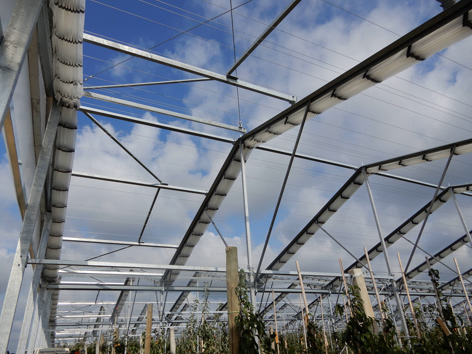 The 2 day visit to Belgium and Holland was both enjoyable and very educational. Clearly Magic Star® has the potential to become a 'club variety' to compete with Pink Lady as a target for discerning consumers.
That is all for this week

Take care
The English Apple Man
PS: Next week The English Apple Man will be 10 years old!