Journal
6th Sep 2019 - September mornings bring on nostalgia
September morn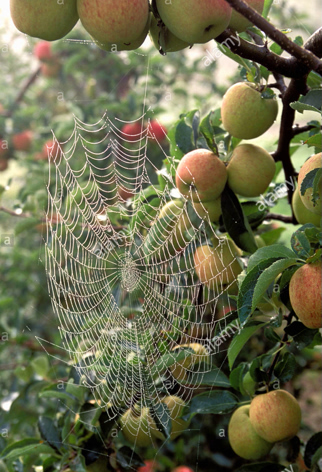 September morn
We danced until the night became a brand new day
Two lovers playing scenes from some romantic play
September morning still can make me feel that way
Thanks to Neil Diamond
September mornings remind me of my youth, when dewy, misty mornings led to a day of sunshine as we picked our Worcester Pearmain apples and our neighbours were busy with hop picking.
Below: left; Worcester Pearmain and right; Traditional Hop Picking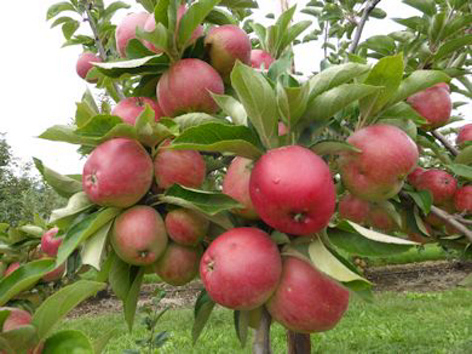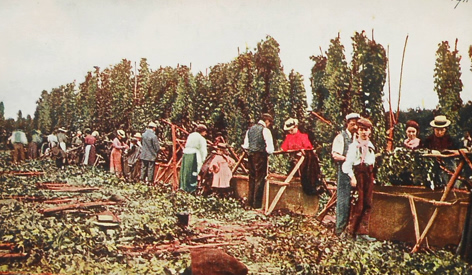 The apple & pear harvest is now accelerating daily. Most long term stored Bramley has been picked; Cox picking has started and some Gala on early sites ready to pick for long term storage.
Talking to former colleagues who are testing fruit for harvest maturity, they are finding Bramley with sun-scorch and watercore. Oversized fruit is also a problem and will reduce the marketable pack-out. The potential Bramley volume for fresh marketing or processing is less than anticipated.
A message from Avalon Produce Limited - Chief Technical Officer - Nigel Jenner.
Cox
Picking for long term storage should be underway or starting imminently. Over the past week average firmness has dropped by 0.5kg, starch has declined by 10-15% and brix levels have risen by around 1% (and surprisingly are at or above those recorded at the same date last year!). The warm days and colder nights we have experienced over the past week have improved red colour noticeably. These conditions are also ideal conditions for ripening, so if you have red colour, crack on!!
Conference Pears
Harvesting is now underway on the majority of sites. In all regions, brix levels have increased by around 0.5% and firmness has fallen by 0.8kg in Kent and 0.3kg in Wisbech. Starch has remained relatively static this week, but with such a noticeable movement in the other parameters, this is likely to plummet rapidly over the next week and the Streif indices will follow suit.
Gala
Although there has been very little change in any of three main parameters this week, this is quite 'normal' for Gala and generally precedes a rapid drop in starch and firmness and an increase in brix levels. We predict that by the middle of next week, starch will have declined to 80%, on most sites, which is the optimum level for picking for long term storage, as it gives the best eating quality out of store and reduces the likelihood of internal disorders developing during the storage process.
As I have said many times before, DO NOT DELAY PICKING IN THE HOPE THAT BRIX LEVELS WILL INCREASE. As soon as starch has started to decline, any increase in brix levels will come from the conversion of starch into sugar and this is done much more efficiently in store, rather than in the orchard in temperatures of 20C+. At around 90% starch you will see up to a 1.5% increase in brix in store, whereas late picked fruit (<50% starch) will increase by 0.5% if you are lucky!
In all cases over the past couple of years the fruit with the highest brix levels was the early picked fruit and some of the fruit left on the tree for a supposed increase in brix actually went down in store!
Today; Friday I visited Jonathan Duke at Park Farm where Bramley picking was in progress.
Always a nice farm to visit; Jonathan is a very good farm manager and it shows in the high standard of tree management and quality fruit at Park Farm
Below: Bramley bruise very easily, so while emptying the picking bucket, its is 'gently, gently, gently!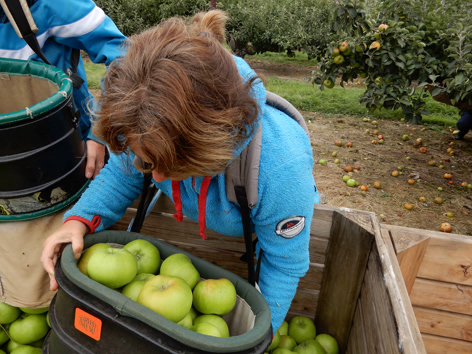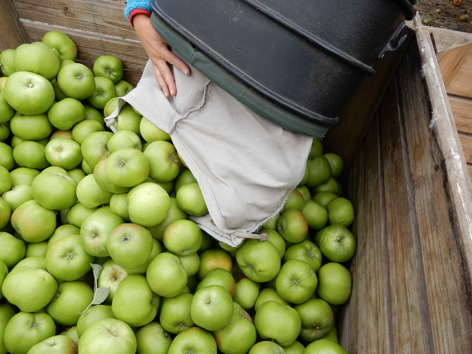 Jonathan's pickers come from Lithuania and Poland. Finding enough pickers is problem and he is short at the moment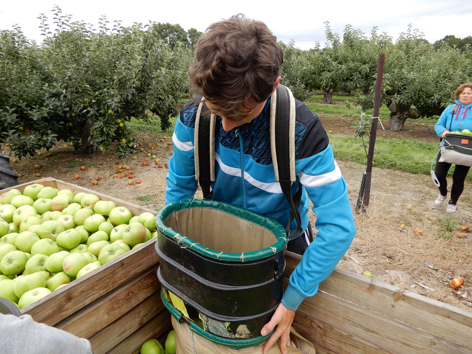 Jonathan uses picking trains which reduce the amount of walking from tree to bin for pickers. It also enables a supervisor to keep a close eye on pickers and picking quality.
Below: left; Simon checking the quality and right; a picking train 'back in the farmyard' ready for unloading into cold store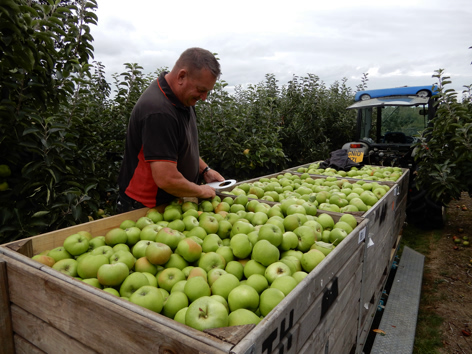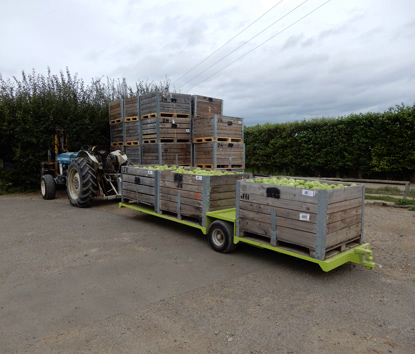 Jonathan took me on a drive around the farm and a young Bramley orchard planted in May 2018 and carrying crop of 30 apples per tree in 2019. This orchard was one of those judged at Park Farm to be awarded the ADAS Trophy for 'highest average marks for young orchards' in the 2019 Goudhurst & Paddock Wood NFU Orchard Competition sponsored by Avalon Produce Ltd.
An award winning young Bramley orchard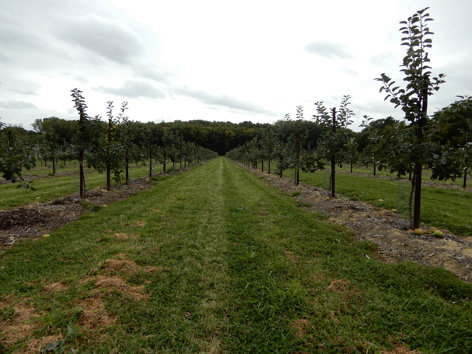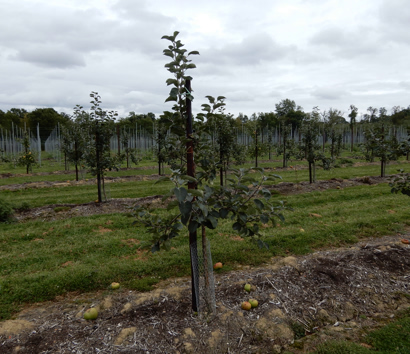 Below: left; Gala Schniga rows and right; beautiful Gala Schniga apples!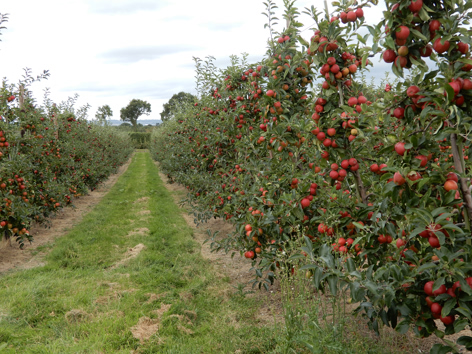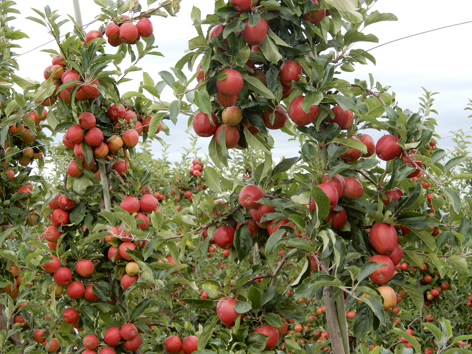 Moving on to the ZARI orchard which has had a first pick of circa 30% of the crop; Jonathan is waiting for enough colour before attempting a second pick (next week?) - the red colour is good on the 'side catching the afternoon sun' but still lacking sufficient red colour on the 'morning sun side'
Below: left; a row of ZARI apples and right; a 'bountiful bunch' of ZARI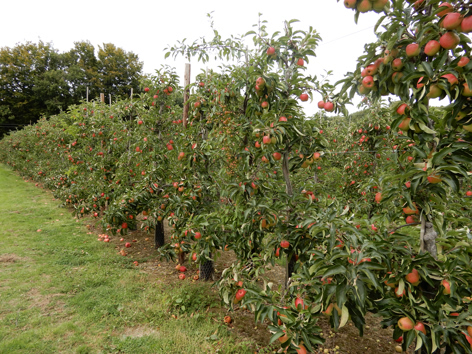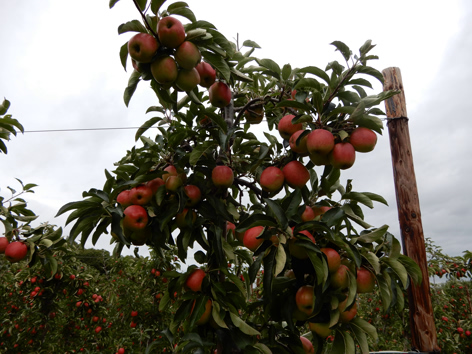 Below: left; a Comice tree and right; close up of excellent quality Comice pears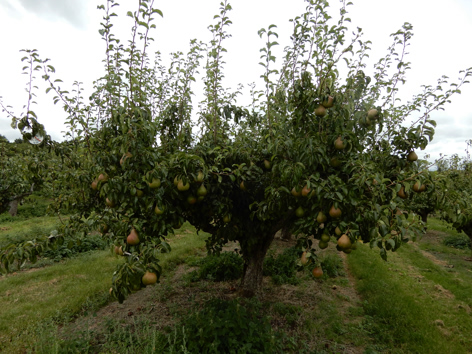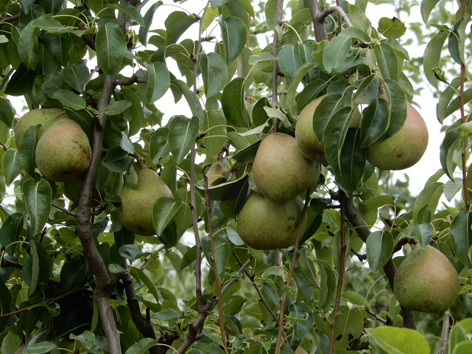 Below: left; a young Gala Galaxy orchard in 2nd leaf and right; Gala Galaxy apples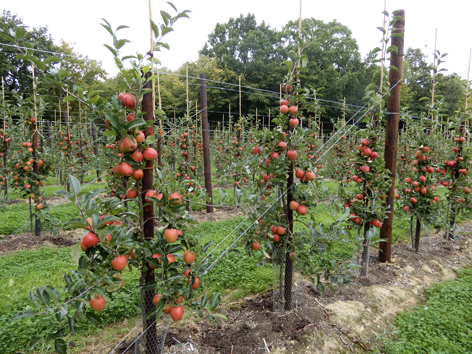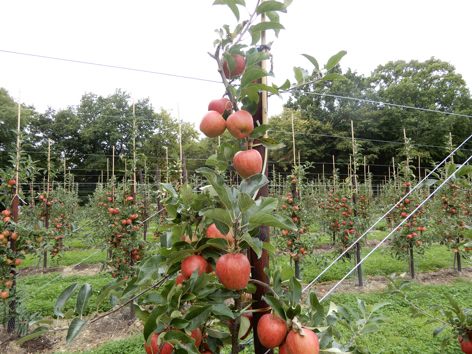 Following my visit to Jonathan Duke at Park Fam I drove to nearby Biddenden Vineyard to purchase some of their new 'Sparkling Apple Juice' - this is an exciting addition to Biddenden Vineyard's comprehensive range of fruit juices, ciders and their award winning English Wines.
Below: Tom Barnes and Marlena (assistant) pose in the Biddenden Wine Shop with a case of the new Sparkling Apple Juice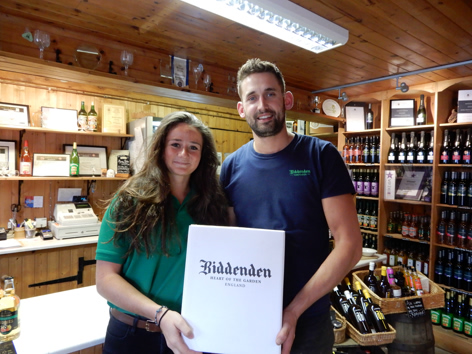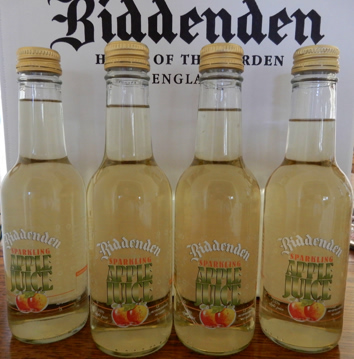 Below: Grandma and Grand Daughter
Sorry for the delay in on-line publication of this week's English Apple Man Journal - had a busy week and yesterday was our Grand Daughter's 18th Birthday. So spent the evening with her and our family - seems like only yesterday she was a baby in her mother's arms!
That is all for this week - it's now 5.58pm on Saturday!
Take care
The English Apple Man