Journal
27th Sep 2019 - A little bit of Nostalgia
Last Saturday The English Apple Man visited Horsmonden Social Club where Horsmonden Nostalgia Group presented a display of nostalgia featuring farming and associated activities in the Parish of Horsmonden in Kent.
Nostalgia increases with age, so I am perfectly placed to suffer from bouts of extreme nostalgia.
I received an invitation to attend 'Keeping Local History Alive' from Nick Hayward a friend and resident of Horsmonden and very much involved in the Horsmonden Nostalgia Group.
Nick enticed me to leave the comfort of my Armchair and my Saturday regime of following sport on TV while devouring Saturday's newspapers and I am glad I did!
On a day of superb early Autumn sunshine the event was well attended by lovers of nostalgia; as I arrived tables set out under the trees by the Social Club were well occupied, as 'hot dogs' and 'Burgers' were washed down with beer made from the famous Fuggle hop.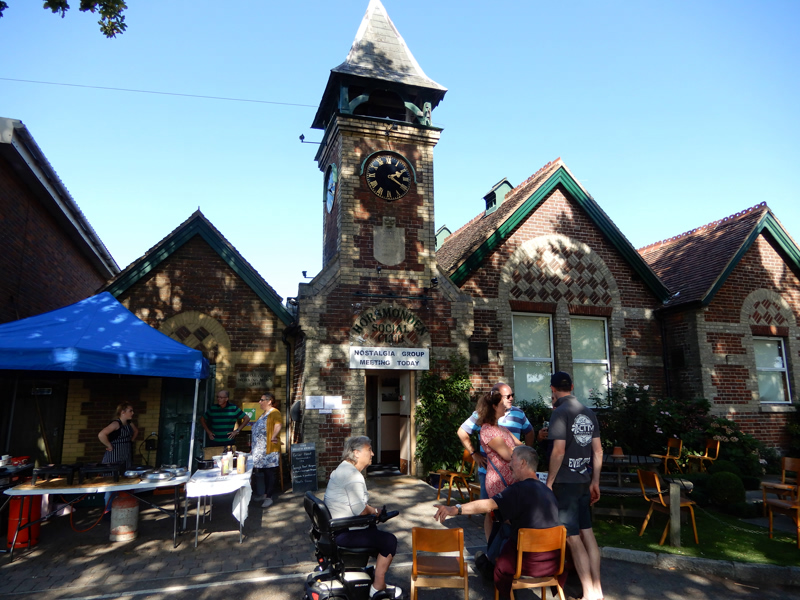 The Fuggle Hop was developed by The Fuggle Family - Fuggle is an English hop plant, one of the oldest available varieties, developed by the Reverend Richard Fuggle in 1856.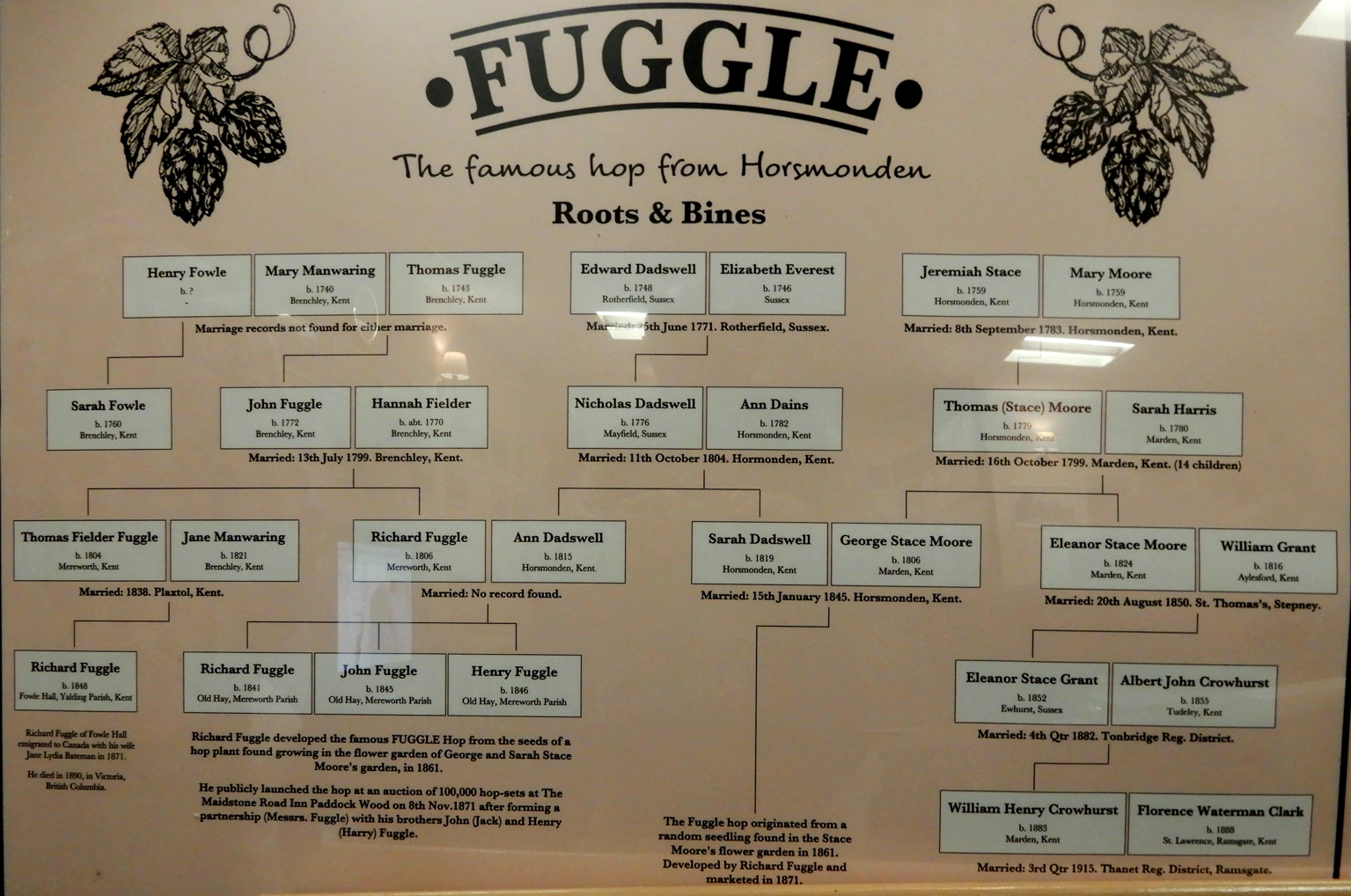 Available during the day, Horsmonden IPA and Horsmonden Fuggle Ale produced from locally grown hops.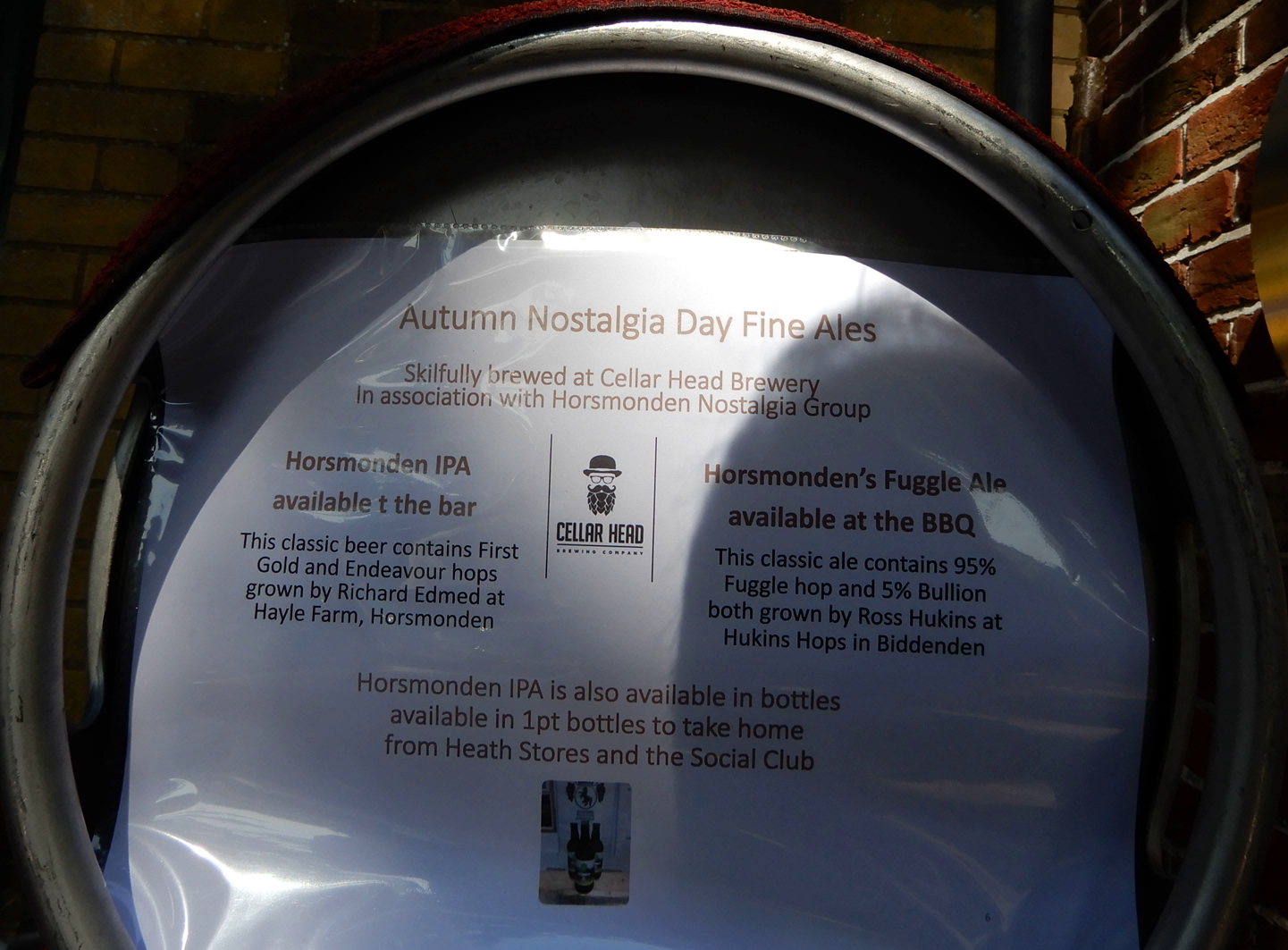 Below: left; Nick Hayward 'trading' in hops from his garden and right; John Freeman and Lionel Burgess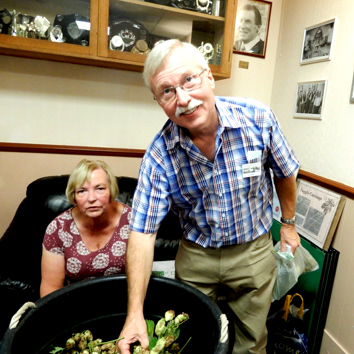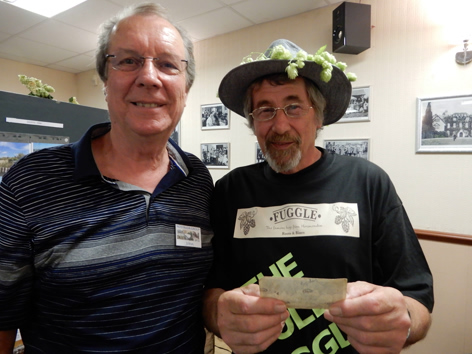 Below: left; Lionel Burgess and fellow 'hopper celebrating the Fuggle Hop with hops and a picking bin. right; list of Oast Houses displayed in pictures at Nostalgia Day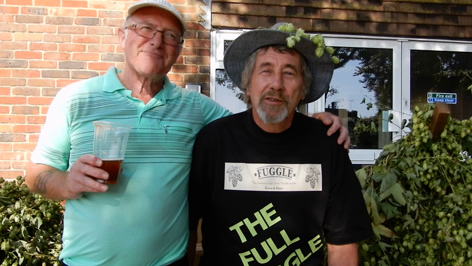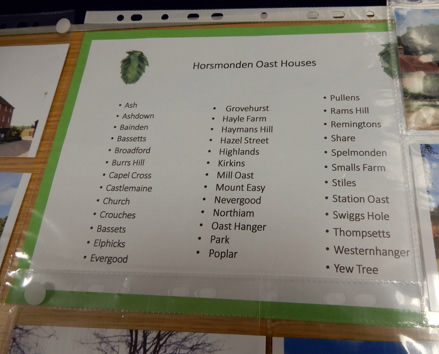 Below: Horsmonden and surrounding Hop Oasts - all now converted to houses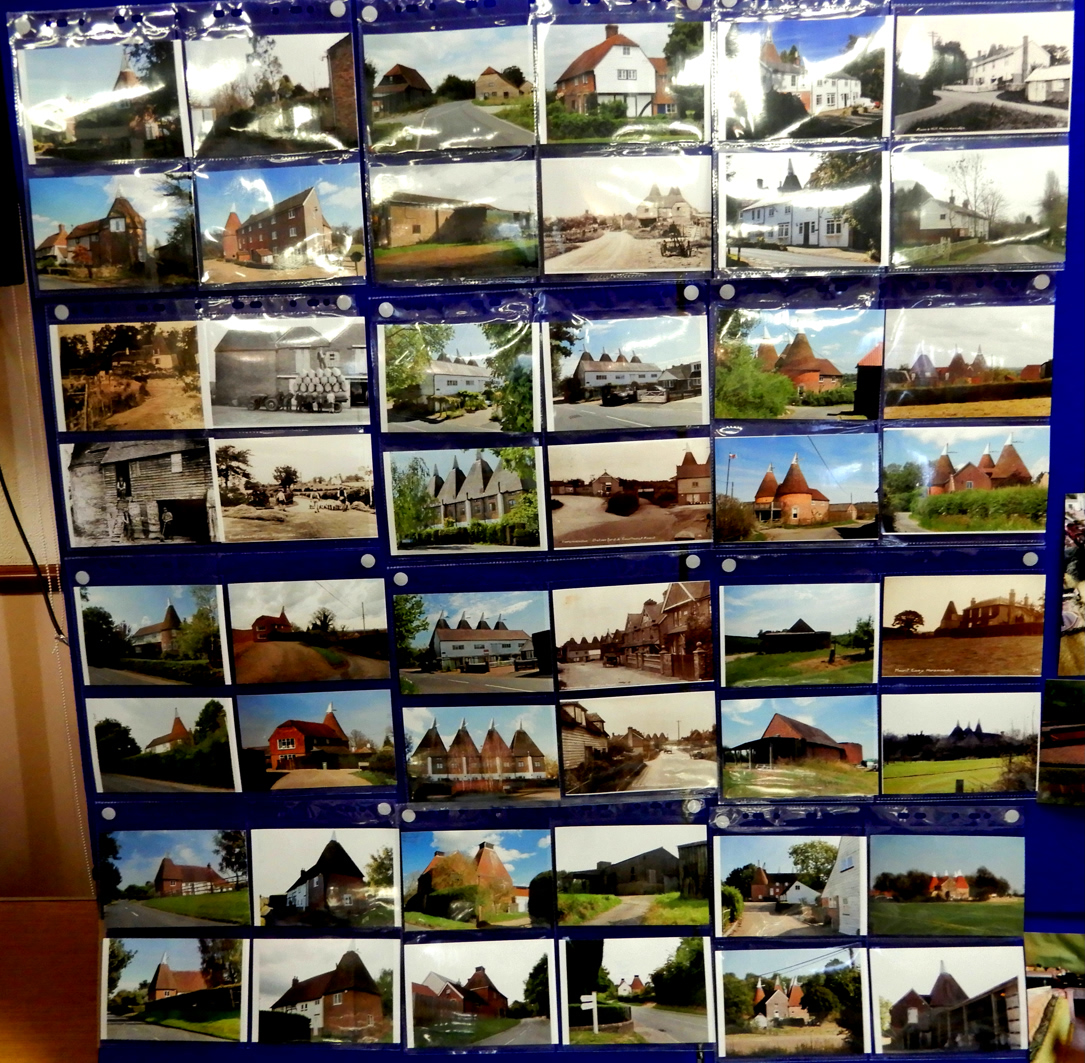 Altogether a most enjoyable visit to Horsmonden. The English Apple Man has an invitation from John Freeman & Nick Hayward to return in winter and write a more detailed account of Horsmonden Nostalgia.
Today (Friday 27th September) The English Apple Man received a summary from John Freeman of the 'highlights' of Saturday's 'Keeping Local History Alive'
"The event was a great success with just shy of 200 people visiting through the day to see our displays and learn a little about hop picking, the hoppers special train, the railway station and the Horsmonden apple story of growing, picking and packing over the years.
We were lucky to have such lovely weather and our visitors were able to enjoy interesting displays, good food, fine ale and much reminiscing and discussions about their memories in Horsmonden".
"Martyn Cornell, writer and researcher in his particular field of hops and beers also came along. Martyn is hoping to promote 'Fugglefest 150' in 2021, the 150th anniversary of the Fuggle hop seedling that was found in Horsmonden and to include the village in the celebrations.
It was great that we have had the support of Richard Edmed at Hayle farm, Chris Browning at Cottage Farms and George Chambers from Northiam Farm and have supported us with the start of our project around the history of apple farming in Horsmonden and to help us keep local history alive.
Eventually we would like to include all the Horsmonden growers in this history project".
---------------------------------------------------------------------------------------------------------------------------------
And Yet More Nostalgia!!
The English Apple Man recently received an email from Ian Bentley regarding his father Alan Bentley
Ian said: "This is a very long shot",
Below: HGF Golden Apple Trophy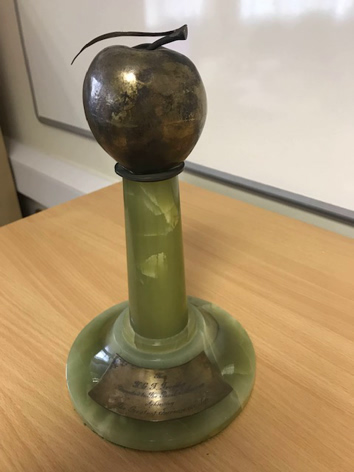 "I think it must have been in the 1970's. my Dad, Alan Bentley won the award for sales of apples.
I think he was working for G. Ferrigno ltd in Liverpool F&V market Edge Lane Liverpool.
My Dad is now 82, he left the fruit market to set up a business for the then Earl of Derby, brokering salads and veg. From the Lords tenants.
From his beginnings, many other companies started, like, Nationwide etc.
What I am trying to achieve is was there any coverage or stories covering his achievements?
I have trolled the Liverpool Echo from 1941? And made contact with the Editor of the Fresh Produce Journal, who, unfortunately don't have digital copies, although they do have hard copies and offered me the opportunity to go down and look through them".
"I did say it was a long shot!
"If there is anything that you could help with, or point me in another direction, I would be much appreciated.
Below: left; Tony Ferrigno and right; Alan Bennett astride a pallet of HGF Apples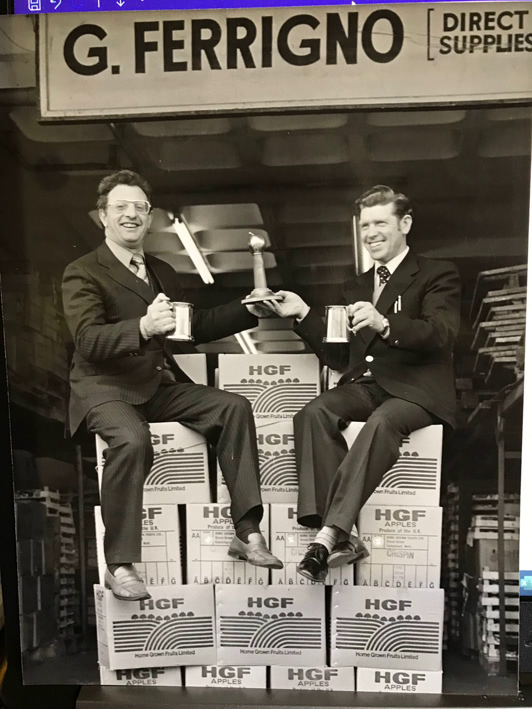 "My Dad has 65 years of daily diaries and fortunately his long term memory is brilliant.
I know he was taken out of school at 14 after his Mum passed away and put to work by his Dad.
He started at H. G. Moss, shipping merchants then moved to Queen's Square F & V Market in Liverpool, I think for Dan Wuille? Before going to Ferrigno's.
The Ferrigno family were very supportive to my Dad, and when the Earl of Derby approached him, they persuaded my Dad to go for it. He was given the old Laundry Cottage on Lord Derby's estate adjacent to Knowsley Safari Park, and he then began to set up Knowsley Salads with Bobby Bond & James Heyes.
If I can get the Apple, and surprise him, I would then be able to get all the correct dates together.
Thanks to Mike Green (former Sales Director at HGF and Martin Simmonds HGF Operations Manager and still employed at Worldwide Fruit Ltd (evolved form HGF) the trophy and a picture of Alan Bennet (a famous name) found by Mike Green enhance this 'very nostalgic' story!
In a recent EAM Journal: The HGF reunion held in late July can be re-visited. Click on; HGF reunion
Weekly harvest update from Nigel Jenner - Chief Technical Officer - Avalon Produce Ltd
Gala
Gala harvesting for long and medium term storage should now be complete and any fruit still being harvested will probably need marketing before Christmas.
As mentioned last week, the use of Smartfresh is strongly recommended for any fruit still being harvesting, as this will help prevent 'greasiness' and preserve the pressures which are now starting to drop quickly.
Rubens
Rubens picking should now be underway on all sites.
Fruit being stored in ultra-low oxygen should be stored at 1.5% O2, <1% CO2 at a temperature of 0.5oC. Stores should run in air for 10 days before sealing and the oxygen established using natural respiration. A nitrogen generator should not be used for this.
Air stored fruit should be Smartfreshed and held in a temperature of 0.5oC. As mentioned last week, Rubens is extremely susceptible to high levels of CO2 (>1%), so even in air stores, it is vital that the levels remain below this at all times.
Cameo
Testing this week has confirmed the recommendations for Cameo published last week. Harvesting on the earliest sites should underway and the latest site should be starting at the end of next week.
Braeburn
Braeburn harvesting for long term storage should begin when the starch has fallen to 70%.
Starch declines around 1.5% per day on Braeburn, so on the earliest site, harvesting should be underway in about one week's time (4th October).
The majority of sites however will not be at 70% until the week commencing 8th October. Harvesting should be finished by the time the starch has declined to 50%.
Comment.
Once the early varieties 'come on stream' - we are primed for the onrush of mainstream varieties!
Cox, followed by Gala, then Rubens, Cameo, then Braeburn: once the first get going, it's an exponential 'ripening' curve and we pray for good weather and a trouble free harvest!
After last week's good weather, the arrival of rain on a daily basis causes numerous challenges!
Picking in the rain is best avoided for various reasons: the risk of bruising increases, the opportunity for mud splashing onto apples at low level increases the risk of phytopthera spores infecting the fruit. Canker infection entering leaf lesions in wet weather, dramatically increases the spread of Canker over the winter resulting in an explosion of new canker wounds in the following spring.
The practicality of harvesting in wet weather with tractors moving on wet ground leaves ruts in the soil and mud splashed on picking bins, but when wet weather persists picking can only be delayed so long.
Let's hope the weather improves next week!!!!!!!!!!

<
Until next week
Take care
The English Apple Man