Journal
4th Oct 2019 - October brings the later maturing apples
In the space of a month we have seen harvesting of Zari, Red Windsor, Estivale, Worcester Pearmain, Cox, Spartan, Egremont Russet, Gala, Rubens, et al.
Cameo, Braeburn and Jazz are next in line.
On the 1st October Cabaret joined the list.
Below: Cabaret at Simon Mount's New Barn Farm at East Stourmouth near Canterbury in East Kent
.
CABARET is a cross between Saturn X Braeburn raised by John Breach and his son Peter. Avalon Produce Ltd (APL) developed the variety and the first CABARET went on sale in Tesco in December 2016.
The variety is a very good sized apple, easy to grow, with a dark red colour, and a slightly thicker skin than most.
Below: left; Grower Simon Mount and right; Cabaret 'just picked' in a bin at New Barn Farm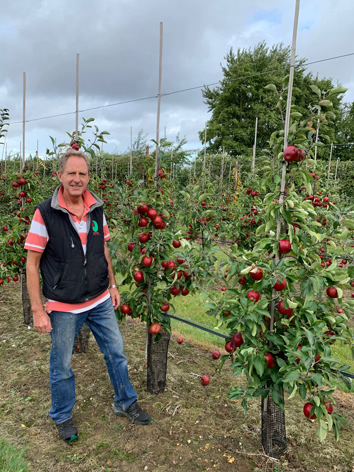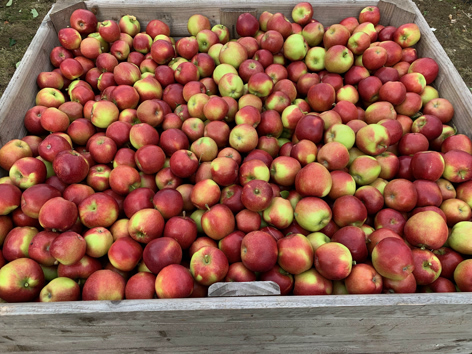 Harvesting is becoming more mechanised; harvesting machines like the 'Frumaco Harvester' are increasingly being adopted by UK growers.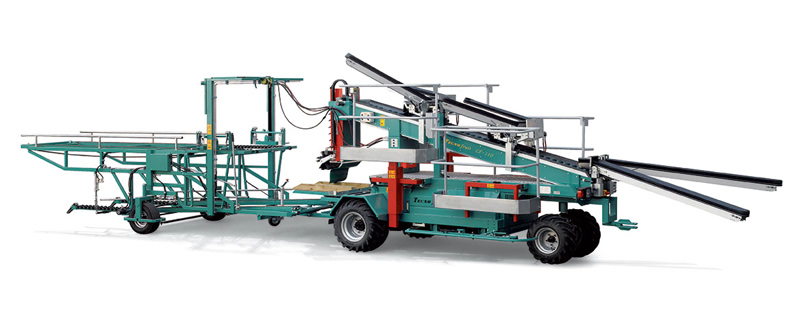 Machinery supplier Kirkland have supplied 7 new machines this season. The EAM visited Richard Day who has been investing in these harvesters for 3 years now and with 2 Muckhoff Pluk-O-Trak harvesters and 1 Frumaco, has invested in 3 new Frumaco harvesters for this season
On Thursday (3rd October) The English Apple Man was invited to see the 6 harvesters working in an 8 hectare block of Gala apples.
Below: left; Harvesters working in a Gala orchard and right; the Frumaco carries empty bins on a trailer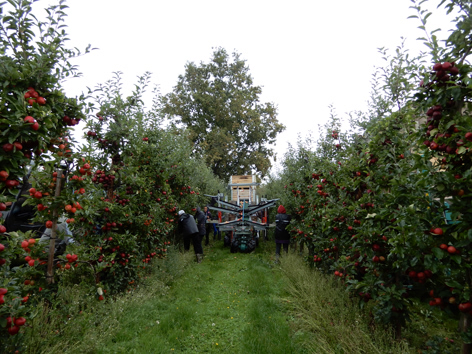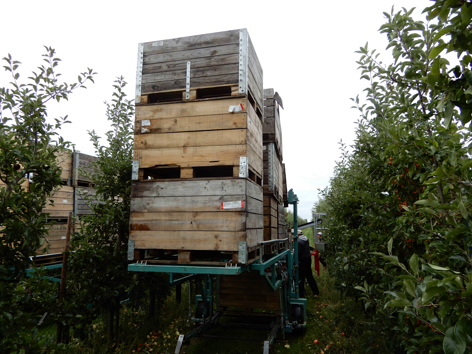 Below: Frumaco harvester at work - 5 operatives work with each machine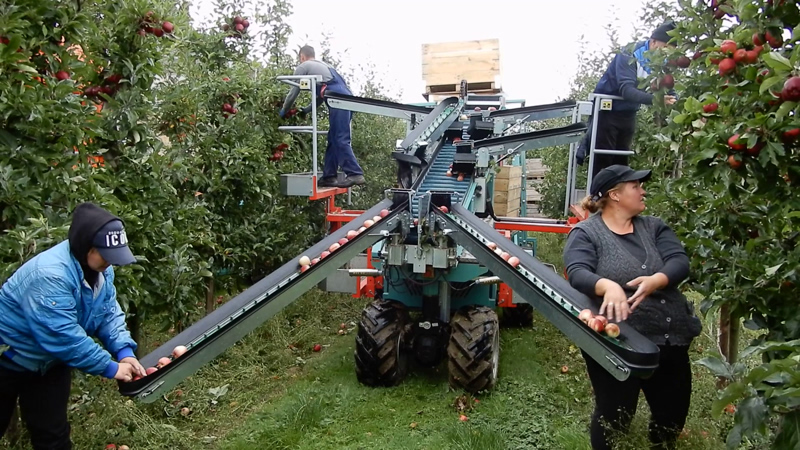 Below: left; One of the operatives acts as controller and picks apples at the top of trees and right; Frumaco harvester at work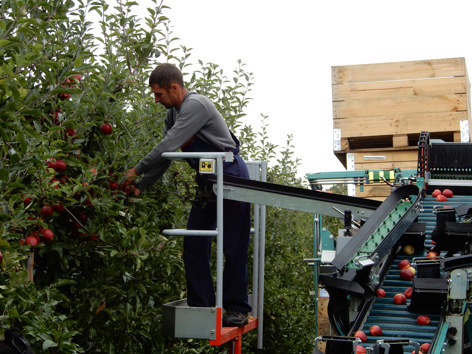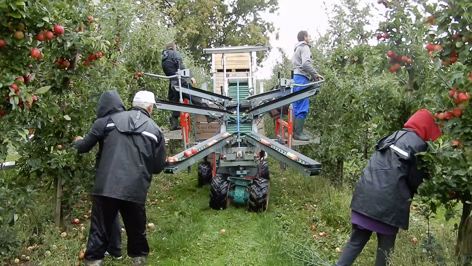 Below: left; the Frumaco is linked to a trailer carrying empty bins and right; a side view of the trailed unit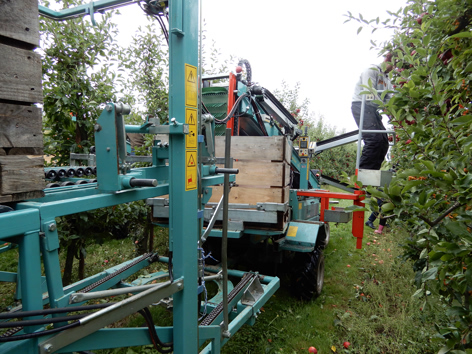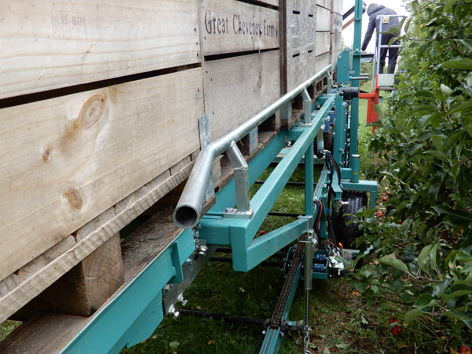 Below: left; empty bins are propelled by the controller on a chain system and right; the drop rails carry full bins from the machine onto the ground behind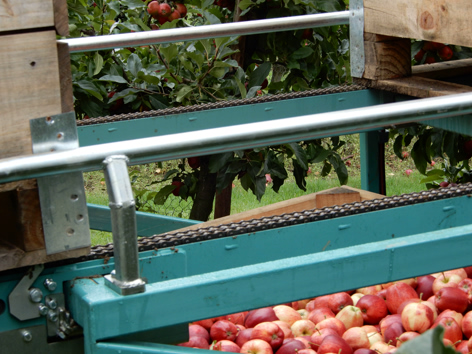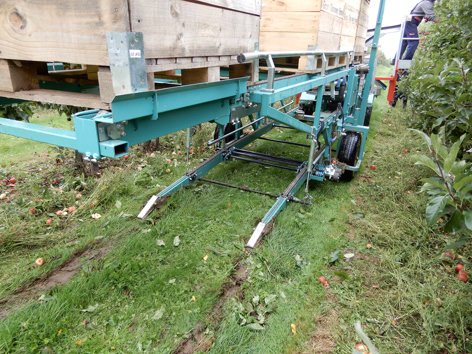 Below: Rough Terrain fork truck collecting full bin and right; taking bin to collection point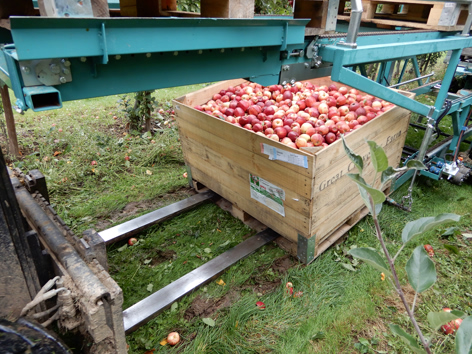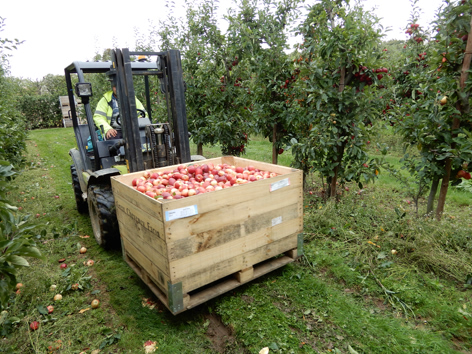 The Harvesting machines are designed to work with a trailer carrying a supply of empty bins and with some machines full bins can also be accumulated before being unloaded, but the grower found his harvest operation ran smoother without carrying full bins. Removing the bins with tractor mounted forks from the alleys and using a bin transporter to take bins to the cold store his preferred method.
Below: left; Fork tuck transporting bins and right; empty bin dispersal and full bin collection point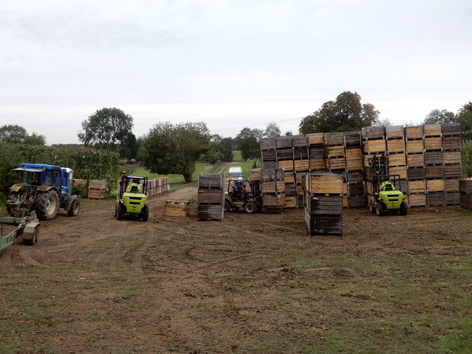 Below: left; full bins ready for journey to cold store and right; loading the trailer before transportation to cold store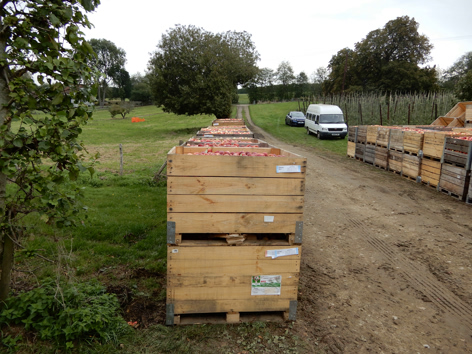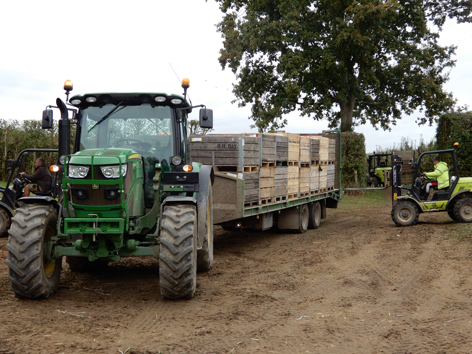 The orchard operation had 5 operatives on each harvester. with one doubling up as 'controller' and picker. The controller has the ability to slow the 'self driven machine down or speed up depending on the crop load and pickers speed of picking. The controller also releases full bins onto the trailed unit and brings an empty bin from the reserves on the trailer into the harvester unit.
The 8 hectare block of Gala will take 5-6 days to harvest 1500 - 1600 bins of Gala using 6 harvesters manned by 30 pickers (6 x 5) - this compares favourably to 36 pickers filling 220 bins a day using picking trains (illustration from a grower harvesting similar tree profile/crop).
While keeping costs down, the use of the Frumaco (and similar harvesters) is becoming more popular due to the age profile which has changed from 'predominately' 18-25 year olds to 'predominately' 40-50 year olds over the last five years. Obtaining sufficient harvest labour and pickers of suitable capability is the greatest operational challenge facing apple and pear growers, and all sectors of horticulture which currently depend on human rather than mechanical harvesting.
For a YouTube video of the Frumaco in action: Click on Kirkland
That is all for this week

Next week the English Apple Man is visiting Frank P Matthews Nursery at Tenbury Wells - read about it in the Journal for 11th October.
Take care
The English Apple Man
PS: Delving into Statistica can be enlightening and this chart listing the World's Richest Women is interesting!