Journal
11th Oct 2019 - What's going on Globally?
Each country producing apples & pears can easily become 'blinkered' about the problems facing profitability, if we become less insular and look further afield we find fruit growers face pretty much the same set of challenges globally!
The English Apple man tries to keep up with global issues and The Good Fruit Grower magazine is an excellent source for understanding the 'ups and downs' of fruit growers fortunes in the second largest 'global' apple producer (after China)
In the latest issue Todd Fryhover compares the fortunes of US and EU apple growers.
Todd Fryhover is the president of the Washington Apple Commission.
"As I began to put together my thoughts for this column, I reviewed my commentary from last year and realized very little has changed: Trade tensions and impacts remain, and new proprietary varieties (Cosmic Crisp) are set to enter the market, changing purchasing habits forever. But one year does provide additional insight, and today I would like to offer up the views on the apple category from two major retailers.
Cosmic Crisp® brand apples are a cross between Enterprise and Honeycrisp.
Washington state, the largest apple producer in the United States, soon will introduce a new variety that developers believe could revitalize the premium segment of the industry.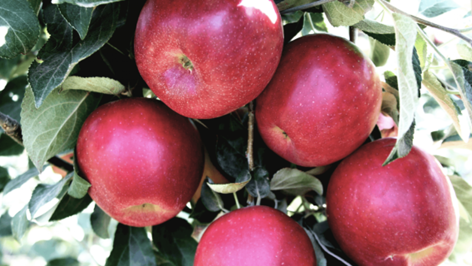 "In August, I attended Prognosfruit in Alden Biesen, Belgium - think the Washington State Tree Fruit Association's annual convention on steroids - with European apple producers. Although I was clearly thousands of miles from home, the participants' conversations were eerily similar to those presented at the USApple Outlook Conference in August.
One specific topic resonated at both venues loud and clear: There is consumer confusion with too many varieties at retail. Secondly, in both regions, the apple category is underperforming, giving way to berries, citrus and other more profitable alternatives.
At the USApple Outlook Conference in Chicago, The Kroger Co. shared its views. Kroger has 2,782 retail locations, 11 million daily consumers, some 480,000 employees and operates in 35 states.
At Prognosfruit, attendees heard from the REWE Group, a major retailer in the EU, headquartered in Germany, with more than 360,000 employees and 15,686 stores in 2018. The REWE Group has a deep reach in Germany and international retail, but also DIY stores, travel and tourism - they're big!
Click on PROGNOSFRUIT for website detail.
Todd Fryhover continues "Having had the pleasure of listening to both organizations' presenters, I found the same message reiterated, and I think it's one we should be listening to.
In both the European Union and the U.S., apple consumption is static at best, or, more accurately, declining as production volumes and varietal offerings increase.
In Germany specifically, the apple category is underperforming, as space allocation of 13 percent translates into 7 to 8 percent of produce department sales.
The Kroger Co.'s concerns with the apple category reflect the same sentiments; it reports an 11 percent sales decline over the previous five years.
Examples the retailers provided as to why:
- Overwhelming number of variety offerings confusing consumers.
- Apple category suppliers are losing, or not reaching, younger consumers.
- Industry has not removed less preferred varieties quickly enough: Braeburn sales down 67 percent; Cameo down 18 percent; Jonagold down 16 percent; Jonathan down 72 percent; and McIntosh down 22 percent.
- Club varieties are not providing the return as retailers focus on the $1.99/kg.
- External competition increasing: As the apple category has decreased by 3.6 percent, oranges (up 0.7 percent), grapes (up 2.2 percent) and berries (up 1.5 percent) continue to grow.
- Even with additional promotional support, increases in apple consumption are not evident.
- Emerging trends such as new diets (Keto) are moving younger consumers away from apple purchases and toward diets without fresh fruit and vegetables.
The ketogenic diet (or keto diet, for short) is a low-carb, high-fat diet.
- The political tensions are damaging international sales opportunities, putting more pressure on domestic retail.
All of this translates into the REWE Group executing a test to reduce apple SKUs from 24 to 16 and offering only two packaging alternatives per variety. The result: improved turnover and consumer satisfaction, much less consumer confusion, more consistent varietal offerings, an increase in apple sales and increased opportunities for other produce options with higher profitability.
Although the REWE Group wouldn't commit, it's clear the path forward is to roll out this new apple category strategy companywide. This message was not new but did emphasize several issues within the EU and Eastern European apple growing regions: overproduction abounds with new plantings in Serbia (25.7 million bushels), Moldova (35.1 million bushels), Turkey (186.2 million bushels), Russia (52.4 million bushels) and Ukraine (61 million bushels).
The EU-28 apple producers are very concerned about this Eastern European production increase and the cost advantages (cheap labor) that they represent.
With both international and U.S. retail giants sharing their insights, does our industry have the wherewithal to listen, consider action steps and implement change? I would argue we don't possess this ability to work as a collective, but even if we did, what would this action look like?
Washington state alone has over 25 known proprietary varieties (PVs), New York has two, and multiple PVs stretch across not only the U.S. but international borders.
All can agree there will be winners and losers in the PV category, and current investment requires we allow this to play out, hoping we hit a home run. However, we must participate in finding solutions to the problem of decreasing apple consumption.
Todd: "Just a few of my own thoughts for consideration:
- Focus on the customer. Rather than "plant it and they will come," we need to understand the consumer and leverage our ever-better varieties to decrease consumer confusion, build confidence and ultimately increase consumption.
- Continue to support innovative packaging with an eye toward compostable and recyclable aspects that benefit the green movement. Convenience is a major contributor to decreased consumption and new packaging will continue to contribute to our success.
- Eliminate poor eating apples. (This alone could solve many issues.)
- Engage the young consumer, as our primary demographic is aging.
While the focus of the Washington Apple Commission is solely international, our organization looks to address some of these concerns. The growing number of millennial consumers holding the purchasing power has shifted our marketing strategies. Social media, digital advertisements, e-commerce partnerships, and public relations events are now core aspects of Washington Apple Commission marketing campaigns.
Health and nutrition have always been the building blocks of marketing a produce item. To further expand on this effort, sampling at fitness events such as Zumba, obstacle course races and marathons has created the platform to spread the message that apples are the food choice for fitness.
Not only is the U.S. apple category at a crossroads, our brethren in the EU are faced with similar circumstances, leading to further consolidation, reduced crop volumes, decreasing per capita consumption and a focus on increasing international sales.
Now is the time to collectively change our messaging and convince apple category consumers our industry continues to provide high quality, healthy, nutritious and safe fresh apples as new, improved apple offerings become available.
Trade issues have exacerbated the pressure on the industry, and I'm doubtful current issues will be resolved quickly, but the messages from Kroger and REWE need to be heeded."
-by Todd Fryhover
The English Apple Man comments!
Below: Cosmic Crisp orchards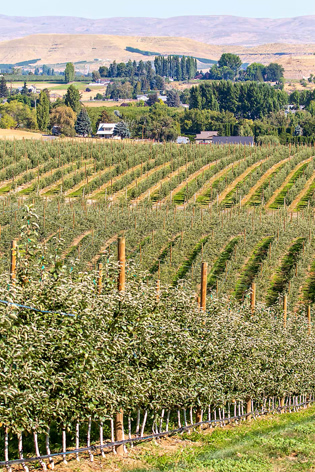 USA Producers have invested nearly $500 million in planting the WA 38, Washington State University's new apple variety now in the midst of its first commercial harvest. But the industry also made hefty contributions to research that supports the rollout of the cultivar to be sold under the trade name Cosmic Crisp.
The apple scene is different in USA with varieties which would be unpopular in Europe, but the desire to find a 'special' variety which can transform the profitability is a common theme across the Globe.
We in Europe are accustomed to the trademark varieties: Pink Lady and Jazz leading the way for profitability. The search for new varieties is a global one and we regularly see potential "newbees" but it is a very competitive business and many (most) fail to establish.
The extensive report from Todd Fryhover highlights the challenge EU and USA growers face. The UK industry also faces challenges and being profitable is also difficult: but with modern orchards/varieties and investment in state of the art storage, British growers have a very good chance to create a 12 month supply of British apple for our consumers.
What happens in the next few weeks (Brexit) will no doubt influence the future of British apples & pears.

That is all for this week
Take care
The English Apple Man
Below: Obesity statistics - 'food for thought'