Journal
8th Nov 2019 - NextGen Fruit Group visit two leading soft fruit businesses
Sorry to my readers who sign in on a Saturday morning! A rather long Journal this week covering a fantastic event for my young friends - The NextGen Fruit Group at which The English Apple Man was privileged to attend.
For more than 50 years, The Under40's Fruit Group has brought young people in the British fruit industry together on a biennial basis for a Conference with the objective of building new friendships, learning new growing and management techniques: until 2015 these Conferences were held in various countries, but always in the Northern Hemisphere.
To celebrate the 50th anniversary, The 2017 Under 40's committee led by Chairman Charlie Dunn 'broke the mould' and organised the first Conference in the Southern Hemisphere in South Africa.
In 2019 the committee led by Chair Emily Cliff set off for Chile and when the 2021 committee took over the reins, a desire to take the U40's format onto a new level was born!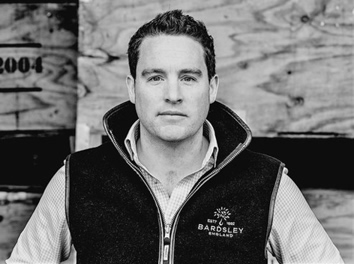 The NextGen Fruit Group led by Chairman Ben Bardsley and his committee have 'hit the ground running' - the website sets out the transformation from the previous format into a broader charitable institution.
Inspiring: the Next Generation of Leaders - Core Values - Our Vision
Visit The NextGen Fruit Group pp
Sponsorship has always been vital to the success of the Under 40's and the NextGen Fruit Group has created a new format by engaging 'Partners and Supporters'
One of the changes to the previous format and proving very successful in bringing financial support to the ambitions of the NextGen Fruit Group.
NextGen Fruit Group - Technical Day - 25th October 2019
Programme.
This technical day encompassed a morning visit to: WB Chambers and an afternoon visit to Hugh Lowe Farms.
Visit the WB Chambers website and view the Story on Video WB Chambers
Established in 1952 WB Chambers is a family run business. Third generation owner and present managing director Tim Chambers took over the reins of running the family's farms in 1990, focusing on berry, currant and stone fruit production.
Welcome by James Miller - Commercial Director who presented an overview of the business which included a short video featuring the eclectic mix of this very progressive business.
James said he has been in the business for more than 10 years and in that time he has never experienced an event to equal the NextGen Fruit Group visit to WB Chambers.
James told the NextGen group, Chambers have made significant changes over the last 4 years as our customers sought to work more closely with us. We now have an import business and farms abroad, we grow Raspberries, Blackberries, Blueberries, Strawberries, Cherries, Redcurrants and Rhubarb; it is said: "we are the largest cane fruit producer in Europe" - we match our own production with fruit grown around the world. James passed on Tim Chambers apologies for being on holiday. Tim recognises the young people present today are the future of the fruit business, and a number of the Chambers team are here today and part of that future!
Tour of WB Chambers enterprises at Oakdene Farm.
With 86 delegates attending, we were split into four groups. The EAM in the Blue Group!
First stop. Chambers Production & Operations Director - Salih Hodzhov outlined the growing side of the business.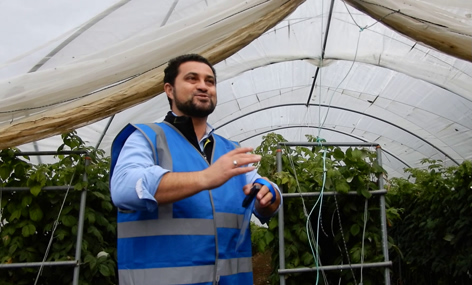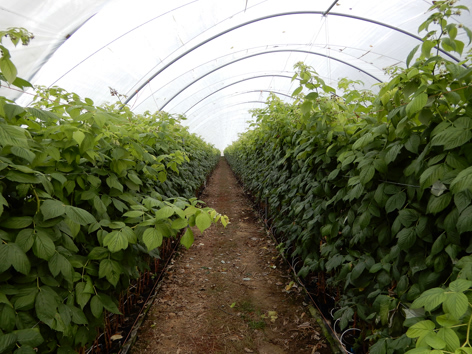 Chambers is the largest independent cane fruit grower in the UK, supplying quality fruit directly from the farm to many of the country's major multiples.
Salih said: "Chambers grow 180 hectares of Raspberries from end of April until November - 80% in substrate and 20% in the soil, we are bit unusual because we grow 13 varieties of Raspberry. We are always searching for the perfect new variety, but at the moment we need a range of varieties t meet all if our customer needs!
"We are very confident about Malling Bella and anticipate we will be growing 30-40% Malling Bella in just a few years time.
Salih said: "This year we hope to grow 2,800 tonnes of Raspberries, we grow 30 hectares of Blackberries and can grow 500 tonnes, but programming sales and production is difficult and while we may grow 500 tonnes we may only have sales of 300 tonnes.
Chambers also grow 20 hectares of Cherries and this year we grew 200 tonnes of cherries, but production for year to year goes up and down like a 'yo yo' - sales like wise and Salih said Tim Chambers likens growing soft fruit to playing in a casino - but reckons while growing soft fruit is like playing in a casino, growing cherries is like playing in a 'super casino'
Blueberries - Salih said: "we started growing blueberries in 2017 and we bought 28,000 pots of blueberries in 30 litre pots, planted out which this year produced 85ntonnes of crop in 2018 and this year (2019) 200 tonne crop. We think with our optical blueberry grader we can be competitive with imported fruit.
"We grow about 18 hectares of Strawberries; Strawberries is the easiest crop to grow, it requires big investment but compared to Raspberries which requires 60 - 65% labour input, Strawberries is 30-35%.
We also grow 50 tonnes of Red Currants.
Asked about numbers of people employed: Salih said; "we employ about 1500 people but in peak weeks we could do with 2,500. Our business is growing and our orders are growing faster than our ability to keep up.
Chambers has production sites in Iberia, Poland, Peru and Bulgaria. These overseas farms provide an opportunity for Chambers to extend production outside of the domestic growing season. Chambers UK propagates 1.5 million plants per year, with 10% grown on its overseas farms. This venture enables Chambers to identify innovative species of plant that may be especially suited to the local growing conditions experienced in Europe and North / South America.
Second stop - Packhouse Tour with George Beedell - Commercial Manager
Below: left; Blue group gather for a briefing with George Beedell and right; discussing the processes with Packhouse Manager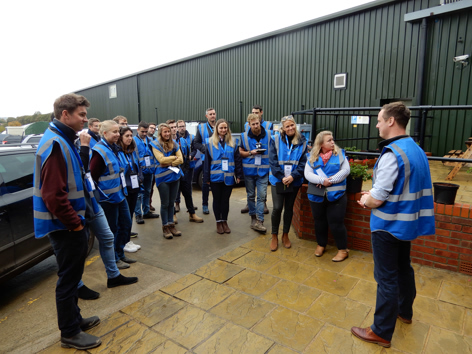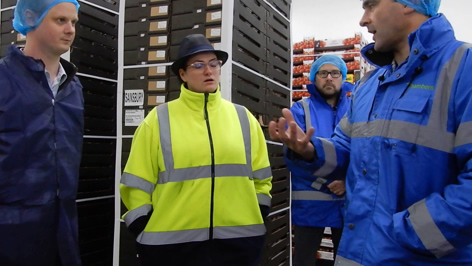 Below: left; NextGen group in the packhouse and right; the strawberry packing line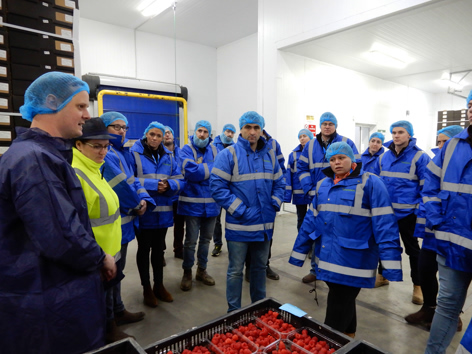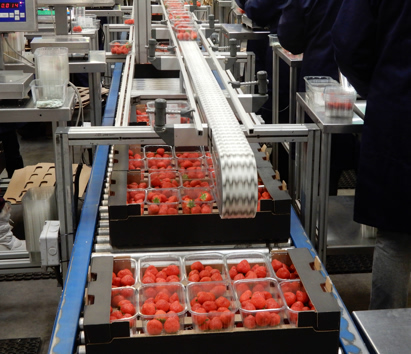 Below: Strawberries and right; picker identification on a tray of raspberries is a key element of traceabilty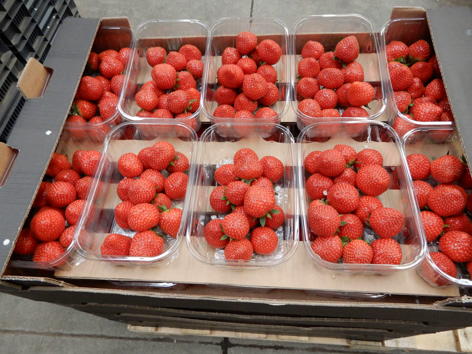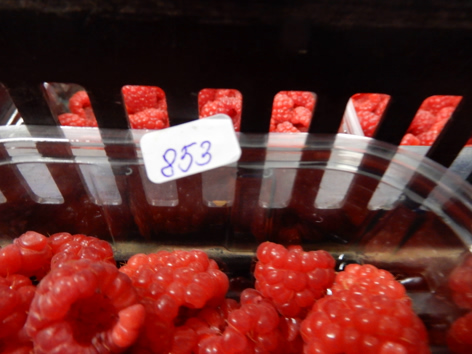 Below: in the cold store fruit for packing is held and right; trays of blueberries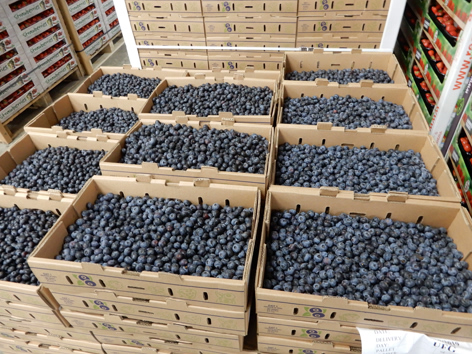 Chambers invested in a Blueberry grader which cost £500.000 but is an essential tool for large scale packing.
Below: left; Blueberries enter the grader and right; blueberries grading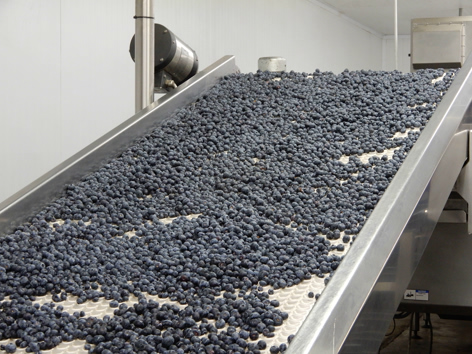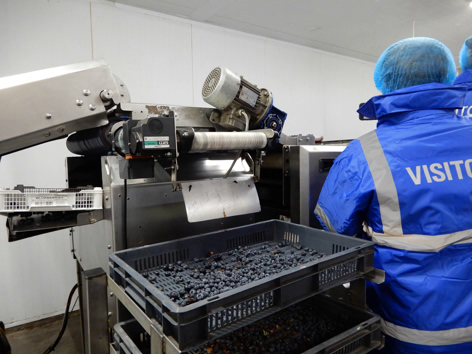 Below: left; Blueberries in the grading process and right; graded fruit exits the grader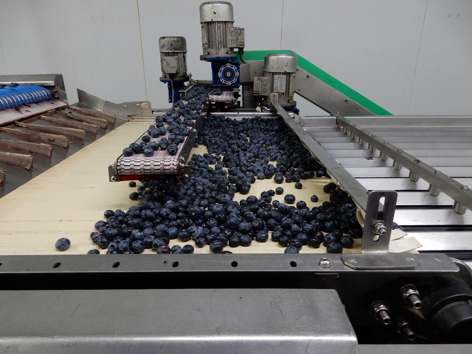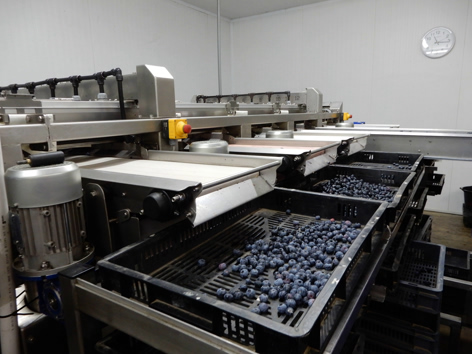 Below: keeping shelf life samples is an essential element in ensuring customer satisfaction and right; unfortunately there is always an element of waste!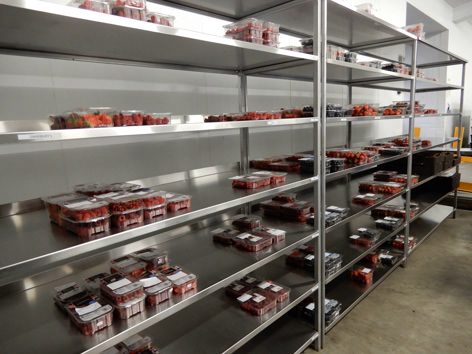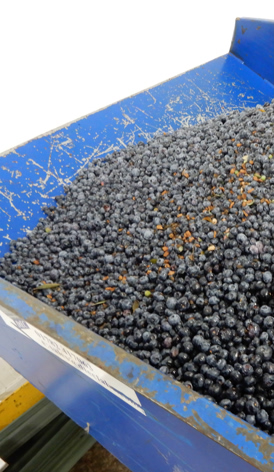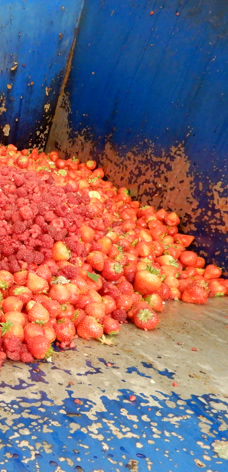 Third stop
Below: NetaFim
"Netafim is the global leader in smart drip and micro-irrigation solutions for a sustainable future. Since introducing the world's first drip irrigation solutions in 1965, we have led the way by developing products that help our customers optimize results".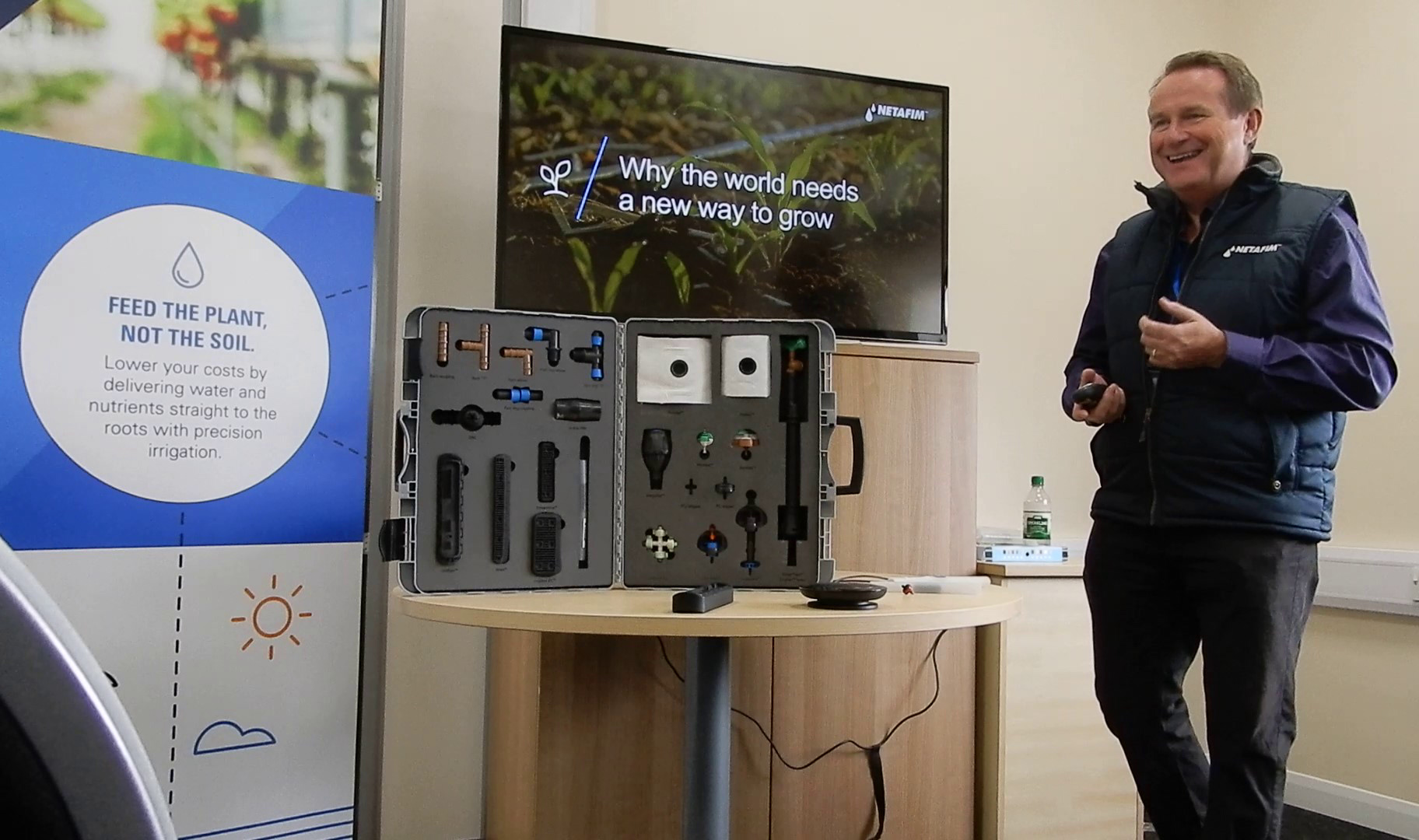 Below: left; The Global population is growing fast and right; water is a very precious resource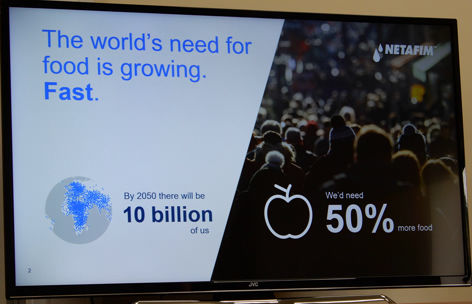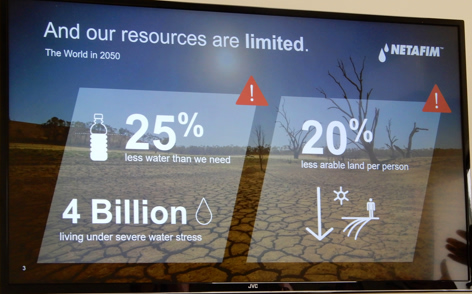 Below: left; Global water useage and right; the NetaFim solution is trickle irrigation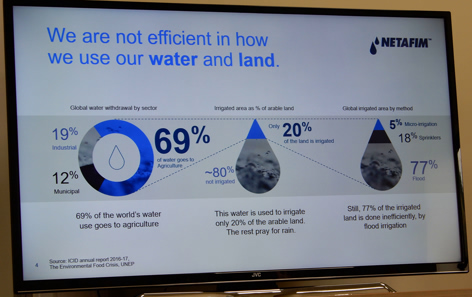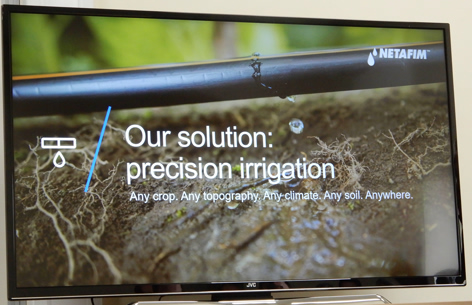 Below: left; NetaFim summary and right; NetaFim team at WB Chambers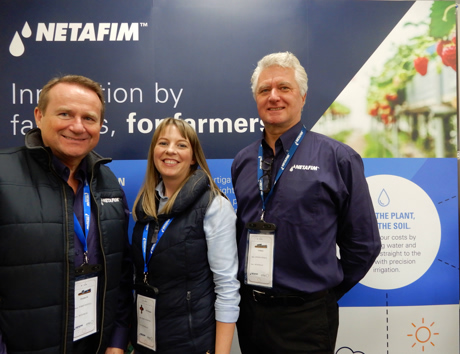 Fourth Stop
The Fruitery with Rupert Carter - Group Technical Director
The decision to create The Fruitery was a big one! - The thinking behind the Fruitery was a recognition that prepared fruit on sale in retail outlets was predominately imported exotic fruit. Tim Chamber set about making apples, strawberries, raspberries, blueberries, cherries et al. part of the prepared fruit offer.
Once built, Tim Chambers handed the 'keys' to Rupert in January and between January and April Rupert set about gaining all the necessary accreditations requited (example BRC) before any production could take place.
Rupert explained the 'linear approach' - fruit is held in a cold chamber before entering the low risk area and after sterilising enters the high risk unit for packing before despatch.
This high care unit depends on extreme cleanliness - to enter the first stage the NextGen group donned green protective clothing including protectors over shoes.
As we entered the first stage where prepared fruit is passed through a sterilisation process through a sealed passage into the very high care packing area, Rupert told the group The Fruitery was a £2,000,000 investment and the staggering element, the facility must be built, operated and prove its capability/suitability/accreditaion before any hope of gaining any business/taking orders etc.
In this: 'the low risk area' all the dirty bits must be carried out - removing strawberry calyx any substandard fruit etc. when the fruit passes into the high risk (red) area it must be ready for use, and sterile.
The order profile is quite different to standard fresh fruit as Rupert must tender for contracts looking ahead to 2020/21 before any certainty of orders/business is confirmed.
The route to certification is a hard one. The staggering fact that the facility works on the 'target' of 6% margin!
Below: left; explaining the sterilisation process and right; the grape separation unit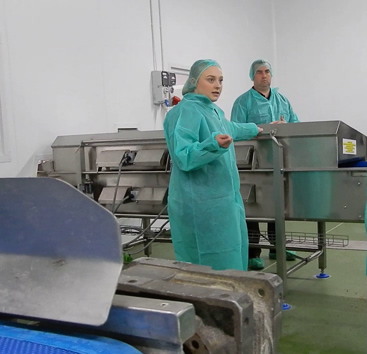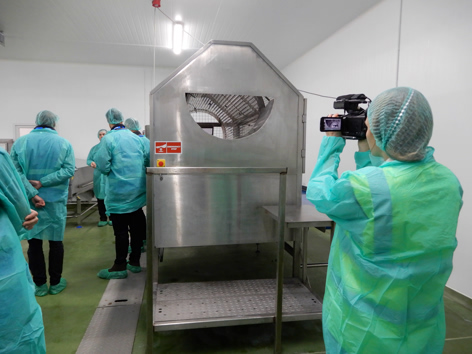 The sterilisation equipment is in three units. One washes the apple slices in a sterilisation mix the second uses UVC light to eliminate microbes and the third unit is for removing grapes from their strigs.
Below; left explaining the red room operation and right; packing prepared fruit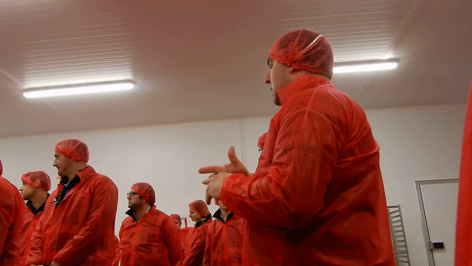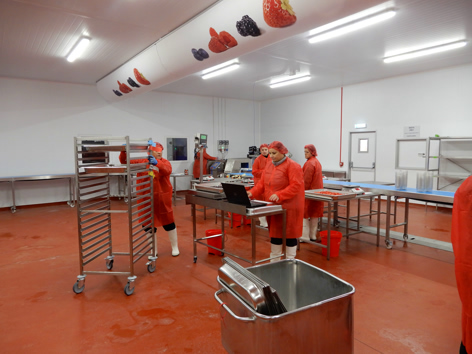 Rupert explained the air is drawn away from the room into filters maintain clean air within the facility.
Below: left; red room action and right; trays of prepared fruit ready for final selection and packing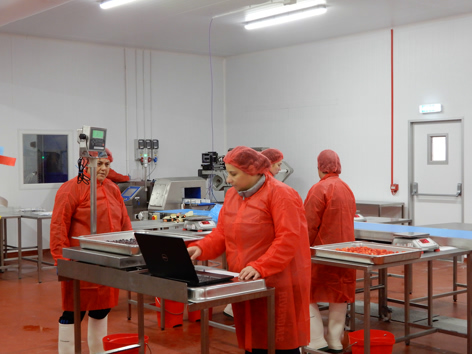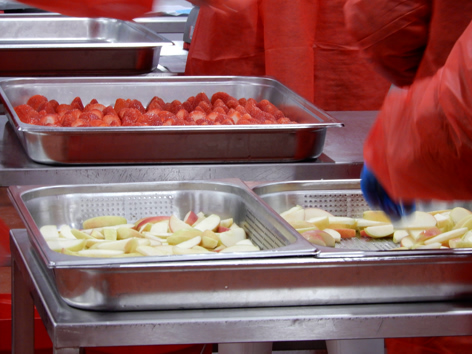 The second stage is very high care where the fruit is packed in sterile conditions. For entry the group removed the green protective clothing and changed into red protective clothing.
The precision required in the prepared fruit facility is complex: at each stage the incoming product is weighed and recorded, as at each stage some weight loss will occur, so what comes I must correlate with what goes out less any weight loss.
To The English Apple Man it seems a lot of detailed work for a 6% margin!
After lunch at Oakdene Farm the NextGen Fruit Group set off for Hugh Lowe Farms at Merryworth
Hugh Low Farms
Marion Regan farms her family-owned business, Hugh Lowe Farms in Kent which was established by her great grandfather in 1893.
Marion welcomed the NextGen Fruit Group to Hugh Lowe Farms
Marion introduced her daughter Amelia who has recently joined the family business and Lance Mansell HLF Glasshouse and Cane Fruit Manager, before handing over to Production Director Tom Pearson for an overview of the HLF business.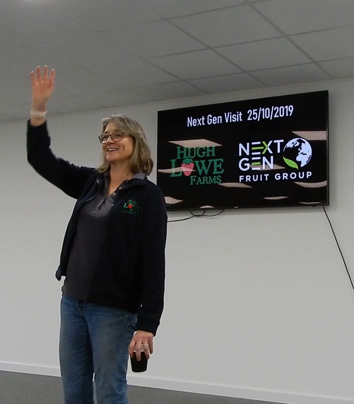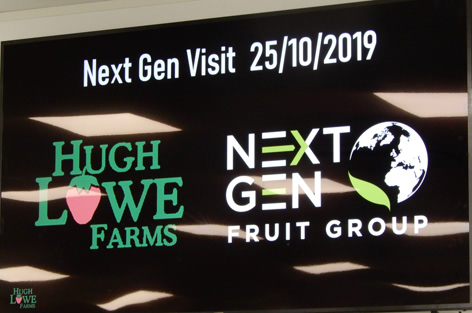 View The Hugh Lowe Farms story.
Below: Tom Pearson gave the Nextgen Fruit Group an overview of the HLF business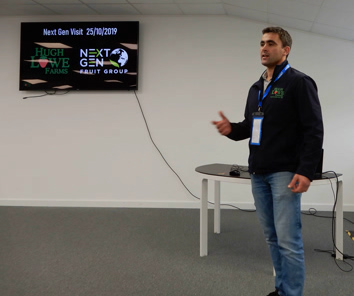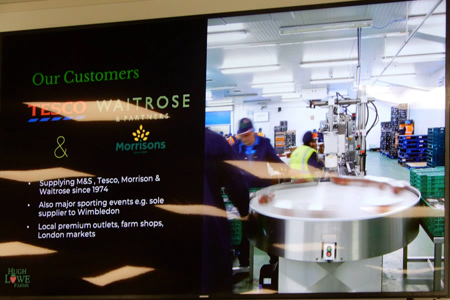 Tom Pearson emphasised the importance of investing in the harvest workers and as well as providing the right varieties and growing systems (easy to pick) "we have invested heavily in the accommodation and leisure facilities for our workforce" - "we are constantly involved in variety trials, seeking improved varieties for future production. "We have a fleet of robots on the farm being trialled which we should see today"
Below: HLF Brand is highly successful and right; Tom Pearson in one of the glasshouse blocks growing Blackberries and Raspberries
Tom explained the production process for Victoria blackberries and Maravilla raspberries.
Tom explained the blackberry process: long cane grown the previous year, held in cold store and brought into the glasshouse in late January cropping in May, June, July. Various techniques are used to manipulate the timing of a later crop, which is targeted at the end of the season when the outdoor tunnelled production is finishing.
Maravilla raspberries are also frequently established using long canes, and the versatility of the variety means again that production is targeted to be seamless from May until late November, using glasshouse and tunnels.
Crop timing is crucial both for forecasting and sales, but also for labour planning.
Below: The HLF Brand is a trusted marque - Tom Pearson in the older Glasshouse unit with Victoria blackberries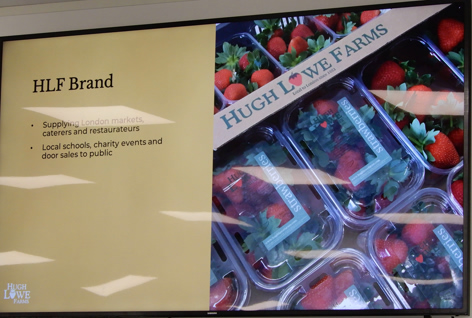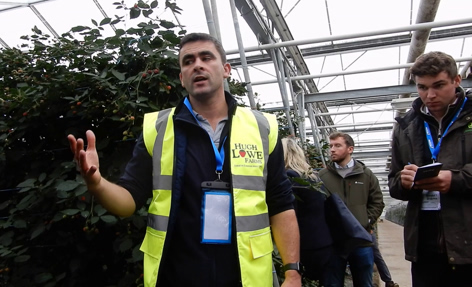 The new glasshouse complex is 'state of the art' and has been built to sustainably extend the season well into the winter months. It has the latest technology for environmental control and will incorporate new technologies like robotics and lighting to extend the season even further and to improve operational efficiencies as well as fruit quality.
Below: The New Glasshouse Complex at Hugh Lowe Farms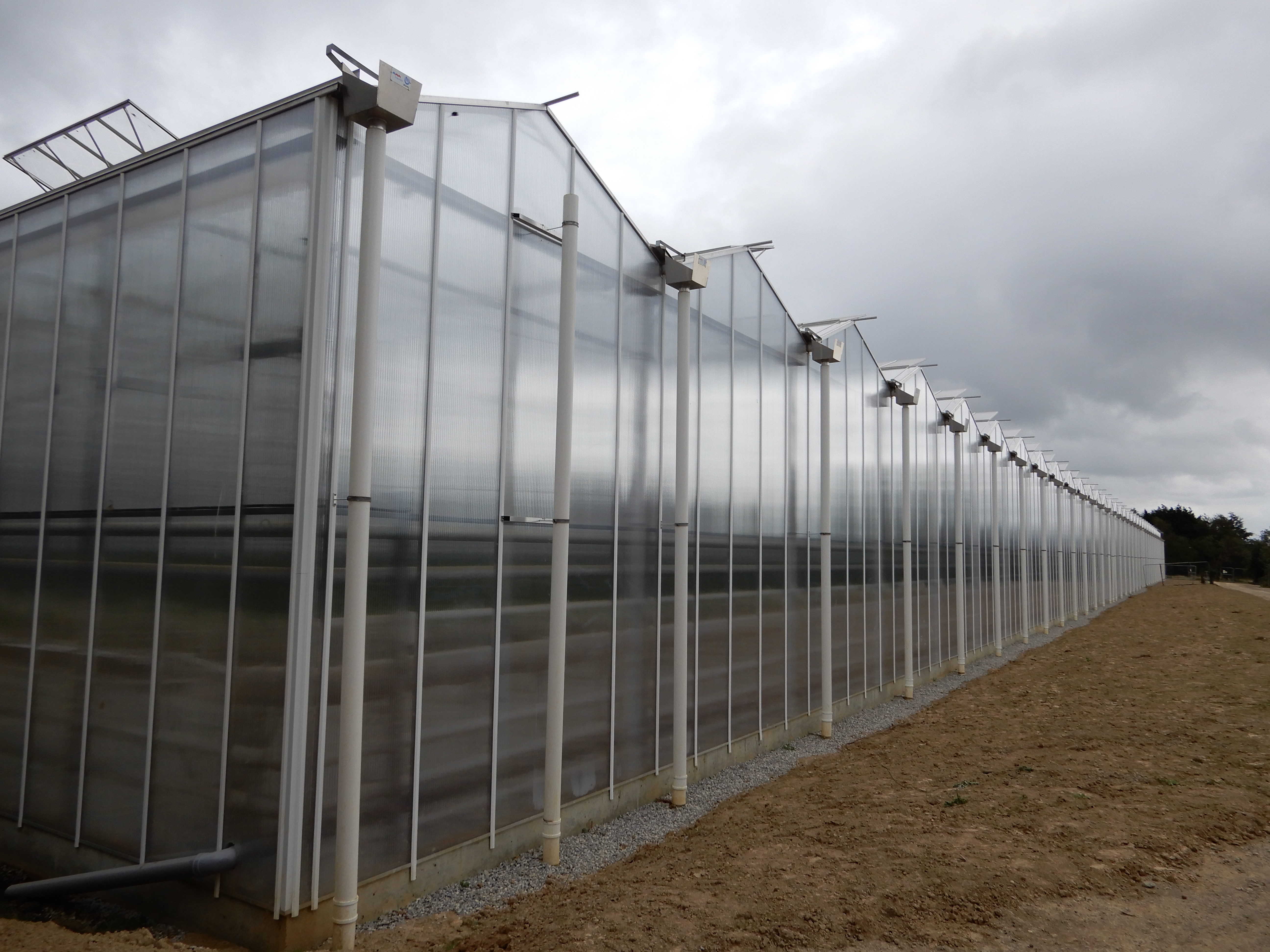 Below: Strawberry production gutters are adjustable to maximise production/plant area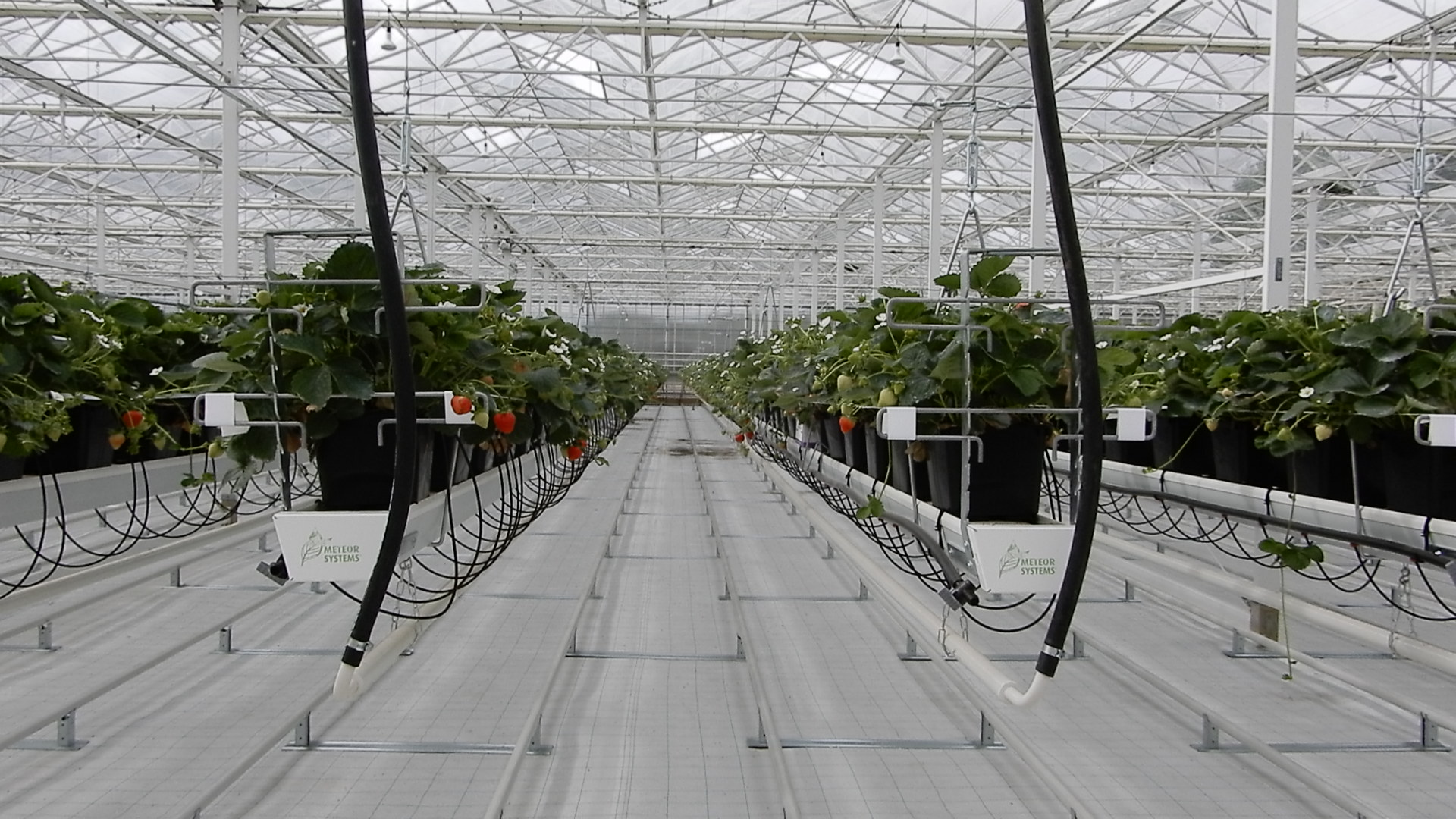 Below: All production is in plastic pots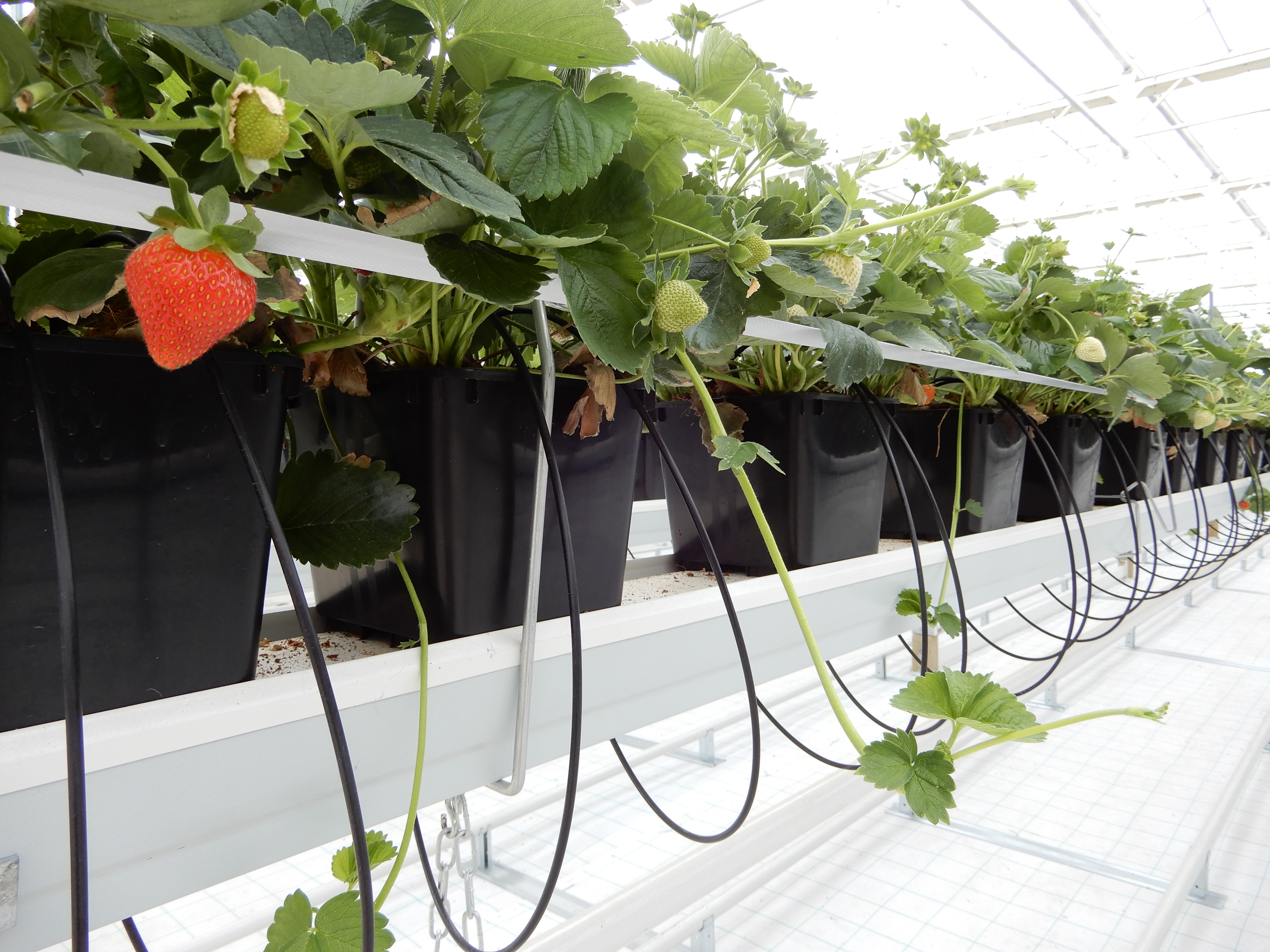 Below: Maravilla Raspberries in the older glasshouse unit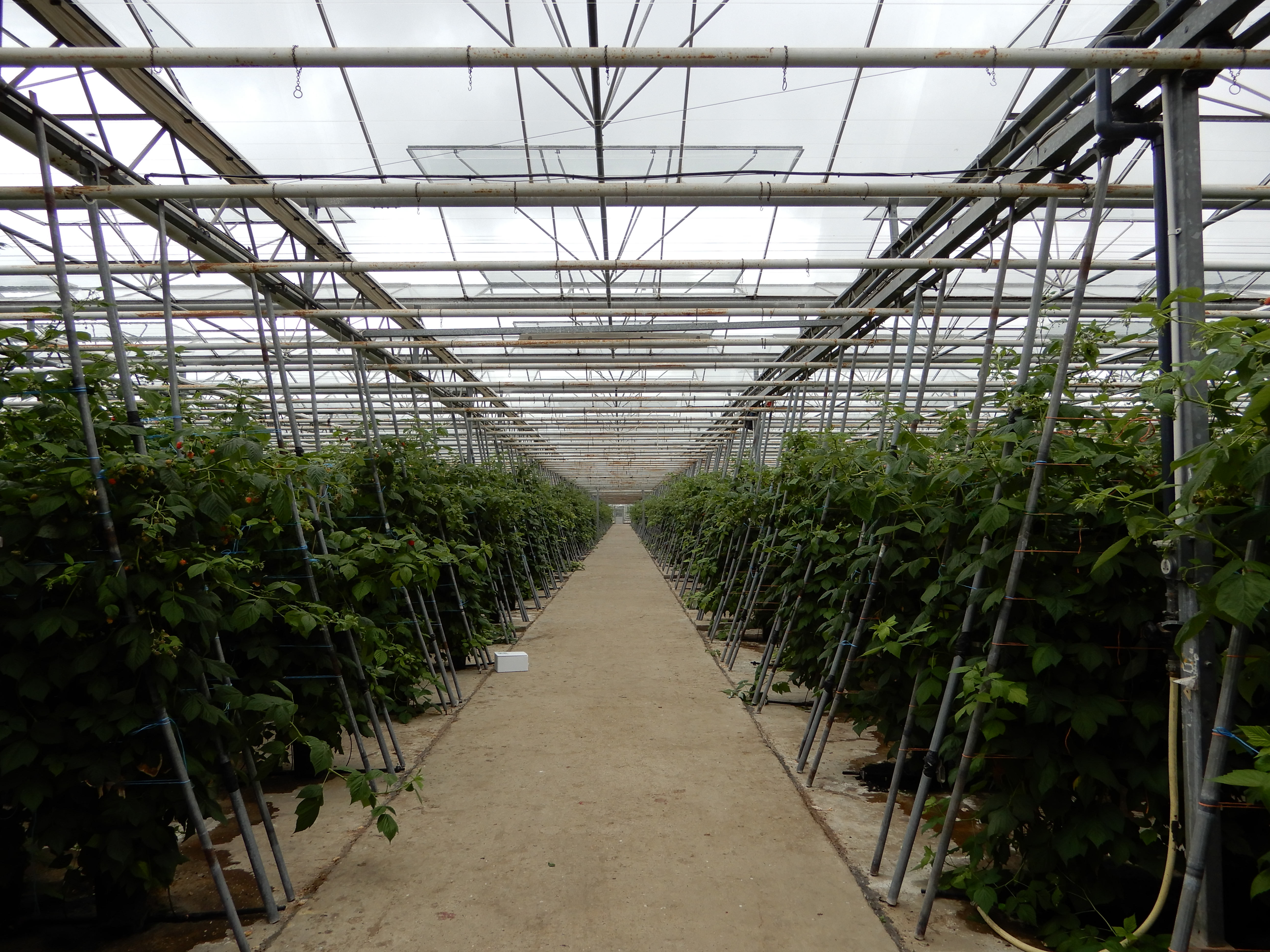 Finally; The NextGen Fruit Group at Hugh Lowe Farms at the end of a fantastic day vistiting two of the leading soft fruit enterprises!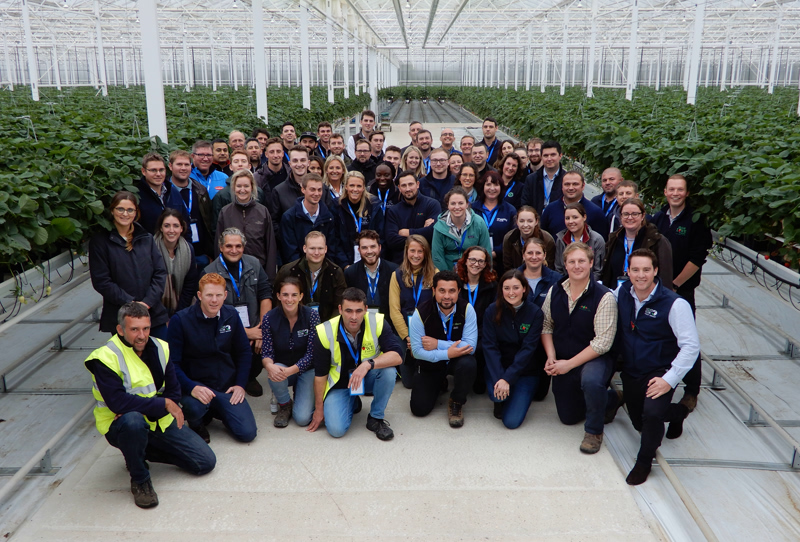 That is all for this week - SORRY for late on line (12.30pm GMT)
Take care
The English Apple Man