Journal
22nd Nov 2019 - What's on our Supermarket shelves
As November draws to an end, The English Apple Man visits Supermarkets to see what apples & pears are on offer!
This week visits to ASDA, TESCO, SAINSBURYS and JEMPSON'S OF PEASMARSH.
This is a good time to assess the different British apples & pears on sale in our Supermarkets.
The first visit was to ASDA in Hastings East Sussex - "not a pleasing experience for anyone supporting British apples & pears"
The apple & pear display was dominated by Imported apples & pears - with Gala from Germany and France, Conference pears from Belgium @ £1.25 a kilo, and most at £1 a bag. "Goodness knows how the poor grower survives on those prices? - British Braeburn @ £1.20 kg, British Cox apples @ £1 for 6 large apples, UK Jazz @ £1.80 for 6 medium sized apples, loose UK Gala @ £1.50 kg.
Below: 'Poppy' our 12 year old working Cocker Spaniel and right; Cox apples from Jempson's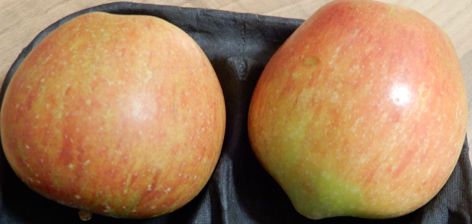 On Thursday while my Cocker Spaniel 'Poppy' was being groomed, The EAM visited Jempson's at Peasmarsh where much of the apples on display were 'locally grown' by David Dengate who supplied Red Windsor, Worcester Pearmain, Galaxy Gala, Spartan, Bramley, Egremont Russet and Cox - all priced @ £1.75 a kilo for loose fruit and 1kg bags priced at £1.50.
Also available: locally grown Herefordshire Russet, English Melrose apples and Conference pears.
This family business has a history going back to 1935, but has grown considerably since Stephen and Andrew Jempson worked in the business before becoming directors in 1985 and 1991 respectively.
They became joint owners in 1997 when they undertook a strategic review of the business and its positioning within the market. This led to their decision to build the 35,000 sq ft Superstore which opened in January 2002.
Visit the website to learn about this local institution: click on; Jempson's of Peasmarsh
At Jempson's we are committed to helping and supporting the local community.
Ever since the company was started by our Grandfather in 1935 we have been assisting local projects and groups with funds to enable them to improve or advance their aims or facilities.
The company now gets many requests every month from various parties, groups and associations. It has been felt for quite a while that to direct our funds to the most appropriate beneficiaries a more formal procedure had to be setup.
Therefore in 2010, our 75th Anniversary Year, we created The Jempson Foundation to fulfil this ambition.
We are here to help, so please do get in touch
Andrew & Stephen Jempson
TESCO
The TESCO store in Hastings is a TESCO EXTRA and the produce section is very well presented; first impressions are important and the apples & pears are 'eye catching' - the visual quality very and importantly a good spread of home grown British apples & pears.
Rosedene British 'small' Spartan apples @ 95p for 520 gramme (£1.83 kg) similar packs of Rubens also 95p.
French Braeburn @ £1.60 for 5 apples - British Rubens 6 pack on offer half price @ £1 - Jazz 6 pack grown by Chandler and Dunn in Kent @ £2.25 - 'Perfectly Imperfect' apples @ 79p for 800 grammes - Heritage Egremont Russet apples grown in Kent @ £2 for a 6 pack - Loose Royal Gala again grown in Kent @ £2.20 per kilo - loose Cox apples 'same price' £2.20 kg - French loose Pink Lady @ £3.65 kg - Pink Lady 6 pack @ £2.25 (discounted from £2.70)
In Tesco The English Apple Man bought loose Cox and Braeburn, Rubens, Sweetie and Kissabel.
Below: left; Cox and Braeburn and right; Rubens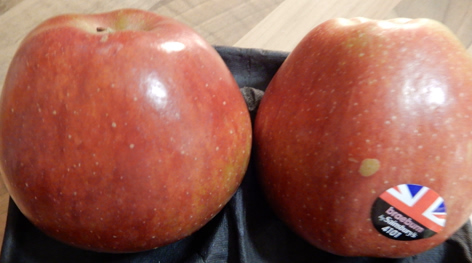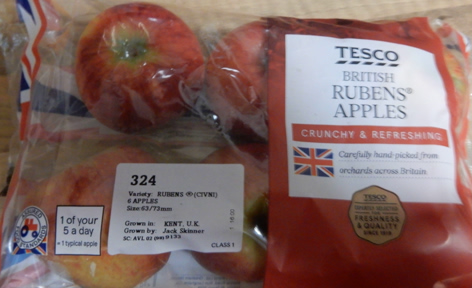 Below: left; Sweetie grown by Bardsley and right; Kissabel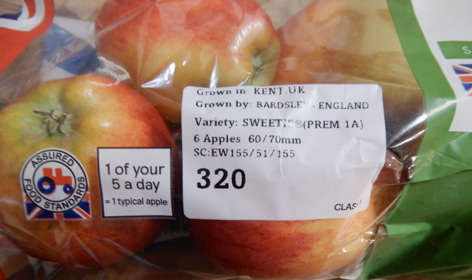 SAINSBURYS
Sainsburys - Hastings East Sussex
Below: British grown JAZZ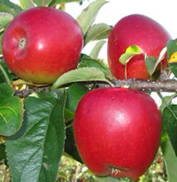 In Sainsburys ZARI @ £1.20 for a 4 pack - Braeburn @ £1.85 for 4 pack - Cox 'British Mini Apples' @ 80p for 6 apples: all grown in Kent by AC Goatham - Royal Gala @ £1.60 for a 6 pack - loose Cox and Braeburn @ 26p each apple - Bramley £1.75 per kg. Mini Conference pears 60p for 5 small pears - 4 large Conference pears for £2 - Individual Conference Pear 36p.
Tasting
Quite a mix of varieties to taste; Cox from Jempson's - 'sweet but a little lacking in texture' - Cox from Sainsburys 'very firm texture, crisp & juicy' - Braeburn from Sainsburys 'very firm' (better left in the fruit bowl for a week) - the Rubens in Tesco was 'crisp with good flavour' - the Kissabel ' juicy with flavour' & pink flesh - and the Sweetie ' the best eat of all the apples tasted' - Jazz is now on a par with Pink lady as an established Brand - once again winning the 'tastiest' apple at The National Fruit Show and following it up with Taste of Kent Awards 'tastiest apple'
Below: left; The EAM tasted Sweetie, Rubens & Jazz and right; Kissabel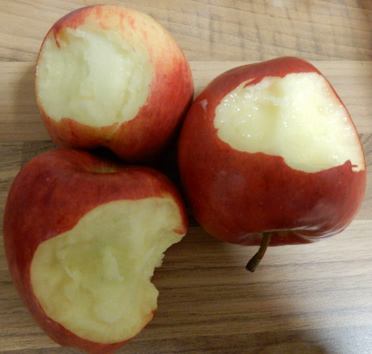 The English Apple Man plans to visit M&S - WAITROSE - LIDL & ALDI in the very near future
Over the last few months (even years) the subject of harvest worker availability has been discussed
Published on line by ACT HortNews
The NFU has warned that the continued failure to solve the labour crisis in agriculture and horticulture is "having devastating impacts."
Photo caption: The NFU estimates that 16 million apples have been wasted this year due to labour shortages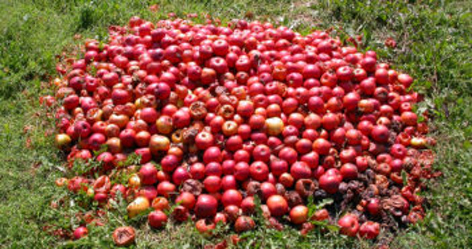 In a letter to The Grocer, Ali Capper, chair of the NFU horticulture and potatoes board, wrote: 'The current Brexit situation is deeply frustrating for many growers, who are keen to move on from the current Brexit impasse. We want to know how we can solve the ongoing shortage of seasonal workers.
'It is having devastating impacts. The sector has seen an unprecedented scale of waste this year on farms across the country: 16 million apples unpicked; 87,000 pallets of raspberries unpicked; 63,000 punnets of blueberries unpicked; 5,500 packs of French beans unpicked; 50 tonnes of strawberries unpicked; 25 tonnes of blueberries unpicked; 25 tonnes of cherries unpicked.'
In another interview she told The Independent, ""I think it is morally reprehensible that we are allowing this level of food waste."
The letter came as a new report by the Expert Advisory Group on Migration and Population, which has previously said that agriculture should not expect to rely on cheap migrant labour, accepted that immigration programmes are a 'swift and reliable' way to increase the labour force in Scotland.
Andrew Faichney, managing director of Scottish vegetable cooperative ESG, told reporters last week that securing labour was now the most pressing issue for his 16 grower members. "We're calling on government to be more proactive and commit to increasing this year's pilot Seasonal Agricultural Workers Scheme to much more than 2,500," he said.
He also added that trying to maintain moral of the workers who are in the UK is becoming increasingly difficult: "The workers on farms are subject to scaremongering and it's difficult to dampen down their concerns once they start. They feel unwelcome, they worry they won't be able to leave the country or be able to get money out, and they're frightened the currency will be devalued."

That is all for this week
Take care
The English Apple Man
Just a thought
In these uncertain times, where arguments over 'in or out' cause even close friendships to come under pressure, I get fed up with hearing how much better life is within the EU - so why is our GDP as good as or even better than many EU countries. Unemployment in major EU countries is twice what it is in GB - Why?