Journal
10th Jan 2020 - At this time of the year, 'motivation' can be hard to come by!

With the weather, primarily dull and dreary, days still short of daylight hours, do you find it hard to engender enthusiasm?
As I write this, looking out of the window it is dull misty and miserable!
I have always been driven by the weather; and as a fruit grower, one experiences all types across the 12 month cycle. Given the opportunity I would decamp to South Africa like many of my wealthier friends, thus avoiding the weather induced depression of January/February.
However, I am here trying to write something inspirational!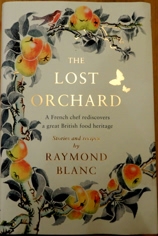 Reading more of Raymond Blanc's excellent book - The Lost Orchard focuses the mind on the pleasures of being in an orchard in the growing season. Bud burst in early spring; blossom in late spring early summer; fruitlets forming and growing during mid summer and the joy of seeing and tasting the new season's fruit.
An extract from The Lost Orchard highlighting Edward Bunyard's declaration: "No fruit is more to our English taste than the apple" - he described the Cox Orange Pippin, which in November he described as The 'Chateau Yquem' of apples'
Bunyard declared: "If picked at the right time, or properly stored, his selection of apples would provide fruit from September to the end of the following June"
He also understood that within it's season each apple had a particular moment when aroma, sweetness and acidity would come together in a 'perfect storm of flavour'
Far from the traditional and natural environment in Raymond Blanc's orchards, I noted an article by George Monbiot suggesting conventional farming may end in 50 years!
George Joshua Richard Monbiot born 27 January 1963) is a British writer known for his environmental and political activism.
Environmental activist George Monbiot has claimed conventional farming will end in fifty years as the world moves away from 'agriculture as we know it'.
Instead of food produced from the thousands of farms that 'dot' the UK, the human diet will eventually rely on synthetic food made in laboratories, he claimed in the Chanel 4 programme 'Apocalypse Cow'.
The Channel 4 documentary was broadcast on 8th January and looked at how modern farming could be gone by the middle of the century.
Monbiot visited a team of researchers in Finland who unveiled their process for food production - made out of bacteria and water.
The Helsinki-based scientists, who run a company called Solar Foods, created a synthetic flour which was then mixed with oak milk to cook a pancake.
Monbiot said such 'farm-free' foods could end modern farming, yet 'still feed 10 billion people to bring the world back from the point of collapse'.
This scenario reminds me of science fiction stories from my youth, where humans in future time zones, were living on 'nutrient laden pills' and who is to say if the future may turn out that way. Certainly feeding the planet by conventional/organic production won't be easy with the global population devouring land and resources.
Of course if one examines the past 'projections into the future' - very few materialise!
In spite of the dismal/depressing weather, The English Apple Man accompanied by my wife, my brother and sister in law, had the most enjoyable lunch at our favourite Italian Restaurant in St. Leonards on Tuesday.
The sun even shone while we sat at a window table, enhancing our gastronomic experience. But as we left in mid to late afternoon a sea mist enveloped everything.
La Bella Vista is an award winning contemporary Italian restaurant located on the St Leonards seafront, overlooking the English Channel.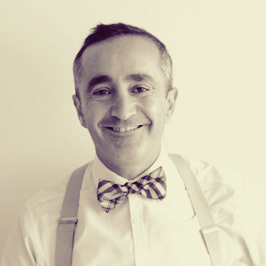 La Bella Vista is owned by ALDO ESPOSITO
Aldo grew up in a large family who were well accustomed to the catering industry. Running not only a small farm which produced fresh meat, olive oil and wine, but also a traditional restaurant and pizzeria which used the homegrown ingredients.
He came to England in 1987 from Sorrento on the Amalfi coast where his expertise in hospitality then developed over 28 years as a restaurant manager in a family run hotel in East Sussex.
It was always his dream to one day own his own restaurant and in 2015 his dream came true and La Bella Vista was born.
We all had the tasty ZUCCHINE FRITTE (V) to start. The English Apple Man had OCA - Smoked goose breast, fennel, orange, lamb's lettuce, pomegranate vinaigrette as my Starter followed by SCOGLIO - Linguine, Cornish mussels, clams, squid, king prawns, garlic, chilli, cherry tomatoes.
Visit the website @ LA BELLA VISTA for more information.
Returning to my world of apples, the competition for the consumers choice is getting 'harder and harder' as a plethora of produce is a temptress for any consumer!
Some interesting news from 'across the pond' - from the Good Fruit Grower // Jan 2, 2020
During the 2019 U.S. Apple Crop Outlook and Marketing Conference in Chicago, Randy Riley, the Kroger Co. director of produce merchandising, reported that consumer engagement and consumption of apples has dipped in the past five years, with Kroger's shopper card data showing a 4 percent reduction annually.
Since Kroger is one of the nation's largest retailers, this could represent an alarming decline in demand for fresh apples.
Riley's statement raises two questions: One, is the Kroger experience of declining apple sales typical across U.S. food retailing, and two, if so, what does the U.S. and Washington apple industry need to do about it?
Figure 1 shows that real U.S. apple demand grew little between 1993-94 and 2002-03.
It grew rapidly between 2002-03 and 2007-08 before falling the next three seasons due to the impact of the Great Recession.
It entered another period of fast growth between 2011-12 and 2015-16. However, it has declined by 5 percent in both 2016-17 and 2017-18, and by a further 3.2 percent in 2018-19. So, the Belrose index confirms the decline in fresh apple demand noted by Riley.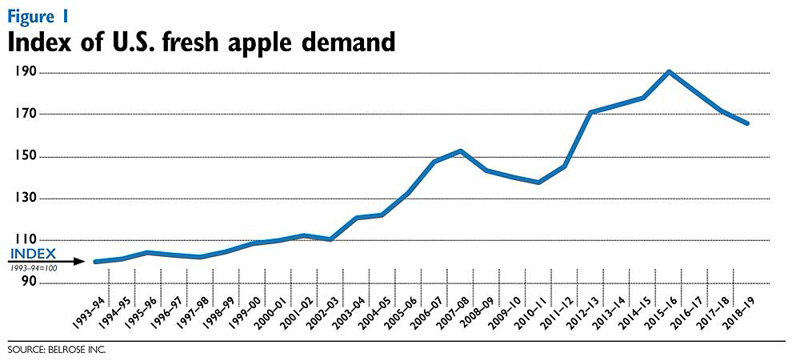 Washington consistently accounts for over 70 percent of fresh apple supplies to the U.S. domestic market, so clearly it has a major stake in responding to falling U.S. demand. If that trend continues, the Washington apple industry's multibillion-dollar investment in modern growing, packing and marketing facilities is at increasing risk.
Speculating about why demand has fallen, Kroger's Riley argues that too many apple varieties with similar flavour profiles may confuse both the retailer and the consumer.
There is also too much supply of "less-than-optimal eating apples," in his words. "The increased variety tactic is clearly not lifting the category and it's not translating to the consumer." He also pointed out that "external competition from other fresh produce items may be another reason consumer apple engagement has dipped." That last argument is supported by USDA and United Fresh data.
Promotion is part of the answer.
There are currently 27 state apple associations that promote fresh apples in the U.S. market, including leading states like New York, Michigan, Pennsylvania and California. However, Washington state, the source of over 70 percent of fresh apple sales in the U.S., has no coordinated promotional program in the domestic market.
The Washington Apple Commission's domestic promotional program was terminated in 2004 after being declared unconstitutional. Meanwhile, promotional programs for many competing fruits and vegetables continue unabated. Ironically, among these are Washington pears and sweet cherries.
Major Washington apple marketers have their own individual promotional programs, but their resources are limited relative to the vast U.S. market. Many tend to concentrate promotion on their own proprietary varieties. Most other apple varieties grown in Washington fall into what I have called the 'orphan' category - they no longer have a strong promoter in the marketplace. Yet those orphan categories still account for over 80 percent of Washington apple volume.
Two steps to a cure
For the Washington apple industry to correct declining demand, it will need to take two major steps:
Industry leaders will have to accept the fact that competitive conditions have changed significantly since the Washington Apple Commission's domestic promotion program was terminated in 2004. The favourable trends that helped fresh apple sales between 2003 and 2008 and between 2011 and 2016 have evaporated.
The retail landscape has changed dramatically, and consumer needs have become much more complex. Only a coordinated, scientifically targeted effort by the Washington apple industry can reverse the decline in U.S. fresh apple demand.
The Washington apple industry can continue to face declining demand, or it can take decisive action to restore a well-funded promotional program aimed at halting or even reversing the decline. The second option seems desirable if the Washington apple industry wants to protect the huge investment that it continues to make in apple growing, packing and marketing.
by Desmond O'Rourke - Desmond O'Rourke is president of Belrose Inc. of Pullman, Washington, publisher of the monthly World Apple Report.
The English Apple Man Comments
It's always useful to keep up with what's going on in other apple producing countries and The USA is second only to China in apple production.
An interesting element was the observation: There is also too much supply of "less-than-optimal eating apples," in his words. "The increased variety tactic is clearly not lifting the category and it's not translating to the consumer." He also pointed out that "external competition from other fresh produce items may be another reason consumer apple engagement has dipped." That last argument is supported by USDA and United Fresh data.
The less than optimum eating quality, is a very poignant one; we here in the UK must constantly ensure the apples on the Supermarket shelf deliver the 'optimum eating experience' for maintaining sales!
That is all for this week
Take care
The English Apple Man