Journal
17th Jan 2020 - It's mid January already
What does The English Apple Man have on his mind?
Health is 'high on my mind' with ongoing exploratory hospital examinations, today (Friday) and an appointment next Tuesday to learn the result of a recent biopsy.
In my younger days I was chairman of my local branch at Hawkhurst and Sandhurst NFU and I have always had a close relationship with the farming activities of NFU and the NFU Mutual insurance element.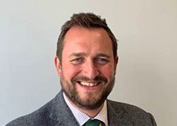 When my attention was alerted by Doug Jackson, a friend and Group Secretary of the NFU branch at Tenterden in Kent where my insurance needs have been covered for more than 50 years, I decided this week's English Apple Man Journal would feature the work of R.A.B.I. eg. 'the Royal Agricultural Benevolent Institution.
R.A.B.I - the Royal Agricultural Benevolent Institution - is farming's oldest and largest charity, serving the farming community since 1860.
R.A.B.I. offer financial support, practical care and guidance to farming people of all ages, including farmers, farmworkers and dependants.
From the R.A.B.I. "Although a lot of the help we provide is financial, we do much more than send out cheques in the post. We strive to build personal relationships and will tailor our support to suit you. If we can't directly provide what you need, we'll do our best to liaise with other organisations and agencies on your behalf.
We're here for the small things as well as the big and treat every application for support on its own merits, working with compassion and discretion.
It's our vision that no member of the farming counity should ever have to face adversity alone.
To find out more about what we can do for you please call our Freephone helpline 0808 281 9490. You'll speak to a friendly member of the team in our Oxford office and your call will be 100% confidential.
R.A.B.I. operates in England and Wales - a sister charity, RSABI operates in Scotland.
Doug Jackson asked me to 'spread the word' that NFU and NFU Mutual are delighted to be supporting RABI Farmhouse Breakfast again in 2020 and as part of that Doug said we are organising a breakfast at the Stockpot at Ashford Market on 12th February 2020. Please see attached poster. I should be grateful if you could circulate this to your friends and contacts and of course we hope you will be able to join us in February.
Tickets are £15.00 each for an excellent breakfast served up by the fantastic Stockpot Team led by Angus and this will be a brilliant opportunity to catch up with friends old and new whilst enjoying breakfast and supporting such a great charity.
Most if not all of you will know about RABI and its work but in case not the link here will tell you more: R.A.B.I. As ever there will be a raffle (please bring prize donations along). Last year we raised the 2nd highest amount from all the breakfasts in Kent - please join us and help us to raise the most across Kent this year.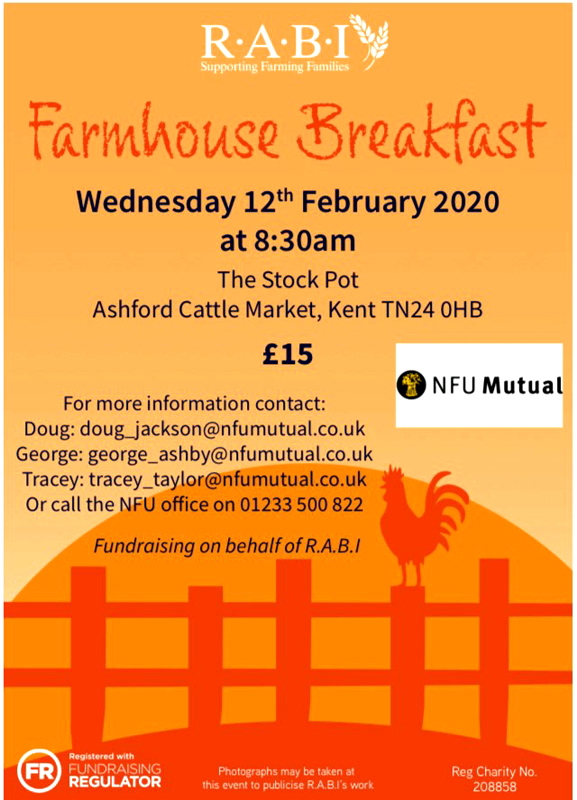 As per the poster please contact myself, George or Tracey Taylor (tracey_taylor@nfumutual.co.uk) or call 01233 500822 for more information or to book tickets.
Best wishes
Doug Jackson
---------------------------------------------------------------------------------------------------------------------------------
A lovely story from The Good Fruit Grower magazine in USA
"It's likely this issue's cover looks familiar. After all, the photo - a fragile apple made of ice hanging like an ornament in a winter orchard - and a few other similar images erupted across the internet in a flurry of social media posts a year ago.
It all began on a cold day in Sparta, Michigan, in early February last year, when Andrew Sietsema, who works at AB Orchards, went about some winter pruning in a Jonagold block that held a few stragglers of leftover fruit from the previous harvest.
"Everything was coated with ice from an overnight storm," explained Sietsema, who shared his story with us by email. "The tree would get shaken by the loppers, and sometimes the vinegary, melting, rotten apples would fall out of the base and leave a mostly intact ice capsule behind. So, there was indeed a hole in the underside, but I took the photos looking down at them, and the hole is difficult to see."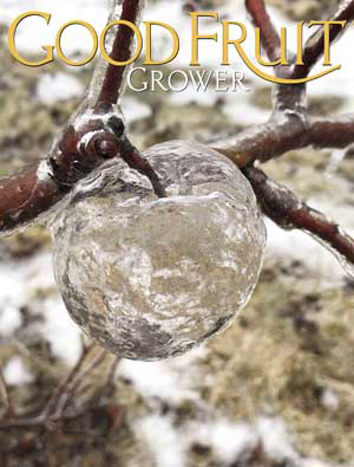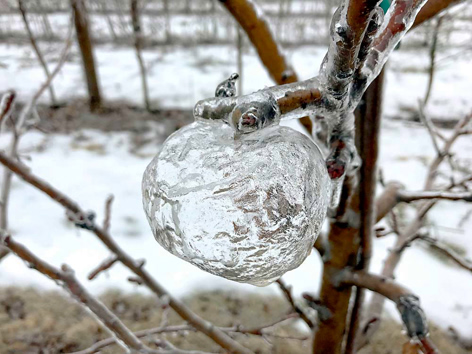 Sietsema said the same thing happened with some Honeycrisp trees. He said usually the whole apple, ice and all, would fall to the ground. But not always.
"I took a handful of pictures on my phone and texted them to my wife as a joke and captioned it 'ghost apples,'" he said. "I definitely didn't think it would've warranted going viral because, I mean, fruit growers see cool things like this all the time when you're outside all of the time. And it probably wasn't as much of a freak-phenomenon as it was made out to be. But sure enough, later that evening after I posted it online, it went viral, which was quite comical and entertaining!"

Next week The English Apple Man will be attending East Kent Fruit Show (EKFS) AGM & Dinner on Tuesday evening and The BIFGA Technical Day on Thursday, so plenty to report on in next week's Journal
Take care
The English Apple Man