Journal
6th Mar 2020 - It's all about taste this week!
The English Apple Man attended the Taste of Kent Awards on Thursday and today Friday with Marden Fruit Show colleagues, spent the morning tasting and judging apple, pear and other juices for the annual Fruit Juice Competition.
It's funny how things work out, but we spent last weekend in Wiltshire celebrating my brother's birthday and on Tuesday visited good friends for lunch, which featured the hostess's fabulous Pavlova.
Below: Tracy (right) and her assistant Lisa preparing our weekend of culinary delights!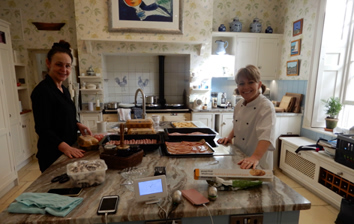 TOKA 2020

This is the third time my son and I have been invited to be judges for the 'Taste of Kent' Best Apple and Best Pear classes. We judge the fruit at the National Fruit Show in October along with two representatives of BTF Partnership who sponsor Best Apple and Pear, Classes.
My son works for NFU Mutual Ashford, Tenterden and Whitfield Branches who sponsored the Kent Wine of the Year.
Floortje Hoette, Chief Executive at Produced in Kent comments: ' Outlined the new Produced in Kent strategy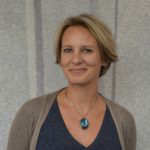 Floortje joined Produced in Kent in January 2020 from the Kent Business School, University of Kent where she was responsible for partnership development, alumni and business relations and event management.
Previously her varied career included time with Red Cross in The Hague and running her own tree surgery business. Floortje is committed to building and promoting a business community passionate about local food and drink, and making sure members receive the best possible support from Produced in Kent.
Produced in Kent Strategy 2020 - 2023
It is Produced in Kent's mission to be a:
- locally, nationally and internationally recognised membership organisation that
- proudly represents, supports and promotes all Kent businesses that sustainably grow, produce, manufacture, sell and serve the finest local food and drink
- with the aim to grow its members' revenues within and outside of the UK, and to support the reputation of Kent as an exciting and sustainable fine food hub in the UK
PINK = a membership organisation
- Not-for-profit business: all profits fed back into the business
- Trade association
- Representing, promoting and supporting businesses in the Kent food and drink industry
Governance structure
- Annual General Meeting
- Members: pay a membership fee, have a right to vote and learn about the organisation's finances - Team and Chief Exec: Daily operations
- Board of Directors: Strategic direction organisation
PinK Full Membership as of June 2020
Criteria
- A small/medium-sized or a corporate business, or not-for-profit
- in the food and drink industry - Primary producer/Secondary producer (manufacturer) - Wholesaler/Retailer/ Farmshop/Food Hall/Farmers Market - Pub/Cafe/Restaurant/ B&B/Hotel
- located in Kent
Strategic aims for 2020 - 2023
- Support the expansion of the sustainable, local food and drink sector through brand development, advocacy and member promotion
- Maximise productivity in the Kent food and drink sector by supporting innovation and the development of a skilled workforce
- Exploit opportunities for Kent food and drink businesses to export and attract investment
- Support members in becoming fully environmentally and socially sustainable
View more on the website: click on PRODUCED IN KENT
Below: left; Compere for the evening Julie Maddocks and right; NFU Ashford Branch personnel, their Guests and The English Apple Man were allocated Table 8.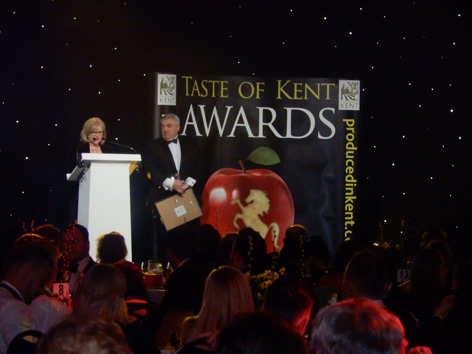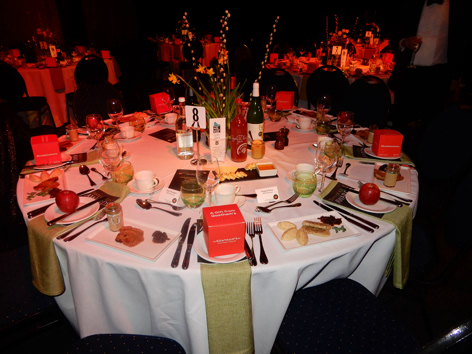 Below: left; Simon Bray (right) receives his award from sponsor BTF Partnership for his Jazz apple judged TOKA Tastiest apple and right; there were 35 tables and approaching 400 attending the 2020 TOKA Dinner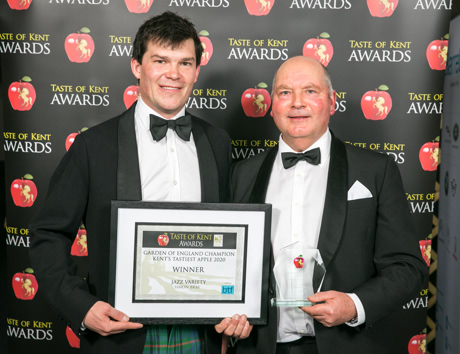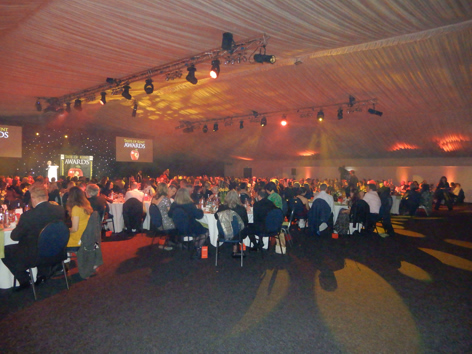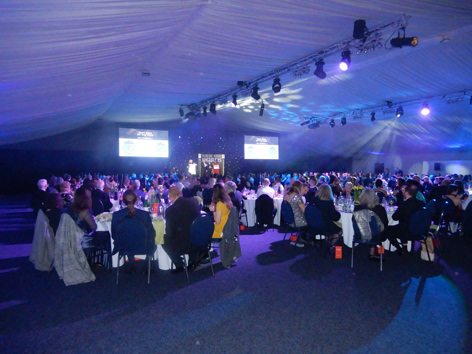 Below: Kent Wine of the Year winner - Sparkling Rose by Woodchurch Vineyard, Ashford - presented by Darren Smith - Partner at Sponsors NFU Mutual Ashford, Tenterden & Whitfield.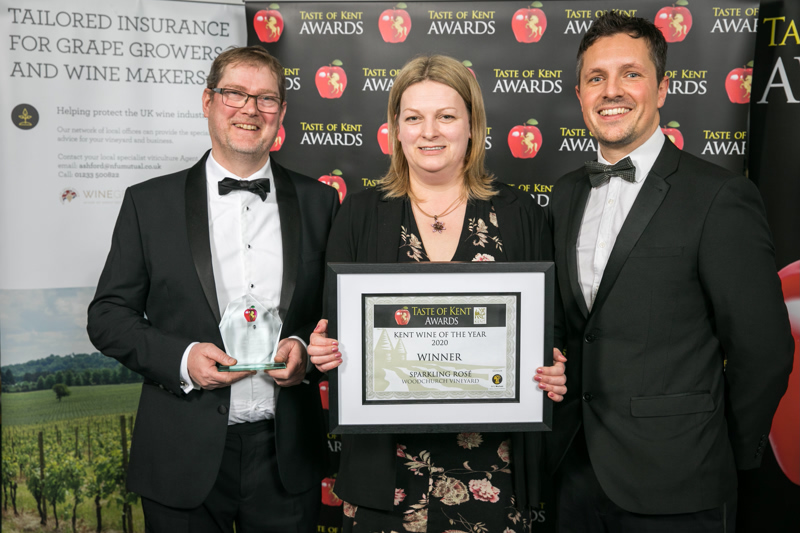 Below: 2020 Taste of Kent Awards (TOKA2020) Winners celebrate "en masse"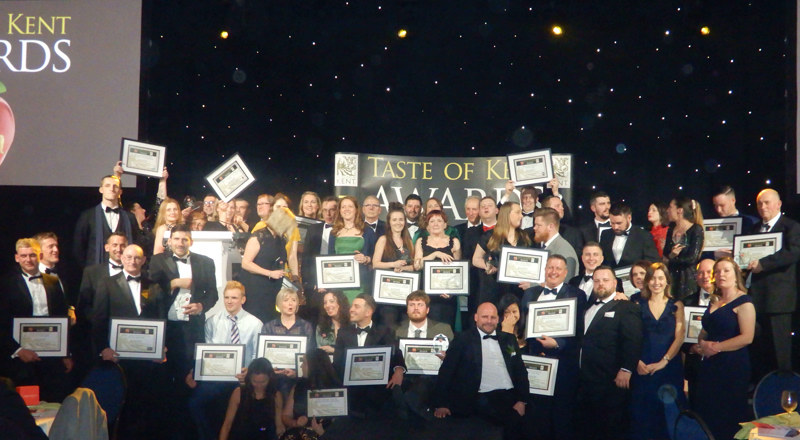 For the full list of 2020 winners click on: TOKA 2020
National Fruit Show - Apple Juice Competition
Class 40 - Blended Apple Juice (Two or more named varieties)
Class 41 - Single Variety
Class 42 - Blended Juices (Two or more types of any fruit which can be grown in the UK)
Tasting & Judging - in addition to Apple, the blended juices may include Pear, Raspberry, Cherry, Rhubarb, et al.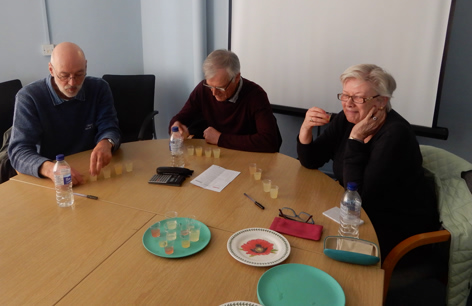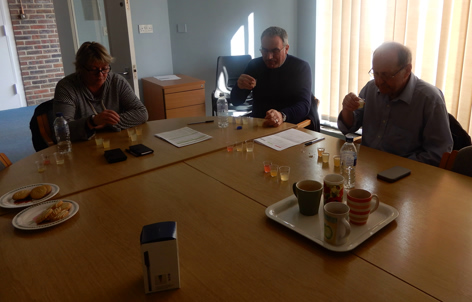 Below: Norma Thompsett - Competition Secretary who organises the judging with her assistant Ben Brown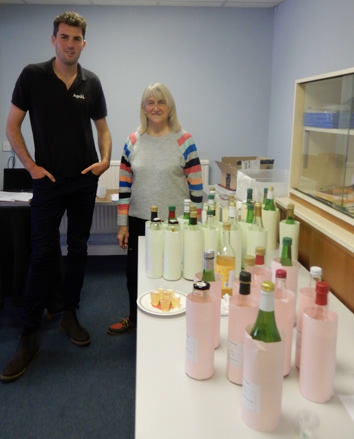 Judging the National Fruit Show juice competition is always interesting. Six judges split into two teams of three.
To manage the number of juices; each group tastes 50% of the entries, then the top scoring 3 is judged by all six judges who place their 3 samples into preferential order first, second and third and the highest scoring sample wins the class.
The results of the Apple juice competition will be announced at the Marden Fruit Show Society AGM at the end of March.
That is all for this week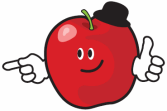 Take care
The English Apple Man