Journal
13th Mar 2020 - Extract from AHDB Tree Fruit Day + more news
The AHDB Tree fruit day held at NIAB/EMR on Thursday 27th February covered many subjects but fighting Bacterial Canker in Cherries in particular resonated with The English Apple Man.
The possibility of bacteriophages as a means of combatting canker is the latest area of research by NIAB/EMR scientists working on AHDB projects.
The British top fruit (Apples & Pears) season still has some months to go, but 'down under' New Season New Zealand apples are on their way"
Canker is the scourge of many fruiting trees; particularly apple, but this week The English Apple Man investigates Bacterial Canker in Cherries.
Sceptre Plus
SCEPTRE Plus is £1.4M four-year programme of work funded by the AHDB to research sustainable plant protection products for use in horticulture.
The aim is to deliver research on high-priority disease, pest and weed problems in fresh produce and ornamental crops in order to support approval of products and devise and develop IPM programmes.
AHDB Tree Fruit Day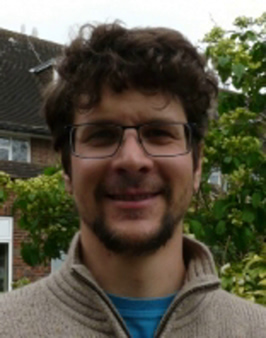 At the tree fruit, day research scientist Matevz Papp-Rupar - Science Project Leader Pest & Pathogen Ecology presented new research into the control bacterial canker of cherry.
The original SCEPTRE programme was set up by AHDB in October 2010. The original programme ran until March 2015.
SCEPTRE aimed to find new crop protection measures to fill gaps left for growers as a result of older products being withdrawn or restricted in use on minor crops.
More than 80 chemical products and 60 biopesticides were tested on fruit and vegetable crops in a series of trials to assess their efficacy on a range of pests, diseases and weeds.
Provide new biological and integrated control techniques - due to the high level of regulation for crop protection products in the UK/EU, the shift to safer crop protection products, including biopesticides, should minimise any possible negative environmental impacts of the older established products
For those products showing the most promise, AHDB has worked with the manufacturers and CRD to gain authorisations. Further work was also done to integrate the new products in the existing control programme.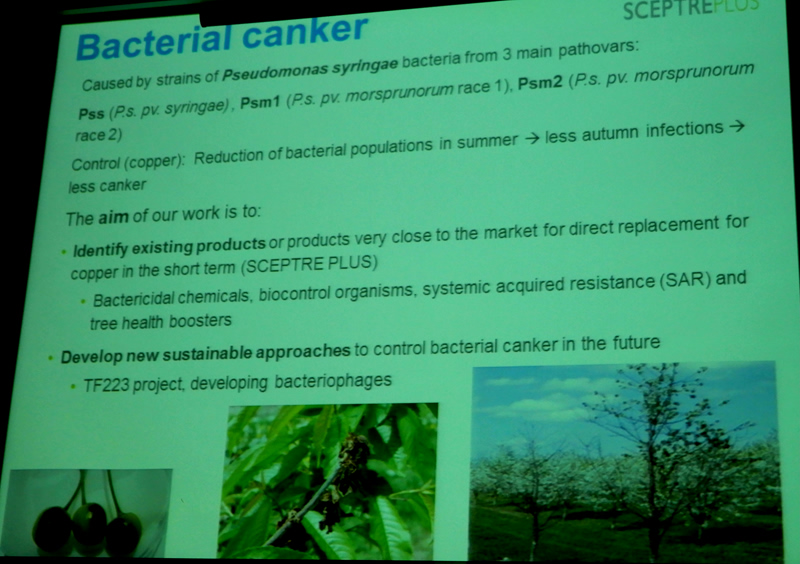 The aim is to replace Copper with - Bactericidal chemicals, biocontrol systems, systemic acquired resistance(SAR) and tree health boosters.
Develop new sustainable approaches to control bacterial canker in the future. TF223 Project, developing bacteriophages.
What are Bacteriophages? (Phages)
Natures way to control bacterial populations
Viruses that infect and kill bacteria only - very narrow host range: e.g. one or few bacterial strains.
Very abundant and present everywhere - 10 times more phages than all other organisms put together in the World.
Phages need to infect bacteria in order to survive - not able to survive outside the bacterial cell
Can be (very) stable in some environments outside bacterial cells
How phages work?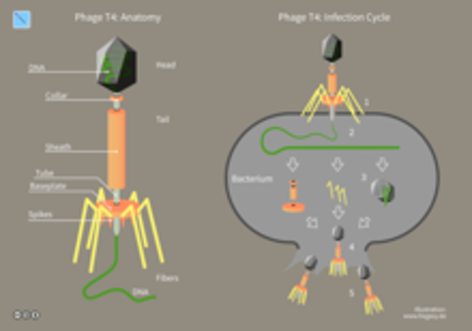 Strain-specific bacterial infection - bacterial lysis
Reducing unintended killing of beneficial bacteria and other organisms
Self-replicating in the presence of the host
Evolving and adapting to the host
No animal or plant toxicity
No toxic residues in the food chain
Phages occur naturally, we are exposed to them daily without harm
CONS:
Narrow host range new phages for new bacterial strains and species
Phage resistance can occur in bacteria
Can facilitate gene transfer between bacteria
Matevz Papp-Rupar summarises:
"Phages have been used in other crops, our aim is to prove the concept in using Phages in Cherry Canker disease management and facilitate product development".
At the BIFGA Technical Day in January, Dr Lucas Shuttleworth presented research into Apple canker with Endophytes and much of the research data is relevant to Cherries. Click on ENDOPHYTES
The AHDB Tree Fruit Day contained a great deal of science research - to view the programme. Click on AHDB Tree Fruit Day
Positive apple and pear export forecast - Friday, 06 March 2020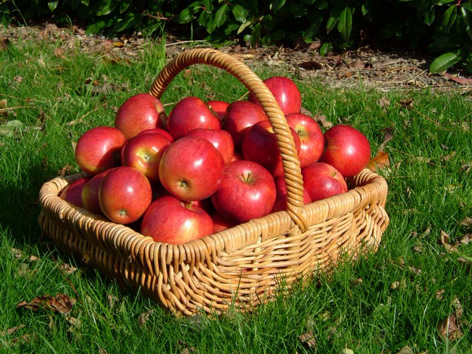 New Zealand's 2020 apple and pear crop forecast has revealed a healthy increase in both domestic and export volumes.
New Zealand's apple and pear crop for 2020 is predicted to reach 600,000 tonnes, a five per cent increase from 2019. Export volume is expected to be up three per cent on 2019 figures, with 22.7 million 18kg boxes destined for customers in more than 80 countries.
To put the forecasted crop of 600,000 tonnes in perspective, if the apples and pears were placed side by side, they would circle the equator six times.
New Zealand Apples and Pears chief executive Alan Pollard says notable in this year's forecast is the continued trend away from some of the more traditional varieties.
"We lead the world in the development of new varieties and in the past 12 months we have seen increased plantings of Pink Lady, Dazzle, Jazz and Rockit. ( all trade marked varieties)
The Braeburn export crop is expected to be 19 per cent down on last year and 30 per cent (approximately one million 18kg boxes) down from 2018."
Pollard says the positive forecast is pleasing, especially given the localised hail events experienced during the growing season.
"The spring weather in the main regions was very good and there is potential for larger fruit with great eating attributes. We have had a good blossom, a high fruit set and excellent early fruit colour development. All of this indicates a high-quality season for New Zealand apples and pears."
Apple plantings nationally have increased annually by between two per cent and four per cent for the past six seasons, with the majority of new plantings in the past 12 months occurring in Hawke's Bay (267 new hectares registered), and in Gisborne, up eight per cent to 295 hectares. Total registered plantings in New Zealand have now reached 10,396 hectares.
FINALLY
The week and (probably) for months ahead we are facing uncertain times; suddenly Brexit is 'small beer' as the Corinovirus threatens our well being.
Shops are seeing panic buying with toilet rolls seemingly the main target!
While we can still laugh, this picture widely circulated sums up the current situation.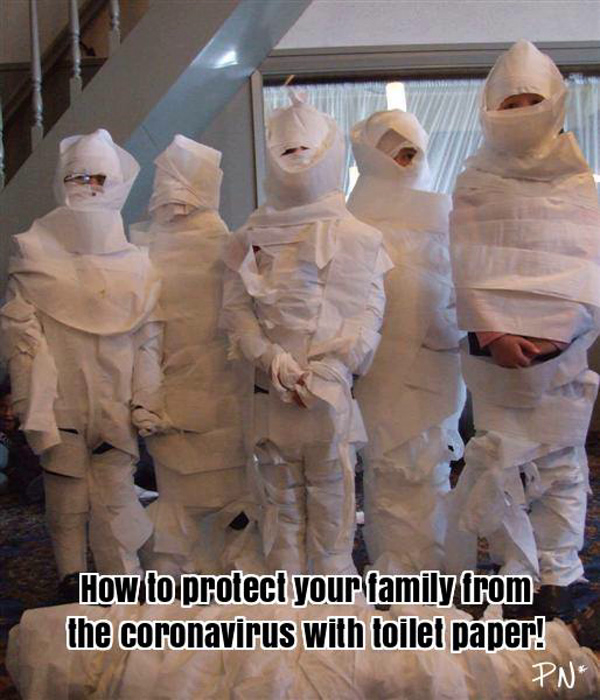 That is all for this week, in the meantime
TAKE CARE
The English Apple Man