Journal
24th Apr 2020 - Blossom has been early this year
The COVID-19 Pandemic dominates our lives and anything else seems trivial in the face of the challenge faced by us all and particularly for those families who have lost loved ones in the most tragic circumstances
In our orchards and gardens, the many species in blossom is of some comfort for those of us in lockdown.
Below: left; Cox apples in full bloom on 22nd April in Herefordshire and right; Bladon Pippin in the EAM's Garden today 24th April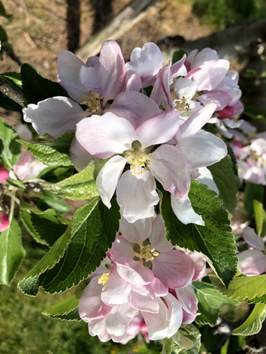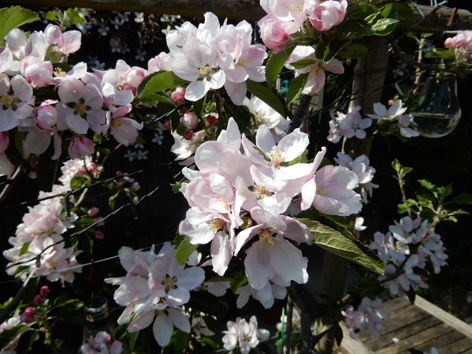 Over the last 50 years, the average blossom time has progressively come earlier and earlier. The blossom time varies from year to year, sometimes very early and sometimes not so early, but over time the average blossom time has advanced by circa 14 days.
Apple Blossom, depending on variety is either just approaching or at full bloom or just past full bloom.
Below: There have been comments from my Agronomist friends about some patchy levels of blossom and on my Bladon Pippin 'mini fruit wall' three of the five trees are full of bloom and two have very little. I probably allowed too much fruit on those trees last year and they are 'taking a rest'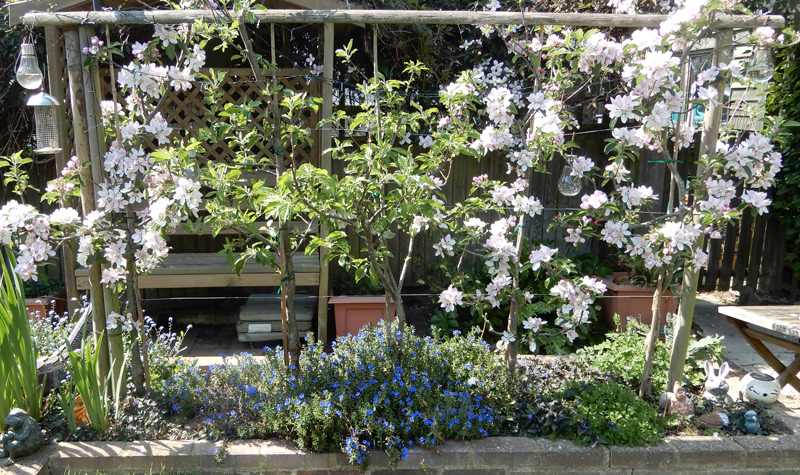 Below: left; Beehives have been busy and right; this bee was very busy this afternoon on my Bladon Pippin blossom and well laden with pollen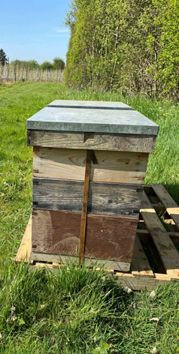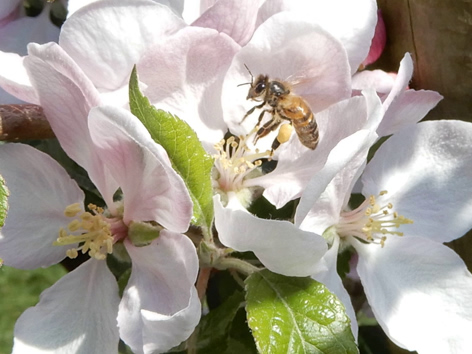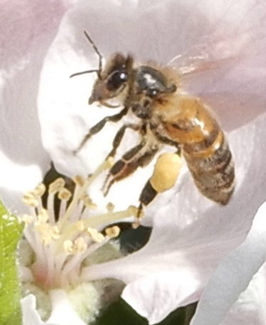 Below: left; Junami apple blossom in Herefordshire and a Junami apple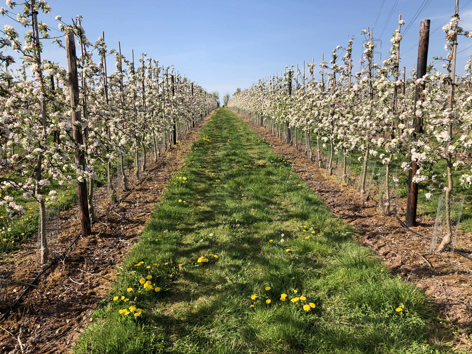 Below: Conference pear fruitlet's showing a very heavy fruit set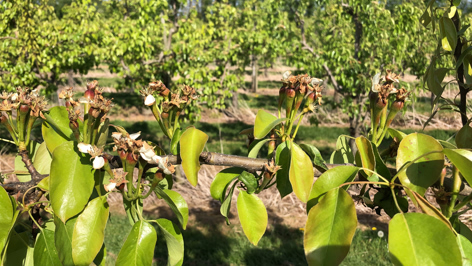 Pears are at the fruitlet stage and look to be well set. You are never sure with pears until they 'turn over' when they may naturally thin out (drop) or stay in sufficient numbers to produce a heavy crop. The weather has been near perfect so we 'may' be in for a heavy pear set.
Our history as a Cox producing country has taught us many things; namely don't count on anything, but the modern 'precocious varieties' like Gala and Braeburn tend to set a good, if not a heavy crop every year. This throws up the problem of thinning. When to thin, and how hard to thin?
Strategies for thinning involve the use of ATS (sulphur spray) to burn out blossom - this maybe catching the early flowers (king blooms that may produce misshapen fruit) and possibly another ATS later in the bloom period designed to remove the later flowers (which are mostly on young wood) and likely to produce smaller apples.
Thinning is a very important aspect of apple growing. The fruit size at harvest is critically important if the crop is to be profitable. Thinning by hand (done when the fruitlet's are from 12mm+) is very expensive and the use of ATS or a Darwin mechanical thinner to reduce hand thinning is very important. Failure to adequately thin can give rise to a cost of in the region £1000 per acre!!!!
The Darwin uses a flailing system to remove some of the flowers.
One of my Agronomist friends in Kent visited a grower who was in the process of thinning with the Darwin on Wednesday (22nd)
Below: left; the blossom before thinning and right; The Darwin in action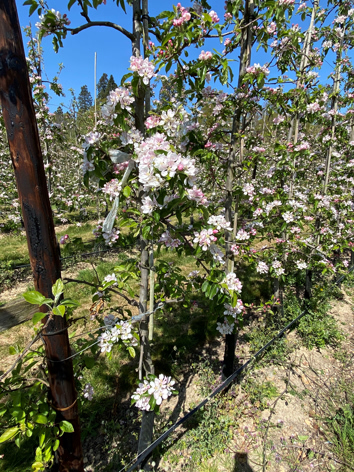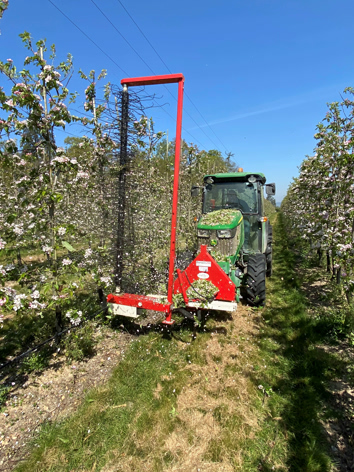 Below: left; Trees after the Darwin has reduced the level of blossom and right; Bluebells in Sussex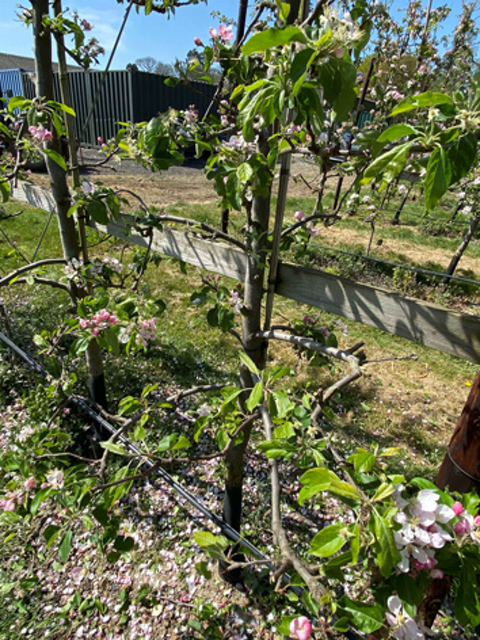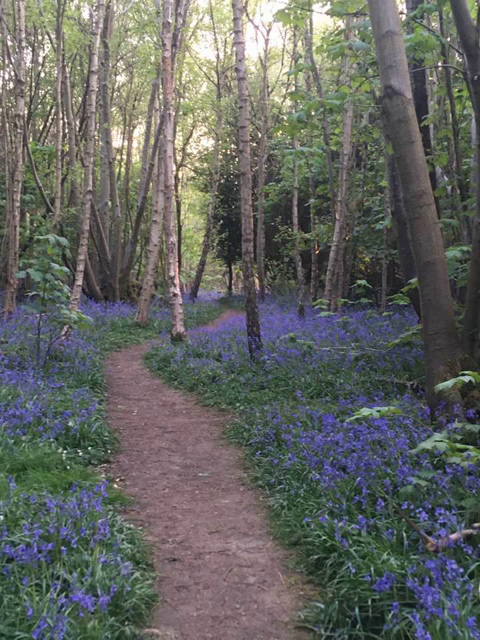 Click on DARWIN BLOSSOM THINNER IN ACTION
Time flies and exactly one year ago The English Apple Man joined fellow members of the Marden Fruit Show Society for the AGM. At the event, my good friend and mentor Roger Worraker was presented with The MFSS President's Award on what was his 90th Birthday - 'one year on' it is Roger's 91st Birthday and it seemed appropriate to re-publish my People Profile tribute first published in April 2019.
Click on ROGER WORRAKER - PEOPLE PROFILES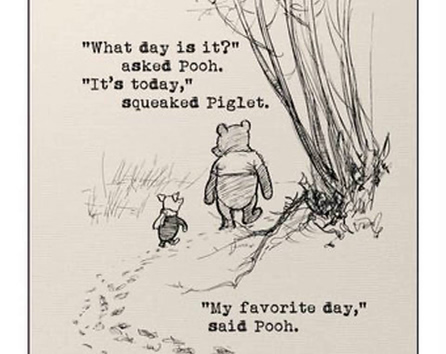 That is all for this week - let us pray next week will bring improvements in the challenge facing our World
Take care
The English Apple Man