Journal
12th Jun 2020 - Remembering a fellow fruit grower and a friend
From time to time we all lose friends, an increasingly familiar event for those of us in our dotage.
Last week we lost Clive Edmed who has been growing fruit and hops for many years at Hayle Farm, Horsmonden.
Hayle Farm is situated in a tranquil valley in the Weald of Kent between the small village of Horsmonden and the Sussex border. The area is known as "The Garden of England" and is designated an "Area of Outstanding Natural Beauty"
Clive Edmed has farmed here for over 39 years and in the last 25 years has been joined by his son, Richard, making at least 5 generations of hop growers.
Hops at Hayle Farm in The Garden of England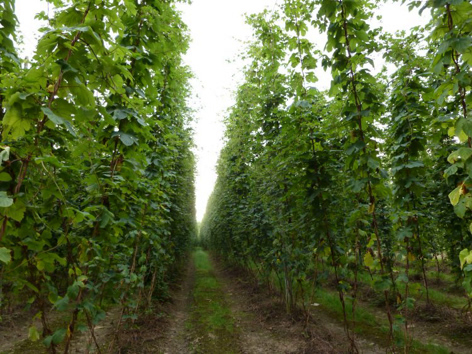 Hops have been grown here since the 1590's when the Flemish Wool Weavers settled around Goudhurst and brought their hop varieties with them. In 1861, the variety 'Fuggles' was discovered in Horsmonden and first propagated in Brenchley, the next village to Horsmonden.
Clive was a friend to so many in the fruit and hop growing industry, he was also a great character and a very good grower. At this time when family are coming to terms with the loss of a loved one, memories of happier times bring some solace.
I met Clive 'properly' around 20 years ago, and, surprise, surprise, it was in a bar in Poland when we were with Essex & Suffolk Fruit Growers Society on one of their annual excursions abroad.
Having arrived separately and booked in at our Hotel, the first venue on the agenda is the Bar!
My first recollection was of this noisy group already well established and supping the local ale!
Clive and his 'better half' Mary Watson, their close friends Andrew and Alayne Burr, were the noisy group and once we had the first pint (probably a litre actually) in hand, soon became great friends as we progressed beyond beer onto more exotic drinks: 'Black Russian - White Russian' - oh and dinner!
The Black Russian cocktail's sweet and simple. There's not much to the drink, just a 2:1 ratio of vodka to coffee liqueur - draped over a bed of fresh ice.
The story of the White Russian begins with the creation of the Black Russian in the late 1940s. The Black Russian was created by a bartender named Gustave Tops, at the Hotel Metropole in Brussels, Belgium. The cocktail was made in honor of the U.S. ambassador to Luxembourg, Perle Mesta.
The White Russian cocktail was created later in the century, the 1960s. It's not clearly evident who decided to add the heavy cream. But luckily for us someone did!
Below: left; Black Russian and right; White Russian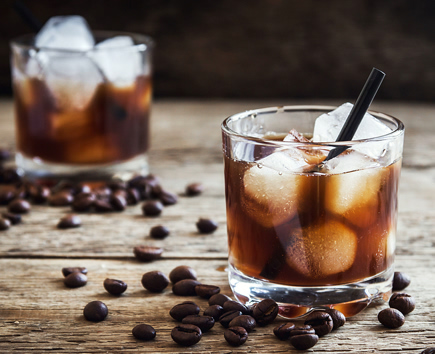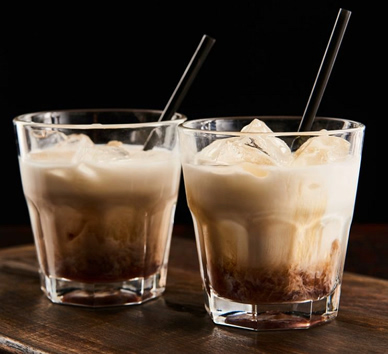 I mentioned earlier that my first encounter with Clive was the visit to Poland, but thinking back to the 1980's when I was part of a 'local nomadic' cricket team known as The International Wednesdays who had no ground but played on a Wednesday evening against local teams (closely associated with a pub) and one of our regular fixtures was at East Sutton's ground handily opposite the Shant Inn. If my memory serves me right Clive turned up on at least one occasion and let loose those powerful shoulders with a few sixes.
Memories from Andrew Burr who has been friends with Clive since they attended Hadlow College in their youth.
Andrew sent me this photo of Clive taken on one of their many social excursions, this one with a small group of friends to The Caledonian Brewer - "He was on top form that weekend and we had a great day at the Caledonian brewery and then a great evening...as you can imagine.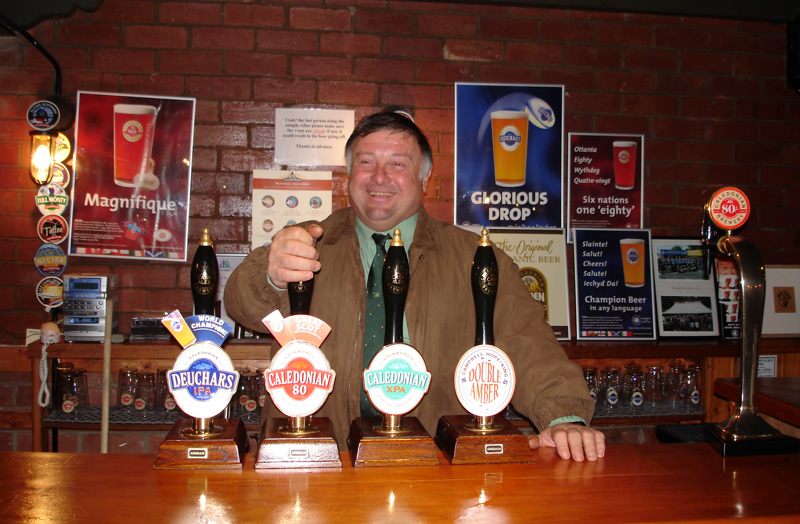 Lorimer & Clark's Caledonian Brewery opened in 1869 on Slateford Road where it brews to this day. Proof, if ever it was needed, that adventure begins with a pint. Scotland produced more than its fair share of barley, brewers didn't have to go far for their malt. With such exquisite resources on their doorstep Edinburgh drinkers had 41 city brewers to choose from!
Andrew continues: "The only thing that I can recall that did not include beer (sorry Andrew, it always involves beer) was a few years ago when Clive was chuffed to bits when his Transit van passed its MOT - this was the orchard transport for the pickers and was not in its first flush of youth. To celebrate he thought that we should go to Germany for a few beers and to put the van through its paces.
"There were nine of us plus luggage - you know how the ladies like luggage - anyhow we set off for a town in Germany. The inspiration for going there was that the tug of war team that Clive used to anchor for pulled (competed) there a few years previously.
I can't remember the outcome of the pulling competition but the team ended up in this very accommodating hotel.
Needless to say we did all the usual things..drinking superb German beer and doing touristy things.
On the way home we saw a police car going the other way...a few minutes later Clive said..'The law are behind us' we have got to pull over.
We were made to show our passports...We think that the police thought that we were a van load of immigrants and they got a bit of a shock when they saw the British passports. They saw the funny side and sent us on our way with a smile!
Those in the fruit industry will each have their own memories of this real character...I will miss him...Take care...Andrew
Clive was a great support to BIFGA Chairman John Breach holding the position of BIFGA Vice-Chairman for over 18 years.
Below: from left; Clive Edmed (Vice Chairman) - John Breach (Chairman) Judi Perry (Hon Secretary) David Budd (Treasurer)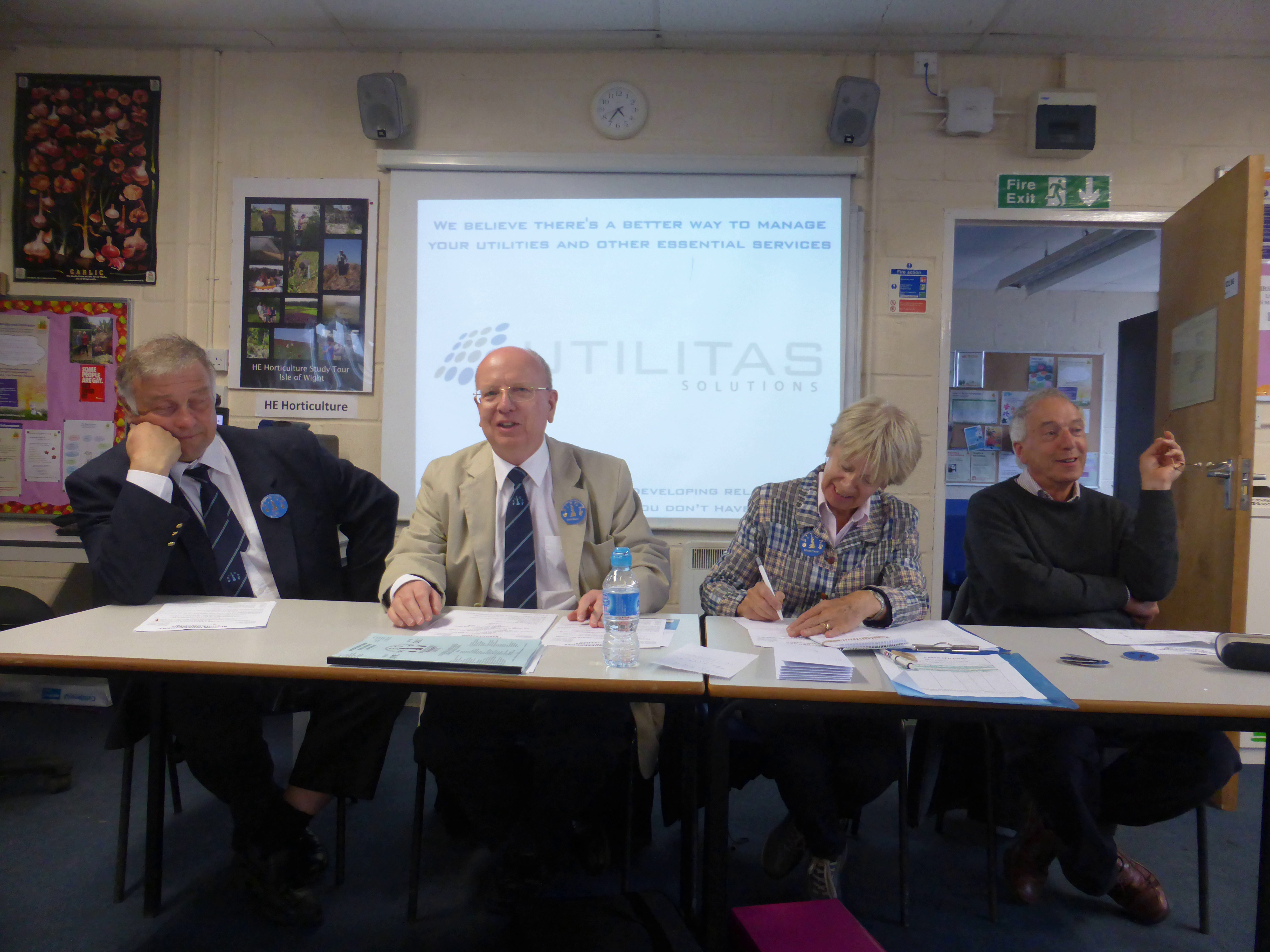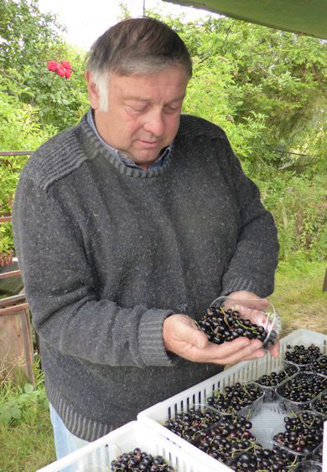 While Clive was a great character and a good friend to many, he was also a very good grower. Top Fruit, Hops and Blackcurrants among the crops he grew.
In 2014 I visited Clive at Hayle Farm during Blackcurrant picking, which was not a machine harvest job for Ribena which so many blackcurrant growers have nailed their flag to.
Clive was one of probably only two Blackcurrant growers producing for the fresh market.
Click on: BLACKCURRANT PICKING AT HORSMONDEN
The Journal covered Kent Show and my visit to Clive at Hayle Farm. so readers will need to scroll down to the bottom half of the article for the Blackcurrant picking element.
60th Birthday Party
Clive and Mary knew how to organise a party and for his 60th we and many friends were invited to a party at Hayle Farm. Wonderfully simple but great fun. Burgers and Hot dogs, drinks at 50p a shot, and a brilliant disco with an Elvis 'look alike' set on a large farm trailer at the back of a large barn.
I remember Elvis persuaded party members to have a go at Karaoke!
Well my dear wife, knowing I spent my youth 'styled as Elvis' put my name down for a slot!
Very nervous, but great fun as I sang 'The Wonder of You'
A thoroughly brilliant evening.
Clive Edmed had many talents: As the Anchor in his Tug of War team he excelled and a multiple winner with his team in the annual BIFGA Quiz.
Below: Clive receives the BIFGA Quiz Trophy from John Breach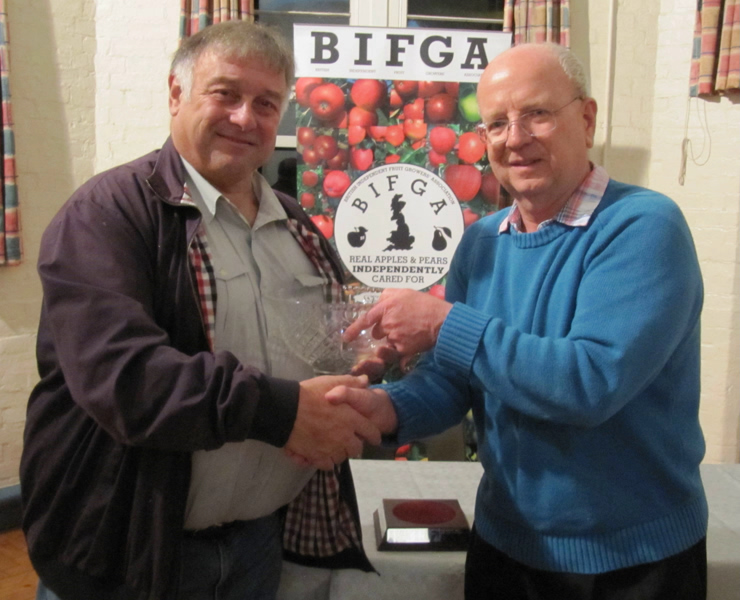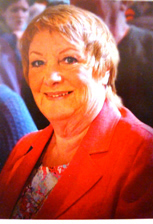 Reflecting back to my visit to Poland and the moment I met Clive and Mary Watson, there were many occasions revolving around farm visits and social events when, with my wife we would find ourselves in the company of Clive and Mary and Andrew & Alayne Burr as we enjoyed the good natured humour and 'the occasional glass' of ale!
Sadly Mary passed away in 2015 and I reflect on a memory from her funeral in October 2015:
"To lose a dear friend is always painful, but on a day blessed with early Autumn sunshine, Mary was remembered lovingly by family and friends in a service conducted with great empathy by the Reverend Sue Fauchon-Jones.
Mary's daughter-in-Law Wendy Watson delivered a moving tribute to Mary and recounted how Mary and Clive first met, fell in love and became a partnership in love and business. Mary was an absolute 'right hand' to Clive and integral to their success in fruit growing".
Mary lived life to the full; Mary worked hard, played hard and was loved by all who had the great privilege to know her....and this is how I remember Clive and Mary - a true partnership.
Sadly an era passes and we all extend our condolences to Richard and his sister as a new era beckons!
These words are primarily my memories of Clive, but a more comprehensive 'memories of his life' by friends who had known him for many more years will be published in the next issues of 'South East Farmer' and the 'Fruit Grower' magazines.
That is all for this week
Take care
The English Apple Man