Journal
3rd Jul 2020 - It's July so what's going on in our orchards?
This summers has delivered a mix of hot dry periods and some rainfall. Some of the rainfall has been accompanied by hail which has caused serious damage on some farms/areas. Although blossom time was generally dry and sunny, there were occasional frosts in some areas.
This week The English Apple Man attempts to update the state of our home grown orchards with the help of his friendly agronomists.
My Agronomist friend in West Midlands reports:
"The British weather continues to throw challenges at the apple growers of the West Midlands. Hot weather last week brought thundery showers, some of which delivered hail which has caused localised damage on a few farms.
The worst case I have heard is 70% of a farm hailed. Many have hail insurance but they would rather be picking the crop for their usual customers than sending them for juice.
The heat has also 'sun scorched' the usual varieties such as Discovery and Bramley but has also caught some Gala (see the picture below).
Warmer summers also seems to be resulting in Two Spotted Spider Mite becoming a more frequent pest in apples (second picture). Very familiar to strawberry and hop growers and since growing under plastic, cherry growers too, this pest is appearing in orchards as well as the usual Fruit Tree Red Spider Mite.
Below: left; Gala suffering from sun scorch and right; Two Spotted Mite on an apple leaf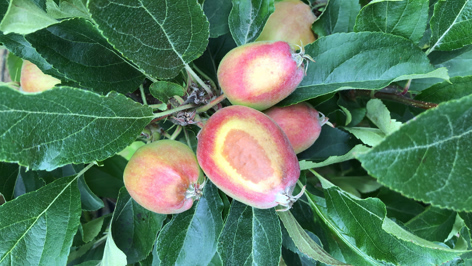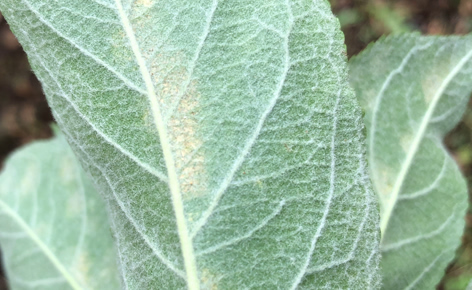 Below: left; Two Spotted Spider Mites and right; Red Spider Mite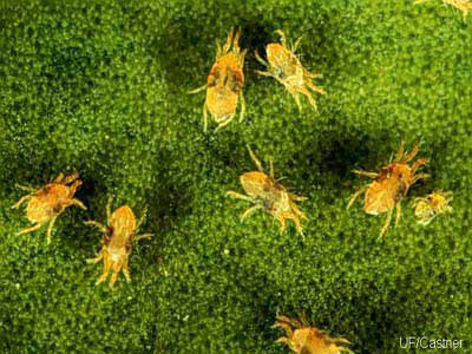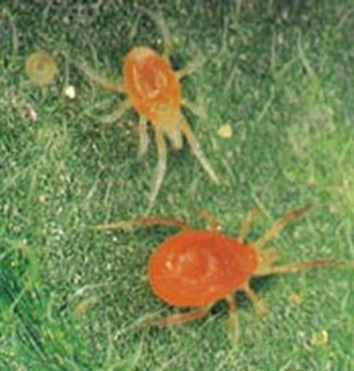 "Fruit size is very good (Cox apple pictured) although if they get too big they will have to be sold loose rather than in a flow wrap pack, and growers get less money for loose apples. Some hand thinning is being done, especially where there are large clusters of apples In Cox (last picture).
It is an early season, with Herman plums having been picked at the end of June (second to last picture) which I can't remember happening for a very long time. Discovery apples will probably start picking a month from now, possibly sooner on early sites.
Overall, growers feel it is a promising crop but we continue to need more rain to make up for that which we didn't have in April and May. June rainfall was about 150% of the average which has helped".
Below: left; Good sized Cox apples and right; a bunch of Cox in serious need of thinning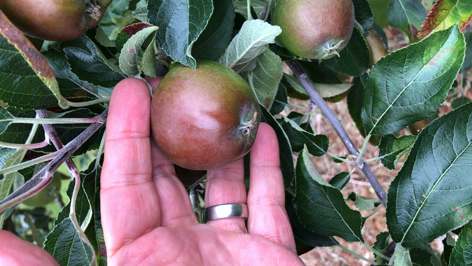 Below: left; Herman Plum Orchard at picking time and right; Herman Plums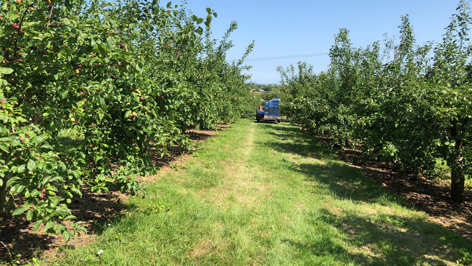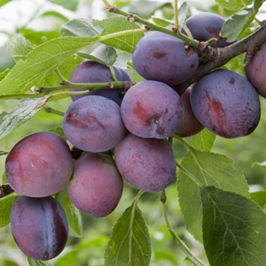 Dealing with pests by maximising the use of natural predators is integral to Integrated Pest Management (IPM) fruit growing. The English Apple Man features an innovative predatory shelter introduced by AGROVISTA
Encourage beneficial insects to establish and flourish in fruit trees with a new bioactive refuge system for UK orchards, exclusive to Agrovista.
Wignest is a predator shelter for beneficial insects such as earwigs, spiders, ladybirds and lacewings. It works by providing food and a sanctuary for beneficials in the tree canopy, to support natural pest control.
Alex Radu, Technical Manager for Agrovista Fruit, said: "Earwigs and other beneficial predators feed on a wide range of important pest species in orchards including aphids, codling moth, spider mites, scale insects, midges and suckers.
Below: left; Wignest and right; a friendly Ear Wig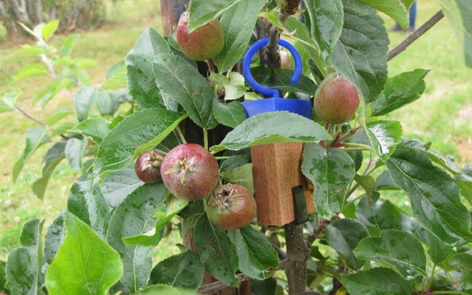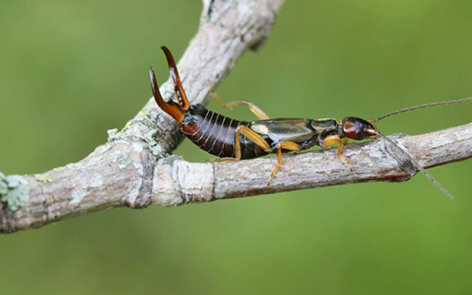 "The refuges are loaded with a vital food source, important for when there are insufficient insects to feed on at certain points during the season. They also provide a convenient shelter within the tree.
"If we can encourage populations of beneficials each year, this will have a natural control-effect on pests, allowing us to streamline insecticide treatments and target more effectively."
To install the full system, one Wignest should be placed on each tree within an orchard on a branch against the trunk. They can also be used for young trees on a post and wire system.
Due to earwigs producing only one generation per year, the Wignest system could play a vital role in boosting populations, proving a valuable tool in the Integrated Pest Management (IPM) toolbox.
Mr Radu added: "Although Wignest isn't just for earwigs, we focus on this helpful insect because they feed on such a range of pests. In recent years, they haven't established successfully in some orchards due to poor habitat, reduced food availability and the impact of certain farming practices.
"Wignest is a simple solution for both organic and conventional orchard systems that allows us to address the issues of establishment and success of orchard beneficials."
Wignest is manufactured by Russell IPM Ltd and distributed exclusively by Agrovista. An Innovate UK project, it was developed by consortium partners Russell IPM Ltd., NIAB EMR, University of Greenwich, Worldwide Fruit, Fruition and Agrovista.
For more information on Wignest, contact enquiries@agrovista.co.uk or view the brochure here. AGROVISTA WIGNEST
The English Apple Man Comments on British Apple and Pear prospects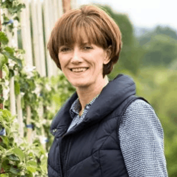 Quoting British Apples & Pears Chair Ali Capper (with thanks to The Fruit Grower)
Ali summarises the current position: "Although it is a bit early to make accurate forecasts the prognosis is of a testing time!
Ali said although 'Spring 2020' produced a record 600 hours of sunshine making it the sunniest spring ever, we have had late frosts in mid May and hailstorms in the South East, some serious, which will reduce final crop load.
Let's hope we can look forward to a long, warm summer with plenty of rainfall and good weather for our top fruit harvest"
Talking to grower friends, apart from frost/hail influences, the 'natural thinning' has been quite significant.
The English Apple Man anticipates a decent, but not heavy crop for 2020 - assuming no more hail?
That is all for this week
Next week, The English Apple Man will look at how the home grown soft fruit season is going - particularly whether no Wimbledon this year has had an adverse effect on consumer consumption.
Take care
The English Apple Man