Journal
17th Jul 2020 - Beautiful Blueberries
This week The English Apple Man joined fellow members of East Kent Fruit Society for a ZOOM visit to WB Chambers and a SOFT FRUIT VIRTUAL VISIT AT BELKS FARM, OTHAM.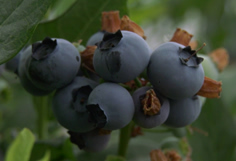 Tim Chambers is the third generation of a family business that started in 1952 and has been head of an ever expanding fruit business since 1990. Under Tim's leadership, WB Chambers has become a large supplier of Raspberries, Blackberries, Strawberries, Blueberries and Cherries to leading UK Supermarkets.
In 2019 WB Chambers opened a state of the art prepared fruit packing unit called the Fruitery a £2,000,000
investment.
Chambers grow an extensive range of berries, currants and stone fruit and is especially recognized as market leaders in the year-round supply of quality raspberries and blackberries. The company is also a leading player in the supply of blackcurrants, redcurrants, cherries, gooseberries, strawberries, blueberries and rhubarb.
Click on WB Chambers for an in depth look at their business.
On Tuesday we were treated to a 'virtual tour' of Belks Farm at Otham. Tim Chambers had organised a video of himself and Production Director Salih Hodzhov demonstrating the management practices of 'large scale' blueberry production. Following the video, Tim and Salih held a 'question and answer 'session organised by Chris Rose.
Below: Tim Chambers in a three year old Last Call blueberry tunnel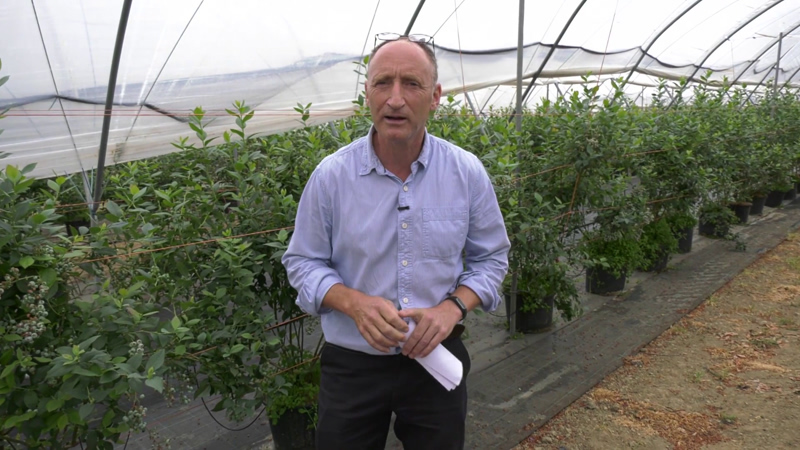 The video tour took us first to a tunnel with 3 year old Last Call blueberries. Tim explained they grow 5 varieties, Duke, Liberty, Aurora, Blue Crop and Last Call.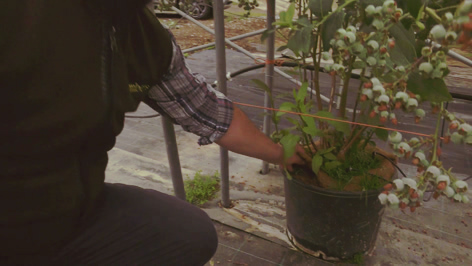 The Last Call arrived in 1.8 litre pots and "we transferred them into 30 litre pots" - We use a coir, perlite and compost mix and weeds can be a problem.
"We added a coir matt around each bush with the idea (we were told) of suppressing the weeds and keeping the water moisture balanced. Controlling the weeds did not work, but maintain even moisture did.
We have weeded through once and we will have to carry out a second weeding session. Weeding is a big issue for Blueberry growing!
2,666 plants per hectare, circa 4kg per plant 11-12 tonne per hectare. "We budget on 12 tonne ha and picking is 3 picks; 60-70% 1st pick, then 2nd pick a week or so later and finally a clear up pick. Picking cost £1 per kg but this is only possible because we have sorting machine and grader helping to keep costs down.
Harvesting the Last Call in late August through September and into October (hopefully)
Below: Salih demonstrates breaking the young shoots (easier than pruning) which will encourage more young wood capable of cropping next year.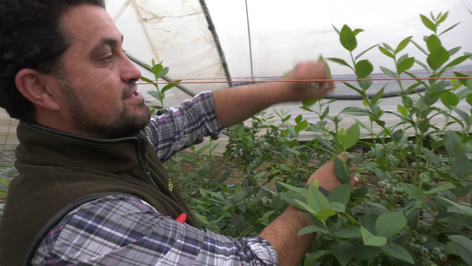 Blueberries yield best on 2 and 3 year old wood, so it is important to remove older cropping wood and replenish with new shoots. Salih demonstrated a version of summer pruning, breaking back young shoots encouraging new side shoots creating cropping wood for future years.
Reflecting back to the early days of Chambers growing blueberries, Salih tells the story of their first 8,000 plants all placed outside in an unprotected environment, ruefully he reported half (4,000) died. Initially they blamed the nursery, but no redress received. In the open young blueberry plants do NOT like the wind and rain. Now the new plantations are housed under tunnels from day one!
Answering a question at QA time later, Tim said the last large investment of 8,000 plants has not had a single dead plant. This is put down to 'cosseting' the young plants and ensuring the young plants come from a good nursery.
DUKE the first variety picked at Belks Farm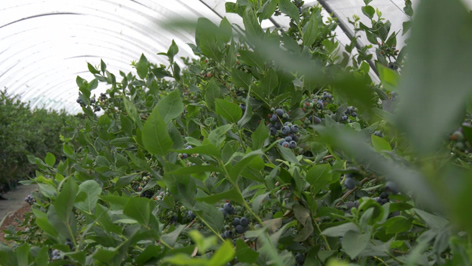 The next visit was to a tunnel with 16 year old Duke blueberries. The bushes had been bought from a grower in Hampshire and entailed transporting 8,000 pots over a 3 week period and 70 articulated lorry loads from Hampshire back to mid Kent!
Tim discussed pruning, emphasising the renewal of cropping wood. He said as long as the blueberry bushes are continuously re-invigorated maximising 2 & 3 year old cropping wood, he saw no reason why a blueberry bush could not crop productively for 15, 20 or even 25 years.
Salih told me the 16 year old DUKE are planted at 3.6m between the rows and 1m apart in the row. Around 2,666 pots per hectare. Projected crop is 6kg per plant this year - last year it was 8kg.
Below: Tim and Salih and right; with a tray of DUKE (as picked) which Tim estimated 90% + would make the Supermarket grade.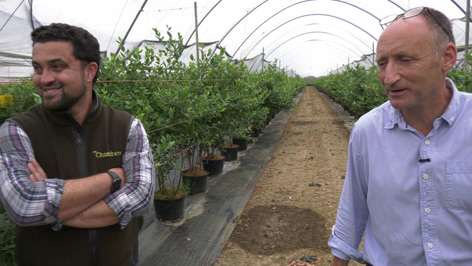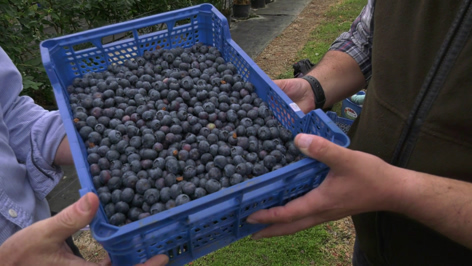 Below: left; the base of the 16 year old blueberry bush and right; Tim demonstrates how old wood can be removed and new shoots can take their place.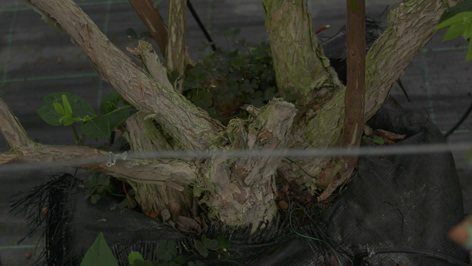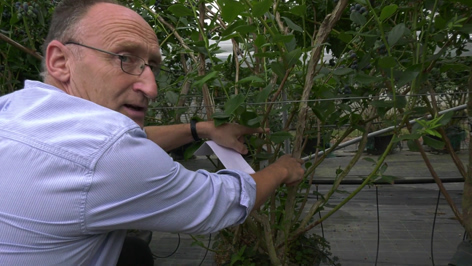 Salih also explained how they maintain hygiene in the tunnels. Naturally some fruit drops to the ground and settles on the plastic mulch. After picking they go through and sweep up all debris; leaves, green berries and berries which will go mouldy attracting pests and disease.
Below: left; Salih sweeping waste fruit and leaf debris maintaining good hygiene practice and right; debris collected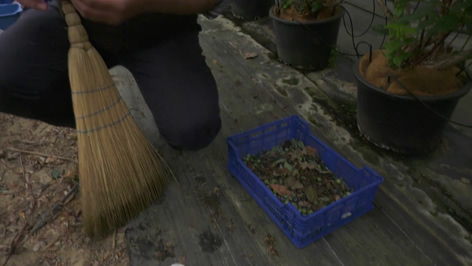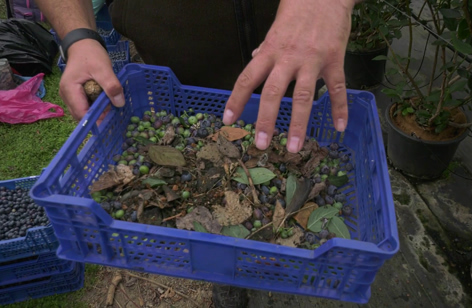 Irrigation
Tim emphasised blueberries are naturally very fine and shallow rooted in the wild and they like a slightly acid soil, so we irrigate and keep the ph at around 5. We put 4 drippers into each pot to ensure an even spread of moisture across the pot, encouraging the roots to fully exploit the space. On an overcast day (like today) we might only irrigate twice, applying no more than half a litre per pot in total.
Below: Blueberry pots and irrigation lines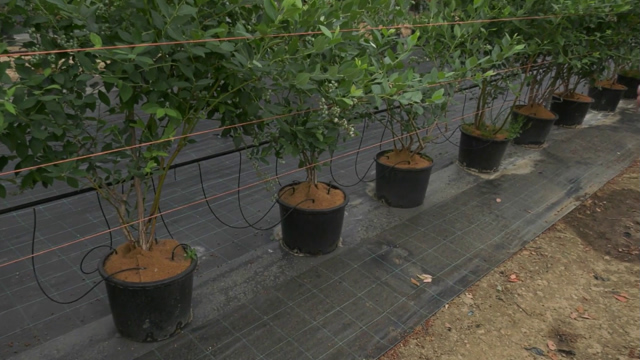 Below: DUKE - Beautiful Blueberries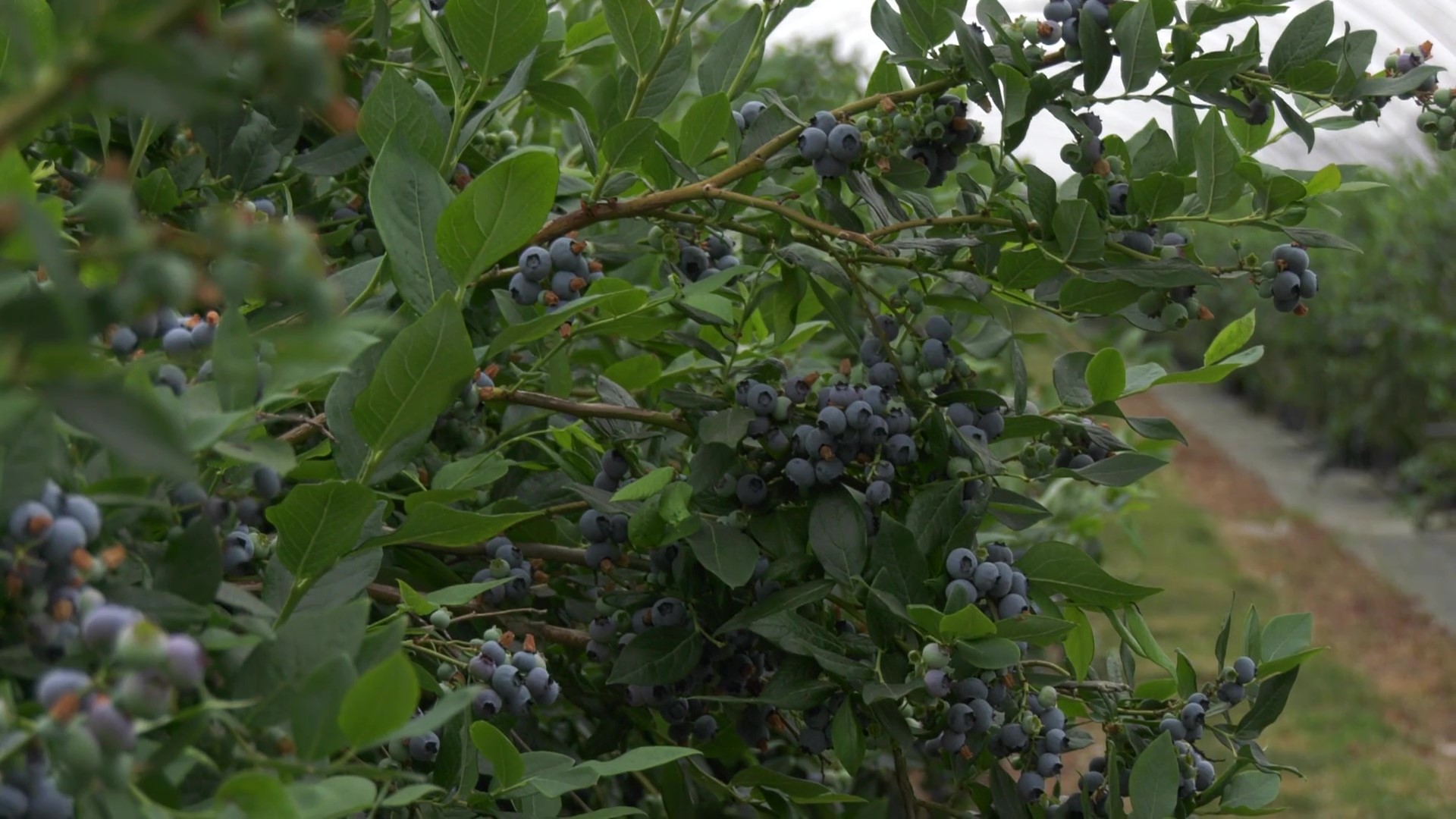 While it's always good to visit 'in person' this Virtual visit to WB Chambers at Belks Farm was a great success. Tim and Salih showcased their very impressive Blueberry operation, with humour and clear explanation of the key elements of blueberry growing.
After the video we had the opportunity to question them and again, with great humour and clarity they entertained us!
One particular question: "Why did you decide to grow blueberries when they can be grown in much more sympathetic climates?
Tim: "We started growing blueberries at the request of our customer base!
"Although they can be grown on an industrial scale in many countries, there will always be vagaries of weather/climate/labour and other supply issues. We have not regretted creating our blueberry business and they fit well into the overall supply.
Another: "Do you need to re-pot using larger pots during the plants lifetime?
Tim: "No because the 30 litre pot we use is still in use with 16 year old plants, adequate for the life of the bush.
Q: "Although you have shown a bush can be kept for 15-20 years, will new varieties mean more replacing more often? AND how long does a bush need to be in production to justify it's investment?
Tim: "Breeders are constantly producing new varieties (of all soft fruit) and we then come under pressure from the retail sector to try new varieties - 5 years is necessary to justify the investment of a new plant/pot/growing medium!
That is all for this week....
Take care
The English Apple Man