Journal
14th Aug 2020 - Award winning orchard - award winning farm!
The annual East Kent Fruit Society (EKFS) orchard competition normally celebrates with a walk around the winning orchard. With COVID-19 still causing havoc, like so many annual events, the 2020 orchard walk has been cancelled and replaced with a 'Virtual Orchard Walk'
The Chair and EKFS organising committee announced this year's event.
"The winner of the Top Fruit Orchard Competition this year is A C Hulme and Sons with a Braeburn orchard at Brook Farm.
The orchard that came second overall is a Pear orchard, also at Brook Farm and it will be interesting to see the two as part of the virtual walk.
There will be a virtual walk of the winning top fruit orchard on Zoom from 5.30 pm".
VIRTUAL WALK OF THE WINNING ORCHARD AT BROOK FARM, WINGHAM ON TUESDAY 11 AUGUST 2020 AT 5.30 PM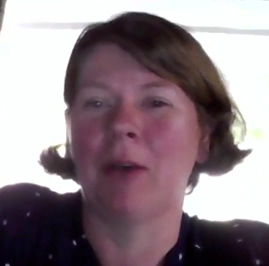 EKFS Chair Caroline Ashdown introduced the programme
"There will be a video of the farm and Tom Hulme and Paul Hamlyn will be on the zoom to answer questions.
AC Hulme & Sons is a grower packer family run mixed farm which has been operating in East Kent since 1946; the company farms approximately 4,000 acres, supplying some of the UK's foremost retailers as well as local markets, farm shops and other outlets.
The Farms operate from three principle locations in Canterbury (Merton Farm), Hoaden (Hoaden Court) and Wingham (Brook Farm) and grow and pack diverse range of produce, including: fruit (apples, pears, cherries, apricots and plums); hops; arable; potatoes; and livestock (single suckle beef cattle) with a haulage business serving both the Farms and other local businesses across the South East.
Outfield sponsored the video of the farm.
Below: Jim McDougal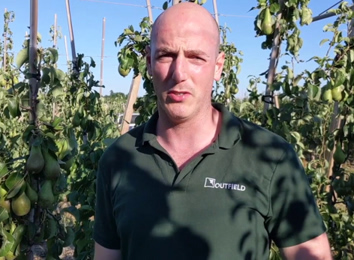 Jim McDougall and Oli Hilbourne from Outfield were present and Jim set out the scope of their business.
"Outfield is a precision orchard management system. Set up to supply growers with inexpensive off-the-shelf drone systems to provide accurate, fast, and affordable surveys of orchard fruit and land.
Outputs of fruit loading maps, fruit counts and fruit sizing (currently in beta) can be integrated with existing farm management systems. By providing key insights on orchard performance, they help growers be more efficient, more profitable, and more environmentally friendly.
The Outfield system is currently being used in the UK, New Zealand and South Africa and is available for the 2020 season".
Caroline Ashdown announced, "there will be a Gala Club update by Mark Tulley and Nigel Jenner after the Video and Q&A session.
The English Apple Man will report on the Gala Club presentation in next week's (21st August) Journal.
Below: left; Tom Hulme and right; Production Manager Paul Hamlyn in the Conference Pear Orchard which was second overall in the Best Orchard Competition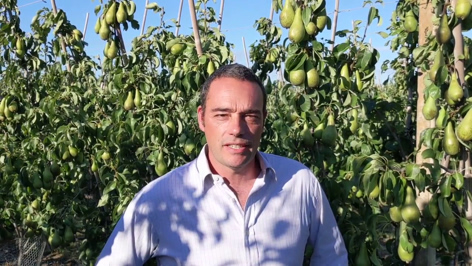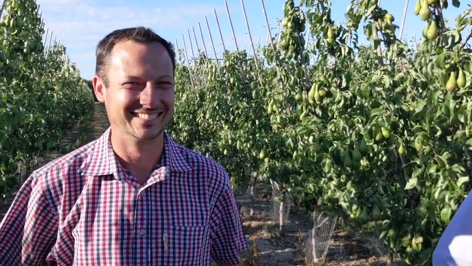 Below: An aerial view of award winning orchards at Brook Farm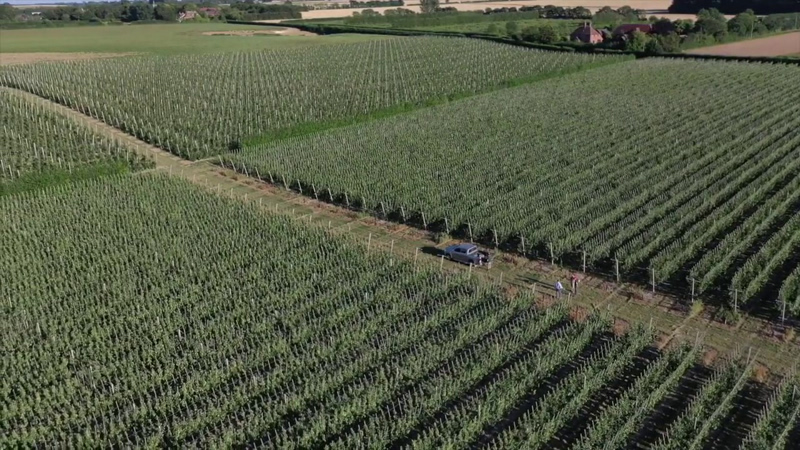 At this point readers should view the 'excellent video' and afterwards read The English Apple Man's comments
Click on: BROOK FARM Video for a panoramic & ground level view of the AC Hulme business and Tom Hulme describing the winning Braeburn & Conference Pear orchards.
The English Apple Man highlights the incredible precision at the heart of the management system at AC Hulme. In the last decade Tom has driven the fruit growing side of the family business onto another level.
Grove Pears 1. The Conference pear is planted on Quince Eline which produces a cleaner (freedom from russet) pear and growing on a Vee 4 (4 leaders) system, the 6 hectare block is estimated to produce a 50 tonnes per hecare yield in 2020 at just 3 years
Grove Braeburn planted in May 2018 produced 26 tonnes per hectare in it's second year (2019) and is estimated at 50 tonnes per hectare this year in year 3.
Altogether, AC Hulme grow 150 hectares of fruit (360 acres) which includes Cherries, Plums and Apricots.
The Cherry enterprise consists of 14 hectares, which produces circa 200 - 225 tonnes per annum.
The new packhouse completes a programme of investment which puts the AC Hulme business in a very strong position in what is; 'a highly competitive' fruit industry.
There is so much more that could be discussed, but I will expand on related industry issues and Gala Club news in next week's Journal!
OH! and bye the way, today 14th August is the 11th Anniversary of the first English Apple Man Journal in 2009
Journal 001 - August 2009 Journal
Take care
The English Apple Man