Journal
4th Sep 2020 - Have you got an orchard in your garden?
As the commercial apple harvest gets seriously under way, The English Apple Man looks at growing your own.
It may not be possible to compete with the commercial grower on price and availability, but the joy of picking from your own tree and eating your own apples is unbeatable!
Although my world is very much centred on the commercial world of apple and pear production, I am always delighted to find enthusiastic gardeners who have an orchard, perhaps only 2-3 trees, but still able to pick an apple or pear off a tree in 'prime condition'
What a joy to taste a fresh picked fruit, crisp, juicy and full of flavour!
The English Apple Man receives on a regular basis enquiries from reader, some ask if I can identify a variety in the garden of a house they have just moved into, others ask where they can buy specific trees, while others may have a problem with a tree in their garden.
I have recently been 'conversing' with gardeners who have approached me with a question about a particular variety, or problem!
One reader approached me about a problem tree which was growing strongly, but producing no fruit, (apart from in it's first year) in fact not even any blossom. The variety 'Bloody Ploughman' is an old variety with a colourful history.
The story goes that this apple arose from a pip on the grave of a ploughman shot by the gamekeeper of Megginch Estate, after he was caught in the act of stealing apples. His wife got the bag of apples, but she threw them into the rubbish heap and one of the seedlings that appeared was rescued by another workman and subsequently named. It was first recorded in 1883.
Bloody Ploughman is available from The Frank P Matthews Nursery at Tenbury Wells in Worcestershire.
The Bloody Ploughman tree was part of an orchard planted in the grounds of a country home belonging to 'Vyvienne and her husband tucked away in the Kent countryside.
Below: A view of part of Vyvienne's orchard, with the trees on the left in the distance Red Devil.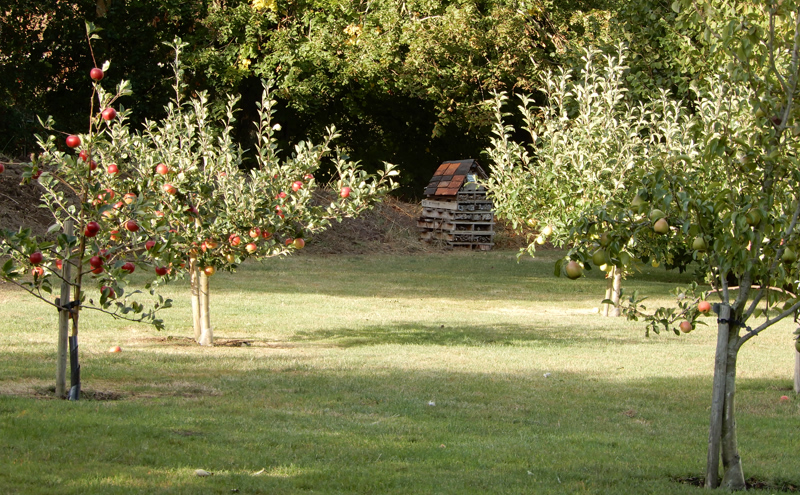 The orchard planted 6 years ago, has about 70 trees in total of apples, pears, plums and crab apples.
Below: The problem Bloody Ploughman tree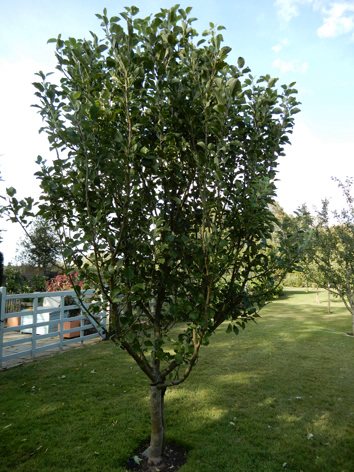 The Bloody Ploughman tree was planted five years ago as a 3 year old tree. It had a few apples in the first year, but has failed to crop while growing vigorously ever since1
My observation of the Bloody Ploughman indicates the problem is 'Scion rooting' caused by planting too deep: this occurs as the Scion (variety) sets down roots 'by passing the rootstock' which controls the vegetative growth, leading to a rampant tree.
Below: Union between rootstock and Scion 4-6 inches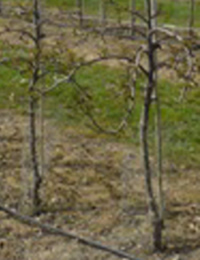 It is important when planting a new tree that the 'union' between rootstock and scion (variety) is clear of the soil. Commercial growers usually set the union 4 - 6 inches above soil level.
My advice dig it up and start again!
We spent an hour or more exploring the various trees and I was able to pass on various tips to Vyvienne and her gardener David, promising to return in the Autumn and advise on the pruning.
Below: Rosette the red fleshed apple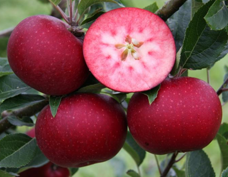 There is something magical about creating a new orchard, especially one like this with a mix of varieties. Devonshire Quarrenden, believed to be a parent of Worcester Pearmain, Red Devil, Laxtons Superb, Herefordshire Russet, Katy, Rosette, Conference Pears and many more.
Also present: Mirabelle De Nancy from the Plum family, which is a good dessert and culinary variety. Very small, roundish-ovate fruits that are yellow-orange with green tinges and red spots. Flesh is golden yellow, rich and sweet in flavour, fairly dry; freestone. Eat fresh from the tree or use for bottling and preserves.
After our orchard walk, Vyvienne's gave me a tour of the garden, more correctly, gardens, each with a theme and each designed by Vyvienne.
Below: two gardens each with a water feature (I love water features)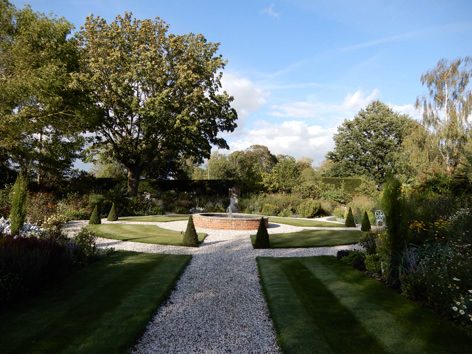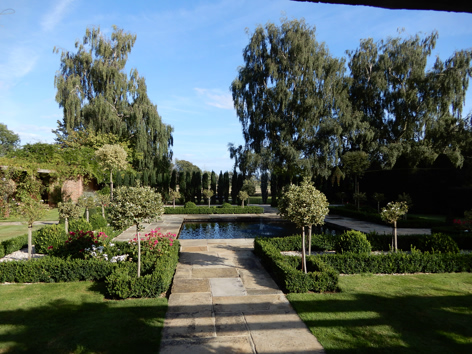 Below: Vyvienne in one of her 'kitchen gardens' in front of the 'stepover apple trees. and right a young Peacock in the kitchen garden!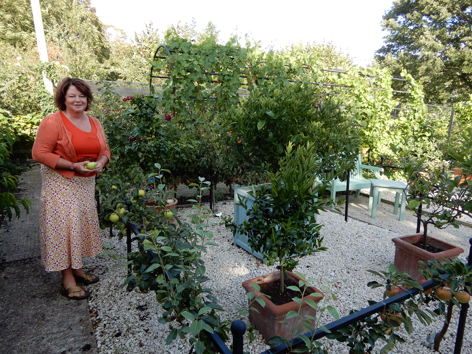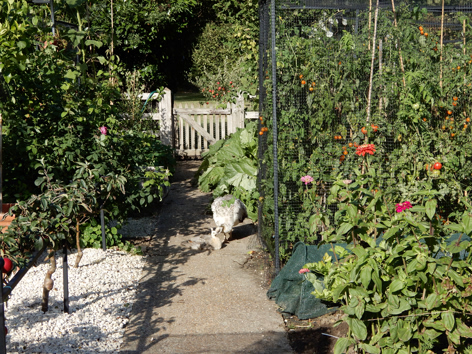 Below: How about chess in the 'Chess Garden' and right; before I left this beautiful Peacock 'struts' in the orchard!
While on the theme of orchards with an eclectic mix of varieties, some old and some new, yesterday The English Apple Man visited Roger Worraker and the Community Orchard initiated by his late wife Celia. Roger is an old friend, and indeed 'a mentor' to The English Apple Man. Now a year into his tenth decade Roger's passion for fruit growing, particularly Bramley & Gala apples is renowned among fruit growers throughout the country.
Capel Diamond Jubilee Community Orchard
In March 2012 the Capel Diamond Jubilee Community Orchard was planted.
Click on: Planting the Community Orchard - March 2012
Time flies - how often do we (the older generation) say that?
Eight years on it is performing well as an opportunity for villagers to walk through, enjoy the blossom in spring and the fruit in late summer, sit and reflect on the 'wonders of nature' and as a site of learning for children at Capel Primary School - Roger holds 'teach ins' during term time, explaining pollination and the varietal difference between apples and the health benefits.
Below: the community orchard - this end has Plums and Cherries which have finished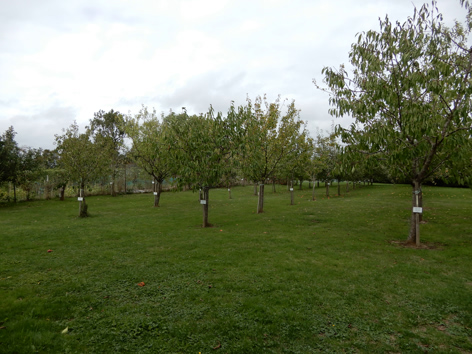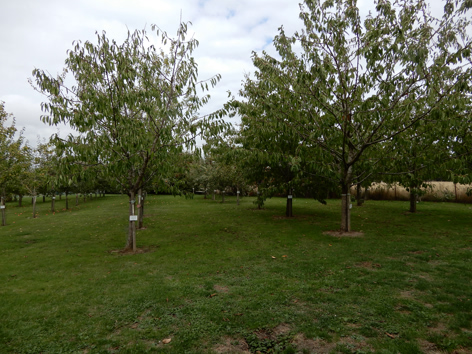 Below: left; Fiesta apples (renamed as Red Pippin for marketing purposes) and right; Roger admiring the crop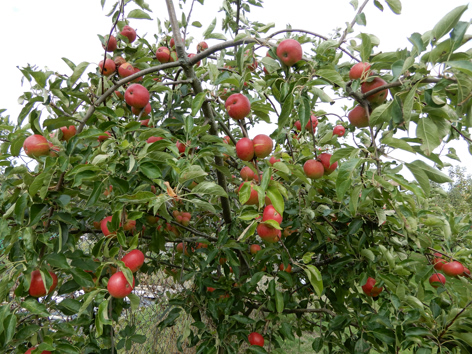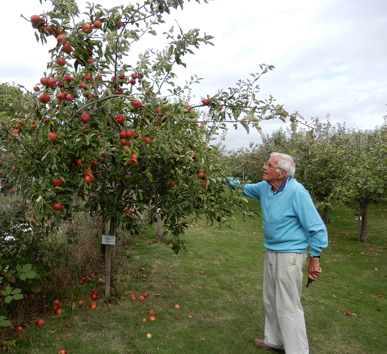 Below: left; Herefordshire Russet and right; Malus Marble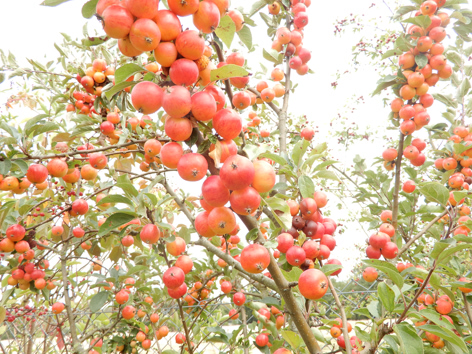 Below: left; Sunset and right; Newton Wonder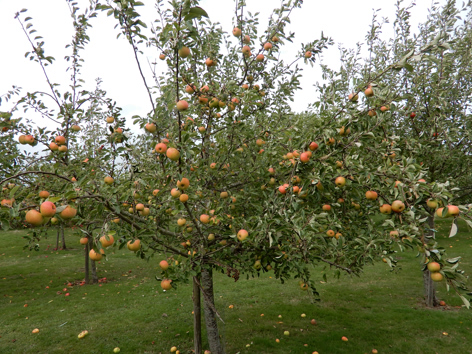 Below: Roger admiring the Malus trees and the Malus Marble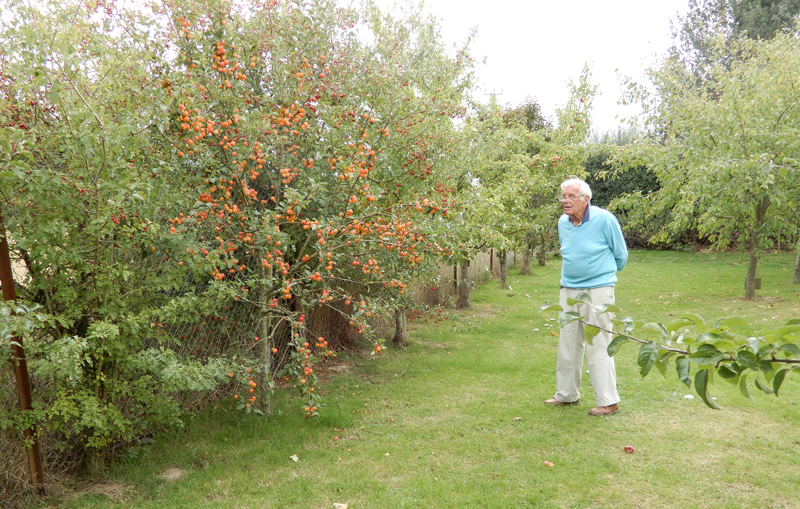 2020 Harvest Update! - While Cox harvest should be under way, Gala is primed to start as well.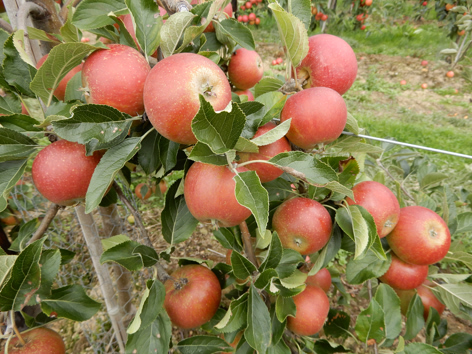 Below: Gala starch pattern @ 84%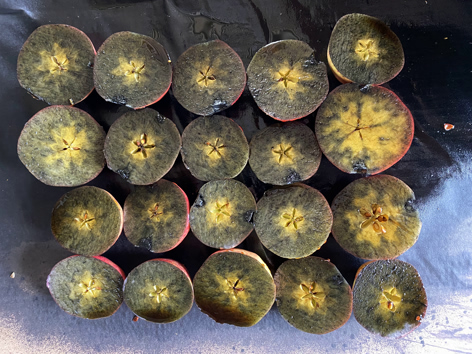 The latest technical information supports the need to get cracking!
My thanks to Nigel Jenner - Chief Technical Officer at Avalon Produce Ltd (APL)
"Gala picking for long term storage should be started on the vast majority of sites on Monday 7th September. Having said that, we have identified several sites where the rapid decline in starch has started and these could be harvested now. Picking with a starch level >80%, gives the best brix readings, the best flavour and fewer internal disorders out of store.
With temperature differentials (difference between day and night time temperatures) this week close to 10°C, red colour has improved noticeably over the past few days. On top of this, the warm daytime temperatures forecast for this coming week will advance maturity further, so picking should not be delayed".
That is all for this week
Take care
The English Apple Man