Journal
18th Sep 2020 - News of a new variety of apple, perfect for gardens.
There are apples that fit into the commercial sector and some best suited to a garden. All can deliver good fruit and great eating pleasure, but for the 'taste off the tree' experience, some stand out!
A new apple
BLADON PIPPIN is it's name and it has a fascinating background story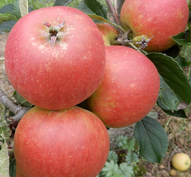 Sean Morris, the owner of the variety discovered an apple tree growing in the grounds of his office and when the tree began to produce fruit, he found the apples to be very tasty.
In fact he describes it as similar to Cox Orange Pippin, 'but better - When Sean retired, he decided to dig the tree up and plant it in his garden.
Bladon Pippin is now trade marked protecting it's unique identity. Bladon Pippin TM
Bladon Pippin - all pictures taken on 9th September 2020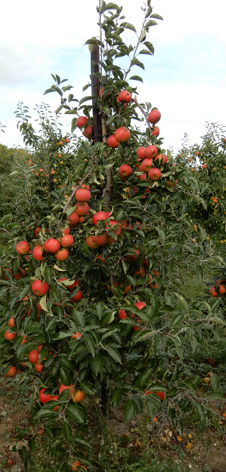 The English Apple Man was made aware of the variety Bladon Pippin by a mutual friend Professor Barrie Juniper, who had been Sean's tutor at Oxford in his University days.
Invited to meet Sean at Oxford University by Barrie in 2011, The EAM learnt the story and came home with samples for tasting. Plus a couple of small trees for my garden.
At Oxford that day, I got to know Barrie better and became friends with Sean Morris and Barrie's daughter Sarah.
Since then we have been working to identify the DNA of Bladon Pippin and explore it's commercial possibilities, trialling the variety in orchards and carrying out storage trials.
Over the last few years, we have spent time together discussing the 'possibilities and probabilities' of the potential future for Bladon Pippin.
After consulting Nick Dunn and his daughter Stephanie at Frank P Matthews Nursery at Tenbury Wells in Worcestershire, we were convinced Bladon Pippin would be the perfect tree for the garden.
DNA analysis at NIAB/EMR demonstrated Bladon Pippin as a true new variety, with one parent clearly Cox Orange Pippin and one parent unknown. The classic story of a Cox flower (the female) pollinated by pollen from an unknown variety in a hedgerow by a friendly bee.
Later after harvest, the Cox apple was then consumed and the core thrown on the grass where a pip (seed) grew into the tree Sean now has in his garden.
From that 'miracle of nature' the Bladon Pippin TM variety is now 'nearly' ready to be launched into gardens across the nation!
The name Bladon Pippin came about because the original tree grew just a stone's throw from Bladon Church, where our Prime Minister Winston Churchill was laid to rest in 1965 and of course, it is a Pippin!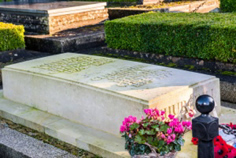 St Martin's Church in Bladon near Woodstock, Oxfordshire, England, is the Church of England parish church of Bladon-with-Woodstock. It is also the mother church of St Mary Magdalene at Woodstock, which was originally a chapel of ease.
It is best known for the graves of the Spencer-Churchill family, including Sir Winston Churchill, in its churchyard.
Churchill could have been buried in Westminster Abbey, but he preferred the simplicity of St Martin's, near his birthplace of Blenheim Palace.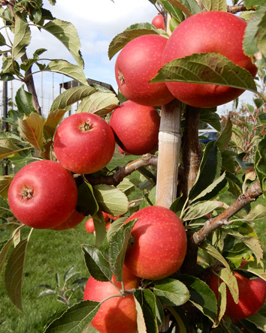 During our assessment, we have observed the Bladon Pippin's characteristics, which though similar, has some key differences to Cox Orange Pippin.
1. Bladon Pippin is marginally later maturing than Cox.
2. It stores better in a cold store (aka a Fridge).
3. It is sweeter than Cox (by about 2%) 14% - 16% Brix.
4. The flavour is excellent: all who have tried it agree!
5. As the harvest time approaches, the colour changes from a green background, slightly dull stripy red color into a blaze of 'orange/red' colour.
6. Picking it is similar to Cox, with the 'twist & roll' technique, but those that are not full ripe are easily 'brutted' (when the next year's fruit bud comes off with the strig).
The English Apple Man anticipates this would be a 'plus' mark for a garden tree, as the first apples ripening (circa mid September) could be picked and eaten, followed by more taken at regular intervals over several weeks, without the risk of them dropping off prematurely!
Any harvested will keep very well in a domestic fridge for a couple of months, retaining the texture and importantly the flavour. In a trial we carried out storing Bladon Pippin throughout the 2019/2020 winter months, even where at the very end of the trial period, the texture had finally 'gone' the good flavour was still clearly retained.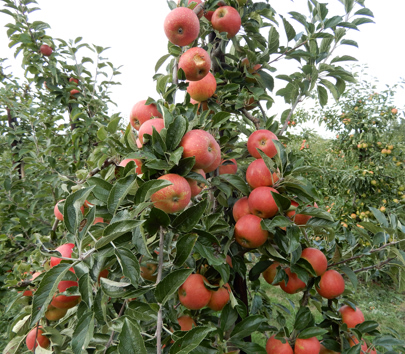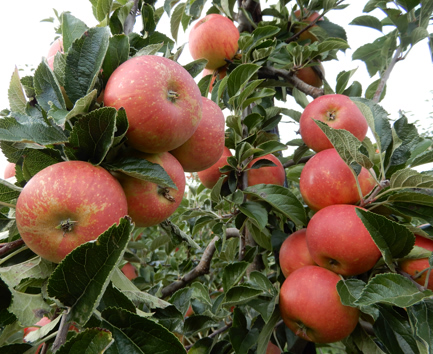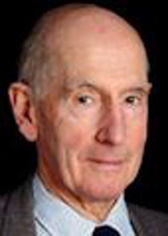 Barrie E. Juniper, University of Oxford, is a pioneer in the study of plant surfaces, including the specialized ones of insect-catching carnivorous plants. His research interests also include the interaction between people, their animals, and the evolution of crop plants.
I have mentioned Barrie's excellent account of how Malus pumila originated and how it's spread across the world in his book; The Story of the Apple which was published 14 years ago and has now received the endorsement of a team of 80 Italian Geneticists who confirm Barrie's original belief that the sweet apples can be traced back to The Tian Shan without any hybridisation.
Returning to the 2020 apple harvest, many growers have found a lack of red colour on Gala has resulted in a less than optimum 1st pick. Ideally the 1st pick (destined for long term storage) should achieve at least 60%-70%.
The 2nd pick will have advanced maturity, resulting in a shorter storage life. A third pick (where necessary) is likely to have only juice value.
That is all for this week
Take care
The English Apple Man