Journal
2nd Oct 2020 - October brings the later maturing apples
All the September varieties should have been picked and as we enter October, Cameo, Jazz, Braeburn & Magic Star are next on the harvesting list.
Other September varieties
Below: Rubens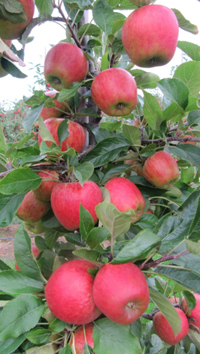 Rubens - harvesting should now be nearing completion on all sites
Below: Gala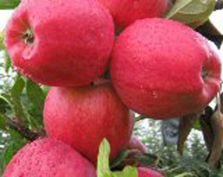 Gala - Firmness has changed very little over the past week, but starch and brix levels are now falling rapidly. On many of the fruits, the conversion of starch into sugar has now finished and as the apples continue to respire, the stored sugars are utilised, resulting in the overall brix levels falling. As a result, harvesting even for short term storage should now be finished or nearing completion!
Cabaret - harvesting is underway.
The English Apple Man opens with pictures and a story of Cabaret being picked last week at Richard Edmed's Hayle Farm in Horsmonden, Kent.
John Breach who bred Cabaret with his son Peter kindly took the pictures of Cabaret picking and of local 'apple connoiseur' David Banfield selecting show samples for The National Fruit Show.
The National Fruit Show will be a 'Virtual event' this year to be held on Thursday 22nd October - more news on the Show will be released in future EAM Journals
Below: left; Cabaret apple tree and right; Harvesting Cabaret in the last week of September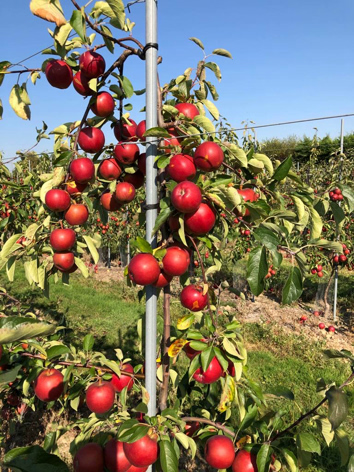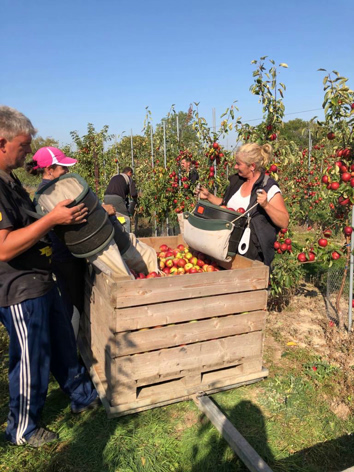 Below: left; pickers busy harvesting Cabaret and right; picking trains on the move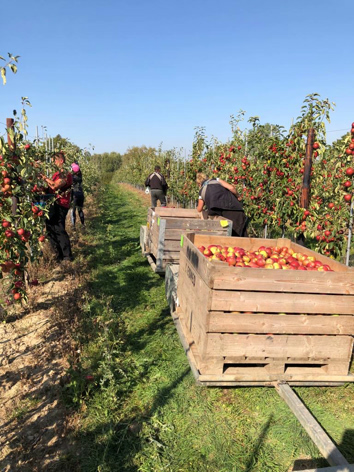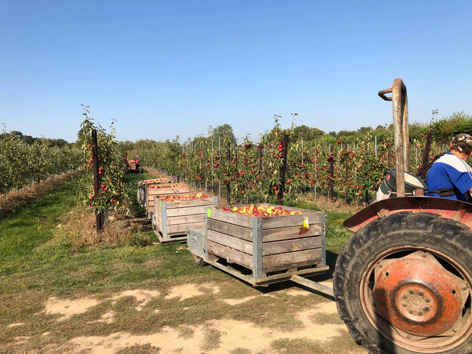 Below: David Banfield preparing Cabaret for the 2020 National Fruit Show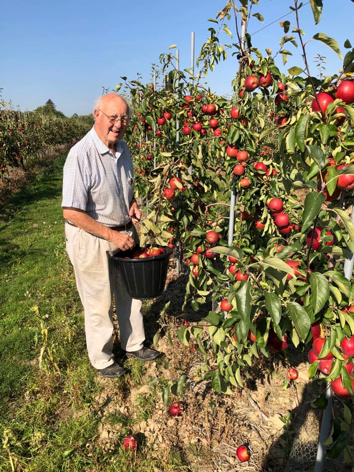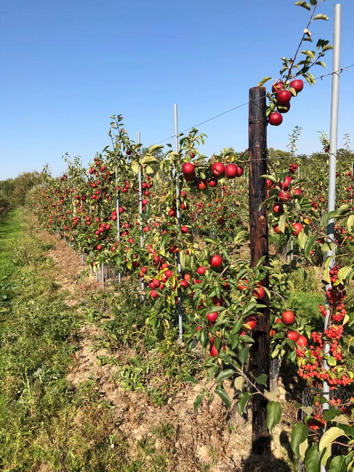 Today: Friday, The English Apple Man enjoyed a conversation with Simon Mount and he kindly sent me some pictures of his Cabaret taken just before harvest. The fantastic Red colour allows a 'one pick' operation which helps keep harvesting costs down to the minimum. Simon harvested 42 tonnes per hectare from his Cabaret!
Below: Cabaret at Simon Mount's New Barn farm in East Kent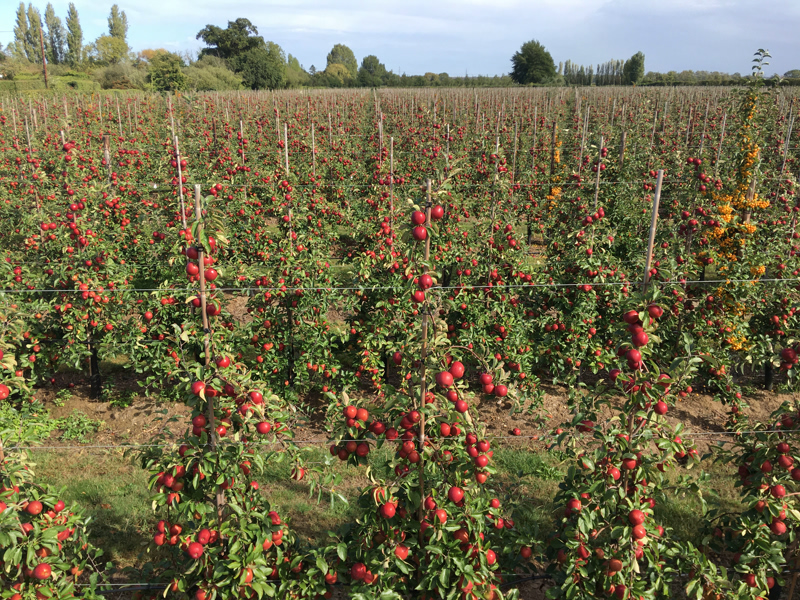 Below: Prolific crop of Cabaret at Simon Mount's New Barn farm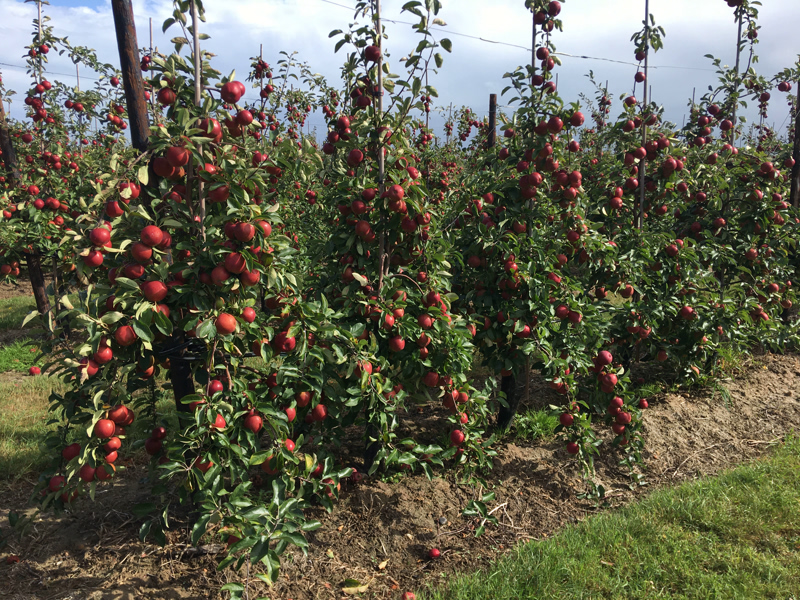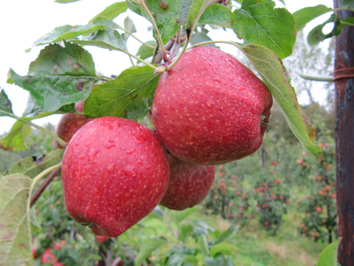 Cameo
Cameo - harvesting should be underway. The earliest orchards are already close to the 50% starch level, below which long term storage is not recommended.
Experience has shown that the best eating quality out of store is achieved when the fruit is harvested between starch levels of 70-50%.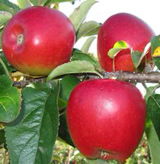 Jazz - 5th October?
Talking to growers of Jazz and taking note of the 'maturity assessments, Jazz harvest will start during the course of next week - 5th October.
There has been some Jazz harvested this week in the West Midlands where the season is slightly ahead of Kent.
Braeburn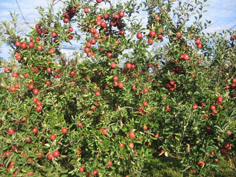 The average starch has fallen around 10% this week and the optimum of 70% will be reached on the vast majority of sites sometime next week (w/c 5th October).
Harvesting should begin at 70% and be completed by the time the starch has fallen to 50%. Perhaps of greater importance with Braeburn, is not the date at which picking starts, but ensuring harvesting is completed by the time the starch has dropped to 50%. This is likely to be somewhere around 19th October in Kent! Fruit picked with a starch level of less than 50% is much more prone to internal CO2 injury, core flush and low temperature breakdown, all of which can be a problem in some seasons.
Magic Star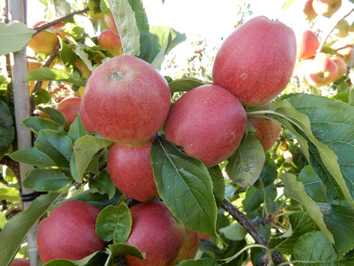 Magic Star should be harvested when the starch is somewhere between 60-30% and firmness is between 8.5-7.5kg. However, with such a wide picking window, the exact picking date should be determined by development of both the foreground and background colour.
The first pick should begin on most sites next week. In most seasons, the crop will be required to be picked twice and although this variety has a massive picking window, the picking date of the first pick will have a massive influence on the quality of the second pick fruit.
Nigel Jenner Chief Technical Officer for Avalon Produce Ltd (APL) who has furnished me with harvest maturity data, adds;
"As I am sure you are aware, the storage capabilities of this apple are unrivalled. Last year we stored it for 12 months in dynamic controlled atmosphere trials, but even in standard ultra-low oxygen, it is quite capable of meeting the new season's crop, providing it is picked in the optimum window"
That is all for this week
Take care
The English Apple Man