Journal
16th Oct 2020 - Celebrating British Apples and Pears
Harvest is still underway, with the late varieties Jazz and Braeburn nearing completion.
Next week the National Fruit Show celebrates the best of British Apples & Pears with the 87th Show
The Marden Fruit Show Society (MFSS) is a Registered Charity run by a voluntary committee who represent many different facets of the fruit industry. The aim of the Society is to promote the better growing, grading and marketing of fruit.
The Society organises the National Fruit Show, which acts as a meeting place for the industry. The centrepiece of the show, held each October, is the largest competitive display of commercially grown top and soft fruit staged in the UK.
To view a history of apples in Britain: Click on GREAT BRITISH APPLES & PEARS HISTORY
The 87th National Fruit Show will be a 'Virtual Event' held on Thursday 22nd October 2020
Integral to the website is the timeline from 1933. Click on ABOUT THE FRUIT SHOW
Click on: The National Fruit Show 2020
Click on: SESSIONS & SPEAKERS
The centrepiece of any National Fruit Show has always been the show fruit competition. The Marden Fruit Show Society which has been responsible for organising this prestigious event since it's inception in 1933, decided to hold the Show Fruit Competition, albeit in a 'streamlined version' - instead of the standard three trays per entry, this year there will be one 'show tray' per entry.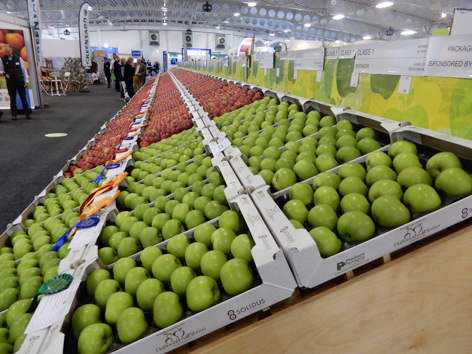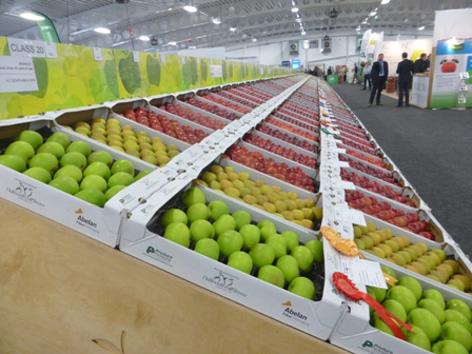 The judging has been simplified to ensure COVID-19 safety compliance, with one tray per entry.

The Sponsors
Click on: AVALLON PRODUCE LTD
"A true leader in our field, APL established in 2015 is a direct marketing group focused on creating value for our suppliers and customers on a sustainable basis by offering the essential expertise to drive growth, lead change and push boundaries".
"With our knowledge and experience, Avalon Produce are able to manage the whole value chain from orchard to fruit bowl".
Click on: AGROVISTA
"World renowned for being leaders in tree fruit production, British growers supply some of the very best products".
"To support this, our top fruit agronomists provide advice on canopy management, selection of planting systems, fruit storage, variety choice and pest, disease and weed management, to ensure customers produce the best quality fruit".
Click on: NP SEYMOUR
"We are a small family business that was set up in 1974 by Nick and Barbara Seymour. Over the years the business has slowly but steadily evolved from a 'man with a van' to a key part of the fruit and vine industry. We are proud to have now been in business for over forty years and have been Fendt tractor dealers for more than thirty years with the narrow 200 series being our speciality".
"We design, manufacture and supply specialist equipment for the fruit, vineyard and hop industry; from machines to prepare the land for planting, right through production to storage, grading and packing of fruit into boxes for sale. Our bespoke design and build table-top strawberry sprayers lead the way in this sector of the spraying market. We also carry out sales and service of Winery and juice processing machinery as the UK distributor for Bucher Vaslin equipment"
Click on: UKCA Ltd with ISOCELL
"UKCA Ltd, supply and install Controlled Atmosphere equipment for the storage of long term Top Fruit. The company was set up 15 years ago by Ken and Jon Hatch and has developed into a reputable business, a trusted name amongst Growers. Following on from a hugely successful 2018, which saw the completion of multiple installation projects, Ken has taken the opportunity to step down from the bustle of day to day operations. Jon has taken over as Managing Director and is keen to continue the expansion of the business and its offering to Growers; whilst maintaining quality and the personal service you would expect from a family business".
ISOLCELL: " Today we are considered worldwide leaders in the industry of Modified and Controlled Generated Atmospheres. From the traditional field of fruit and vegetables storage, our expertise has developed forward with innovative applications within the petroleum and gas, pharmaceutical, electronics, maritime, heat treatment, and laser cutting industries. Moreover within the detail oriented field of artistic & historical heritage conservation, pest control of food commodities and in the fire prevention purposes i.e. Oxygen Reduction System. Innovation challenges are on-going: at Isolcell we are ready to embrace them and to go way beyond".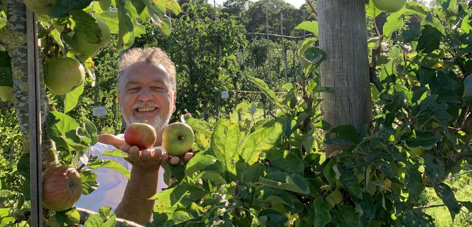 Celebrity chef Raymond Blanc has launched the UK top fruit season, stressing that some of the world's most delicious apples are British.
Raymond Blanc will be working alongside British top fruit growers to fuel consumer excitement about this year's crop.
Monday 5 October marked the start of the 2020 apple season with supermarkets well stocked with domestic varieties. In 2020, 1.6 billion apples and pears (183,000 tonnes) will be picked by hand in British orchards.
It's been a challenging season for growers who have had to contend with fluctuating weather conditions and the continuing impact of Covid-19, but the British Apples & Pears (BAPL) trade body said this year's apple harvest is expected to be "especially delicious".
The 2020 'Virtual' National Fruit Show will conclude with Presentations and a Celebration of the Winning Cider.
5pm - 6pm National Fruit Show Prize Winners Announcements followed by the Virtual Cider Bar with Nigel Barden
Join us for a cheery conclusion to show day and find out the winners of the annual fruit competition.
The best of the best in British top and soft fruit plus cider will be revealed by Sarah Calcutt and Teresa Wickham, President of the Marden Fruit Show Society.
After the awards, show visitors are invited to take part in a British cider tasting and chat with foodie broadcaster Nigel Barden. Known to millions of Radio 2 and Scala radio listeners as their favourite cook, Nigel is tonight hosting a session to close the National Fruit Show in style.
All proceeds from the sale of the cider will be going towards the National Fruit Show's long running Education Programme
Nigel Barden
Nigel Barden is a food and drink broadcaster, who works with Simon Mayo on Scala Radio and previously with Simon and Chris Evans, on their Sony Gold award winning BBC Radio 2 shows for 12 years and he's the food correspondent for BBC London. He specialises in promoting British ingredients and artisan producers, particularly in his role as chairman of judges for The Great Taste Awards, Farm Shop & Deli Awards, World Cheese Awards, British Cookery School Awards, Deliciously Yorkshire and host of the National Fish & Chip and Ice Cream Alliance Awards.
A lovely story
Efforts to recruit British workers for harvesting and other roles in the Produce industry have had some success, not as much as the industry needs and British growers are still heavily dependent on harvest workers from Romania and Bulgaria, however it is encouraging to hear a success story and hope that more young 'Brits' take the opportunity to join fruit and vegetable growers where excellent careers are available for ambitious young people!
Below: Elliot who has embraced the opportunity of work at Bardsley England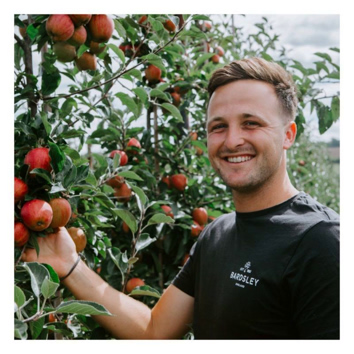 "Working at Bardsley England has really been an eye-opening experience to the extensive work that is needed to get fruit onto the supermarket shelves.
I've had a great experience working here and it's allowed me to work with and meet people from many different walks of life and build friendships I never would have made."
- Elliot, Pick for Britain team
Click on: Pick for Britain
That is all for this week
Take care
The English Apple Man