Journal
13th Nov 2020 - Mid November
Mid November is a dreary time of the year, with daylight lost by 4.15pm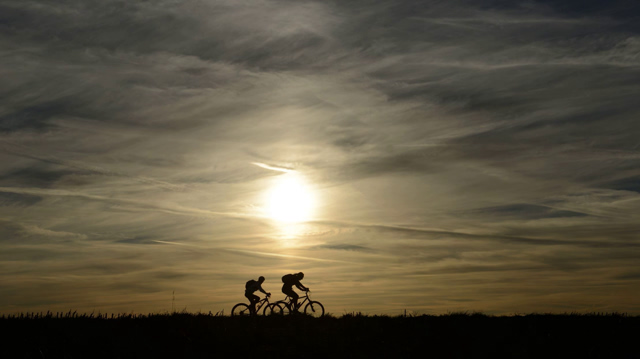 So what are we doing as November drifts towards the middle of the month?
It's dark by 4.15pm and winter beckons, we have enjoyed a brief Indian Summer (well a few decent days) but as evenings draw in, a chance to reflect on the events of the last few months. Ignoring COVID-19 (not possible I know) we can reflect on the challenges our farmers and growers have faced this season, particularly at harvest time.
On Tuesday evening ITV presented an excellent programme investigating harvest of Soft fruit (Strawberries, Raspberries, Blackberries, Blueberries etc) Top Fruit (Apples, Pears) Stone Fruit (Plums, Cherries etc) Potatoes, Courgettes, Beans etc.
Summer on the Farm: An Extraordinary Year
ITV are to be congratulated for delivering these very informative and enjoyable visits to UK growers.
Below - On the ITV website - an overview of the programme
Alan Titchmarsh, Angellica Bell and Amanda Owen joined British farmers getting our fruit and veg to supermarkets - overcoming a reduced workforce; unprecedented demand and extreme weather.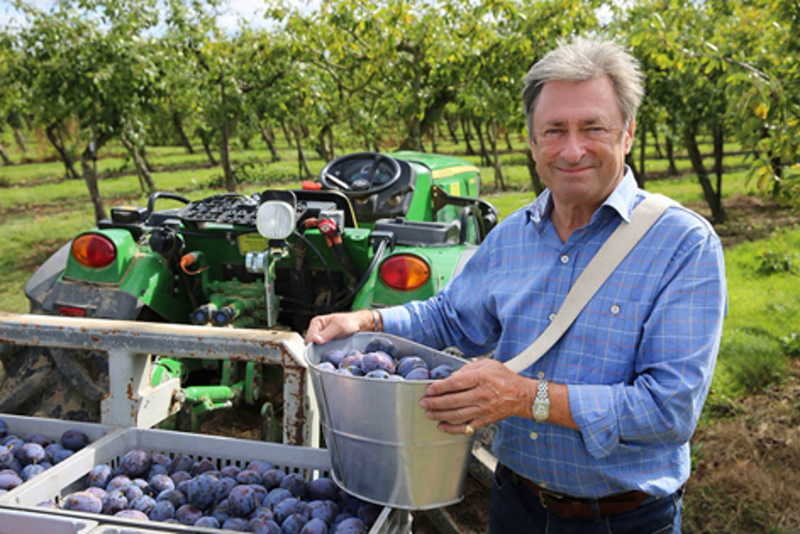 This summer, Alan Titchmarsh, Angellica Bell and the Yorkshire Shepherdess Amanda Owen dive inside British farms during the critical weeks of peak harvest, to follow the fascinating story of how some of our best loved fruit and vegetables make their way to our supermarket shelves.
Alan, Angellica and Amanda discover how the journey of one piece of fruit or veg to our kitchens involves an extraordinary chain of people, machines and processes. Harvest is a labour of love and a huge endeavour at the best of times, but this summer it is particularly challenging - with a reduced workforce, fluctuating consumer demand and extreme weather in the mix.
Gardening supremo Alan Titchmarsh brings his own experience to bear as he joins one of the biggest fruit farms in the country, Bardsley-England in Kent, where one and a half million apple trees and sixty thousand plum trees must be harvested by hand. Luckily Alan has been a fruit picker before (as a student over 40 years ago), so he has a few 'insider' tricks up his sleeve for the plum harvest - And at mega veg grower Peter Barfoot's farm in West Sussex, Alan sees for himself the devastating effect the extreme weather has had on one rather delicate vegetable this summer, the courgette.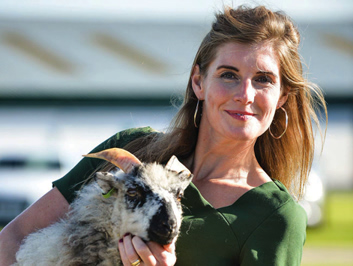 The Yorkshire Shepherdess, Amanda Owen, leaves her sheep farm to explore the highs and lows of our best loved vegetable - the humble potato. Working alongside one of the country's biggest growers, Robert Lindley Farms in Yorkshire, she witnesses for herself the physical labour involved in getting one million potatoes out of the ground each week.
Amanda joins workers young and old on the production line - including student Hannah who works at lightning speed on the harvester in the field, and grandmother Jane back at the packhouse - who can spot a dodgy spud at 20 paces... And when orders suddenly drop, Amanda witnesses for herself the impact on a second-generation farmer and 30 local staff.
Jumping from veg to fruit, Amanda also throws herself into apple picking at Bardsley-England and we discover the lengths taken to produce high quality individual pieces of fruit on a massive scale.
The English Apple Man comments: Choosing Amanda to be one of the investigating team was a masterstroke, as she has a very good understanding of 'Hard Graft' and delivered a clear view of what is entailed in both Potato and Apple harvesting work.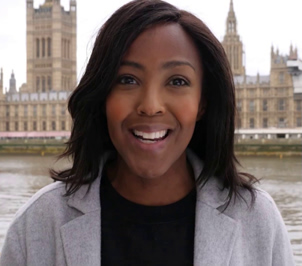 Angellica Bell is on the frontline stacking shelves with supermarket workers as they strive to keep the supply of fresh fruit and veg coming during surges of demand. Angellica discovers that, with the nation in lockdown this year, we've been ordering huge supplies of fresh produce that outstrips normal Christmas levels... But without the usual three-month planning time for Christmas, the supermarket workforce that keeps the supply chain moving have been stretched to their limits.
In Kent at one of the world's biggest blueberry growers, Winterwood Angellica gets under the skin of the business of the original superfood. Demand for the tiny fruit is up 10% due to its health benefits. Here, farm manager Sharon is on a mission to get all her fruit off the trees and meet the increased demand. But time, capacity and the weather are against her, as she attempts to bring on a brand-new workforce during one of the hottest summers on record.
What could possibly go wrong? - In Europe's biggest blueberry packhouse, Angellica works alongside personal trainer Rob, who landed his job the day after lockdown started and relishes his role 'feeding the nation'. Across the programme the secrets of detailed quality control technologies emerge - such as seven photographs being taken of a single blueberry and 250 for an apple.
The English Apple Man Comments: an excellent example of the employment opportunities available on British farms!
Beyond the extraordinary processes involved in the normal British harvest, this year travel restrictions have meant many of the usual seasonal workers from Eastern Europe are unable to help - leaving farmers having to scramble to find pickers at short notice. Both Winterwood and Bardsley-England have taken on rookie Brits to train and deploy across their land.
How will they cope with the back-breaking work and being outside in all weathers - even during the most extreme heatwave in over 30 years? We are there for the highs and lows, as workers drop out - or are swiftly promoted - and newbies are pitted against the fastest picker on the field - like student Daniel from Slovakia - Three times faster than a British worker, Daniel's lightning two-handed technique reaps him £30 an hour.
Filmed during a remarkable summer, Alan, Angellica and Amanda follow the stories of six individual fruits and vegetables to discover the intricate processes, amazing technology, ability to adapt and attention to detail of British farmers and their teams as they feed the country - ensuring that fresh produce continues to reach us in perfect condition, whatever the obstacles. Along the way light is shone on an industry employing four million people that impacts us all every day - particularly during a year when accessing fresh produce has been more important than ever.
The English Apple Man Comments: Harvesting ground beans which would normally require 200 pickers, now after an investment of £350,000 was harvested smoothly by the bean harvester. A relief for the grower with harvest becoming more uncertain in the future

For those of my readers who were unable to watch the programme on Tuesday evening, it is still possible to view it via The ITV Hub. Catch up - ITV Hub - Tuesday (10th) - Summer on the Farm: An Extraordinary Year
That is all for this week
Take care
The English Apple Man