Journal
22nd Jan 2021 - Remembering an old friend
I don't know why, but there always seems to be the loss of someone we know as Christmas approaches.
In December I lost my Step Mother, albeit at a great age (95) and thankfully of old age, not the frightening virus destroying so many lives here and across the world.
Two days earlier on 8th December, an old friend succumbed after a short illness.
Robert Simpson was a great character and a top class fruit grower at Upton Bishop in Herefordshire, visiting Robert at his Chicory Crops business was always enjoyable and enlightening.
I was asked to write Robert's obituary for The Fruit Grower (published recently) and this week I have re-published his obituary on-line with a few additions.
Robert Simpson was a friend and a great character and I enjoyed every minute of my time with him when I ventured down to the West Midlands.
Below: Robert Simpson in a Cherry orchard at Upton Bishop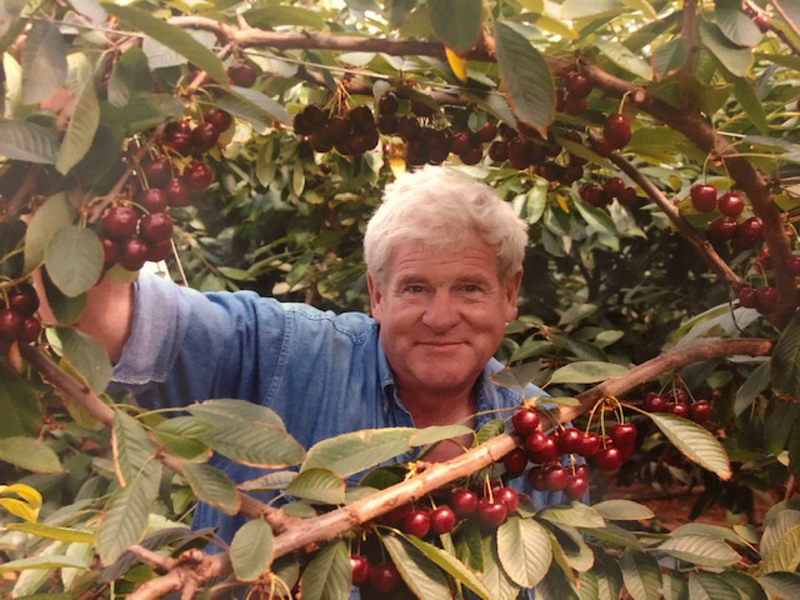 Here I reflect on a visit some years ago and reported in my English Apple Man Journal for 8th October 2010
Lunch on Friday at The Moody Cow in Upton Bishop gave me the chance to catch up with my old friend Rob Simpson
"Rob is one of the great West Midlands characters. Over the years he changed the family business from chicory growing; hence the CHICORY CROPS sign on the farm gate, into a leading supplier of Raspberries and Apples to Waitrose and M&S.
Below: Tentation
One of the varieties Rob has specialised in is Tentation, similar in appearance to a Blush Golden Delicious, but with a much sweeter taste. This is a late variety and will not be picked until late October. Shoppers at M&S and Waitrose have been able to buy English Tentation for several years and consumers can find this variety in a number of Supermarkets from November onwards.
Rob has now passed on the management of the farm and pack-house to his sons Jake and Rupert. But Rob is not one to sit in an easy chair in retirement and may well be found 'Micro lighting' across the Herefordshire countryside or working on one of his vintage cars. He is currently preparing for The London to Brighton Rally.
Lunch by the way was superb. The Landlady Rebecca Fox or FOXY to her regulars has only been at the 'Moody' for 12 weeks, but I would recommend a visit to anyone visiting the area".
The Moody Cow at Upton Bishop a favourite watering hole!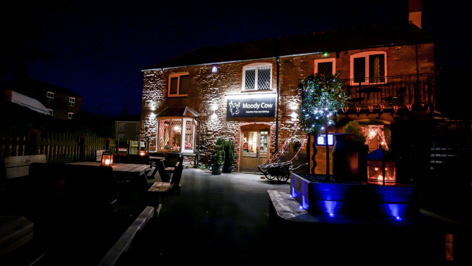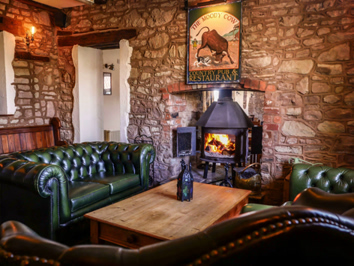 Another variety grown expertly by Robert was Delbard Estivale. This variety is ready for harvest in early September and Robert taught me how to ensure it delivered a perfect eat!
If Estivale is harvested too soon when the background colour is green, it will not deliver good flavour. It is essential to wait until the background colour begins to break from pale green to pale cream. This subtle balance guarantees excellent eating quality.
Below: Estivale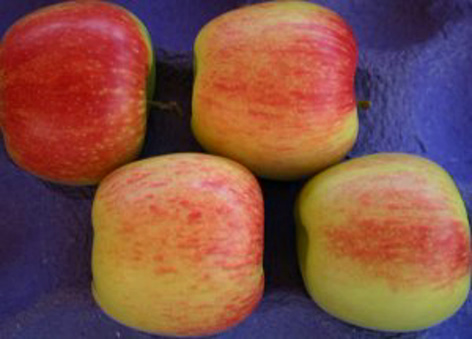 Obituary - Robert Simpson
Robert Simpson who sadly passed away in December 2020 was a larger-than-life character whose full life experiences can only be modestly accounted for in an obituary. To do justice to his life in full would need a lengthy book.
Robert died after a short illness on the 8th December aged 72.
He will be greatly missed by his partner Liz, his sons Jake and Rupert and his grandchildren Rosie, Fiona, George and Oliver.
Robert was a Fruit Farmer at Upton Bishop and founder of Chicory Crops LTD in 1971.
Nothing he did was normal- a pioneer in the production of chicory, strawberries, raspberries, apples and cherries and immensely proud of his direct relationships with his 2 favourite retailers - M&S and Waitrose.
Robert inherited his passion for horticulture came from his father who came to the area to manage Castle Fruit Farm in Newent after the war.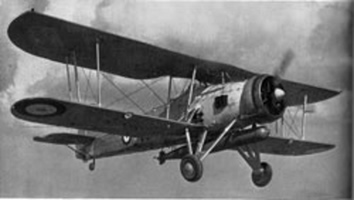 He also developed a passion for flying which also came from his father who was a navigator in Swordfish torpedo bombers in WW2.
Father and Son were some of the first people to take up hang gliding in the UK in the 1960's with frequent medical consequences.Liz recounts in the 1960's Robert was at school and then Bath university. He first learnt to fly while in America spending a few months there as part of his horticulture degree, and he got his pilot's licence here much later. He started hang gliding in the early 1970s, because he was setting up Chicory Crops and could not afford to fly here.
Liz continues, "by coincidence I met the local blacksmith recently, who told me he remembered welding some aluminium tubes that Rob brought to his smithy one day, to make his first hang glider!
I remember helping Rob carry the wretched thing back up the ridge he had just soared from, so he could do it again!
Hobbies in earlier life were also pot holing and canal tunnel exploration, always adventurous while his hobbies in later life were obviously planes (he built his first microlight), vintage and veteran cars, travel and incredibly old clocks!
In short, anything mechanical, fruit and travel!
Cilla Clive remembers fondly how Robert helped her in the early days at her fruit farm at Redbank.
"Robert came to my rescue when Dick Clive died while with me, Angus and Hilary (my kids as they were then in 1977), on the ski slopes. Robert also came to my rescue at Redbank which I bought and planted in the same year.
He would come over on his motorbike most days to teach me and adapt machinery as required. Redbank would not be in existence if it were not for Robert. He travelled with me to Kentish Garden to help with marketing side as well and set up a packhouse (then a large round table and several hot wires to seal punnets).
Robert's father taught me how to prune apples and tree management. Robert let me go on my own after probably a couple of years. My son Angus was 12 in 1977. This is the foundation of Haygrove!
Nick Seymour remembers his many visits to Upton Bishop installing machinery and recounts:
Rob was a good engineer you could say fastidious, and a new mower he had from us had sharp edges on it so he said that he would send the makers a file to use in the factory.
Below: Broussard 1950's vintage French plane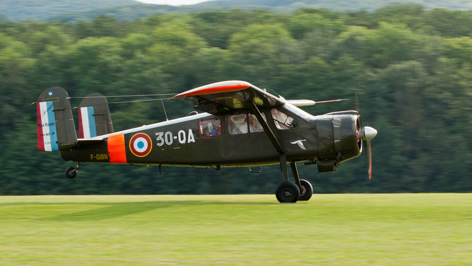 I was working in the area for a week some years ago and he took me up from Gloucester airport in his Broussard a 1950's vintage French made plane powered by large radial engine.
Not being a great traveller, I was Ok until over Ledbury when Rob lit his customary pipe, I survived but was pleased when we were on firm ground again.
A pair of seats from Concorde adorned his living room at one time and a ride in his steam car was exhilarating. When I came to service the grading line, I was told not to remove the mug tied to the water dumping system as this was the testing point, if the water was drinkable it was ok if not it was time to change it.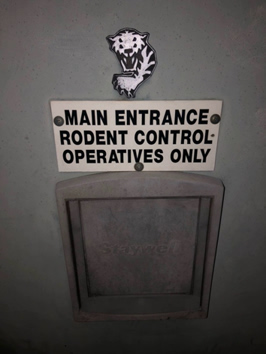 Nick also remembers the cat flap in the packhouse door with a sign saying. 'Rodent Control Officer'
Rob was an advocate of minimal compaction on all his cropping land and attention to detail was applied to everything. An inspirational and innovative person.
Robert had a particular fondness for South Africa where his sister Kate lives. He and Liz went there a lot. The last trip involved buying a land cruiser and driving round the countries in South Africa with a sticker on the side saying, 'old farts safari 2017'.
John Guest remembers many happy visits to Robert at Chicory Crops, "I was astounded by the quality of management in the orchards and soft fruit crops. Walking through an exceptionally large area of Raspberries with every cane of equal height, not one out of sync. Amazing!
Robert was well ahead of his time and 'Picking Trains' were the standard at Upton Bishop 10 years before the rest of the apple industry followed suit. Picking was directly into the bins with as near 100 % marketable fruit brought into the packhouse.
On several visits my colleague Graham Basset and I would end up with Robert in The Moody Cow for refreshments before setting of for home in Kent. As part of our customer base, Waitrose Buyer for fruit Richard Hind accompanied us.
Richard Hind expresses fond memories of Robert: "I'm so sad and sorry to hear of Robert Simpson's passing. in my opinion he really was one of the giants in the fruit industry, an innovator who was up there with the best growers I had the pleasure to know.
Above all else he was a lovely man, a true gentleman with a wicked sense of humour who I looked upon as a friend and colleague rather than a "supplier". I am sure he will be missed by many.
Jake Simpson said in his retirement, his Dad was busy with old cars. Always down at his workshop tinkering, and in the process of mounting a 2-stroke engine that he bought from the internet onto a bicycle to prove to a man with a battery powered e bike that engines are always better!
He took a very active role as a grandad with Rup's girls who would go round there after school for adventures. The Grandchildren all called him Robrob.
His partner Liz said when communicating with important customers he would sign Robert Simpson HAP. (Hairy Assed Peasant) just as many might add BSc etc.
Robert Simpson - Fruit Farmer and founder of Chicory Crops LTD in 1971. Keen Aviator, old car enthusiast, long standing member of VCC and VSCC. Practical supporter of Dymock CC and Newent RFC. An extraordinary man.
FINALLY - from a reader, an enquiry

A question and a mystery for you....
Hello
I wonder of you can explain why English apples in supermarkets are so small.
I have bought cox's apples in Asda, Sainsbury's, Tesco's and today Aldi's all of which are sized between 63 and 69mm.
Next to them for sale are large and very large apples from around the world, but those from our shores are the size of a snooker ball.
So I am wondering if you know where do all those large cox's and other English apples actually go?
My reply..
Well, the prime reason is the Supermarkets prefer 63mm - 69mm based on sales and demand.
Larger apples are normally available, either in 4 packs or as loose flow. Smaller apples as polybags.
It is a peculiar trait of UK consumers that smaller apples have always been more popular, whereas on the continent consumers prefer larger sizes. My Step Mother who was German told us that a Mum' there would buy one large apple and slice it into 4 pieces for the children, while we in the UK would naturally give each child one small whole apple.
Historically, of course the warmer climates overseas tend to produce larger apples by nature, and UK varieties were naturally small medium, but today with modern varieties and more sophisticated growing systems, it is much more about matching supply with demand. We can grow them bigger, but would lose out financially.
I remember in my days involved as Technical Director for a major UK supplier, if we had a season with larger than expected fruit size. we would export the large sizes of Cox to Germany due to lack of demand here. It was not a profitable exercise. more a means of saving the large apples from going for juice!!!
If growers grow too many very small apples (below 60mm) or to large (over 75mm) they lose out financially due to insufficient demand for those sizes, so they try to target the sizes most in demand from consumers. e.g. 63mm - 69mm. Or realistically 63mm - 73mm.
One critical factor in recent years is the Supermarkets selling by count instead of weight. So the price negotiated is based on for example: Gala or Braeburn by count 6. BUT it must still meet a minimum weight. This is OK and the Supermarket will if enough apples of the agreed size are short during the marketing season, allow a larger size.
BUT with the price agreed based on 6 medium sized apples, if 6 larger apples are accepted the price per 6 pack stays the same, therefore the grower is 'giving fruit way' = eg. weight and One large grower lost £300,000 in one year due to growing the fruit to large, but had to commit larger sizes to meet the agreed contract.
So growing apples and trying to end up in profit is a hazardous exercise!!!!!!!!!!!!

In my growing days (30+years ago) I tried to grow the majority of my apples between 60mm and 75mm as that gave the best financial return.
I hope this helps?
Until next week
Take care
The English Apple Man