Journal
29th Jan 2021 - Communication with consumers
From time two time, The English Apple Man receives comments from consumers. They may exude praise, or sometimes frustration.
This week a mix of consumer comments polarises my thoughts.
Below: British Conference Pear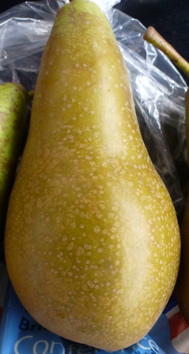 Home grown pears have not cropped as heavily this past year and added to many UK pear growers grubbing their old poor cropping orchards a consequence is that 'home grown pears' are not as prevalent.
Add to that the influence of COVID-19 has resulted in some changes in consumer shopping habits and all British Grown apples & pears selling strongly, and available volumes running out earlier than usual.
Dutch or Belgian pears are the leaders in European pear production with their modern intensive orchards and a slightly more favourable climate for pear production. Their marketing strategy tends to target the UK market once British pears are drawing to an end. Hence we are already seeing Dutch Conference pears in our Supermarkets.
For many years it has been felt we could not match the yields and quality of Benelux pears, however with a better understanding and newer rootstocks, new intensive Conference pears orchards are growing in excess of 50 tonnes per hectare, well in excess of the 20 + tonnes average of the older orchards.
Last week The English Apple Man received a flurry of emails regarding British pears.
Comment from Colin an EAM reader:
"It's still incredibly difficult to buy UK grown fruit in the U.K. And now we're isolating and relying on Ocado it's even more difficult. Our latest order included English Cox apples - hurrah - but also pears from The Netherlands. The Netherlands?!! What happened to our home grown fruit?
Isn't it about time we brought back the Buy British campaign - and would our growers be able to supply if there were a major shift? I'm not just a complainer but have a genuine interest in this".
Many thanks
Colin
The English Apple Man contacted British Apples and Pears Operations Director Sarah Calcutt who clarified the supply situation
Good morning Colin,
The English Apple Man has kindly forwarded your email enquiring about availability of British fruit at Ocado.
Sarah responds
I can assure you that there is a very strong relationship between the Ocado commercial team and the sales desk that serves them, Ocado is a great outlet for British fruit. This time of year they are being served a range of varieties that may not be in a named pack - in addition to Gala, Braeburn and Cox they have a British apple or dessert apple bag and at the moment that could have one of a dozen different varieties in it. If these are not easily found on their website then please let their customer services team know - I know the team who supply the fruit well and there is good availability at the moment.
As for pears, well unfortunately this isn't a great year for pears, you will remember the weather in 2020 was very challenging, and for pear farmers it resulted in a lower crop volume than anticipated. In fact we had sold 50% of the entire British apple and pear crop volume, and 70% of the pear crop, by Christmas.
There are two reasons - the weather reduced crop volume across the UK; a combination of very wet conditions, frost during blossom and extreme peaks of temperature in the summer. C-19 also means that more people are shopping weekly which means that they are moving away from short shelf life fruits, like berries, and are picking apples and pears. This is great news for our growers and we are campaigning hard to ensure that this is a permanent switch.
At the moment we grow around 40% of the total volume of apples and pears consumed in the UK, the industry is planting around 1 million trees a year and working towards a 60% market share by 2030.
The English Apple Man Comments
Pear growing in the UK is a bit of an enigma: for many years our pears held a premium but over the last 30 + years the Belgians and Dutch have completely modernised tree management and with some perceived climatic advantages created a pear industry delivering yields of 60 tonnes + per hectare. The UK mantra was always 'you plant pears for your heirs' based on the belief that it took a mature tree to produce economic (profitable) yields.
Over the last few years forward thinking growers with (it has to be said) input from advisors from Belgium and Holland adopted the intensive systems used in the Benelux countries to establish new orchards in England which have, if not equalled the yields in Benelux, at least got close to their yields and quality.
Pears like deep soil and plenty of water hence a lot of the new UK production is in East Kent.
UK's largest apple and pear grower: AC Goatham has invested heavily in new pear orchards and is now bearing the fruit of that investment. AC Goatham has developed a strong relationship with Sainsburys and with careful planning aim to follow the 'demand curve' with matching 'supply curve' - for that reason AC Goatham should have home grown Conference pears available until April, (normally they reach May) but it will depend on the sales demand which has (as mentioned by Sarah) been strong this season.
Below: Ultra modern pear orchards are now replacing the older style orchard format.

Below: Conference pears growing on the format popular for 'decades'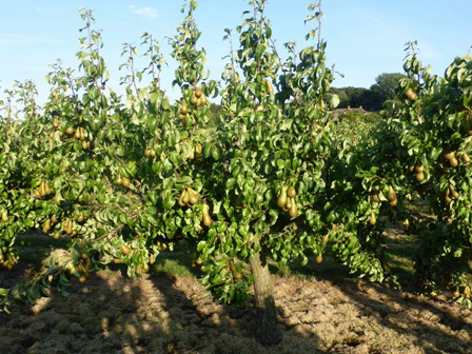 Below: The Ultra modern Vee System conference pears now being planted in UK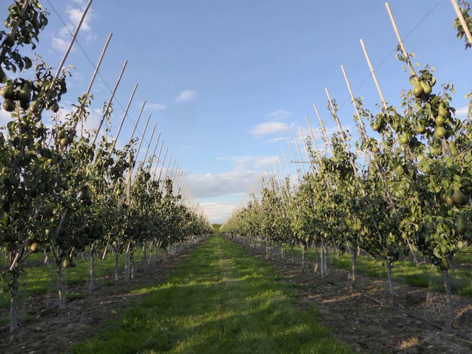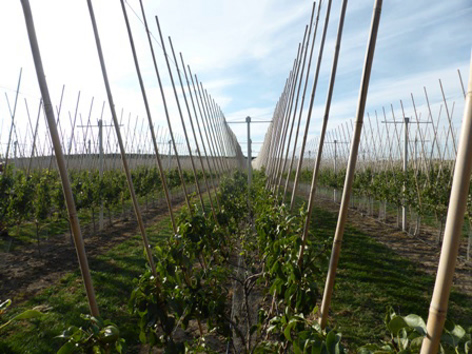 This is the website for the national campaign Great British Apples British Apples and Pears we are also on all major social media channels with our message 'an apple a day'.
Best wishes
Sarah
The second contact regarding pears came from a lady of 'my generation'
Below: Ripe & Ready Conference Pears grown by AC Goatham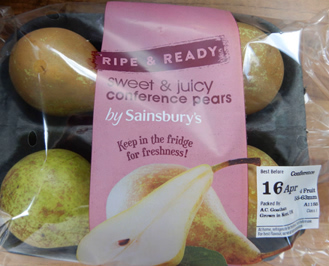 "This is the first time, in my long life (I was a war baby), that I have ever written an email complementing anyone on any food that I have purchased in the supermarket.
BUT I have been moved to do so since purchasing, from Sainsbury, Townmead Road, Fulham, London, a packet of 4 pears grown by you and dated best before 10th January 2021.
By you? My website is often mistaken as "THE grower"
I was somewhat dubious as they were so big and as we all know large in fruit can so often mean watery and tasteless. They were marked as Ripe and Ready, which is another thing we know is rarely true!
I popped them in my fridge and ate them last week. I have never had a great regard for British eating pears since I found the Rochas Pear in Waitrose BUT they (the Rochas) are from Argentina and we really do need to get more green about what we eat from where and when!
What can I say your pears were the most delicious British pears that I have ever eaten including the ones that my parents grew in their garden and I ate as a child. I must know more about them. Firstly are they a hybrid (is that the correct word?) and if so what have you called them. I cannot believe that we have such a sweet, texturally pleasing pear in our country. What's more they are big too!
Whatever the answer is to the growing of these truly special pears I want to congratulate you and your family and thank you all for such a wonderful fruit".
English Apple Man Comments
AC Goatham grow primarily Conference pears, but also some Comice and Concorde. The EAM buys a pack of 4 on a regular basis (Sunday evening cheese and biscuits always accompanied by Pears) and Concorde from ACG has been fantastic eating quality, and a 4 pack kept in the fridge can still be in 'mint condition' even after several weeks in my fridge. The longevity will reduce as the year extends into spring as the pear naturally loses it's inbuilt storability once out of the growers commercial storage.
From Mark - A question and a mystery for you....
My initial response published in last week's Journal 22nd January and repeated this week as it ties in well with my two other comments/replies.
Hello
I wonder of you can explain why English apples in supermarkets are so small.
Below: a 6 pack of Cameo in the popular size range 63mm - 68mm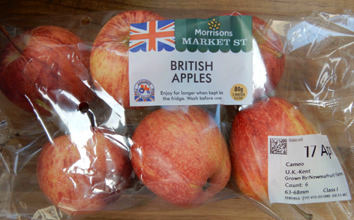 I have bought Cox's apples in Asda, Sainsbury's, Tesco's and today Aldi's all of which are sized between 63 and 69mm.
Next to them for sale are large and very large apples from around the world, but those from our shores are the size of a snooker ball.
So I am wondering if you know where do all those large Cox's and other English apples actually go?
The English Apple Man replied
Well, the prime reason is the Supermarkets prefer 63mm - 68mm and 68mm-73mm based on sales and demand.
Larger apples are normally available, either in 4 packs or as loose flow. Smaller apples as polybags.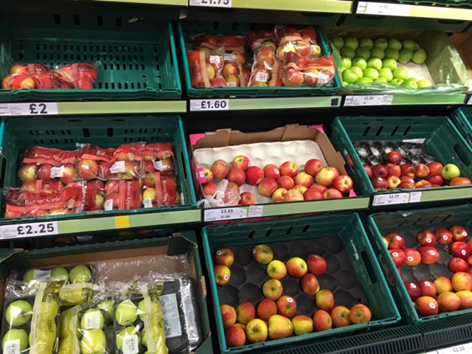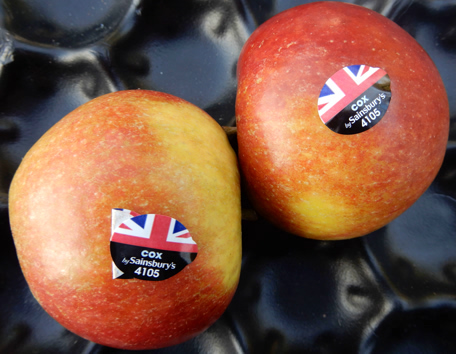 It is a peculiar trait of UK consumers that smaller apples have always been more popular, whereas on the continent consumers prefer larger sizes. My Step Mother who was German told us that a Mum' there would buy one large apple and slice it into 4 pieces for the children, while we in the UK would naturally give each child one small whole apple.
Historically, of course the warmer climates overseas tend to produce larger apples by nature, and UK varieties were naturally small medium, but today with modern varieties and more sophisticated growing systems, it is much more about matching supply with demand. We can grow them bigger, but would lose out financially.
I remember in my days involved as Technical Director for a major UK supplier, if we had a season with larger than expected fruit size. we would export the large sizes of Cox to Germany due to lack of demand here. It was not a profitable exercise. more a means of saving the large apples from going for juice!!!
If growers grow too many very small apples (below 60mm) or to large (over 75mm) they lose out financially due to insufficient demand for those sizes, so they try to target the sizes most in demand from consumers. e.g. 63mm - 68mm. Or realistically 63mm - 73mm (in 5mm bands legal requirement)
One critical factor in recent years is the Supermarkets selling by count instead of weight. So the price negotiated is based on for example: Gala or Braeburn by count 6. BUT it must still meet a minimum weight. This is OK and the Supermarket will if enough apples of the agreed size are short during the marketing season, allow a larger size.
BUT with the price agreed based on 6 medium sized apples, if 6 larger apples are accepted the price per 6 pack stays the same, therefore the grower is 'giving fruit way' = eg. weight and One large grower lost £300,000 in one year due to growing the fruit to large, but had to commit larger sizes to meet the agreed contract.
So growing apples and trying to end up in profit is a hazardous exercise!!!!!!!!!!!!
In my growing days (30+years ago) I tried to grow the majority of my apples between 60mm and 75mm as that gave the best financial return.
And Mark responds...
Thank you John for your detailed response - it appears that the consumer no longer has that choice of how many English apples they can buy unlike all of the larger fruits available in supermarkets including foreign apples.
Everything English appears to be prepackaged unlike their competitors who seem to offer both prepackaged and loose of the same apples.
A lesson to be learnt - maybe - but in this world of plastic packaging perhaps the competitors have got it right by giving the consumer both the choices of quantity and size, and the option whether to add to that ocean of plastic.
Thanks again for your detailed response I guess I'll have to source a farm shop for those larger apples but maybe, just maybe, Brexit might encourage those large supermarket chains to review their policy on their English Apples.
Have a good weekend
Kind regards
Mark
Concluding; while the apple and pear industry endeavours to match supply with consumer desire, it is not always possible, however The English Apple Man is always pleased to hear from consumers and will always forward their comments to the industry 'decision makers'

That is all for this week
Take care
The English Apple Man