Journal
16th Apr 2021 - Planning ahead
After the prolonged lockdown and many events only surviving virtually 'on line' - The Marden Fruit Show Society is planning this year's National Fruit Show as a live event at The Kent Exhibition Centre on October 20th and 21st.
This week the Society held the Virtual AGM via ZOOM and confirmed the plans for this year are progressing very well with most trade stands already booked.
It seems everyone associated with our top fruit industry cannot wait to get back to 'as near normality as possible' - it may well transpire that we will still be required to wear masks, and handshaking may still be by 'elbow bumping' but the thought of admiring the best of British Apples & Pears on the central show stand, plus nuts and soft fruit entries, is already getting 'our juices running' - the added prospect of exploring a show full of trade exhibitors wets the appetite as well!
"Dedicated to showcasing the British top and soft fruit for 88 years, the National Fruit Show is the show 'by growers for growers'.. The 2020 virtual event was a huge success with the industry concentrating on innovation and looking forward despite the multitude of issues the year has thrown at us.
In 2021 we will be back at Detling, in the Kent Exhibition Centre."
The English Apple Man has been involved as a committee member for a number of years, and attended the show for more than half century!
Below: NFS Chair Sarah Calcutt

The last 10 years under the management of Chair Sarah Calcutt and her team, has seen a 'modernisation' of the show, while maintaining the principles enshrined over three quarters of a century. Matching the professionalism of fruit shows across Europe, but with the unique centrepiece of a stunning display of the competition fruit, grown and entered by the finest British growers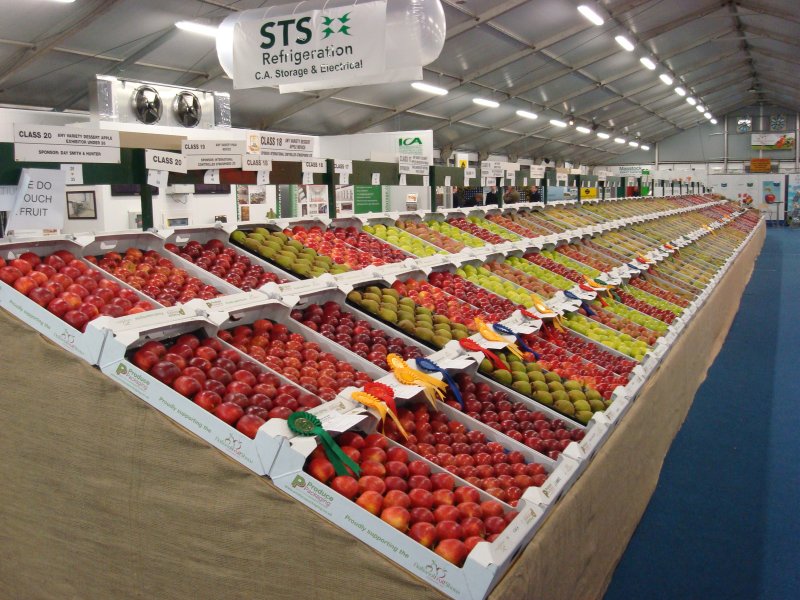 This year's AGM launched the inaugural James Nicholls Lecture. James was a stalwart of the top fruit industry, involved in the strategy and politics integral to British top fruit growing. James was 'our man in Brussels and a former Chairman of English Apples and Pears, the grower promotional organisation, and one of the architects in the upturn of the English apple and pears industry after the upheavals of the EU grubbing in the late 1990's.
The inaugural James Nichols Lecture - Prof Louise Manning, Royal Agriculture University "Leaning on the orchard gate: developing a resilient mindset."
Resilience in Business and Resilience in People, Resilience in Systems and Resilience in the Natural World.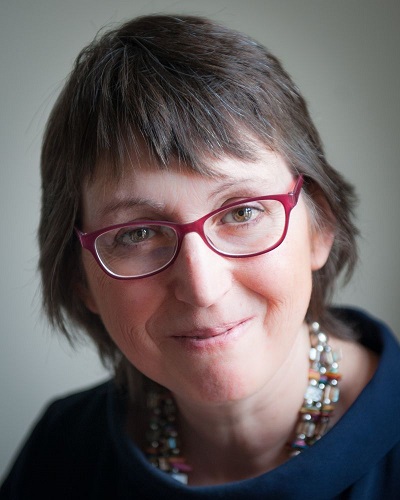 Professor Louise Manning has worked for over 35 years in the agri-food supply chain in a range of roles. Her expertise is in the area of food security and food integrity including food safety, food quality, food crime, policy and governance, social and corporate responsibility, resilience, risk assessment and mitigation strategies.
What is Resilience? "If I was talking to a group of academics, all would have a different answer. An engineer building infrastructure, bridges, dams etc. would be concerned with earthquakes, floods and other (unknown) acts of disruption!
If we are looking at the Food Supply Chain, academics would look at the socio ecological resilience, what they are saying is; we have to build a system that can survive the shocks of change and the natural world, and adapt and grow in spite of the shocks.
Note: Social Ecological Resilience - (a coherent system of biophysical and social factors that regularly interact in a resilient, sustained manner!)
For a business to survive, it must be resilient. What do I mean by resilience? The ability to manage shocks; we have experienced BREXIT, COVID, LOCKDOWN this last year and being resilient is critical to survival.
But in farming we have many potential shocks which may come our way; Hail Storms, Frost, Economic Squeeze's - downward price pressure etc. there are so many potential shocks and to survive them we must be resilient.
Supply Chain "squeezes" - Buffer Capacity
Adaptive Capacity - Capital - Financial - Physical Assets eg. Natural assets: 'Sunlight, soil, water, are all assets.
Some of my students have shown a desire to interview farmers about resilience, and when they return with their data, which is more about sitting at the kitchen table with the farmer and discussing their view of resilience. Almost all farmers highlight two aspects: Personal Resilience and Business Resilience . those two aspects are the KEY. If you are not personally resilient it WILL impact on your business resilience and if your business is not resilient, it WILL impact on your personal resilience!
People And as we employ more people in our business, so that becomes more complex.
Buffer Capacity
COVID has taught us the importance of resilience; if we had, had greater ability to turn milk into dried milk, we would not have needed to throw so much fresh milk down the drain!
A study of resilience came out of New Zealand when the UK joined the Common Market in the 1970's and NZ lost their market place.
If I am a fruit farmer and I suffer a disastrous frost, do I have the Buffer Capacity to survive a year with no income?
Farmers borrowings are on average (percentage) in line with family mortgages. But there is a very wide span.
Adaptive Capacity
"If my market place is severely affected, I must adapt and COVID is the perfect example of this, with many restaurants and food suppliers suddenly without customers, many changed their business model completely within two weeks. "Adaptive Capacity"
Transformation
How do we transform our business when faced with this shock? That is the challenge. How do we transform our business after COVID and BREXIT. Look back 100 years to the period after the first world war when many businesses had lost their labour, either to the war or the Asian Flu PANDEMIC followed by the Great Depression.
Does this generation have the the resilience to recover? Looking at Multi National businesses, they have their BRANDS which are valued at 'Billions' on their balance sheets.
Sustainability Sustainability, and each business may have a different view of sustainability, we need to make sacrifices for today to deliver sustainability for the future.
If the producer (grower) reduces carbon footprint, does that net gain stay with the producer, or is it lost somewhere down the 'food chain'
Zero emissions and Net Zero are different! Net Zero enables offset for Carbon - Bill Gates bought 269,000 acres in USA. believed to be, to create carbon off set opportunities.
Investment firms argue the farmlands will meet carbon-neutral targets for sustainable investment portfolios while also increasing agricultural productivity and revenue.
Analysts expect measures of carbon emissions and biodiversity to become more formalized, with the possible introduction of new carbon taxes.
Social Capital. Organic/ Human Capital, Mindset - SQUEEZE
Many elements make up the complexity of achieving Personal Resilience and as a former apple grower with circa 60 years of experience, I have been through the 'highs and lows' of of every element. In 1975 my beloved father died; a year of transition while fighting the urge to 'jack it all in' - 1996 and the drought reducing fruit size well below the profitable sizes, then as we started harvest, it rained and rained and rained!!! - 1997, frost reduced my crop to almost nothing, 1978, a great crop, but decimated by hail, I definitely understand RESILIENCE.
Business Resilience was only possible due to my father's cautious, pragmatic management, leaving me with money in the bank to survive the dark days! When I as a young man implored him to invest in new orchards, equipment etc. his answer was, " I have never had a lot, but I have always had enough, and I like it that way"
Professor Louise Manning's lecture was very thought provoking. She has her finger on the pulse of how to survive and prosper, but on the subject of SQUEEZE, the industry has been squeezed continuously by large retailers over the last 20+ years and while they have ben responsible for raising standards, and driving cost out of the system, there is very little to SQUEEZE left!
At some stage. either prices (to the grower) must improve or home grown production will decline again!
Finally this week has been cold and fruit bud development has stalled. The Bladon Pippin, Red Devil and James Grieve in my garden are not much different than a week ago. apart from the leaf colour which looks a bit on the yellow side!
Below: Bladon Pippin at green cluster stage and looking a bit worse for the cold weather!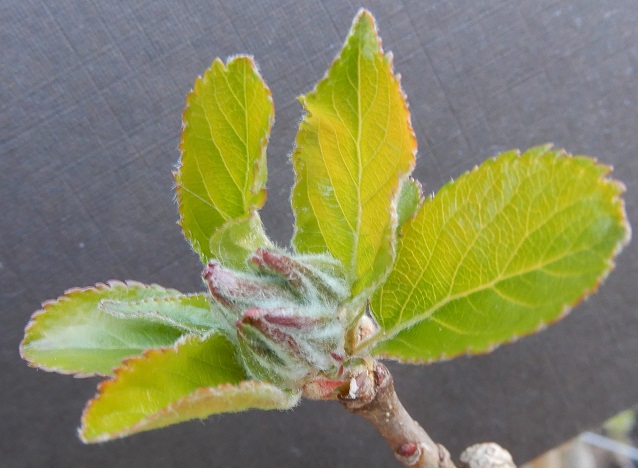 Below: Red Devil at Green Cluster stage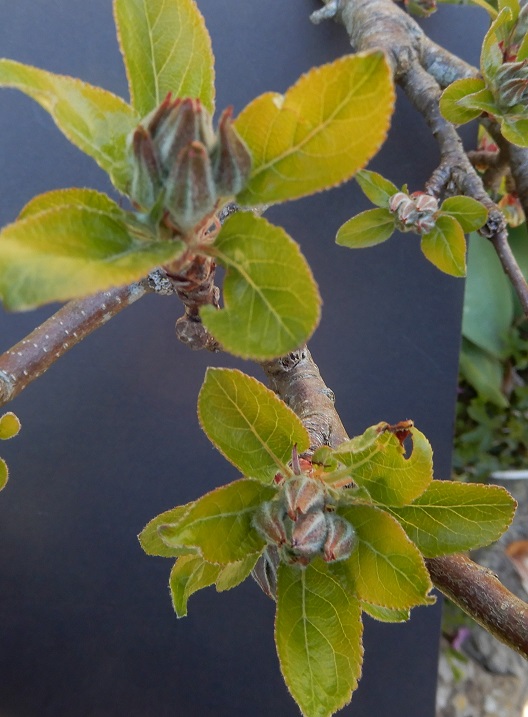 Below: James Grieve at the Green Cluster stage with signs of Early Pink Bud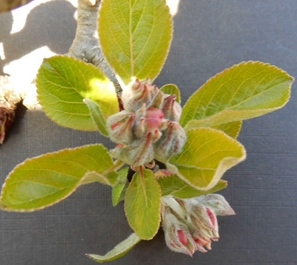 That is all for this week
Take care
The English Apple Man