Journal
23rd Apr 2021 - It's a bit warmer this week, and apples & academia
There is still a bit of frost about and while the sunshine has been welcome this past week, any breeze has a cold edge to it!
The English Apple Man has a new friend!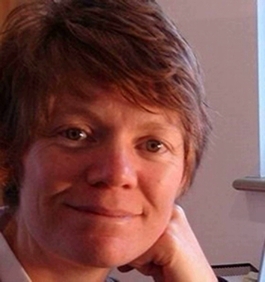 Back in January, The English Apple Man was approached by an academic lady seeking advice on who to speak to in the apple industry, as she had been awarded funding for a research project funded by The Leverhulme Trust.
"I hope that you don't mind me contacting you out of the blue.
I'm an anthropologist, and I'm in the fortunate position of having funding to work on apples for the next three years. I'm writing to ask for your help! I really hope that's okay. I'm certain that you are very busy, and I don't want to impose, but at the same time I think that you are the best person to ask about apples - what I need to know and how I should go about finding it out! I love your website and I particularly enjoy the fact that you are so curious about everything to do with apples. I feel the same way"
My new friend, Professor Rebecca Cassidy set out her apple aspirations with the eloquence of the Cambridge graduate that she is!
"I am completely open about the course that my research will take. I want it to reflect what's important to apple people. I have funding for brief visits to the university orchards in the US, forests in Asia and growers in Europe but my primary focus is the UK. I've been to Kyrgyzstan before, for a project about the origins of the domesticated horse, so I have some experience in that area.
Below: Rebecca with Big Lou, Aggy and Fanny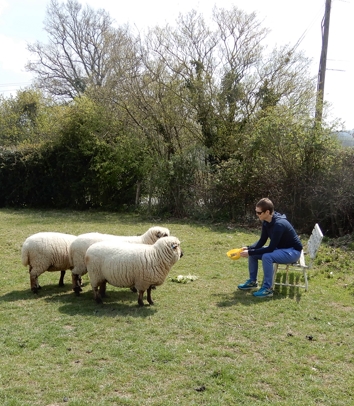 Since the start of the project in September 2020, I have been finding out basic information that will help me to get a sense of what apples are, where they have come from, how they are grown, sold and eaten. So far, I've read Joan Morgan, Barrie Juniper and a few others. I've been to the Fruit Show, Interpoma, FPJ live.
I've spent a couple of days at a local nursery and been shown how to graft, I've been shown around a local farm by the owner, I've been to Brogdale on one of their open days, I am a member of a local orchard where I've been picking and bramble hacking and I attended the Register of Local Cultivar meeting in December.
Two years ago, I visited the orchards and apple museum in South Tyrol which is what prompted me to apply to the Leverhulme Trust to work on apples. I have ordered trees to plant my own orchard in our small paddock and bought three sheep, Big Lou, Aggy and Fanny, to keep the grass down.
The trees arrive next week. I live near Marden - in the middle of apple growing territory so every time I go for a walk I get to look at and think about apples. Lots of my neighbours are fruit growers, including grapes. I have the big commercial concerns as well as small farms on the doorstep. I hope to join the East Kent Fruit Society and the RHS fruit group this week"
The Leverhulme Trust is a large national grant-making organisation in the United Kingdom. It was established in 1925 under the will of the 1st Viscount Leverhulme (1851-1925), with the instruction that its resources should be used to support "scholarships for the purposes of research and education." It is based in London and is a registered charity under English law.
The English Apple Man comments
On Tuesday I visited Professor Rebecca Cassidy at her home with panoramic views across the Weald of Kent. As mentioned. Rebecca is an anthropologist who has just started a three-year study of apples, funded by the Leverhulme Trust.
She is interested in every aspect of our industry: 'from pip to plate', as she says!
Having previously worked on racehorses and gambling she knows all about improving breeds and taking risks! She's learning fast but she would appreciate any help and advice regular readers can offer.
She wants to make sure that her study is useful and reflects what we think is important. If you would be happy to share your thoughts about the industry with her please feel free to give her a call on 07515 743510 or email her at r.cassidy@gold.ac.uk. Rebecca will be contributing occasional reports to this blog so that we can keep up with her progress.
Out in the orchards?
The season progresses and as mentioned in previous Journals, there has been frost damage in all growing regions. Hopefully the overall picture may not be as bad as first feared. An update from one of my Agronomists friends in Kent reveals -
"Not as serious as first thought! Low weald the worst affected - Low lying areas, especially around Marden affected.
North and East Kent, touched but not too bad - Hills in the weald, tops ok as you comedown more damage found.
Low lying Bramley's are 100% damaged".
Below: left; Bladon Pippin slowly moving from Green Cluster to early Pink Bud and right; Discovery at early Pink Bud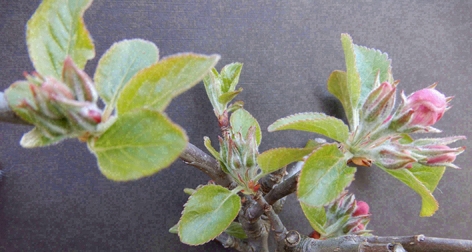 Below: left; Red Devil at early Pink Bud and right; James Grieve at Pink Bud stage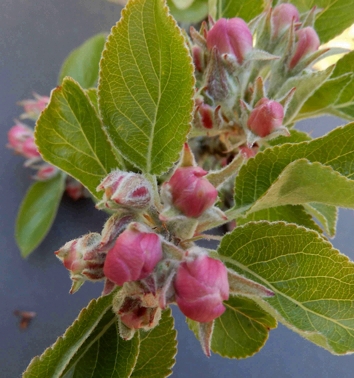 Below; left; Christmas Pippin at Green Cluster and right; Red Windsor at Pink Bud stage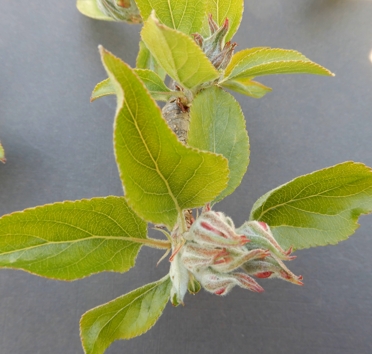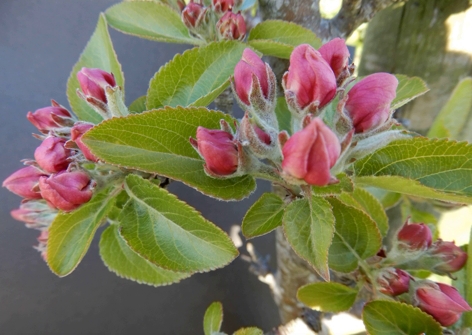 That is all for this week
Take care
The English Apple Man