Journal
30th Apr 2021 - Goodbye to a friend
A CELEBRATION FOR THE LIFE OF RICHARD DAY 15.09.1969- 06.04.2021
From time to time, we lose a member of the fruit farming fraternity, but losing one so young is an absolute tragedy.
Richard Day's family and close friends gathered at St. Michael & All Angels Church Marden in Kent on Friday 23rd April to celebrate his life.
Born into a farming family in Marden, Kent, Richard attended Dulwich Prep School at Cranbrook and then Marlborough House Prep School in Hawkhurst, followed by Eastbourne College (1982-87) and finally Writtle agricultural college.
Interestingly David Gower just 12 years Richard's senior and a future England Cricket Captain and precocious left-handed batsman also attended Marlborough House school, from 8-13 years old.
The English Apple Man met Richard circa 25 years ago when he was in the early days of his management of the family farm at Great Cheveney, following in the footsteps of his father Michael and mother Diane. He was instantly welcoming as I was, at that time making an audit visit of his packing facilities, he was as always constructive and accommodating, demonstrating with pride structural and operating improvements made under his management. I had the great pleasure of seeing him progress the business to a much larger and very successful business, embracing technology and modern varieties.
While I cannot claim to be a close friend, Richard always treated me as one and I always enjoyed my visits to Great Cheveney, and met his lovely wife Louise on a bonding visit between our team at Fruition as we spent a day sailing in the Solent. Louise was pregnant with Claire at the time and now 21 years later we grieve the loss of a truly wonderful man!
In the words of his many friends
"Richard made many friends, in all quarters of life. Many fruit growers and many from a diverse background and many through sport.
Richard passed away peacefully on 6 April 2021, aged 51, after a short but valiant battle with cancer. Just as he had been at the crease, in the scrum or whacking a short corner, he was fearless and determined to the end.
To all of those who knew Richard in his school days, his sporting prowess will be the first thing to recall; at Eastbourne College he captained the cricket and hockey elevens and played rugby for the first XV, all with great distinction.
Nigel Wheeler - former tutor at Eastbourne College
His former Tutor at Eastbourne College, Nigel Wheeler, remembers Richard as a highly successful and respected schoolboy. In class we would have only come together for English lessons, where I am sure Richard spent his time gazing out of the window towards the hallowed sporting fields of the College, where he would spend many happy hours and earn great distinction at Cricket, Rugby and Hockey.
Wisden 1987 records Eastbourne having their best ever season, winning the Langdale Cup with captain R. M. Day scoring 1,005 runs in the season with an average of 53 and 45 wickets with a best of 7-34 against Kings Canterbury.
As an Old Eastbournian I saw him score a double century against Old Malvernians.
In my 30 years at Eastbourne College, Richard was easily one who would be selected in the 'top eleven' in the school cricket team.
He was also head of house and a school prefect (much to the amusement of his friends, of whom there are many). He loved playing Old Eastbournians cricket and latterly became a key member of the Old Eastbournian Golf Society, playing regularly at Rye and also for the Halford Hewitt side. But he was so much more than an incredibly talented sportsman.
Christopher Stephenson - school friend
Acknowledging Richard's many sporting and business achievements, Christopher recounted what he believes Richard would judge as his greatest achievement, his incredible love affair with Louise, which developed as their two girls completed that loving unit.
Richard was never happier than when he was relaxing with Louise and their 'girls' Claire and Chloe.
Patrick Hole - school friend
Determined, high achieving, modest and intensely private, kind and one hell of a good sportsman, one hell of a good bloke! My first memory is of Richard as a precocious 15-year-old at Eastbourne, dispatching effortlessly my bowling, of which I was intensely proud, to all corners of the cricket field. Two lessons learnt, one Richard played every ball on merit regardless of the reputation of the opponent, secondly better to have him on your side!
20 years later I managed to 'nab him' as my golf partner. Enjoying modest success on the golf course, I managed to break through that intense privacy and came to appreciate his utter devotion for his family, his passion for his business and his pride in his father's achievements as a rally driver as he tracked down his father's old rally car and brought it home!
Mark Gaskain - fruit grower friend
I first met Richard when in 2004 as a 29-year-old and recently returned to our family business, I attended a grower packer meeting at Clockhouse Farm.
Apprehensive as I would comfortably be the youngest person in the room, another land rover drew up and out jumped Richard just five years my senior. We quickly hit it off and in 2006 entered, with others into a business relationship. We developed an understanding which with the 'raise of an eyebrow' in difficult meetings we both grasped what we agreed with and what we did not.
Richard was a superb apple grower, an excellent packhouse manager and a much-loved employer. Today as we left Great Cheveney for the service, the driveway was lined by his farm staff, the workforce at Prime Produce and many local people wishing to show their respects.
Colin Bailey - great friend and fellow student at Writtle College
His period at Writtle is fondly remembered by his great friend Colin Bailey. The pair met on their first day at college and became inseparable, neither professing to be academic, but both grasping the practical understanding of farming and horticulture. Set a project sponsored by Barclays Bank seeking a loan to transform the Dairy unit and expected to suggest using a loan of £10,000 - £20,000 to buy more livestock, the pair had no interest in livestock, so Richard suggested instead of seeking a loan to buy more cows, set out a much more ambitious plan!
Sell the cows and seek a loan of £1,000,000 to convert the old dairy building into a bed and breakfast centre. Colin remembers they were in disgrace and both scored '0' marks, but 15 years later, the college converted the dairy into a B&B - Barclays accepting their proposal. What vision, years ahead of their peers!
Cobie Loubsher - Friend from Eastbourne and fellow Poker player
Cobie remembers the happy times spent with Richard and Louise at Eastbourne, when they bought a second home there to be close to their daughters Claire and Chloe who also attended Eastbourne College. During this period Cobie introduced Richard to a Poker Club in Eastbourne. Richard enjoyed the challenge of Poker, so much so that during COVID lockdown, they continued to play it on-line via ZOOM. Louise said even during his Cancer treatment, Richard never missed a Thursday night Poker session.
Steven Packer - Golf player and friend
Steven met Richard 15 years ago supplying transport for Richard's fruit and they developed a great friendship at Rye Golf Club. At Rye GC we called him 'Richard of Rye' or to give him his full title: Sir Richard of Rye.
Steven remembers Richard as such a modest person, who would never speak of his many achievements, you had to prise any information from him. He was a great golfer, cricketer, rugby player and hockey player and wonderful friend.
Remembering Richard
Richard was incredibly kind, hardworking and, above all else, devoted to his family. He will be remembered as a thoroughly good man. After school he built a formidable farming business alongside his wife Louise.
He brought the same determination and grit to his working life as he had displayed on the sports field. He transformed the family farm into a huge success story, employing many hundreds of people.
Richard will be much missed by all who knew him, but none more so than his wife Louise and his 'girls' Claire and Chloe. He was devoted to all of them and they to him.
He was a great golfer, cricketer, rugby player and hockey player and altogether "one hell of a bloke".
Donations in Memory of Richard to: Just Giving in Memory of Richard Day
------------------------------------------------------------------------------------------------------------------------------------------------------------
Orchard Update
The variable weather continues, with 'mostly sunny days' but with an icy feel to any wind. Temperatures are below normal for the time of the year and the apple blossom stage is estimated to be 7-10 days behind last year. 'IF' we get a sudden rise to warmer days and nights, the apple blossom will 'erupt' - in my garden the blossom is beginning to show!
Below: left; Family tree (Discovery, Red Devil & James Grieve) and right; Discovery at advanced Pink Bud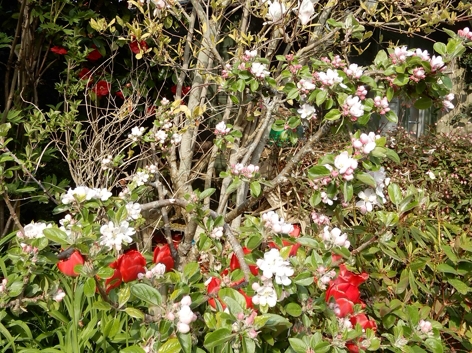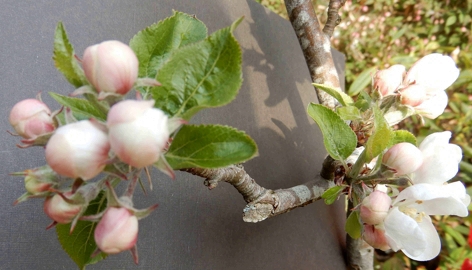 Below: left; Red Devil and right; James Grieve both at pink bud/early blossom stage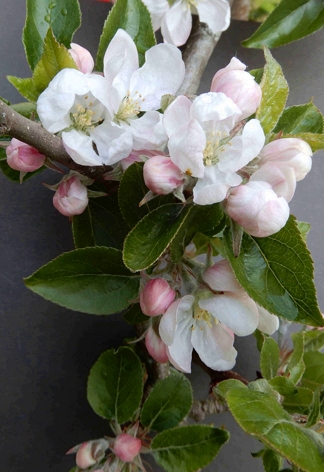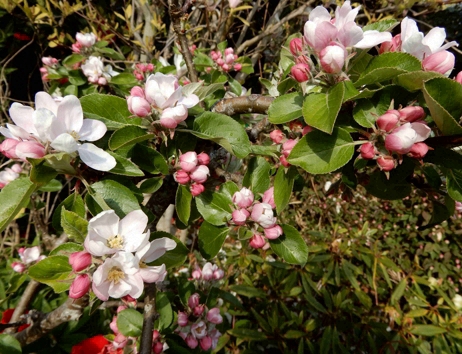 Below: left; Bladon Pippin at late pink bud stage and right; Christmas Pippin at pink bud stage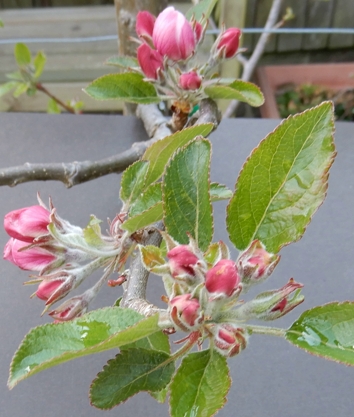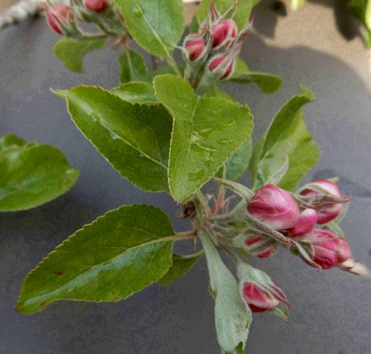 Below: left; Red Windsor Tree and right; Red Windsor blossom advancing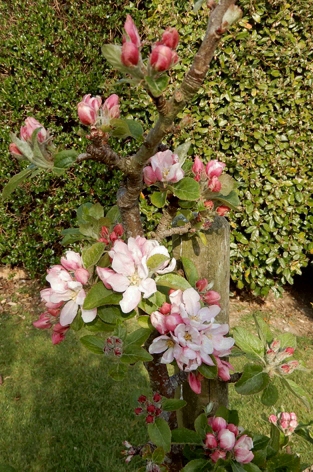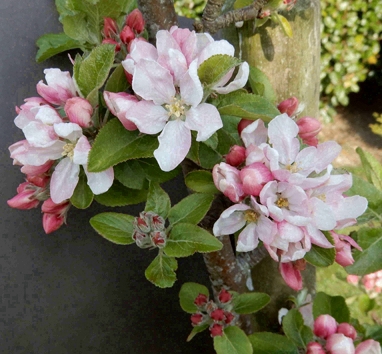 That is all for this week, next week full bloom???
Take care
The English Apple Man