Journal
14th May 2021 - Challenges and Opportunities
Life brings it's challenges and opportunities; the apple business is no exception!
While we are still in that uncertain stage where the influence of frost damage in recent weeks has, or still may, reduce the crop potential for UK apples, pears, and stone fruit, post Brexit trade deals open potential opportunities for new exports of UK apples .
Small amounts of English apples have been exported in the past, usually of large apples not in demand with our consumers, the preference being for mid range sizes.
The export of British apples and pears to India represents an exciting opportunity for UK growers. However, with the UK only currently producing around 40% of apples and 20% of pears consumed in the UK, it is important to remember that there is huge scope to further develop our own markets, particularly following Brexit'.
CHALLENGES
From my Agronomist friend in the West Midlands
"Frosts seem to be over and in terms of most of the apples, the damage has been relatively limited as the worst frosts were well before pink bud stage. I even have hopes for a Bramley crop! Gala is at about 50% petal fall as I write, with some flower still to open on the one year wood.
The trees have taken a bit of a battering from the cold and some strong winds, and having had nearly 50 mm of rain in the last week, we would like some warm, dry settled weather during the next few weeks of cell division in the fruits. No such luck if the weather forecast is correct!
However, I am optimistic about the crop volume but uncertain about the quality of the fruit in terms of shape, storability and physiological disorders. Unless we have a very warm summer, picking dates will be late this year with the prospect of some Gala being picked in October.
We have had occasional sunny spells and I managed to take the picture below of a cider orchard in one such spell. Looks like a big blossom in most cider orchards this year and they will be at full bloom next week.
Below: Cider trees in bloom in the West Midlands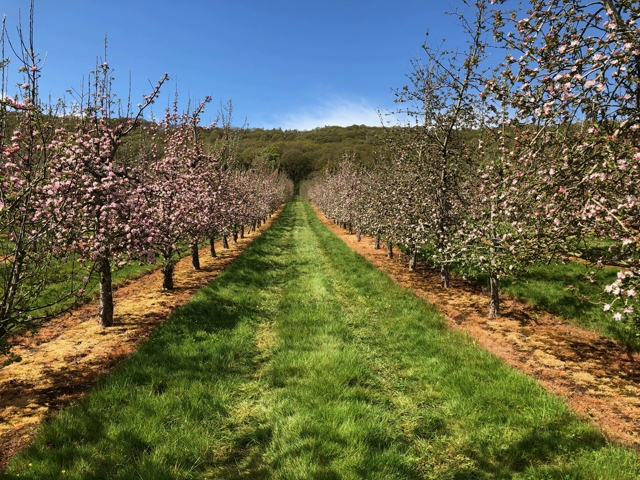 We are currently in a high risk period for apple scab, and a few more pests are now showing since the temperatures have risen (I am loathed to say it has 'warmed up'!) Woolly aphid is 'on the move' so will be treated in the next week or two (picture below).
We are waiting to see if the pears below start dropping or we have to make some chemical thinning decisions next week.
Below: left; Woolly Aphid infection and right; Conference pear fruitlets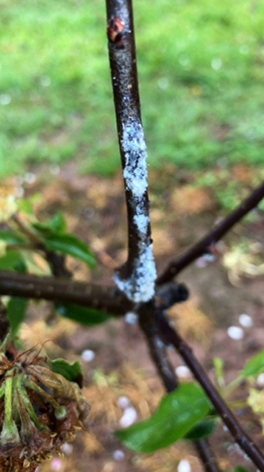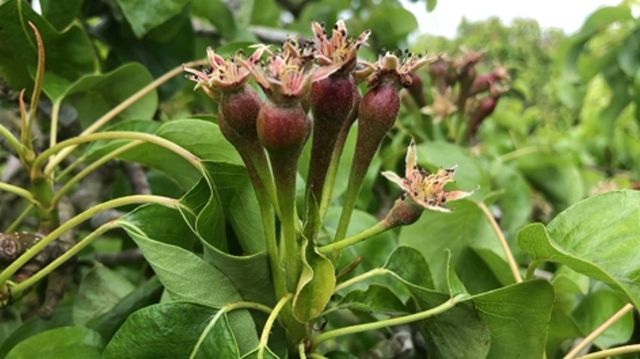 From Kent
The Weald suffered the worst of the frost damage with some orchards of Gala with 50% frost damage, however with very high levels of blossom, the probability is (subject to the weather in coming weeks) that those orchards may well produce a very god yield; whether the low temperatures result in some 'skin finish issues' remains to be seen. Cox in the Weald will be affected and Bramley more so!
In East Kent the massive levels of blossom will almost probably result in too heavy a fruit set and thinning will be the order of the day!
North Kent (on higher ground) where our largest apple & pear grower AC Goatham & Son have many of their farms, prospects look good for dessert and culinary apples. We will know the full potential of pears once they 'turn over' and enter the natural thinning stage.
Pictures I have seen of frost damage this week, where the bud has reached the green cluster stage before drying out and dropping off, remind me of 1977 when I walked my orchards in early May and found the majority of buds had reached the same tragic end. That year we picked just 600 x 30lb boxes of Cox apples instead of the usual 600 - 100 (300kg) bins!
East Anglia (Wisbech) where a lot of Bramley is grown, has suffered frost damage.
OPPORTUNITIES
Exporting apples to India!
AC Goatham & Son welcomes UK-India trade announcement;
The UK's largest apple and pear grower AC Goatham & Son has welcomed the Government's announcement this week of a new UK-India trade deal which will see restrictions lifted to enable fruit producers in the UK to export British apples and pears to India.
Ross Goatham Managing Director at AC Goatham & Son comments: "This is an exciting opportunity for our business as we grow and supply the best quality British apples and pears direct to supermarket customers, controlling every step in the process from the trees in the ground to delivery in our own vehicles. It is therefore very easy for us to explore new overseas markets and the potential that new trade deals present."
"Our significant programme of investment in our business over the last 10+ years from developing new varieties through to cold storage and packing technology means we have an increasing volume of our own fruit and the capacity for handling and storage, plus that of our 20 partner growers."
"Export is something that we have already successfully trialled to the Middle East with Gala and Braeburn and we look forward to opening discussions with interested parties in India."
The non-tariff barriers on fruit export to India will also help boost UK jobs and growth in the top fruit sector and with a population larger than both the EU and US combined, the Indian market (1.4bn people) presents a significant opportunity.
Press Release -Ends-
For more information about AC Goatham & Son visit www.acgoatham.com
The English Apple Man Comments.
From time to time, someone says, "why don't we export our apples" - well, since production costs (per kilo) are almost exclusively lower in foreign lands, it has been difficult to financially justify apple exports from UK.
I remember 20-25 years ago we at FRUITION exporting 'oversized Cox apples' (80mm +) to Germany where large apples were more acceptable to their consumers, but this was only justified when we had too many for the limited demand at home, and rather than sell it a very low price here, and taking advantage of transport companies - 'back loads' to the continent, we did not do much more than cover costs and avoid sending 'said fruit' for juice.
The growing demand for apples in Asia has changed a lot of trade, and New Zealand growers, dependent on export, 'changed tack' reducing exports to an oversupplied Europe, and took full advantage of better prices in Asia. This stimulated the export of some NZ varieties (Envy & Jazz) grown in the UK, being exported to Japan; particularly the large fruited apples (Envy tends to grow too large here for UK consumers)
The great success of British Apples & Pear growers over the last decade, increasing volumes of home grown fruit and with modern storage technology, extending our season of supply from September past the historic season end in April, well into the summer with Gala and Braeburn and the new Magic Star capable of storing around to the new UK season (September) reducing the need for imported apples and very importantly (potentially) increasing the 'home grown' percentage from circa 40% to 60% of apples consumed here.

That is all for this week
Take care
The English Apple Man