Journal
21st May 2021 - Plums and Grapes
East Kent Fruit Society visited NIAB/EMR via ZOOM on Tuesday for a Plum and Grape update!
Centrepiece of the event involved Scott Raffle AHDB Knowledge Exchange Manager, on video interviewing research personnel at the Plum Centre and the experimental Vineyard.
The Plum Centre featured the interview by Scott Raffle of Marzena Lipska, Karen Everitt and Celine Silva.
Scott Raffle also conducted the The Vineyard interview, with Paul Tuteirihia.
In this week's Journal we will look at the Plum Demonstration Centre and next week review the experimental Vineyard
The Plum Centre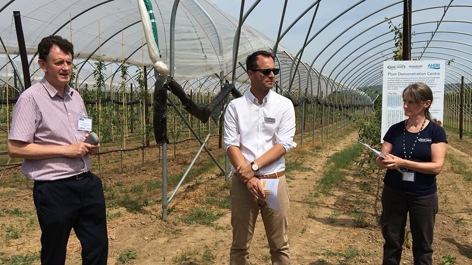 Opened at the occasion of Fruit Focus 2019, the Plum demonstration centre is designed to follow on from Innovate UK funded AHDB Plum Research Project - Innovate UK Project No: 102133 - 1 February 2015 - 31 March 2019
AHDB knowledge exchange manager Scott Raffle said: "This new Plum Demonstration Centre offers growers the opportunity to see the results of a number of research projects in practice,
Not only will growers be able to view the results of the Innovate UK plum project, but the ready-made centre will now also support the development and demonstration of other new technology, to increase the growing season and sustainability of tree fruits.
The Plum Centre has been part funded by Agricultural & Horticultural Development Board (AHDB) and is a demonstration centre, not a research centre. The objective is to observe different tree shape and pruning managements, allied to different rootstocks. In addition some very new varieties (as yet unnamed) and some standards like the renowned VICTORIA Plum.
Rootstock comparisons
Below: Victoria Plums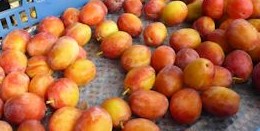 The performance of Victoria is being compared on four rootstocks (four replicated 5-tree plots) of varying vigour including VVA1, Wageningen, Wavit and St. Julian A.
The planting allows replicated comparisons of the performance of Victoria including tree size/vigour, flowering time, ripening time/season, disease susceptibility, productivity and fruit size and quality.
Training system comparisons
The performance of Victoria is being compared on seven different training systems: Narrow table top, Narrow A frame, Oblique, Super spindle, Fan, Candelabra and Multi-stem.
Variety comparison
A total of 23 new varieties were planted in Spring 2020 to demonstrate their performance and how the season can be extended from July to October. Three other orchards have also been planted by commercial plum growers in Kent to showcase different plum varieties. These include A. C. Hulme & Sons (early varieties), Highwood Pluckley Ltd (late varieties) and G. H. Dean (varieties with high yield and quality potential).
Protected cropping
An area at the centre has been set up to demonstrate the difference in performance of Victoria grown under polythene clad multi-bay tunnels compared to unprotected Victoria.
The English Apple Man Comments
The area of UK Plum production has fallen dramatically since 1985 (see Innovate Project) while Victoria continues to be the most popular UK Plum. Even in the traditional UK peak season (August) there is not enough home grown Plums, although the market is often upset by a two week glut in August. The potential for UK Plums depends on a growing/supply season extending to 12 weeks.
The quality delivered to the consumer must be better. While growers will be dismayed by the Supermarket practice of selling imported (and poor eating quality) priced at £1 a kilo, a better price can be achieved if suppliers and Supermarkets work closely to deliver quality plums at a price profitable to the grower. Marketing is key, the experience of Soft Fruit and Cherry production over the last 10 -15 years has transformed their production volumes. UK Soft fruit is now available for circa 9 months, Cherries for 3 months. Plums need to be following the same trajectory.
The development work going on at NIAB EMR and from leading growers who see the potential for a UK Plum industry to match Soft fruit and Cherries will in time bring success!
A coordinated approach is the key!
Innovate UK Project No: 102133 - 1 February 2015 - 31 March 2019
Click on INNOVATE UK Plum project for an in depth review of UK plum production over the years 1985 - 2017.
Huge scope for import substitution through yield increase and season extension of high quality varieties
Best Practice Guide for UK Plum Production
A new Best Practice Guide to UK plum production has been produced by NIAB EMR in collaboration with FAST LLP and three UK leading UK fruit growers. It brings together information on plum production in one place and develops from that information recommendations for Best Practice in the UK. Recommendations are made to encourage all UK tree fruit producers to adopt the best practices currently available for producing this crop.
Click on Best Practice Guide to UK Plum Production
Elements will be added to the BPG once the results of Rootstock comparisons, Training system comparisons, Variety comparisons, and Protected cropping trials have been published.

That is all for this week, next week Vineyard research
Take care
The English Apple Man