Journal
28th May 2021 - BIFGA Technical Day 2021 & Press Release from AC Goatham
First - SORRY - I had intended to cover the Vineyard Video between Scott Raffle and Paul Tuteirhiha, but I need to refer to the recording (currently unavailable) to ensure accurate representation. Maybe next week!
So, this week's Journal will feature the 33rd BIFGA TECHNICAL DAY IN THE WEST KENT AREA WEDNESDAY 26TH MAY 2021
This year, due to Covid, the technical day is being split into several separate afternoon/early evening tours to allow small, socially distanced groups to visit three farms and one cold storage site.
Also, a Press Release regarding International Trade Minister, Ranil Jayawardena MP visit to AC Goatham & Son.
The BIFGA Technical Day was planned as a four site visit, meticulously planned by BIFGA Chairman John Breach and Secretary Judi Perry, keeping numbers down below 30 at each site visit.
Our very kind hosts for this event were:
SITE A Carl Wildish, AGA, Lamberhurst Road, Horsmonden, Kent TN12 8DP
SITE B Richard Edmed, Flightshott Farm Orchards, Marle Place Road, Horsmonden, Kent TN12 7HS
SITE C Alex Charrington, Charringtons, Cryals Farm, Matfield, Kent TN12 7HN
SITE D Colin and Suzie Corfield, Owl House Fruit Farm, Lamberhurst, Kent TN3 8LY
Subjects covered included: Harvest Quality Vision - Fruit Profiler; CA Equipment on site and Safe Pods; Stress
Busting Workshop; Orchard Cooling Team - Refrigeration and current issues; Orchard Tours; Spraying and the latest
Technology; Yara Technical Update - Top Fruit; IPM Flower Strips - Beneficial Refuges; Orchard Spec forklifts; Canker
Research; Hail 2020 - What we have learnt!; Approved Solution for Esca (Grapevine Woody Diseases); Fruit Tractor
Demonstration; AHDB Update
The English Apple Man joined Group B at Richard Edmed's - Flightshot Farm for a catch up on the season's progress to date with Nigel Jenner of Avalon Produce Ltd (APL).
Below: left; Richard Edmed & Nigel Jenner and right; Cabaret apple orchard at Flightshott Farm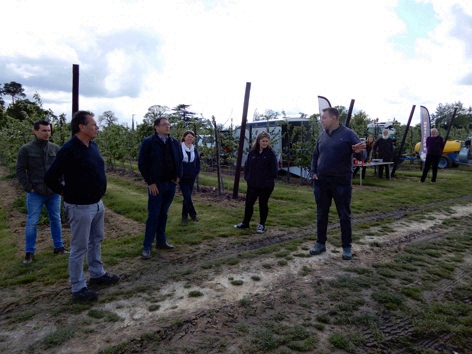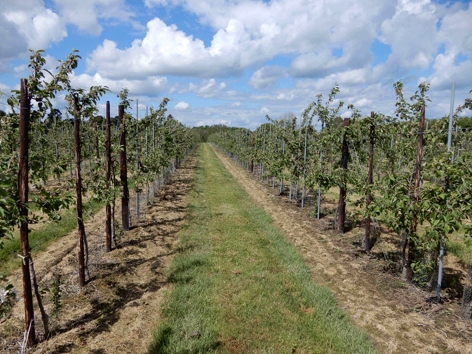 Claire Seymour demonstrated Dualex Leaf clip Sensor, a leaf monitoring device, which reads nutrient status of the leaf and with GPS connection will enable accurate nutrient status of specific orchard areas.
Dualex Leaf clip Sensor
All plants require a ready supply of macro and micronutrients and Nitrogen (N), phosphorus (P), potassium (K), calcium (Ca), sulphur (S), magnesium (Mg) and iron (Fe) are all essential if they are to thrive.
Deficiencies in any of these nutrients can be visible as a reduction in leaf chlorophyll content and a depletion in overall leaf chlorophyll content limits the plant's photosynthesis capabilities and production.
Below: Leaf monitor presented by Claire Seymour and Nick Seymour presenting Innovate UK project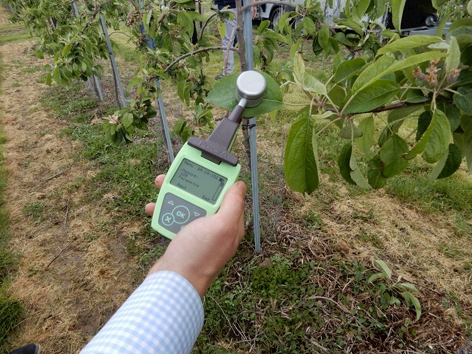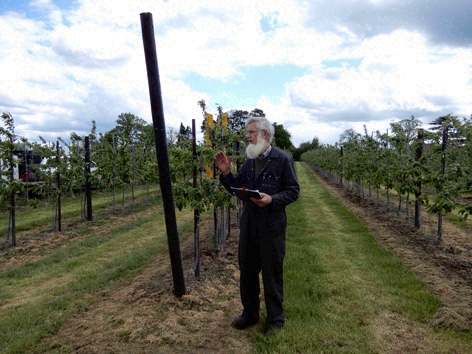 At each site a 'trade presentation' allowing sponsors the opportunity to demonstrate developments. At Flightshott Farm Orchard and Vineyard specialist engineering supplier NP Seymour updated attendees on the Innovate UK precision fruit tree dosing project.
Why?
As all growers know, there is often significant tree-to-tree variability in orchards, with different tree structures (size, density), crop loads and quality often being linked to less than optimal, often poor, overall yield and quality.
This PODS precision sprayer system is the culmination of a 3-year Innovate UK research project which was set up to develop a precision dosing orchard foliar spraying system to improve the uniformity of orchards and greatly increase their economic performance.
Innovate Precision fruit tree dosing project
How? - measurement of tree leaf density and blossom by drone and for more Precision by Lidar
From the data areas of differing density of leaf and or blossom are identified on a tree by tree basis and on a height basis which then means that in the case of this trial thinner can be applied to the areas of the orchard that have the blossom count above a set level.
Due to the height measurement and in this trial the trees are divided into metre high bands the sprayer can spray the desired trees and in the desired areas.
All the measurements by drone and lidar are linked by GPS and the sprayer is working from those GPS coordinates. We are working to an accuracy of less then 50mm and as you will see the sprayer nozzles are very quick to shut on and off, the system is working in milliseconds to achieve this.
Not only are we saying yes or no to spraying we are spraying at varying rates 25% 50 % 75% or 100% and this is achieved at a constant pressure of between 8 and 10 bars by pulsing the solenoids on the individual nozzles - Pulse Width modulation or PWM for short which I will mention again in a minute.
The aim at the finish of the project is to have a system that can be retrofitted to any suitable air blast sprayer so that precision dosing can be carried out based on data collected by drone and or Lidar.
At this point Nick Seymour demonstrated a random test run on the nozzles, controlling the 'on off' capability from a programme on his hand held tablet.
What will be available very shortly is "on the hoof" variable rate application based on tree density measured by Lidar or camera on the front of the tractor or sprayer.
This will be done with the PWM nozzles that we have fitted here and high speed processor to determine from your instruction EG spray high density @ 300ltr/ha down to 100/Ltr/Ha for low density and on centre leader trees there will be no spray between the trees and this will be on an individual nozzle basis so on this sprayer bands of 350mm.
Click on PODS Sprayer Demonstration
As all growers know, there is often significant tree-to-tree variability in orchards, with different tree structures (size, density), crop loads and quality often being linked to less than optimal, often poor, overall yield and quality.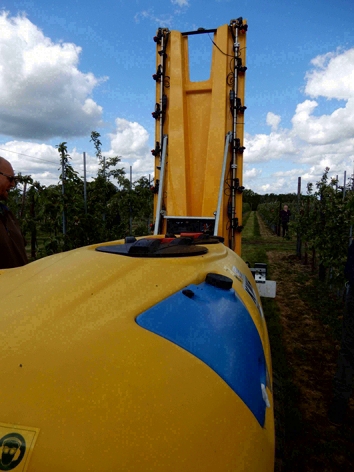 This PODS precision sprayer system is the culmination of a 3 year Innovate UK research project which was set up to develop a precision dosing orchard foliar spraying system to improve the uniformity of orchards and greatly increase their economic performance.
While current practice is to spray whole orchards at the same dose regardless of tree structure or crop load, the equipment we have helped to developed will apply precision doses according to need to optimise performance.
We chose to use the KWH three-row sprayer because of the layout of the tower, which gave a nice base to work on having been carefully designed for modern orchard growing systems.
The variable rate sprayer, which was applying Brevis fruitlet thinner in the trial run, applies an exact dose tree-by-tree. It is able to apply different rates at different heights of the tree too and it is this attention to detail and targeted approach which will allow growers to significantly reduce chemical costs while also increasing production and quality.
Trials are currently focused on apples, but once ready, growers will be able to use the technology to apply crop protection and crop management sprays on a wide range of fruit trees.
It is hoped that this new technology will have a lasting impact on the UK apple industry, making a step change in productivity and competitiveness.
The English Apple Man Comments
It seems impossible to believe that when I left school 63 years ago, my Dad was spraying our orchards with lances on the end of 60feet of hose. Applying several hundred gallons per acre. Over the years the technology has advanced exponentially, as various fan based sprayers applied the crop protectant sprays at ever lower volumes. Now to see the future with sprayers using intelligent systems ton only apply precise doses to not only individual trees, but also to specific areas of the tree canopy!
I suppose we should not be surprised by technological advance, as simple aircraft morphed into a Moon landing in just 60 years!
PRESS RELEASE
International Trade Minister Ranil Jayawardena visits AC Goatham & Son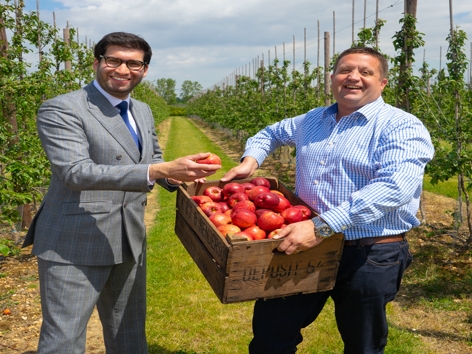 Parliamentary Under Secretary of State and Minister for International Trade Ranil Jayawardena visited AC Goatham & Son on Thursday 27th May 2021 to see the UK's largest apple and pear growing, cold storage and packing operation, which is located at Flanders Farm, Hoo.
The visit follows the Government's announcement earlier this week on the launch of a 14-week consultation to seek the views of the public and business on a future free trade deal with India.
This deal could help enable fruit producers like AC Goatham & Son, who grow 1 in 3 of the British apples and pears sold in the UK, to export fruit to India.
International Trade Minister, Ranil Jayawardena MP said: "It is great to be in Kent today to see first-hand the benefits of free and fair trade to great British businesses and hear about their exporting success to date.
"India is a huge opportunity - it's a market of 1.4 billion people - and our Enhanced Trade Partnership is already helping to unlock benefits for our British businesses, such as AC Goatham, who are now able to export their produce to India for the first time since we joined the EU."
Ross Goatham Managing Director at AC Goatham & Son comments: "We were delighted to host a meeting from Minister Jayawardena and to show him our fruit, which is supplied to supermarkets across the UK and the packing and cold storage operations here at Flanders Farm. We look forward to exploring the overseas markets that these new UK trade deals present for British apples and pears."
"As our business continues to grow, we want opportunities to showcase the quality of our British apples and pears, which are all grown here in Medway and Kent. Export is something that we have already successfully trialled to the Middle East and we look forward to opening discussions with interested parties in India."
The non-tariff barriers on fruit export to India will help boost UK jobs and growth in the top fruit sector and with a population larger than both the EU and US combined, the Indian market (1.4bn people) presents a significant opportunity.
Press Release - Ends-
For more information about AC Goatham & Son visit www.acgoatham.com
A C Goatham & Son began trading in 1947 as agricultural contractors and fresh produce merchants. In 1980, it established a farming operation growing apples and pears. It is now run by father and son Clive and Ross Goatham along with their business operations team and in 2022, it will celebrate its 75th anniversary.
AC Goatham & Son grows over 350 million apples and 55 million pears each year, which is 1 in every 3 British apples and Pears sold each year in the UK.
In a recent issue of The English Apple Man Journal, I reported on the Indian Trade Deal
Following the Journal publication, James Simpson MD at Adrian Scripps sent me this overview of their experience with exports of UK apples:
John, interesting as usual. As a point of reference we have exported nearly 100 containers of British apples over the past three seasons. India is in our sights for next season. Exporting is not for everyone, it is challenging. Quality is king as it is with all sales. A collective approach by the industry maybe useful.
My reply; "what is the price like?"
"Good question, the quality has to be very good to hold the price with the customer. Competition is strong from other areas particularly east Europe, where perhaps cost of supply and returns make supply export markets attractive. The fruit we export is a size profile that UK consumers do not readily pick up. Retailers therefore have limited opportunity to sell.
We export as an alternative to compromising pack format and giving away pack weight or putting too much on the domestic wholesale market. It is part of the mix.

That is all for this week
Take care
The English Apple Man