Journal
9th Jul 2021 - Cherry winning orchard
At this time of the year, orchard competitions take place and Judges visit those growers who fancy their chances of winning a trophy.
East Kent Fruit Society (EKFS) has been running competitions since way back before WW2.
This week EKFS organised a walk of the winning orchard from 2020 at John Hinchcliffe's New House Farm near Canterbury in East Kent.
Where the walk of Winning Apple & Pear orchards takes place in the same season, clearly judging cherries and organising a walk of the winning orchard is impractical in the same season, so historically the visit to the winning farm takes place the following summer.
John Hinchcliffe has grown apples and pears at New House Farm for many years and until recently grew Strawberries. He also grows Blackcurrants. Sadly The English Apple Man could not attend (health issues) but my good friends Brian and Norma Tompsett were present and sent pictures and their report back to me.
The Criteria for the Stone fruit orchard of the year is decided by the best of Plums, Cherries and any other Stone fruit.
1. There will be 3 classes:
a) Plums - any variety
b) Cherries - any variety
c) Any Other Stone Fruit
2. The 'Stone Fruit Orchard of the Year' will be the winner decided by the judges between classes A, B and C.
John Hinchcliffe is well known to many EKFS members as a top fruit grower but following his decision to stop growing strawberries has planted 5Ha of cherries all grown under Spanish Tunnels.
Together with the cherries John grows 30 Ha of Top Fruit and 60 Ha of blackcurrants.
Brian and Norma Tompsett report
East Kent Fruit Society members and friends walked the 2020 winning Stone Fruit Orchard entered by John Hinchcliffe. Visitors saw another good crop again this year on his winning Kordia and Regina cherry trees.
Below: left; EKFS Members tour the Cherries at New House and right; last years winning orchard (this year)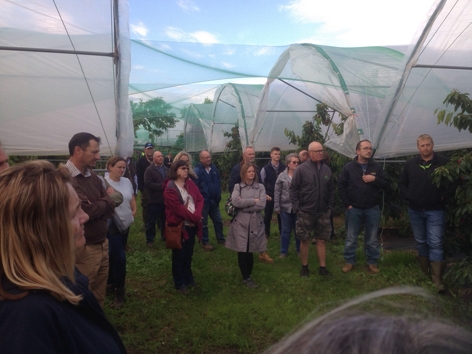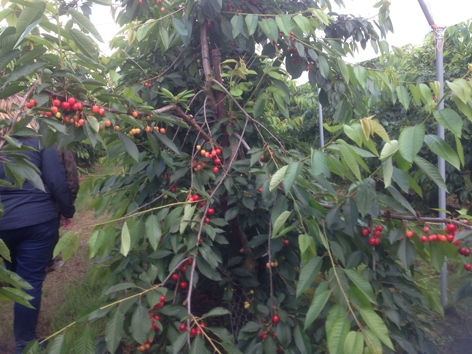 The occasion was also celebrating Johns 40 years in fruit growing at his farm near Canterbury.
Eight years ago, John was farming a mixed fruit farm of Apples, Pears, Blackcurrants and Strawberries, when he decided to grub his strawberries and start cherry production. The strawberries were being grown under polythene tunnels, so to accommodate the cherries he jacked up the tunnels with longer legs so he could make use of them to cover the cherry trees.
As is typical of John, 6 to 7 years later he was producing quality trees with his attention to detail for all to see when he won the coveted 1st prize in the EKFS orchard competition.
Visitors also saw an amazing crop of Grace Star cherries - noted for their extreme size (see pictures)
Characteristics of Grace Star Cherry Flowering: Grace Star cherry is self-fertile, does not require other varieties to be pollinated. It belongs to Group OR (S 4 S 9). Maturation: Cherry Grace Star, is medium maturation, 11-14 days after Burlat.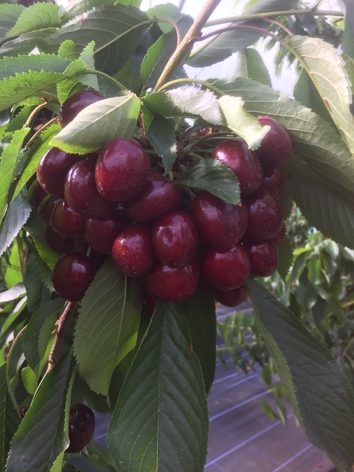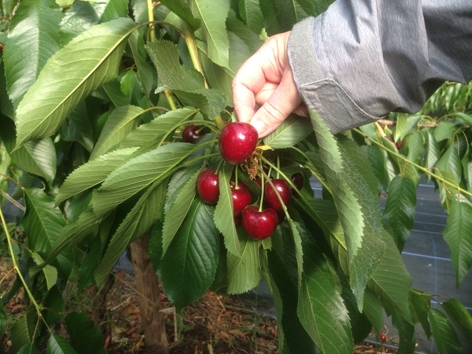 Below: Bethan Shaw reports on the latest SWD control developments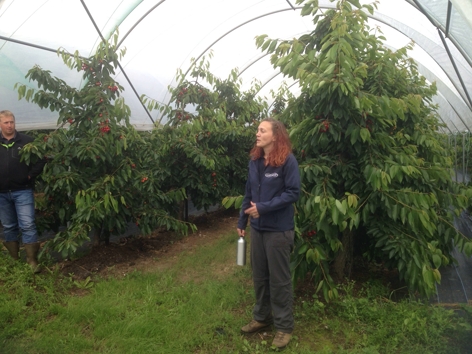 Bethan Shaw from NIAB-EMR updated growers on the work being done on SWD control. Encouraging results were reported on trials carried out on Raspberries and Cherries in particular the introduction of repellents placed in the crop causing the dispersal of the pest.
Also, the inclusion of an adjuvant in the standard pesticide spray allowed reduced use of chemical while still giving good control of SWD.
The evening was rounded off when the 100 or so visitors enjoyed a good supper.
-----------------------------------------------------------------------------------------------------------------------------------------------------------
AC Goatham & Son promotes two new Directors
The UK's largest apple and pear grower AC Goatham & Son has announced the promotion of two new Directors, Gayle Goatham, HR and Recruitment Director and Steve Barwick, Commercial Director.
Below: Gayle Goatham and Steve Borthwick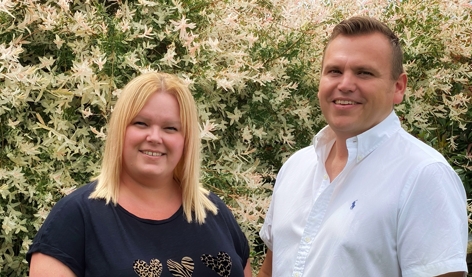 Gayle joined the business 20 years ago and she has been responsible for managing the exponential growth in the full time and seasonal workforce, which now numbers around 250 and 800 respectively.
Steve joined the business in January 2020, bringing with him a wealth of experience from a number of sectors, where he has worked in senior roles in buying, product development and as Commercial Director.
Ross Goatham Managing Director at AC Goatham & Son comments: "I am delighted to welcome both Gayle and Steve to our senior management team in recognition for their hard work and the key roles they play within the business contributing to its ongoing growth and success."
"Since the start of the Covid pandemic, our whole team has come together to work hard to ensure we have maintained a daily supply of British apples and pears to supermarkets across the UK.
As we now look ahead to continued business growth and as a country, we navigate new trading relationships and opportunities, our team continues to be focused on ensuring there is both a quality, sustainable supply of British apples and pears available each year for the longest season possible and also exploring new market opportunities."

That is all for this week
Take care
The English Apple Man