Journal
16th Jul 2021 - Cherries
British Cherries are now well in season and will continue until the last are picked in September in Scottish Cherry Orchards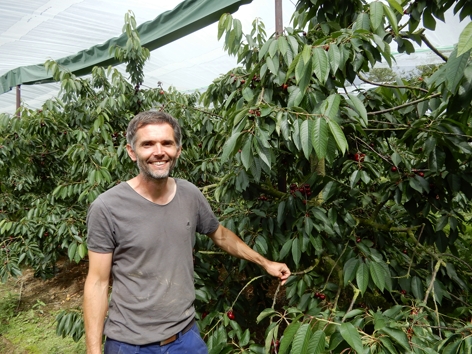 This week The English Apple Man visited Michael Dallaway at his Cherry Orchard in Sandhurst in Kent.
Michael grows cherries at four different sites on the Kent/ East Sussex border. He sets his standards extremely high and only picks the cherries when they are fully ripened so that each and every cherry is a truly mouth watering experience. Come and find the stall to try some of the best cherries you will ever have eaten.
During the 6-7 weeks of the cherry season Michael will bring over a dozen different varieties for you to be able to try at selected markets.
We also produce our own pure and unsweetened Kentish Cherry Juice. Once pressed, the cherry juice isn't sweetened, or anything added, as the flavour is just perfect.
It has a beautifully natural cherry flavour, almost as good as eating fresh Kent cherries! The cherry juice comes in 1 litre bottles and each litre of juice contains approximately 3kgs of pressed cherries. We also supply the cherry juice in 250ml bottles.
The English Apple Man remembers Michael's father Fred who started growing Cherries back in 1986. Michael told me his father had like many fruit growers in Kent & Sussex grown Cox, Bramley and other dessert apples on his farm at Northiam in East Sussex, before venturing into cherries in 1986.
In those days cherries were predominately grown on a semi vigorous 'Colt Rootstock' (much smaller than previous tree formats)
Colt was developed at the East Malling Research Station in Kent and released in 1977. It is a cross between the sweet cherry Prunus avium and a related but less vigorous species . It was the first dwarf Prunus pseudocerasus using rootstock for sweet cherries, making it possible to grow a cherry tree in a small garden.
Gisela 5: A new compact Rootstock for Cherries With a size reduction of some 40% over colt, Cherry Trees of only 6ft to 8ft in height are now easily attainable with only the basic pruning required of all Cherries.
Gisella has transformed the UK cherry industry which is now a nationwide success story.
As we walked the cherry orchard at Sandhurst, the first planted by Fred in 1986; Stella on Colt are still productive. However the early frosts this year have decimated the crop on the lower areas of the orchard, with none at the bottom of the slope, but gradually appearing as we walked up the slope.
Below: left; Stella a the bottom of the slope and right; Stella further up the slope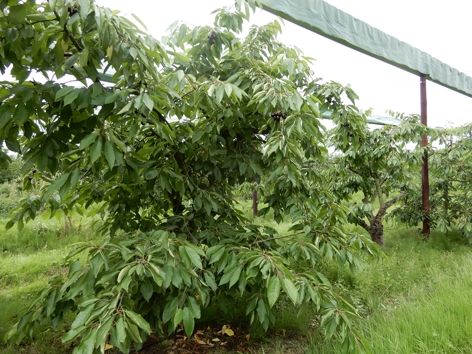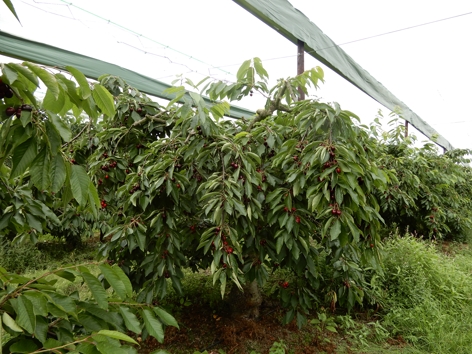 Michael explained while he retained the Stella on Colt (Stella is more compatible on Colt than other varieties) the remainder of the cherries were replaced by him using Gisella rootstocks and more modern varieties.
This site is protected with rain covers, but the seepage of rain into the soil and the humidity have caused many cherries to split. If they are not systematically removed, the whole bunch will rot.
This season has been a very difficult one for Michael with the early frost and subsequent heavy rainfall. I asked what the affect on his yield will be, and he said, on a good year he 'could' pick 100 tonnes of cherries, this year he does not expect pick more the 40 tonnes. One 5 acre site which he rents, carries (he estimates) a 20 tonne crop, however he does not expect to pick a single cherry due to splitting. No protective rain covers! In addition the costs will be higher with more sorting required. The fruit on display on his stall is perfect; his Mum checks every punnet!
Below: left; Michael demonstrates the cracking on some of the cherries caused by uptake of water, humidity and he feels wind thrashing the branches about. right; these cracks/splits turn to rots and if not removed will spoil the whole bunch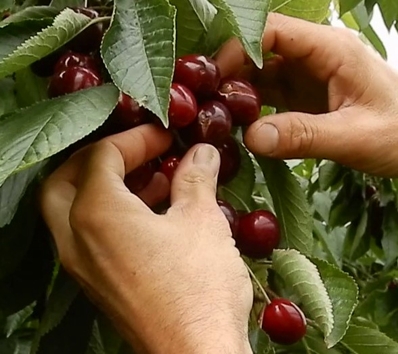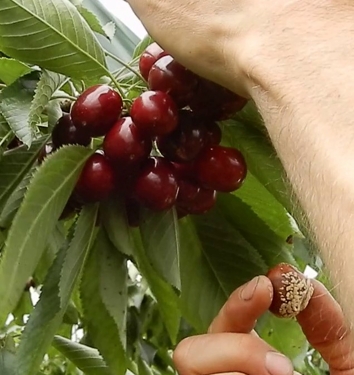 Harvest workers
Finding enough harvest workers is a national challenge and Michael like so many depending on Eastern European workers, found last year he had to depend on UK Students; Requiring circa 20 harvest workers in a 'normal year' - last year he had to try circa 40-50 to find 20 suitable workers. Many did not last a day and this year with the reduced yield he is managing with circa 15 Students.
The English Apple Man Comments: Obtaining enough harvest labour is a GLOBAL problem and the impact of Brexit (rightly or wrongly) has exacerbated it in the UK. Almost daily we hear of a shortage of people willing and able to work in horticulture, and the hospitality sector
Close up of delicious cherries and right; Michael points out the lateness of the season (on 15th July) with these Kordia which are 2-3 weeks later ripening than usual; below the odd fruit is beginning to colour up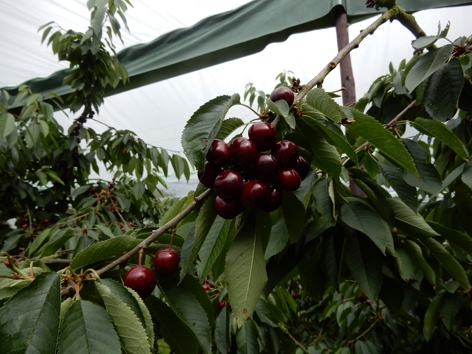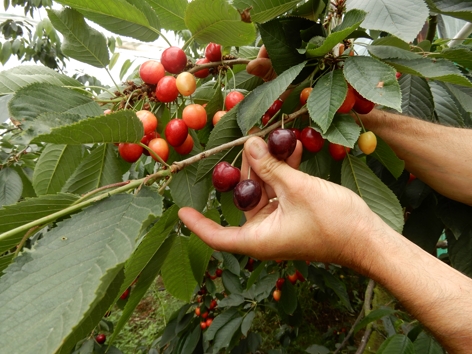 I also met Michael's wife Natasha and two of their delightful children, Connie and William + Buttons the family Pony.
Below: left; Natasha Dallaway with Connie and William and right; 'Buttons' the family pony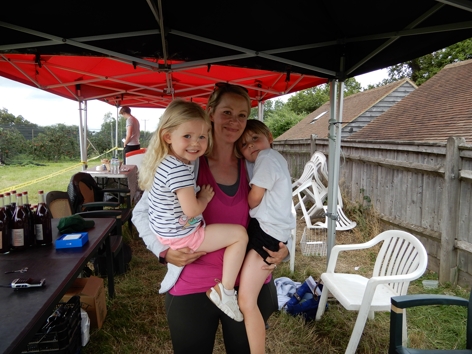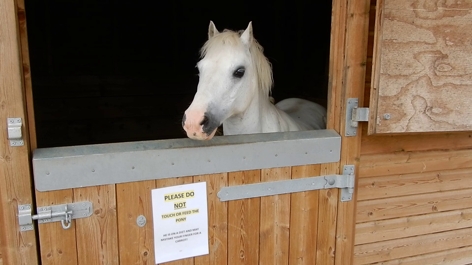 It is heart warming to see young fruit growers like Michael Dallaway pursuing their dream in an era where so much fruit production is in the hands of large growers with the financial ability to invest on a massive scale.
------------------------------------------------------------------------------------------------------------------------------------------------------------
Lockdown healthy eating trends boosts apple and pear sales for AC Goatham & Son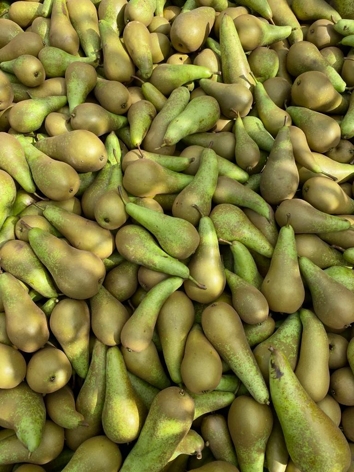 Research by a number of organisations shows how shopping and eating habits across the UK have changed over the last 18 months and AC Goatham & Son can also report an increase in the sales of its Kent grown apples and pears nationally. This is a trend which is hoped to remain as the business continues its programme of new orchard planting in Kent and Medway.
Between 16/03/20 and 30/06/20 (the first lockdown) Goatham's sold 43% more apple packs than the previous year and according to research by Kantar across the UK, 860,000 new households bought pears for the first time, which is good news for Goatham's as it grows almost half of all British Conference pears.
Goatham's is continuing its programme of new orchard planting with 137 acres planted winter 2020/21 and 148 acres planned for the coming winter. However, a record wet spring and the coldest May for 25 years might affect the 2021 crop and the year-on-year increase in crop size which would be expected from the new orchard planting.
Ross Goatham, Managing Director at AC Goatham & Son comments: "People bought more apples and pears during the lockdowns here in the UK because they store well and last for a long time and this suited their pattern of shopping which moved online, to in-store collection and to less frequent shopping trips.
Research also shows that 62% of Brits have made a change to their diet to be healthier over the past year and 33% are including more fruit and vegetables in their diets. This is good news for British growers like us who are continuing our major orchard planting programme, which will ensure there is a greater volume of British apples and pears in the years to come."
"That said, like all farmers our harvests are very dependent on the weather and this year we have seen a very wet, cold spring which is a poor combination when pollination is taking place in the orchards. The gains we would hope to make year on year with the increase in production as new orchard yields increase might be more modest this year, although it is still too early to estimate the effect the weather has had."
A C Goatham & Son began trading in 1947 as agricultural contractors and fresh produce merchants. In 1980, it established a farming operation growing apples and pears. It is now run by father and son Clive and Ross Goatham along with their business operations team and in 2022, it will celebrate its 75th anniversary.
AC Goatham & Son grows over 350 million apples and 55 million pears each year, which is 1 in every 3 British apples and Pears sold each year in the UK.

That is all for this week
Take care
The English Apple Man