Journal
30th Jul 2021 - Fruit Focus 2021
After the intrusion of COVID 19 last summer, FRUIT FOCUS returned on July 21st as a LIVE event.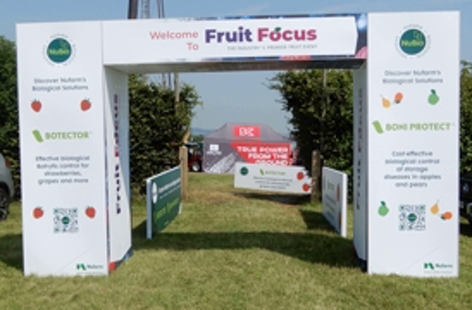 The message from the organisers: Plan your visit and build a program that suits your personal needs/ interests.
"Hear from over 50 experts, innovators and policymakers, highlighting hot industry topics across all fields ranging from recruitment, farm and agricultural policies to robotics and optimise biological controls and IPM programs.
Guided tours of NIAB EMR's will be available throughout the day showcasing the latest fruit research facilities.
You can also see the latest fruit technology in action from leading providers including, Autonomous Spray Solutions, Berry Gardens and SAGA Robotics".
The day was hot, very hot, and The English Apple Man struggled a bit coping with the humid weather, however I still managed to catch up with a number of Stand Holders throughout the day!
My first call was the NFU Forum, 'always a well attended event' with many very worth while presentations.
The NFU Fruit Forum kicked the day off with the panel session chaired by Ali Capper, Chairman of NFU Horticulture. The first session covered recruitment challenges and long-term solutions. Followed by discussions on evolving farm policies and how the UK Horticulture sector can continue to drive productivity.
I confess to getting there a bit late, but managed to catch most of Marion Regan's excellent overview of the shortage of harvest labour and how her business - Hugh Lowe farms is dealing with this challenge!
Below: Marion Regan 2nd from right (Hugh Lowe farms) presenting her analysis of harvest worker challenges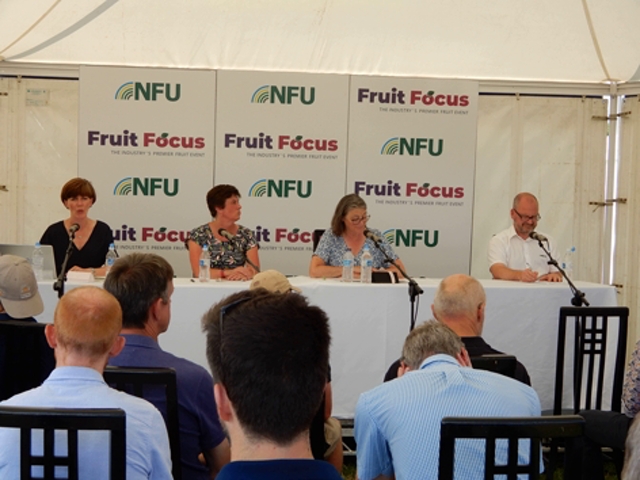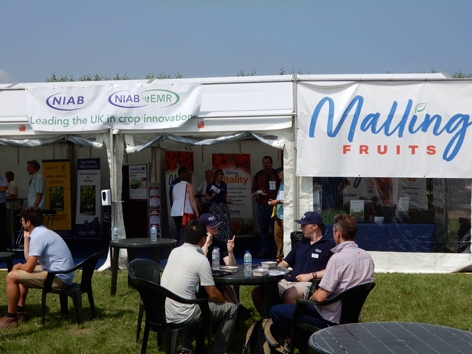 NIAB EMR led the afternoon session launching their Malling Fruits, including two latest varieties - Malling Ace and Malling Vitality.
Accompanied by DEFRA focusing on the Future Farming and Countryside Programme and the Robotic & Automation Super Session covered by SAGA Robotics/Thorvald, Autonomous Spray Systems and the University of Lincoln.
Bayer covered Optimising the effectiveness of Biologicals in their session, which was followed by Fargro discussing How data can improve your biological programme. The future of fertigation session was led by SAP.
Afterward Plant Impact discussed Improving localised calcium mobility, improving marketable yield and shelf-life.
Lastly, Bioline Agroscience finished the day off by discussing Optimised control of thrips and whitefly in multiple and conditions.
Malling Fruits new strawberry varieties
The two new strawberry varieties bred by the team at NIAB EMR have been officially launched.
MallingTM Ace and MallingTM Vitality, expected to reinforce the UK's reputation for soft fruit production, are the result of the strawberry breeding team, led by NIAB EMR's Adam Whitehouse, and support of the East Malling Strawberry Breeding Club.
Below: left; Malling ACE and right; Malling Vitality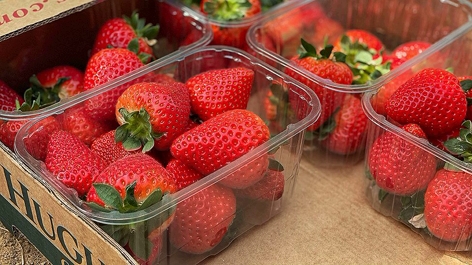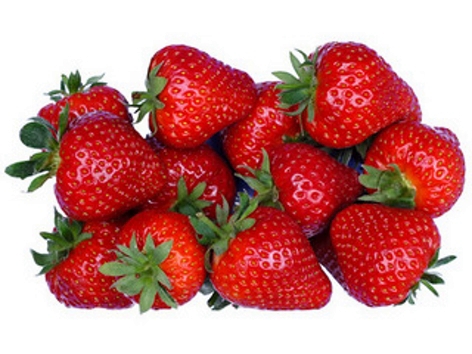 Having recently received national media interest, MallingTM Ace is an everbearer that matches the quality of the best June strawberries. It first crops in May with production peaking in August, and concluding in September. With a potential of 1.5 kg per plant, MallingTM Ace could support the development of vertical or urban farming as the industry looks towards novel production systems required in the future.
MallingTM Ace also matches the quality fruit throughout the year that of the best June strawberries, with a high average Brix of 9.2. First selected in 2015 and trialled in 2017, the success of its commercial trials in 2019 has given NIAB EMR, and its recently launched Malling Fruits division, the confidence to fast-track MallingTM Ace to market.
As a mid-season June-bearer, MallingTM Vitality when trialled produced an average of 98% of Class 1 fruit and attractive berries with uniform skin colour. It is also recognised by its enhanced disease resistance to crown rot, mildew, and Verticillium wilt. The variety is expected to build on the commercial success of MallingTM Centenary, which was launched in 2013 with more than 70 million plants being sold a year.
Professor Mario Caccamo, Managing Director of NIAB EMR, said: "Each of these two new varieties offer a real opportunity for growers to meet the increased demand for high quality British-grown strawberries throughout the season as a whole."
Adam Whitehouse added: "We are already working with partner propagators to grow the variety and make available plants for growers soon and confident that within a couple of years we will see MallingTM Ace and MallingTM Vitality on supermarket shelves.
"Thanks to our track record in strawberry breeding, and our longstanding partnership with industry, we are delighted to bring MallingTM Ace and MallingTM Vitality which offer growers with a commercial opportunity to meet consumer demand for great tasting and attractive looking fruit."
The development of both Malling TM Ace and Malling TM Vitality was funded and supported by the East Malling Strawberry Breeding Club whose members are: AHDB Ltd., Asplins Ltd., BerryGardens Growers Ltd, BerryWorld Varieties Ltd, DPS Ltd., Farm Fresh PO Ltd., Mack Multiples Ltd., Meiosis Ltd., NIAB EMR Ltd., The Greenery BV.
Autonomous Spray Systems showcased their R150 robot an automated machine that can spray, cut grass, sow, spread pellets and tow up to 1 tonne. In addition, Berry Gardens Growers and University of Lincoln partnered together to bring us the demonstration of collaborative SAGA Thorvald robots which provided logistic services in strawberry table top environments.
Below: left; Robot Spray Machine and right; SAGA Thorvald robot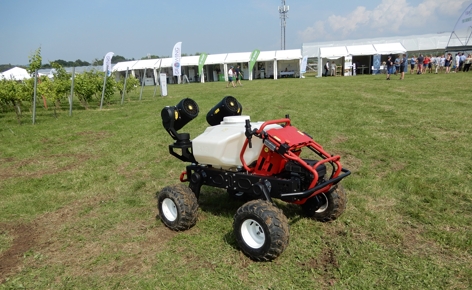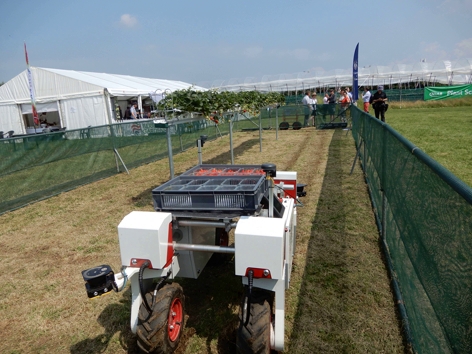 So what else caught my eye?
A visit to my friends Estera & Doug Amez on their AG Recruitment stand, catching up with mutual friends and enjoying a Hog Roast Bun from the Haygrove Stand next door and washed down with a delicious Pimm's created by Estera.
Below: left; AG Recruitment Stand and right; Haygrove Stand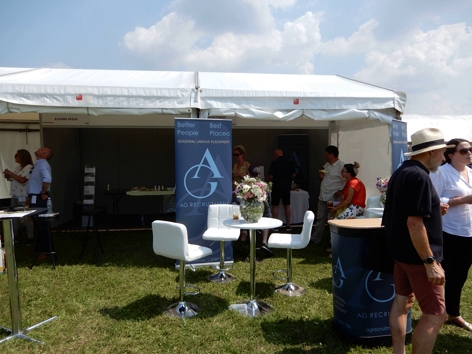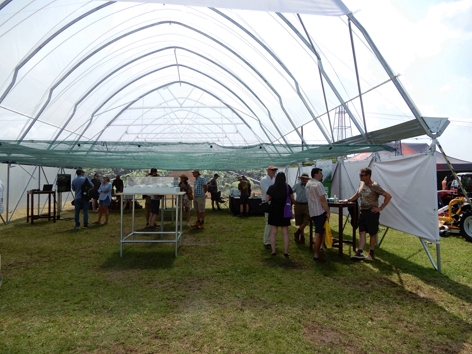 Next stroll around the showground, inevitably bumping into more old friends, before stopping at the NP Seymour Stand where many glossy machines were on display, with Nick Seymour and his daughter Claire 'on hand' to answer any questions.
Below: left; NP Seymour Stand and right; FENDT tractor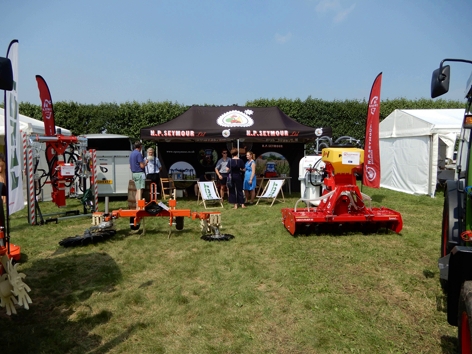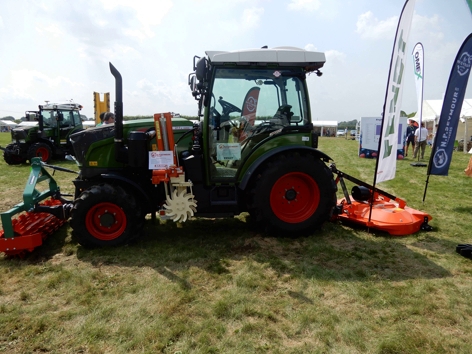 On the KIRKLAND STAND the Blueberry Harvester caught my attention and on the JANNY MT their C/A bins.
Air Jet Berry Harvester
This new, innovative machine harvests blueberries by air pulsations, shaking green mass by air pulsation of controlled speed/intensity allows harvesting without damaging plants or berries. This Multi-functional harvester is ideal for a wide range of soft fruits including Blueberries, Raspberries, Blackberries and Black Currants. the KOKAN500S offers air shaking and the purifying of fruits which ensures:
- Selective harvesting - harvesting mature fruits only;
Below: left and right - Blueberry Harvester on the Kirkland Stand and Janny MT Stand their C/A Bins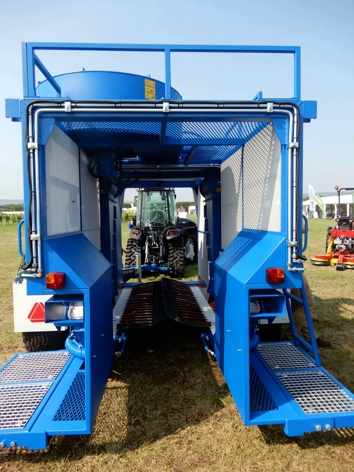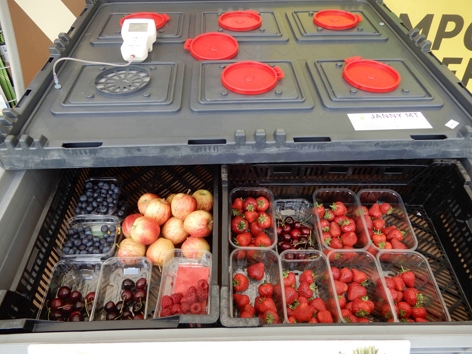 From Kirkland The English Apple Man called on the OUTFIELD Stand and the SCS Stand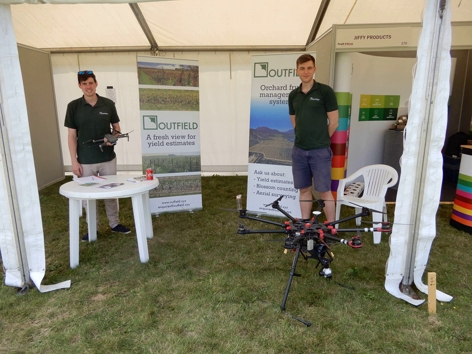 Click on OUTFIELD to see The English Apple Man Journal for 19th March 2021
An enjoyable day at FRUIT FOCUS, albeit the very hot and humid weather drained me of energy, so I did not do full justice to the many interesting and innovative technology and services available to our fruit industry.

That is all for this week
Take care
The English Apple Man