Journal
13th Aug 2021 - It's competition time!
At this time of the year top fruit growers in Kent & Sussex have the opportunity to demonstrate their good management by entering 'one or two' or indeed both of the long standing Orchard Competitions organised by Weald NFU and East Kent Fruit Society.
On Wednesday many fruit growers attended the Weald NFU - Paddock Wood Orchard competition walk at the Winning farm - owned by Ian & Nick Overy. This competition is celebrating 70 years since the first one.
Welcoming visitors to the Farm Walk of the winning farm for the 2021 NFU competition, Group Secretary Martin Webber commented: "every year we face challenges, weather, crop quality, yields etc. but the last 18 months has delivered totally unprecedented challenges"
"This year's winners; Ian Overy Farms run by father & son partnership Ian and Nick Overy welcome visitors to Burrs Hill Farm on a very pleasant evening - Martin thanked the judges for their invaluable contribution and sponsors for their support"
SPONSORS: Avalon Produce Ltd. and BASF
Before our walk around the orchards at Burrs Hill, Nick Overy gave an overview of their farming business.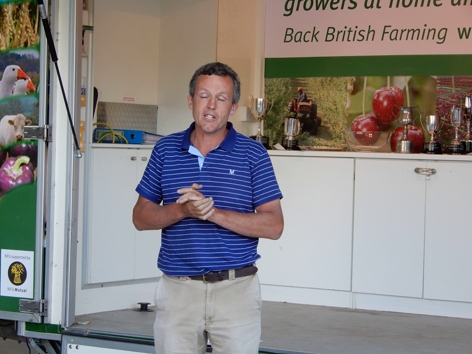 Burrs Hill Farm
"Purchased in 1983 this farm consists of 80 acres with 10 acres of arable, 26 acres of blackcurrants and 3 Gala orchards.
Hollow Field (1.8 hectares) planted in 2012 on M9 rootstock - Gala Galaxy clone with Malus pollinators.
East Platt (2.4 hectares) planted in 2016/17 on M9 rootstock - Gala Royal Beaut clone with Malus pollinators.
West Plat (2,8 hectares) planted in 2019 on M9 rootstock - Gala Galaxy clone with malus pollinators.
The Overy farming business covers 5 sites in Paddock Wood, Matfield, Brenchley & Horsmonden. The enterprise is run a& managed by Ian & Nick Overy with 'able assistance from Bill Payne who is responsible for all the pruning. There are NO full time employees but at harvest time 8-9 harvest workers from overseas join the team.
The farming enterprise consists of: 10 hectares of Gala apples - 45 hectares of Blackcurrants sold to LRS Suntory for Ribena - 100 hectares of Arable land - 15 hectares of grass made into 'haylage' for horses.
Storage:
560 tonnes of CA storage constructed in 2018 at Burrs Hill Farm.
Marketing All fruit sold through AVALON and the Overy's are members of AGPO (Avalon Growers Producer Organisation.)
Technical Advice Agronomist Andy Bull of Hutchinsons - crop walks the farms and advises on crop protection requirements.
Below: Hollow Field Galaxy Gala orchard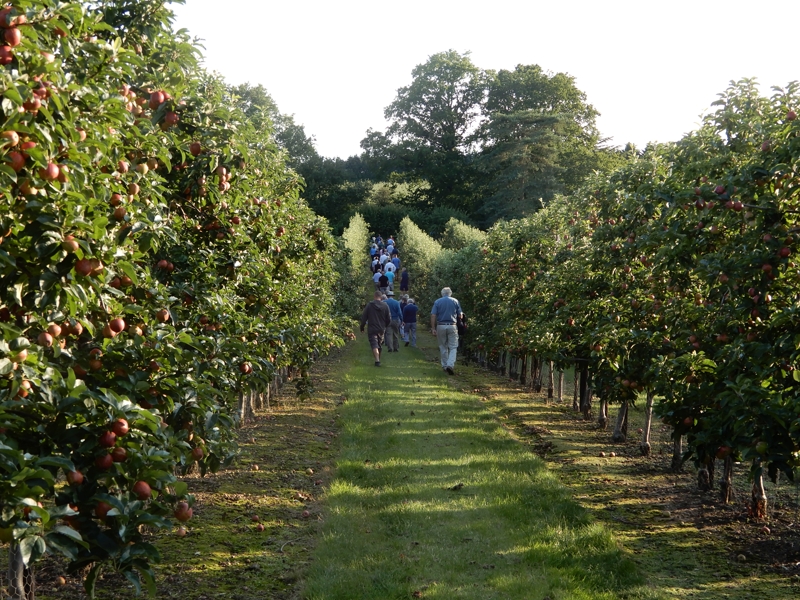 Below: East Plat Royal Beaut Gala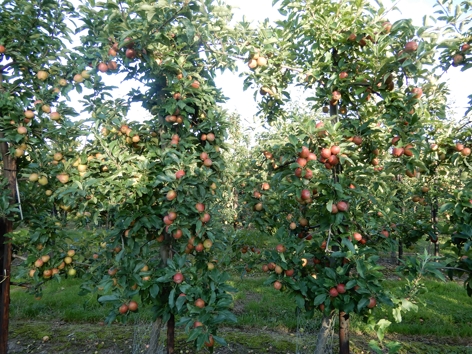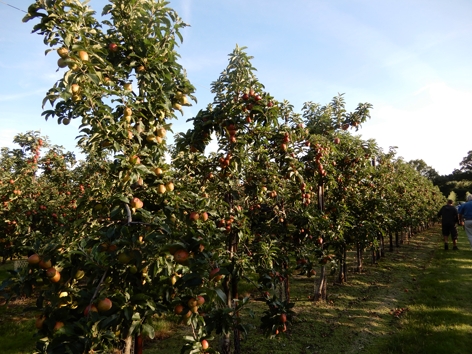 Below: left; Gala fruit size is good and right; the West Plat Galaxy Gala planted in 2019 and well mulched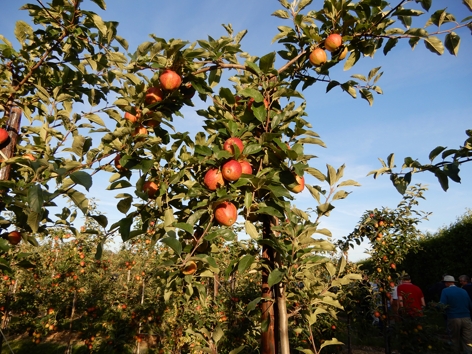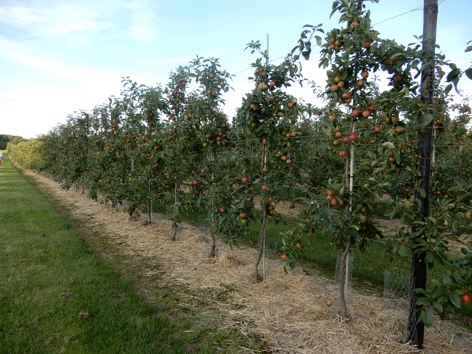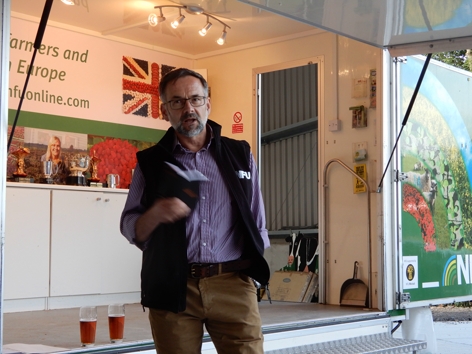 William White - South East Regional Director, NFU
William has held the office of Regional Director since January 2005 and has always lent his support to the Wealden NFU Orchard Competition.
William opened proceedings for the presentation of Trophies with a short review of the many challenges facing the farming community today. William highlighted the desperate need for Government to increase the SAWS allowance (Seasonal Agricultural Workers Scheme) for overseas harvest worker, and pointed out their have already been instances where crops have gone to waste due to the lack of pickers.
The current SAWS allowance of 30,000 is totally inadequate; the horticultural industry identifies 80,000 annually to meet their needs!
Prize Giving - winners announced by Martin Webber, Group Secretary for The Wealden Group NFU
MAIN COMPETITION
Below: left; Nick Overy receives The BASF Championship Trophy as Overall Winner from Martin Webber and right; Moatlands Farm Ltd receive the E.O.MOSS trophy as runner up in the entire competition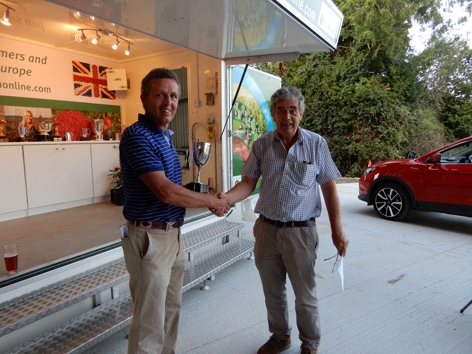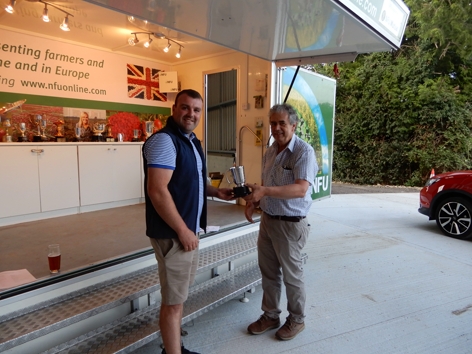 Below: left; Jonathan Duke, Kent House Nursery receives the Bayer UK Trophy for third place in the entire competition and right; Giles Cannon, J Cannon & Son receives the Agrii Trophy for 'Most Meritorious Entry'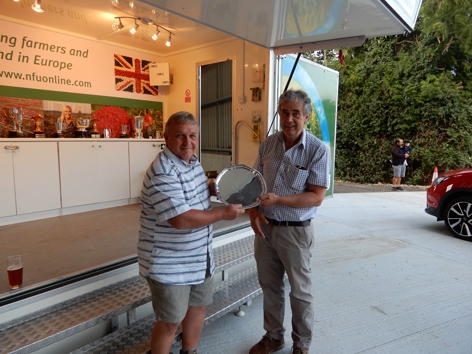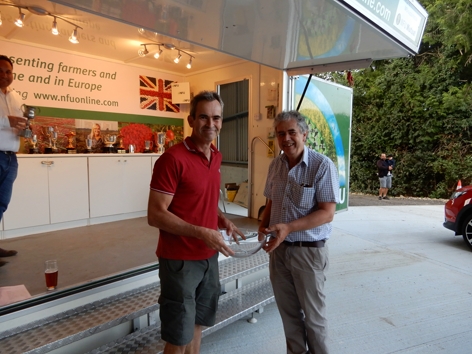 Below: left; George Chambers, Northiam Farm recieves The Mike Freed Trophy for highest marks over 5 years and right; Clive Baxter, JL Baxter & Sons receives the BASF Trophy for greatest increase in marks from previous year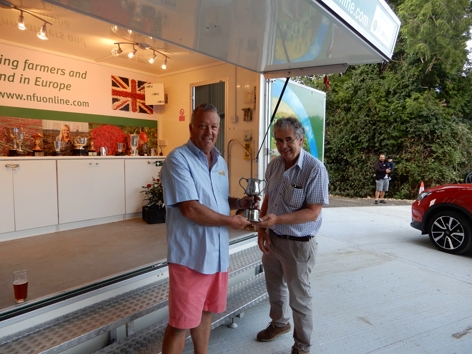 Class 1
Below: left; DOW AgroSiences Trophy - highest marks Class 1 - Ian Overy Farms and right; Norman Collett Trophy for highest marks Pest & Diseases Section; JL Baxter Elphicks Farm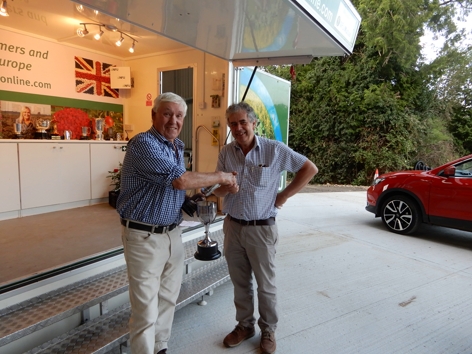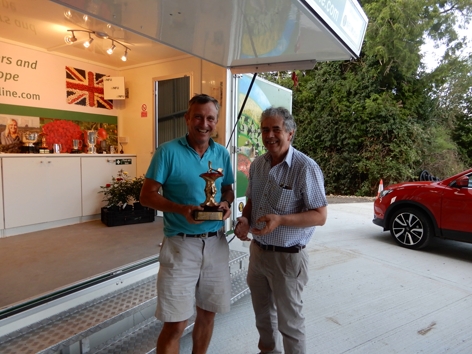 Below: left; FAST Trophy Class 1 -highest marks Management-
Ian Overy Farms and right; Willis Carroon South East Ltd. 2nd Highest mark Class 1. MOATLANDS FARM Ltd.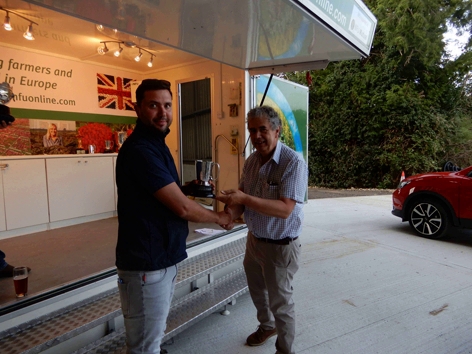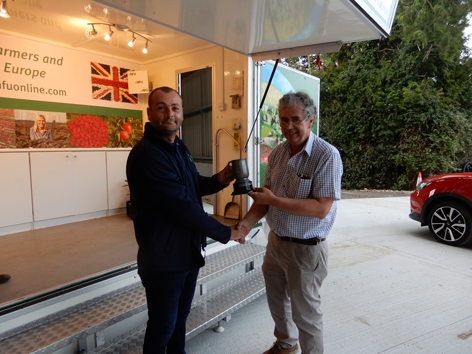 Class 2
Below: left; NP Seymour Trophy Highest marks Class 2 - Kent House Nursery Park Farm and right; Norman Collett Trophy Class 2 Highest marks Pest & Disease Section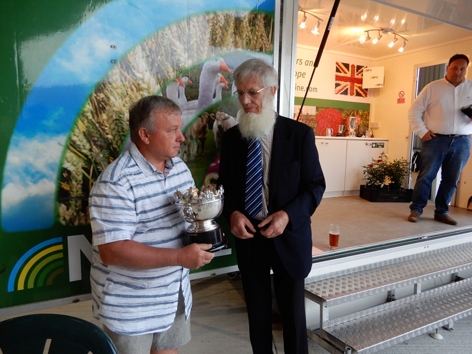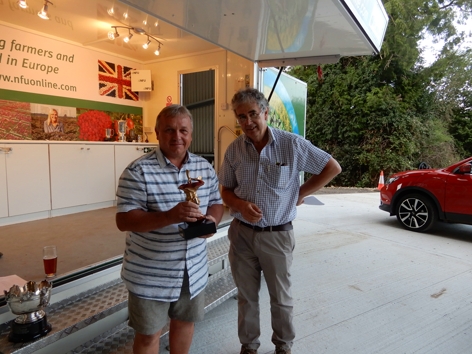 Below: left; Group Secretary Award - Highest marks management - Kent House Nursery Park farm and right; Williss Carroon South East Ltd. Class 2 2nd highest mark Class 2 - J Cannon & Son Roughway farm >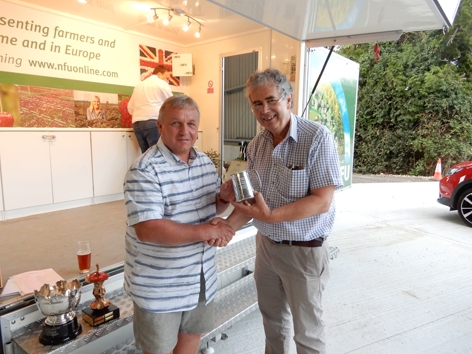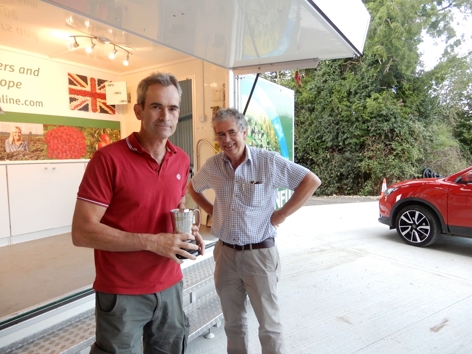 Below: ADAS Trophy for Highest mark - Young orchards won by Kent House Nursery Park farm and right; JA Prall Trophy for Highest marks in a Single young orchard won by MOATLANDS FARM Ltd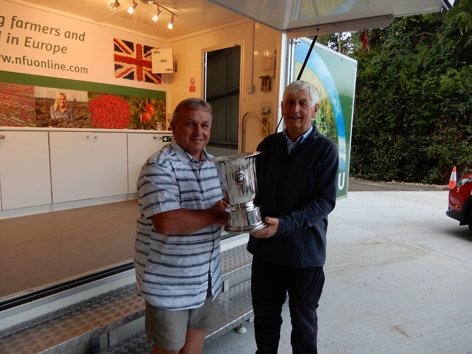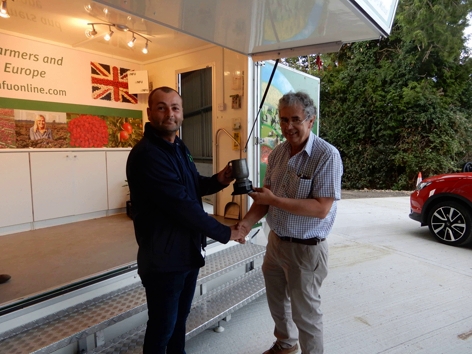 Below: left; Lambert & Foster Trophy for Foreman/Employee in charge of Young Orchard on winning farm in Average Young Orchards won by Kent House Nursery Park Farm section, and right; Origin Trophy 'Joint Winners' for Highest marks Management - Singlee Young Orchards won by JL Baxter & Son, Ian Overy Farms and Kent House Nursery Park Farm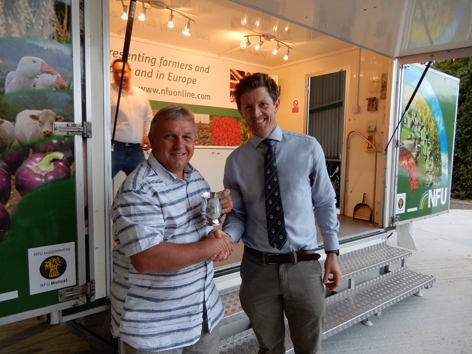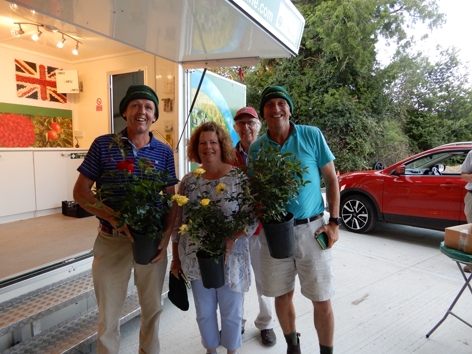 After the presentations, we 'socialised' and were treated to 'Sandwich Boxes' (Covid cautious) and 'Cask Beer' 'Wine' + a selection of soft drinks.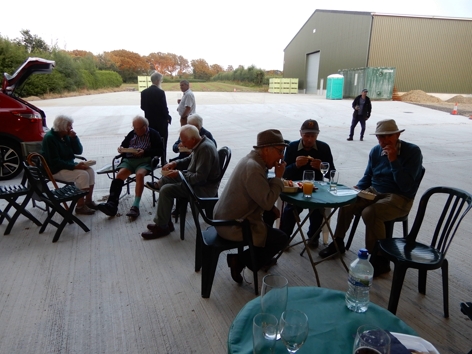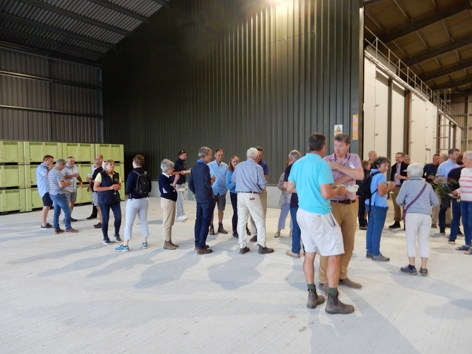 Below: A very cute young man with his Dad joined the farm walk at Burrs Hill Farm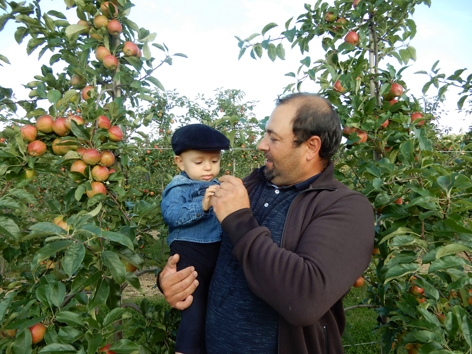 The fruit growing fraternity, like most of farmers are always concerned about the increasing average age of it's members. This young man is clearly been initiated early by his Dad in the pleasures of fruit growing.
The English Apple Man Comments:
Another very enjoyable event, especially after the trials and tribulations of the last 18 months.
This NFU organised competition has always been a great joy to be involved in: The EAM played a role as a judge for a number of years, before age related events caught up with me and the pleasure of walking around so many orchards; 'this competition is a whole farm competition' where the whole farm is judged. not just one or two selected orchards.

That is all for this week
Take care
The English Apple Man