Journal
15th Oct 2021 - English Apples & Pears champion growers environmental committment
In this week's Journal, News from British Apples and Pears and Maturity update for Braeburn and Magic Star
Tomorrow - Saturday 16th October a Memorial Service will be held at 2.30pm for Roger Worraker a great stalwart of the top fruit industry and a champion of UK Gala apple development.
Venue: St Thomas A Becket Church - Church Lane , Capel , Five Oak Green, Tonbridge TN12 6SX
Below: Roger with his young disciples from Capel Primary School learning about pollination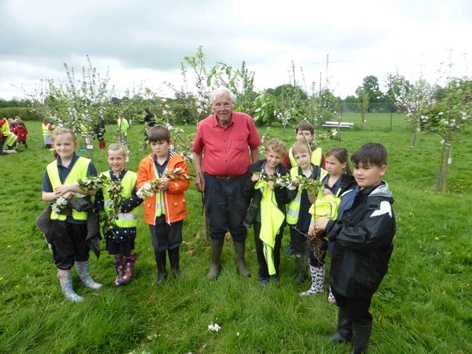 British Apples and Pears (BAPL) has announced the launch of its first sustainability report. Working with the Royal Agricultural University and British growers, the report will reveal just how 'green' our rosy-red British apples are.
Apples and pears have grown in popularity over the last year, driven by their longer use by dates and abundance of health benefits. Although this year, it's the environmental credentials of British apples and pears that growers intend to highlight.
The report is authored by Professor Louise Manning, drawing data from 75% of the orchards of the UK, it reveals how the top fruit sector is addressing climate change and environmental responsibilities, outlining their aims to improve biodiversity and encourage the nation to buy British. The report demonstrates how British Apples and Pears members are working effortlessly to transition to more sustainable practices, whilst still delivering an excellent eating experience.
The report addresses five key sustainability themes, which are all reflected across the nine case studies, consisting of:
Growing and connecting with nature
Smarter growing systems
Resource efficiency and circular systems to reduce environmental impact
Energy conservation and generation; and Meeting health, nature and climate commitments
Key findings from the survey of growers include:
83% of British apple and pear growers work with local beekeepers, with 70% producing honey from their orchards
93% of growers use biodiversity measures, such as varied grasses and wildflowers to encourage insects, leaving windfall fruit for wildlife to eat, and creating beetle banks and bee hotels
90% use weather and crop monitoring technology
63% have solar panels to generate renewable energy
Growers plan to plant more than 3 million new trees over the next five years.
The report demonstrates the work of British growers in nine case studies, highlighting what sustainability means to them and where they see innovation and new ideas emerging in the industry.
As a key case study within the report, Robert Rendall from Boxford Farm in Suffolk says, "As a business we already produce more green energy and recover more water than we use, and it is our goal to be a carbon sink by 2027."
It is well known that British apples and pears travel far fewer 'food miles' than imported fruits, ensuring the freshest, highest quality produce to our supermarket shelves, which is why growers want to champion the sustainability credentials of our home-grown produce.
Nick Overy from Mascalls Court Farm adds, "It's really important that consumers are aware of how much farmers care about what they do, where their foods come from, and the strives we've taken to farm in an environmentally-conscious way."
Author of the Sustainability Report, Professor Louise Manning says, "Smarter growing systems deliver economic, social and environmental value as part of a holistic sustainability strategy. British apple and pear growers are rising to the challenge of sustainable fruit production by connecting with nature, optimising resource efficiency, energy conservation and generation, while using smarter growing systems - and at the same time, ensuring the most delicious apples to our supermarket shelves."
Ali Capper, Executive Chair of BAPL says, "Our dedicated growers are at the forefront of the climate change battle and are committed to addressing many of the issues faced, whilst maintaining the highest quality produce. This report demonstrates how the British top fruit industry is transitioning to become more sustainable and how British farmers are working hard to be forward-thinking and dynamic in their approach."
British Apples and Pears is determined to get every adult and child in the UK eating an apple a day. BAPL is aiming to achieve 60-70% market share by 2030 by encouraging retailers and consumers to buy and support British home-grown produce.
Maturity update
Braeburn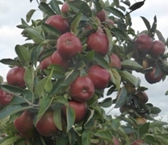 Maturity measurements carried out on Braeburn this week can be summarised as follows:-
On the vast majority of sites, starch is now at or close to 70%, which is the point at which harvesting should begin. Experience has shown that completing harvest by the time starch levels have declined to 50% reduces internal disorders and optimises the flavour of the fruit out of store. Starch levels decline on average by 2%/day, so by the end of next week, harvesting on most sites should be complete.
Magic Star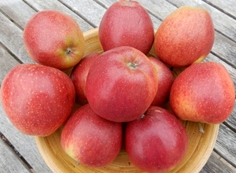 Magic Star should be harvested when the starch is somewhere between 60-30% and firmness is between 8.5-7.5kg. However, with such a wide picking window, the exact picking date should be determined by development of both the foreground and background colour.
The first pick should begin on most sites next week. In most seasons, the crop will be required to be picked twice and although this variety has a massive picking window, the picking date of the first pick will have a massive influence on the quality of the second pick fruit.

That is all for this week
Take care
The English Apple Man