Journal
26th Nov 2021 - The English Apple Man visits a new packing and storage complex in East Kent
On Tuesday The English Apple Man joined fellow members of East Kent Fruit Society (EKFS) for the society visit to Hoaden Court Farm
The autumn EKFS visit to AC Hulme & Sons at Hoaden Court to see the packhouse facility built in 2020 and a new block of long-term DCA cold storage built in 2021.
AC Hulme is a family farming business extending to 4,000 acres in the further reaches of East Kent,
AC Hulme & Sons is a grower packer family run mixed farm which has been operating in East Kent since 1946; the company farms approximately 4,000 acres, supplying some of the UK's foremost retailers as well as local markets, farm shops and other outlets.
The Farms operate from three principal locations in Canterbury (Merton Farm), Hoaden (Hoaden Court) and Wingham (Brook Farm) and grow and pack diverse range of produce, including: fruit (apples, pears, cherries, apricots and plums); arable; potatoes; and livestock (single suckle beef cattle).
The fruit enterprise comprises 500 acres of orchards, supported by 8,500 tonnes of on farm cold storage and a grading, packing and direct sales operation all based at Hoaden Court.
Below: EKFS Chairman Will Riccini (library photo)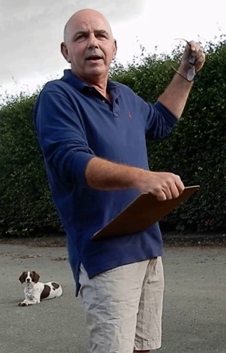 EKFS Chairman Will Riccini welcomed members to our last visit of 2021 and thanked JD Cooling for sponsoring this event following the successful completion of the new refrigeration and CA storage facility at Hoaden Court. JD Cooling is the UK's leading independent supplier of bespoke temperature & CA control systems working with fresh produce businesses', convenience food manufacturers, aerospace component manufacturers and everyone in between.
Established in 2000, JDC design, install, service and maintain specialist, state-of-the-art cooling systems throughout the UK. Click on JD Cooling
Below: Tom Hulme (library photo)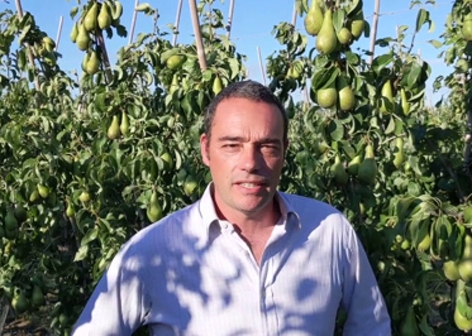 Our host for the evening: Tom Hulme who told us after time spent away from the farm learning commercial skills, he returned 8 years ago to manage the expanding fruit enterprise, centred at Hoaden Court Farm.
The farm is one The English Apple Man is familiar with as in my fruit farming days (30 + years ago) the owner Frank Pratt stored apples for me in a heavy crop year when I required extra storage capacity.
Since buying the farm from Frank Pratt, the Hulme family have invested heavily in new orchards and more recently erected 'state of the art' apple & pear storage units.
In 2020 a new packhouse was built, replacing the older facility. Tom told us in 2021 a new storage block was added and although when 'spring frosts' and heavy rain followed, he thought the new stores would not be fully utilised, by harvest all were required.
Below: Inside the new packhouse at Hoaden Court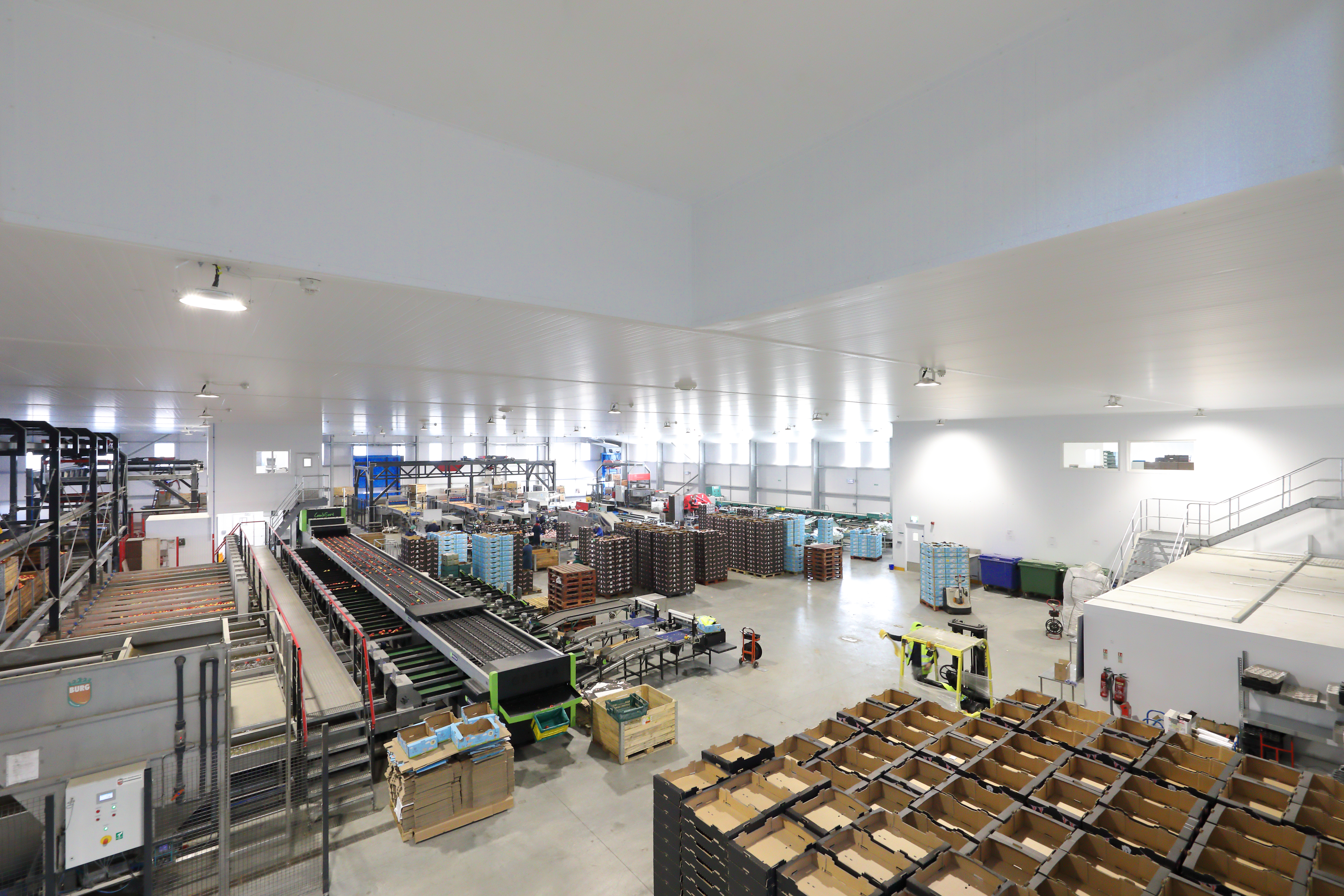 Marketing
Below: Tom Hulme with Packhouse Manager Tracey Briggs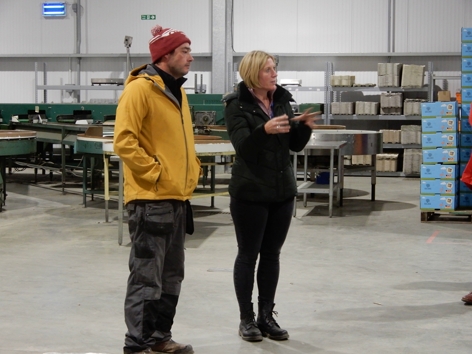 Simplicity is the strength of AC Hulme's marketing model. Most of the fruit goes to LIDL and the testimony of success was underlined when LIDL asked Tom to plant all the land on Hoaden Court with apples and pears for LIDL.
The overall packaging format is simple and specifications are realistic which deliver a good quality product to the consumer at competitive prices; this helps to utilise the whole bin and reduce any unnecessary waste. Serving LIDL directly means a shorter communication chain between grower and retailer to ensure that ongoing investments are made in the right places.
Tracey Briggs manages the packhouse and her experience of working previously at large packing operations, invaluable to Tom and the Hoaden Court business.
Having visited Hoaden Court on a regular basis, and due to COVID-19 not having been since 2020, the new packing and storage facilities dominate the farm yard. This sort of investment has been carried out on most modern fruit farms with the Producer Organisation (PO) obtaining EU Grants delivering 'matched funding' - each £ invested by the PO (grower investment) matched by £ from EU or other development grants.
AC Hulme are not members of a PO - they 'stand alone' investing their own money fully in new projects! How is this possible?
Many years of good management helps, but when In 1946, Arthur Cecil Hulme moved his family from Lancashire in the northwest of England to the county of Kent in the far southeast. The train took them as far as the railway station in Addisham, where they walked the remaining two miles to their new farm in Wingham ... along with all their livestock that had travelled with them the entire way on the train.
BUT the decision to relocate their farming to East Kent placed them on some of the finest soil available, certainly in Kent with 'deep brickearth soil, ideal for fruit growing!
Today fruit growers utilising the latest planting and tree management systems across all of Kent deliver yields far and above those achieved by growers in the past, this has been largely driven by accessing new heavy cropping Global varieties like Gala and Braeburn which out yield our traditional variety of Cox by 2-3 times.
Where Tom Hulme and some others in East Kent win over the orchards in areas with shallower top soil is the ability of his soil to consistently deliver yields 25% higher than growers with less advantageous soils.
Braeburn in particular, if over cropped will produce a lower yield the following year; supplying the necessary nutrients to replace what has been removed in producing this year's crop can overcome the 2nd year 'drop off, but matching the benefit of deep brickearth soil is hard.
Brickearth is a term originally used to describe superficial windblown deposits found in southern England. The term has been employed in English-speaking regions to describe similar deposits.
Brickearths are periglacial loess, a wind-blown dust deposited under extremely cold, dry, peri- or postglacial conditions. The name arises from its early use in making house bricks, its composition being suitable for brick-making without additional material being added and unlike clay its bricks can be hardened (fused) at lower temperatures, including in wood-fired kilns.
Below: an overhead view of AC Hulme orchards at their nearby Brook Farm at Wingham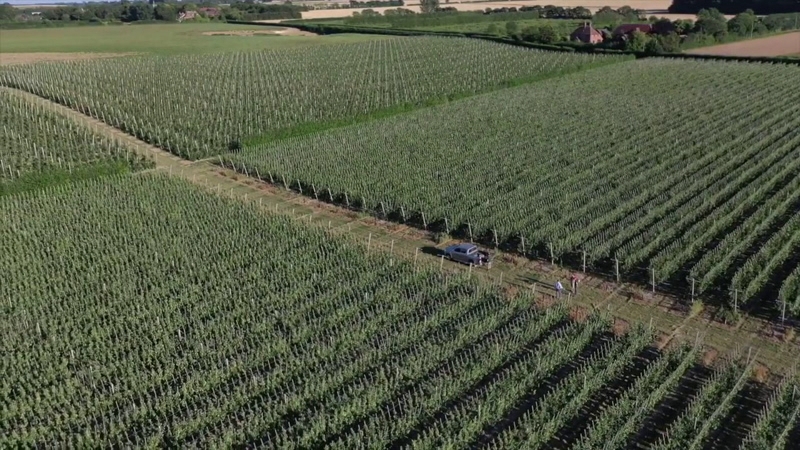 Below: a video created by OUTFIELD when AC Hulme won the Best Orchard in the EKFS Orchard Competition
Click on EKFS - AC Hulme
Below: on older video highlighting modern cherry production at Hoaden Court Farm
Click on AC Hulme - Cherry Video
Finally - thank you to JD Cooling for sponsoring the the EKFS event and supplying hot food and refreshments on a very chilly evening
Below: the JD Cooling team and right; At the 2019 AGM and Dinner - The English Apple Man presents Tom Hulme with the ORCHARD OF THE YEAR - 2018 - AC Hulme Hoaden Court Elmstone Gala I (East)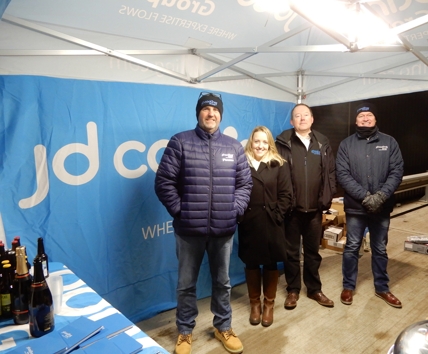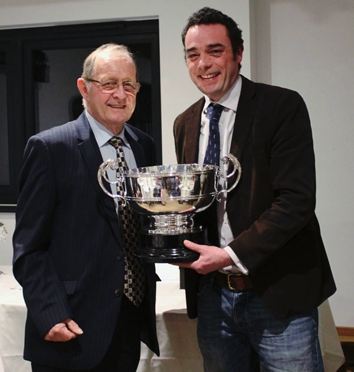 That is all for this week
Take care
The English Apple Man